After Friday's practice and qualifying on Saturday, it was Lorenzo Baldassarri who was the favourite to take victory in the fourth round of the 2018 Moto2 World Championship, at the Spanish Grand Prix from Jerez.
But it was Alex Marquez who made it to turn one first, and took the initial lead as he looked to take his first win of the season at his home round. But it was not long before Lorenzo Baldassarri claimed the lead for himself, and from there on it was a question of tyres. With Miguel Oliveira making a stunning comeback from fourteenth on the grid, it soon became an opportunity to see whether KTM still held their advantage over Kalex in tyre consumption, and considering the prowess of the Pons HP40 team in setting a bike up to save its tyres, it was sure to be an intriguing battle.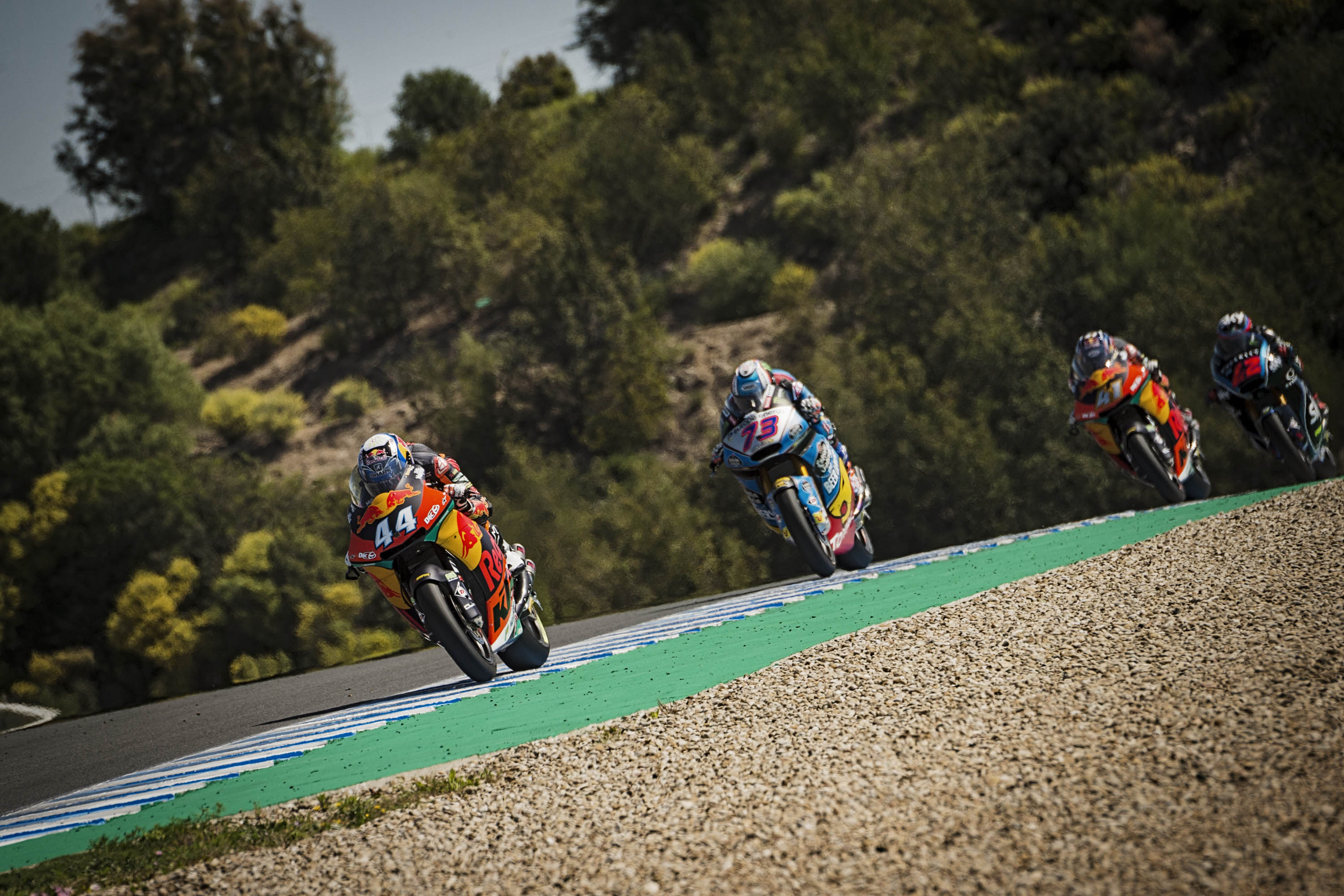 Oliveira was able to get close to Balda on many occasions, but in the final eight to ten laps, the Italian just slowly stretched the gap on the Portuguese with sublime consistency and outstanding pace, to finally take victory after over 18 months since his first win at home in Misano. The win for Lorenzo was an important one, for him and the team. Pons HP40 had not won since Alex Rins went to Ecstar Suzuki in MotoGP for the 2017 season, and suffered last year with their rider pairing of Fabio Quartararo and Edgar Pons. Even this year, not many people expected them to challenge with Baldassarri or his teammate Hector Barbera, and if people did expect them to challenge, they expected it to be Barbera at the front and not Balda. But, ultimately, they are a championship winning team, and they belong at the front, and that is precisely where Baldassarri has taken them. Equally, Baldassarri had a difficult 2017, and failed to make the podium as he, along with then teammate Luca Marini and their VR46 management, conflicted with the Forward Racing team for whom they rode. Sito Pons took a big gamble to take on Baldassarri for this year, and thankfully for the pair of them it seems to be paying off, Baldassarri sits just nine points off the championship leader, his flatmate Pecco Bagnaia, and looks as though he may be able to challenge for this championship.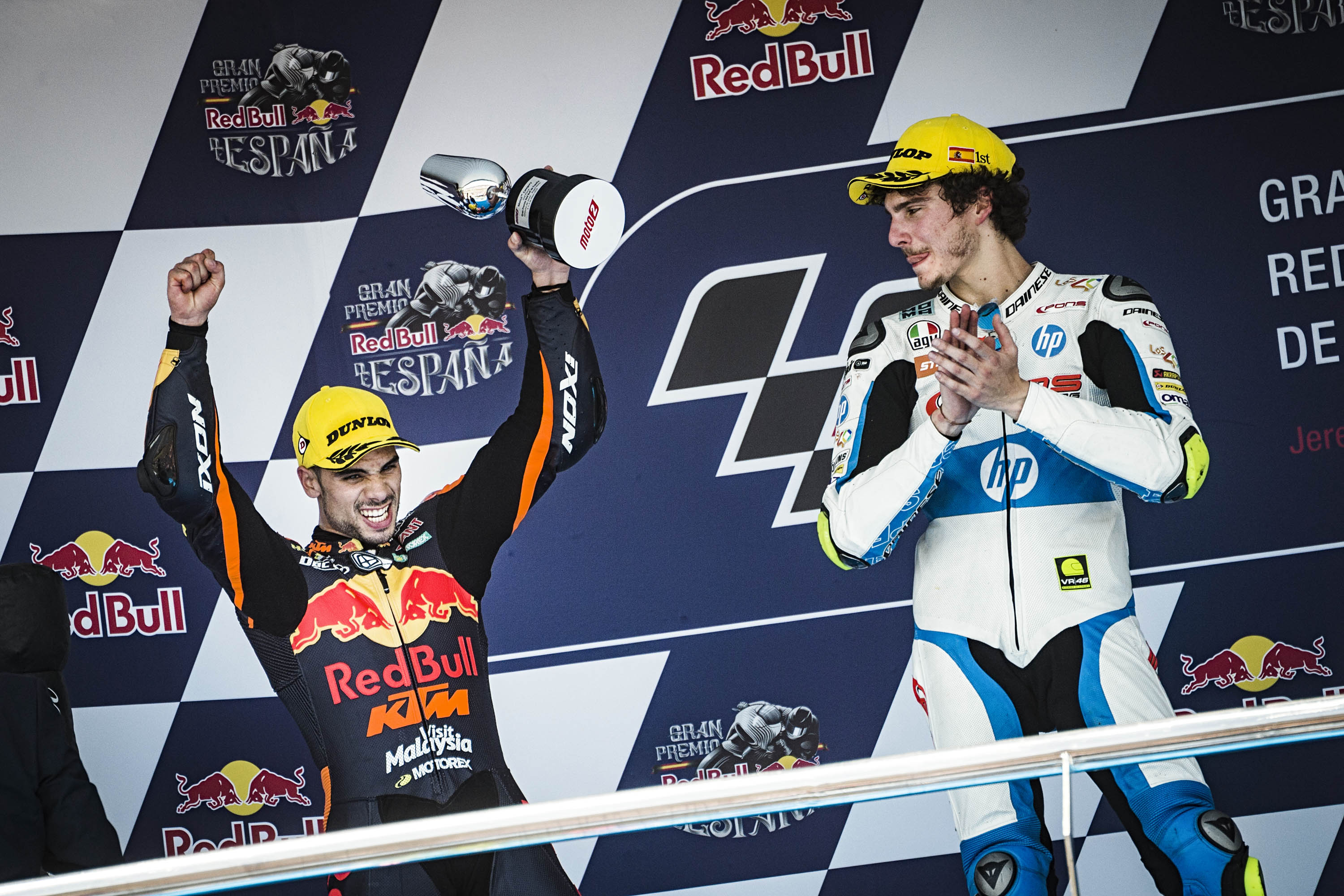 Miguel Oliveira's ride was stunning. In five laps he had gone from fourteenth to six and a few minutes later he was second and chasing down Baldassarri for the lead. It is entirely possible that the fight through the pack took too much life out of the rear Dunlop on the KTM, and that that is why Miguel failed to sustain his victory challenge. Aki Ajo said on the grid that Oliveira was back for Sunday, implying that the Portuguese had had an 'off day' on Saturday, hence his poor qualifying position. Either way, the points taken by Oliveira on Sunday were crucial for his championship.
They were even more important considering he took points out of his deficit to two-time race winner this season, Pecco Bagnaia, who started and finished third. The Italian struggled to keep the pace of Baldassarri all weekend, as did most, but did well to take a podium, his third of the season. It is true that he would have missed the podium without the mid-race crash of Alex Marquez at turn two, but mistakes are what win and lose championships – it is not the fault of Bagnaia that Marquez made the mistake. Moreover, the number 42 will be content knowing that next up is Le Mans, and he showed great pace at the French circuit last season, whilst the KTMs struggled.
It was not a comfortable podium for the championship leader, though – he was pushed all the way by Xavi Vierge on the Dynavolt Intact GP Kalex, as he continued his solid form of late, and Mattia Pasini rounded out the top five. Paso seemed like he could have had the pace for the podium had his qualifying been better, as he was matching the pace of Vierge and Bagnaia at the end, but was just too far back to make it matter.
Brad Binder had a difficult race in sixth. The South African looked good at the start and seemed as though he could challenge for the victory, especially if the KTM was going to keep good life in its tyres until the end of the race, but after five or six laps he started to drop back and looked very loose on the rear. It was a shame for Binder because for the first time this season he had qualified at the front and was in a position to challenge, but for whatever reason it never happened. The positive for Binder is that he proved that he can have the pace, and surely his first Moto2 victory is not far away.
Marcel Schrotter made a good comeback in the race from 20th on the grid after a three-place grid penalty to finish seventh and ahead of the winner of the 2016 edition of this race, Sam Lowes, by half a second. Ninth place went to Iker Lecuona, who was another rider to make a decent comeback in the race after starting eighteenth, and Fabio Quartararo rounded out the top ten.
Joan Mir, undoubtedly held back by his stomach bug from Saturday, finished eleventh, ahead of Simone Corsi, a somewhat impressive Tetsuta Nagashima in thirteenth, Hector Barbera and Andrea Locatelli who took the last point in fifteenth.
Sixteenth place was taken by Bo Bendsneyder, ahead of 17th placed Jorge Navarro who was recovering from lap one after he was taken out by Luca Marini at Dry Sack. It looked like Marini had out-braked himself and dived to the inside to avoid Sam Lowes directly in front of him, but could do nothing to avoid cleaning out Navarro. Marini should have gone to the outside to avoid Lowes, really, like Andrea Iannone should have done in Barcelona with Jorge Lorenzo in 2016, but things are a lot easier in hindsight. Khairul Idham Pawi took eighteenth place, in front of Isaac Vinales, Lukas Tulovic, Federico Fuligni, Xavi Cardelus who tested the MotoGP Avintia Ducati on Monday and was frighteningly slow, Hector Garzo and Jules Danilo who crashed early in the race but got back on to finish one lap down in 24th and last place.
There were quite a few retirements, perhaps owing a large part to the lack of grip in the searing Spanish heat. Marini was the first to go after his collision with Navarro, then Eric Granado went on lap three, Romano Fenati on lap seven, Stefano Manzi on lap nine, Zulfahmi Kharrudin (who has since been sacked) on lap ten, Danny Kent went with thirteen to go, the same lap as Alex Marquez crashed out of podium contention; Joe Roberts fell with just five laps to go and Steven Odendaal with two.
The dominance in this race from Baldassarri surely puts him into the frame for a championship challenge, especially with the miniscule gap that currently separates him from Bagnaia. Le Mans is next up, where last year the KTMs struggled, so there could be an opportunity in a couple of weeks for the Kalex riders to make a big difference in the championship, and it is not an opportunity that they can pass up if it arrives.