From the scorching temperatures of race one earlier in the day, where Leon Haslam took victory for JG Speedfit Kawasaki, there was little change for the second British Superbike Championship race of the day with the track temperature still in the forties.
Jake Dixon arrived at turn one first again, and Bradley Ray rode around the outside of Old Hall to take second. Glenn Irwin was third from Haslam, but they soon swapped orders when the pack arrived at Shell Oils for the first time, and Irwin dropped another position to Jason O'Halloran at Hizzy's Chicane. Shane Byrne had a difficult first lap and dropped back to seventh behind Peter Hickman.
After passing Haslam at the beginning of lap three, O'Halloran moved through on Brad Ray at Lodge on the same lap for second. Meanwhile Byrne passed Hickman for sixth and joined his teammate Irwin in chasing the lead group. Then, Haslam passed Ray for third at the end of lap four, before at the beginning of lap five O'Halloran took the lead from Dixon.
Jason was intent on escaping, and set about it immediately, stretching the elastic band between himself and Dixon behind, whilst Haslam was trying to displace the RAF Regular and Reserves Kawasaki.
At the same time, the PBM Ducatis moved their way past Ray, to demote the Buildbase Suzuki to sixth place, and the championship leader was visibly struggling. That was on lap seven, and at the end of that lap, Haslam passed Dixon for second and pointed his crosshairs at race-leader O'Halloran, and had practically caught him by the end of lap eight, but Dixon was clearly at the limit and could not keep Haslam's pace.
With half distance reached, it seemed that it would be a difficult task for anyone from this point to challenge O'Halloran and Haslam – Byrne was the only rider who seemed remotely capable of matching their pace but was too far back to be able to do anything about it.
So, it was a duel at the front; Honda versus Kawasaki, and the green bike took the advantage at Lodge on lap twelve. It became clear – Haslam was trying to repeat race one, where he edged away from Dixon tenth-by-tenth in the last five laps.
But O'Halloran would not be dropped, he struck to the back wheel of Haslam until the last lap, but was clearly on the limit. It looked like the Honda had enough to be able to stay with the Kawasaki but not enough to get by. O'Halloran tried, for sure, but finally could not get past Haslam – he might have been able to out-brake him at Lodge on the final lap but Leon held the inside well, got a good run out and got to the line ahead to take his first double of the year and third win in succession. The victory took him to the top of the championship both in the general standings and in the podium points, where he moved clear of Bradley Ray for the first time. It was important, too, for Haslam in other respects, because in most circumstances in the past the Kawasaki has not been able to make the soft rear tyre last the race distance, but in both races at Oulton, where the soft rear was the only option, Haslam made it work, and this could be ominous for the future.
O'Halloran took his second podium of the season after race one at Brands Indy, and fought until the end for the victory. This is an important step for the Aussie, and for the Honda Racing team, because finally it seems that the bike is capable of fighting for the title. He will be disappointed to have missed out on the victory, but the podium is an important result nonetheless, and he was eager to point out that this will not have been his only opportunity to take a win this season. Snetterton is next, where O'Halloran took his first BSB victory back in 2016, and he will be going there with the goal to do the same. For him it is a shame that he has to wait for six weeks.
Jake Dixon took his second podium of the day, and season, with third place as he held onto the final box spot under pressure from Byrne at the end. It is probably fair to say that Jake's season started on Monday.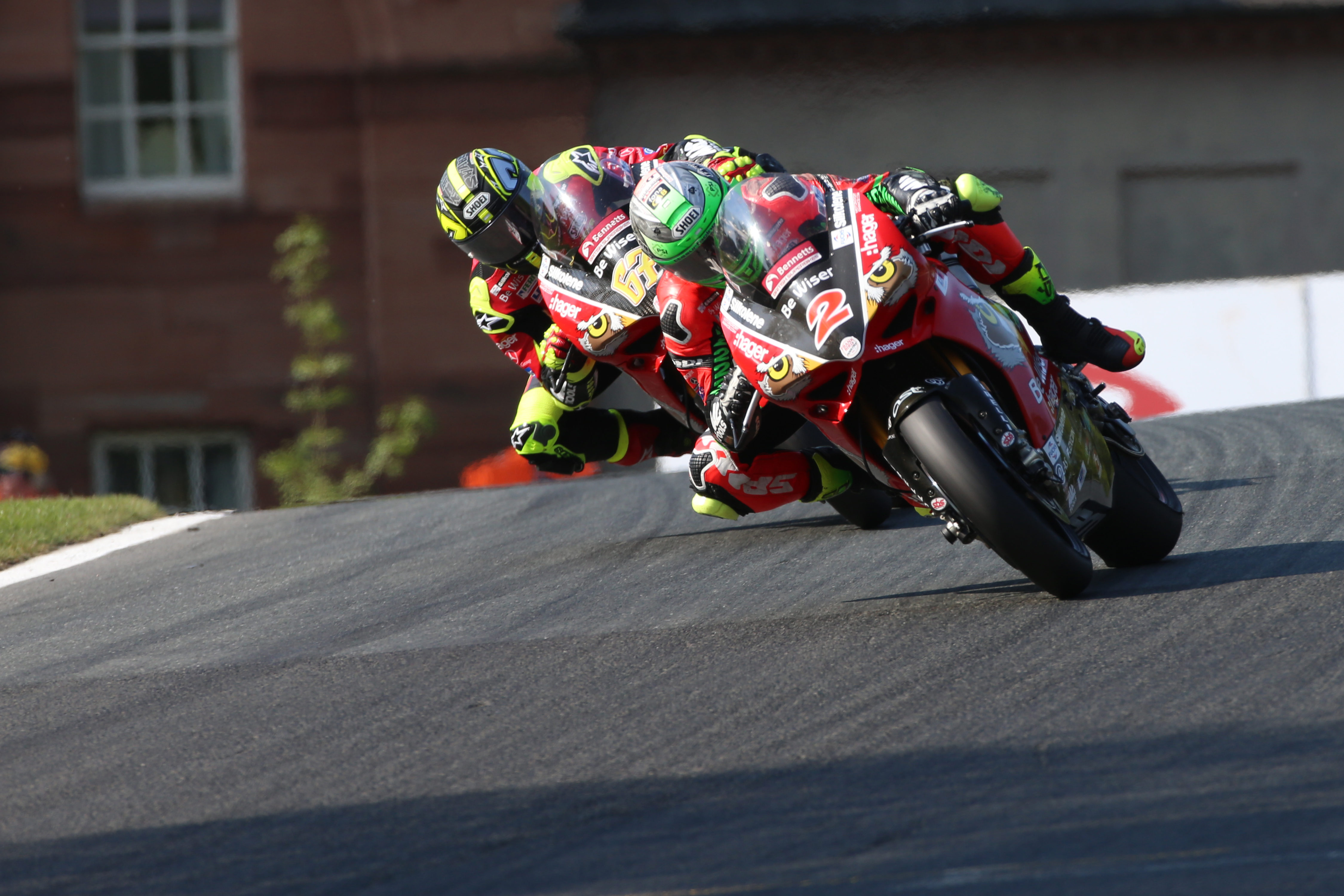 The fourth place of Shane Byrne was not what he would have expected, especially after a distant third place in race one. But the position gave him important points towards Showdown qualification, and he, like O'Halloran will be keen to get to Snetterton where he has gone well in the past.
Glenn Irwin can be satisfied with his fifth place, which somewhat made up for his crash in race one. The most important thing now for Glenn is to stay safe in the Northwest 200 (easier said than done), take some confidence from it and arrive in Snetterton after the break in a good way, ready to fight for podiums and victories, and make the Showdown.
Josh Brookes completed a double of his own on Monday. Not the one he would have been after, two 6th places, but considering his problem this year has been rear grip it is perhaps not a surprise to see him missing from the front group with nearly fifty degrees track temperature.
It was a disappointing result for Bradley Ray. After his fourth place in race one, the Suzuki rider would have wanted to get back on the podium, but he was unable to do so. This marks three races without a podium for Ray, and it is perhaps a little bit strange that he should struggle at Oulton, where he took his first BSB podium last season. However, that podium came in October, with maybe fifteen or twenty degrees of track temperature, not forty or more. When you also consider how strong Ray was in the biblically cold Donington round on Easter weekend, it might not be such a leap to assume that the Suzuki does not work so well in hotter conditions – perhaps it suffers from the traditional Kawasaki trait of not being able to hang onto a soft rear tyre. But, not working well in warmer conditions and excelling in the cold might not be such a bad thing, after all this is the British Superbike Championship.
Danny Buchan had a strong ride in eighth place. He caught Brookes at the end but the Aussie's advances on Ray made it impossible for the FS-3 Kawasaki rider to get through, and in the end he was only half a tenth away from stealing Ray's seventh place.
Ninth place went to Richard Cooper, who had been fighting with Buchan in the middle of the race but could not keep up towards the end when Danny upped the pace. Tommy Bridewell completed the top ten.
Peter Hickman finished eleventh, ahead of James Ellison who would have hoped for more out of this weekend, Michael Laverty who will be hoping Snetterton is kinder to him, Taylor Mackenzie and Ryuichi Kiyonari who profited from Tarran Mackenzie's fall to be able to take a double points finish on his return to BSB – fifteenth and the final point for Kiyo in race two.
Sixteenth place was awarded to Martin Jessopp, who was three tenths ahead of Kyle Ryde, who at one stage looked like he might have been on for points. One thing I can see from watching Ryde (and if I can see it, it must be fairly clear) is that he doesn't carry any corner speed. In Donington, I stood at the Schwantz Curve and looking into McLeans, and he was standing the bike up a lot more aggressively and a lot earlier than all the other riders, who were carrying more speed throughout the corner and carrying more lean angle when they opened the throttle. It was visible again in Oulton Park race two, when the attention of the TV director turned to Ryde's battle with Jessopp, and Martin was almost running into the back of Kyle because the difference in corner speed was so vast. Finishing in seventeenth place when he is riding as though he has no front end is quite impressive from Kyle to be fair, but if he wants to progress in superbike he needs to work out why he can't carry corner speed and fix it – if he does he can be very quick indeed.
Dean Harrison finished eighteenth, Sylvain Barrier nineteenth, Shaun Winfield twentieth and Connor Cummins twenty-first and last of the finishers.
There were seven DNFs: Mason Law, Luke Mossey (a retirement possible due to his bike not being properly fixed after race one), Gino Rea, Carl Phillips, Tarran Mackenzie, Jakub Smrz and David Johnson.
Now, BSB takes a break for the roads season which gets underway in the coming days with the Northwest 200, before the Isle of Man TT which begins at the end of the month. For the riders who are not taking part in the roads, now is an important time to reflect on the opening three rounds, before Snetterton sees the resumption of the season, and try to work out where they can improve, and how to do so.