What a year we've just had! Here's my round by round review of this year's championship.
When the new cars were launched, we were treated to the most spectacular looking cars for a very long time. We also had the prospect of the most open championship for years. Volkswagen had left and we had a returning Citroen team.
Round One Monte Carlo
There was sadness on Thursday evening when Hayden Paddon slid wide on ice and a spectator was in the wrong place. Out of respect, Hyundai withdrew the car.
Through the weekend, Thierry opened up a big lead, to over a minute, until stage 13 on the Saturday afternoon. He slid wide and damaged his suspension. After completing a quick fix, he completed the stage. However, he was out for the rest of that day. He would re-join under Rally2 regs, but the win had slipped away. Sebastien Ogier had lost time earlier in the weekend, after sliding wide and getting stuck in a ditch, but he chipped away and after getting comfortable in the car had emerged in the lead after Thierry's accident.
Several other drivers had starring roles too. Craig Breen was driving the previous years car and produced some giant killing times and ultimately finished in fifth place! Top three in the end was Ogier, Latvala and Tanak. It was M-Sport's first win in Monte Carlo since 2006 and their first win since Wales Rally GB in 2012.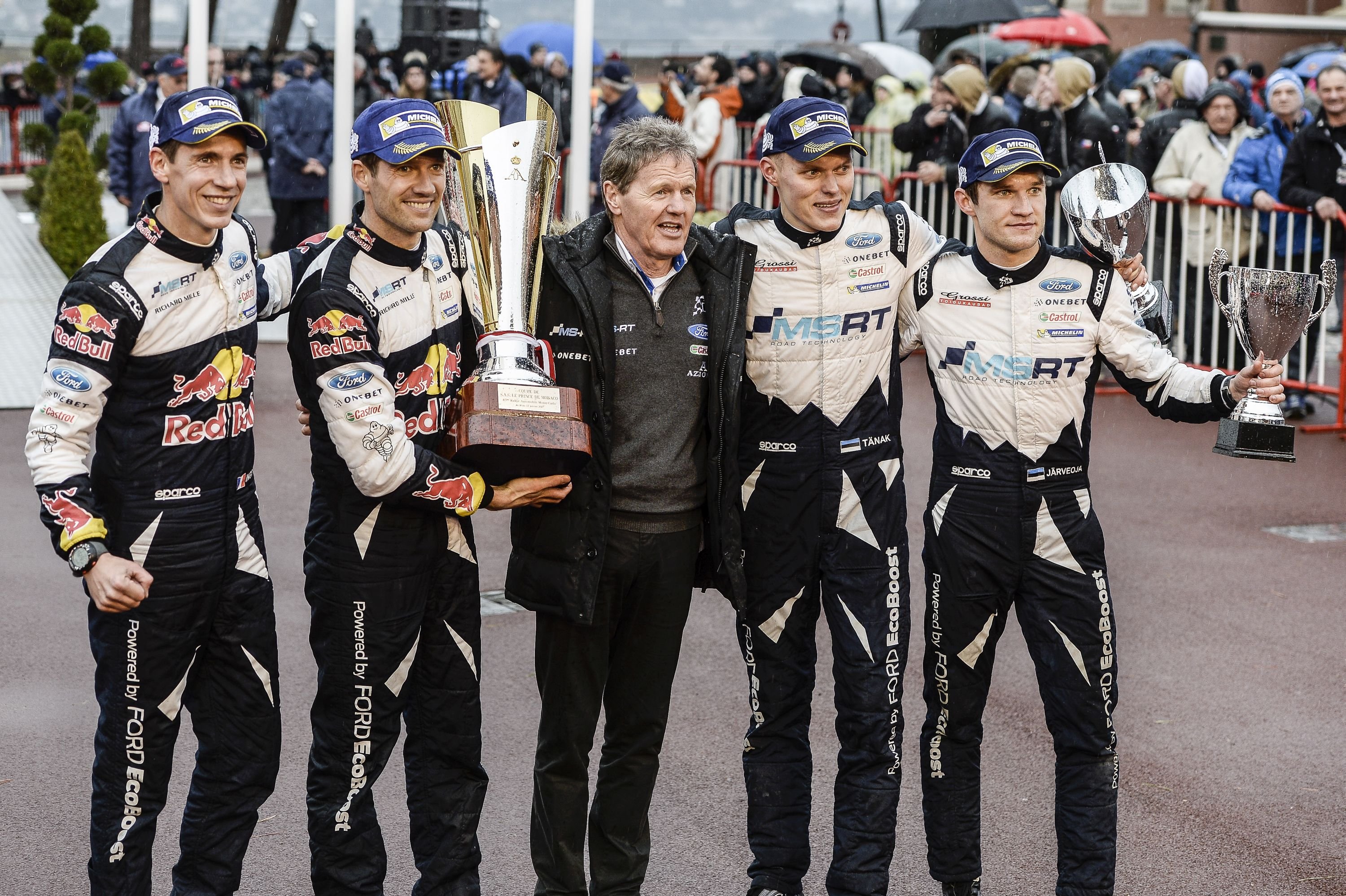 Round Two, Rally Sweden
It was another spectacular event in northern Sweden. Lots of snow, gave us some very good conditions for all the drivers to do their magic.
Mads Ostberg returned to the championship with a Fiesta WRC run by Team Adapta. He had a very interesting time, losing his rear wing during stage four. On Saturday he attempted to beat the record jump from the year before from Colin's Crest. It stood at 45 metres and he came very close indeed. In the first run of the stage he reached 42 metres and then later set an amazing 44 metres!
Once more Thierry drove a perfect event, building a decent lead, until the final stage on Saturday when his bad luck struck again and he broke his left front wheel after sliding wide. Incredibly, Jari-Matti in his brand-new Yaris WRC was there to pick up the victory.
After taking the lead with just a 3.8 second gap on Saturday evening, he increased it to almost 30 seconds by the end of the rally! With this brilliant drive, he also took the lead of the world championship, leading Sebastien by four points.
Citroen weren't having a very good time though, with Kris Meeke sliding out on Saturday and incredibly Craig Breen was their top driver in the championship. On the other side, M-Sport were doing really well after seeing Seb and Ott finish both events this year on the podium. Malcolm and the whole team were delighted.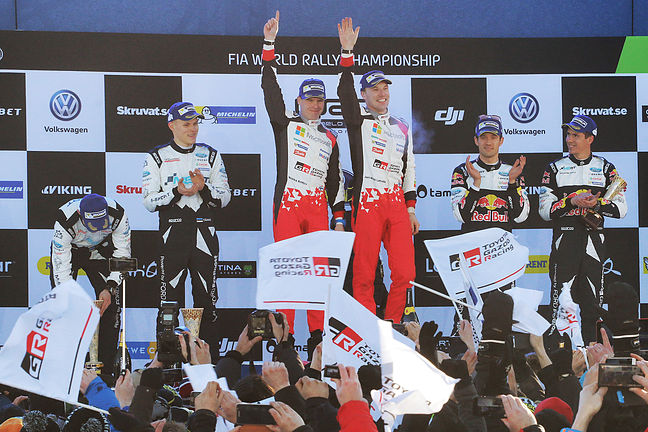 Round Three, Rally Mexico
A month later, the teams headed for the first gravel event of the year, and well, it didn't start well. After transporting the cars to Mexico City for two short stages on Thursday night, there was a delay getting them back to Leon, which ultimately meant all of the Friday morning stages were cancelled.
It was time for Kris to shine after a troubled start to the year, and he took the lead of the rally through Friday and increased it on Saturday to thirty seconds. M-Sport, Hyundai and Toyota all experienced car problems, with overheating on the very hot stages. Elfyn Evans was also showing that his year away from the top had done his confidence the world of good, setting some good times and building his knowledge for the future.
Ultimately, Kris won Rally Mexico, but not without some big drama! On the final stage, he went wide and left the road clipping a parked car! After re-joining the stage, he crossed the line thirteen seconds ahead of Seb, with Thierry completing the podium!
After that result, Seb moved back into the lead of the championship ahead of Jari-Matti Latvala, who could only manage sixth.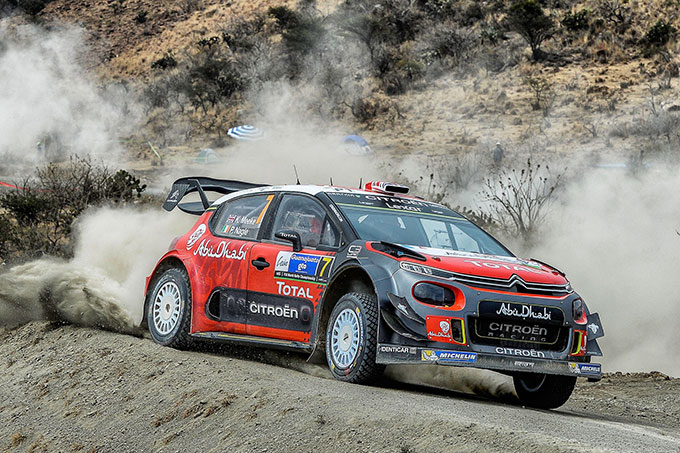 Round Four, Tour de Corse
Day one on the Island of Corsica belonged to Kris and the Citroen team. In the four long stages he felt very comfortable and opened up a lead of 10 seconds over his closest challenger Seb. It was Ott Tanak who would not have a good day. He slid wide in stage three and although the car wasn't damaged, it was stuck fast and wouldn't move. Thierry Neuville would have a good day though and was not far off the lead in third.
Saturday would ultimately lead to disappointment for Kris, Paul and the whole Citroen team. After driving really well, they would suffer a mechanical failure with the engine letting go on stage six. It was over. Elfyn would also suffer misfortune, after sliding off and beaching his car.
Sunday would see Thierry continue to lead and take his first victory of the year! A battle for second place between Seb and Dani would entertain us, which ultimately would go to the Frenchman. Jari-Matti would finish in fourth after a very good drive.
Thierry's drive to victory would see him jump to third in the championship with 54 points, but Seb was in a strong position on top with 88 points.
Round Five, Rally Argentina
Kris Meeke and Haydon Paddon had both won this rally in the last two years, but really anything could happen. Would we see another first-time victor?
Well, through Friday we started to hope! Elfyn Evans would win a number of stages and opened up a lead of 55 seconds from second placed Mads Ostberg! Thierry was third at this point, just five seconds behind Mads. Pretty much all the other driver experienced problems of or kind or another. Kris rolled out and his teammate Craig hit the same bump and damaged his gearbox, leaving him stuck in fifth gear.
Saturday would see a big drive from Thierry getting the gap down to Elfyn from a minute, to just eleven seconds. Even a puncture wouldn't slow him down. However, he was helped with some problems for the Welsh wizard who got a puncture on stage eleven. Ogier had problems in the morning, but after a lot of setup changes in service, the car was handling better.
On the final day, it all unravelled for Elfyn and Dan. They lost more time in the first two stages, meaning that they were just six tenths of a second ahead going into the final stage. At the very end, Thierry did enough to take the victory from Elfyn, winning by just seven tenths of a second!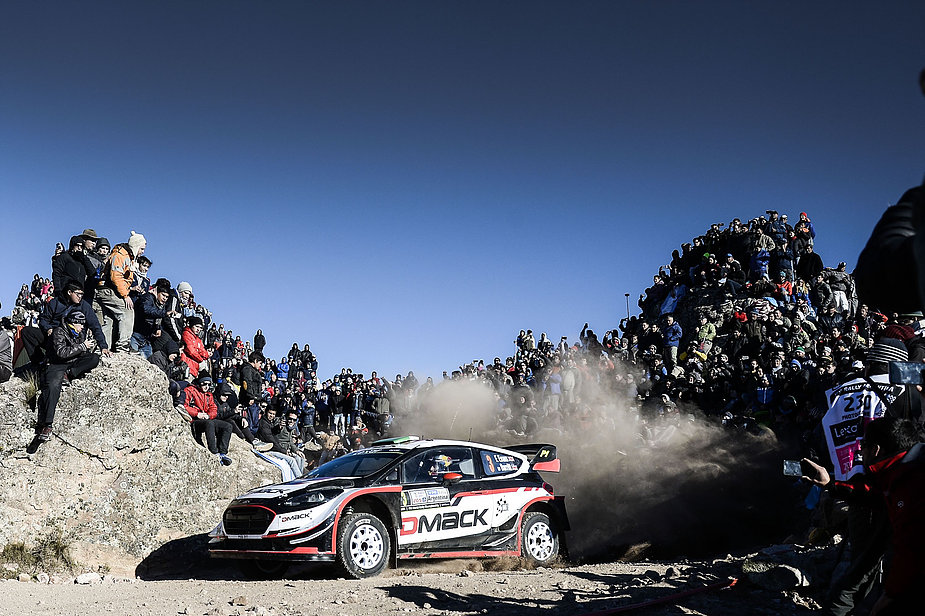 Round Six, Rally Portugal 
On the first day there was lots of drama, with Jari-Matti and Kris both damaging their cars. Hayden was challenging near the front, but an electrical problem dropped him from third to sixteenth! The top three was Ott, with Dani second and Seb in third at the end of day one.
On Saturday. Ott continued to have a good run, opening his lead up, but then disaster. He ran wide in stage 12 and damaged his car against a bank and dropped to fifth. Through the afternoon, Thierry and Seb would continue to fight for the lead. Ott's car was fixed during mid-day, and this allowed him to push again in pursuit of Craig Breen who he passed later in the day.
Into Sunday then, and Seb drove to his second win of the year with Thierry just a few seconds behind. Rounding out the podium was Dani who had driven very well throughout the event. Ott drove well after his problem on Saturday getting into fourth place.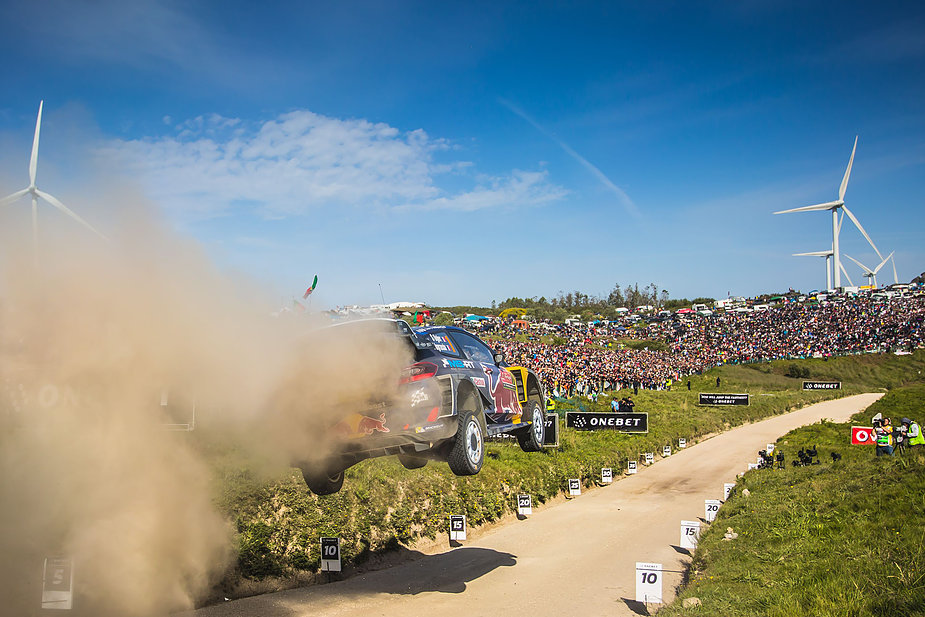 Round Seven, Rallye Italia Sardegna  
It was the breakthrough we'd been waiting for. Ott Tanak took his first WRC victory! However, it was Hayden who led at the end of the first day after early leader Kris rolled out in the morning. We also saw young Finn Esapekka take his first overall stage victories on Friday, definitely one to watch as we would discover!
On Saturday, Hayden started well, but sadly it didn't last, with him getting a puncture and broken wheel which then damaged his car too much to continue beyond stage 13. Ott took the lead and by the end of the day, he'd built a decent lead over Jari-Matti, with Thierry in third.
On Sunday Ott used his head and drove to his first victory, whilst Jari-Matti secured second place and Thierry in third. Lappi drove very well to secure fourth as well ahead of Seb.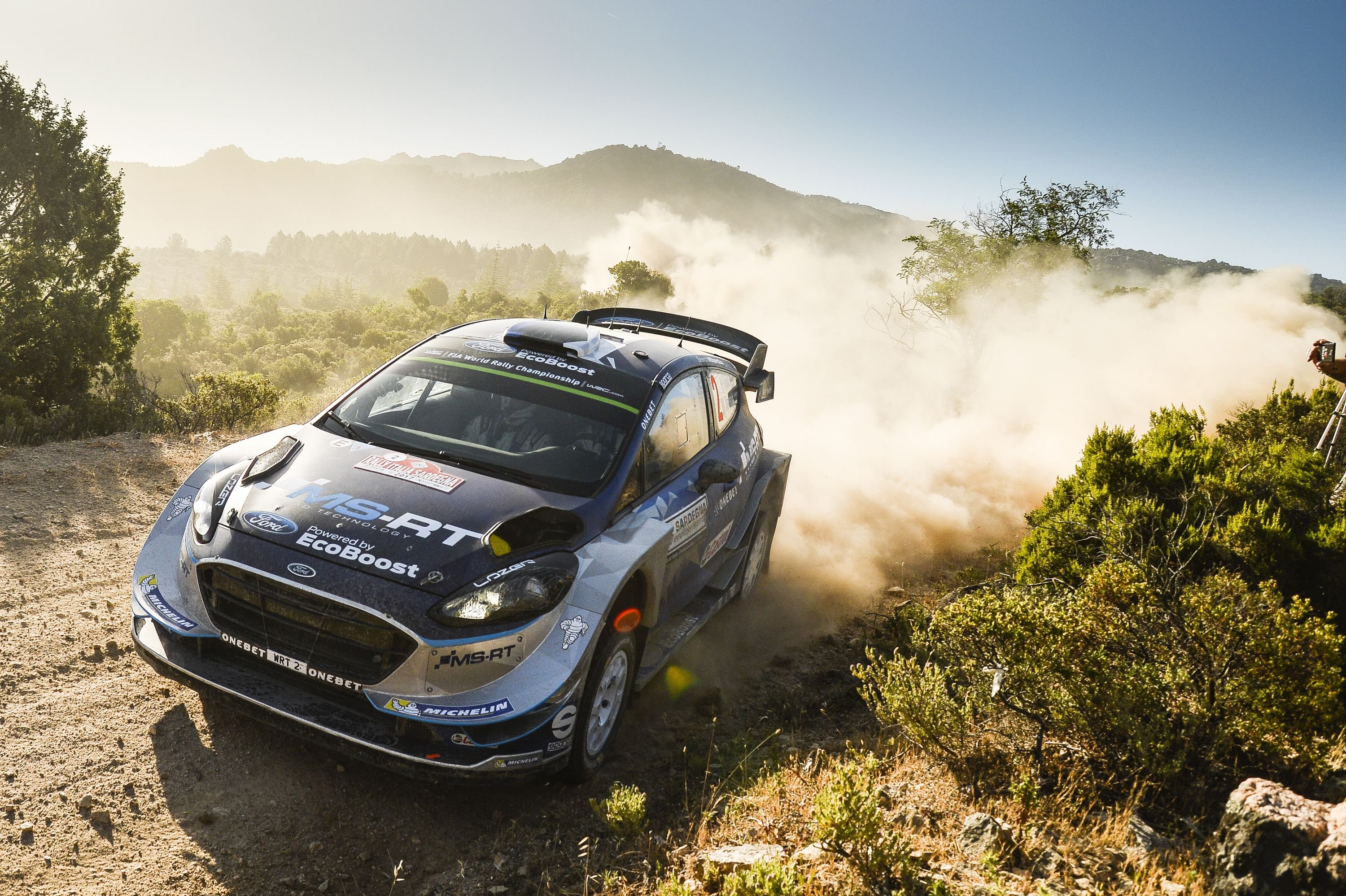 Round Eight, Rally Poland 
Kris was stood down for this round, after his accidents in the previous rounds. It rained in the morning of the first day. After a battle between Jari-Matti and Thierry for the lead on the first day, the top three would be Thierry, Ott and Jari-Matti. On his WRC debut, Teemu Suninen won his first stage behind the wheel of an M-Sport run Fiesta. Very impressive indeed. In the Citroen camp, Andreas would run wide and break his suspension. He would make it back to service though.
A dryer Saturday led to a dramatic day on the roads of Poland. The lead changed hands several times between Thierry and Ott who lost his rear wing during the afternoon stages. Hayden Paddon also won a few stages as well lifting himself into the top three. Jari-Matti sadly retired after his car stopped in stage 16.
On Sunday morning it was raining again. The battle was on between Thierry and Ott for the win. In the second stage of the day, Ott spun out hitting a tree in the process. Seb benefitted from that, moving into third overall. Thierry took his third victory of the year and Haydon finished second which after the year he'd been having was excellent news, whilst Seb finished a lucky third.
Thierry had now closed the gap to Seb after Poland to just eleven points and five rounds remained this year. The fight was on and it could go either way.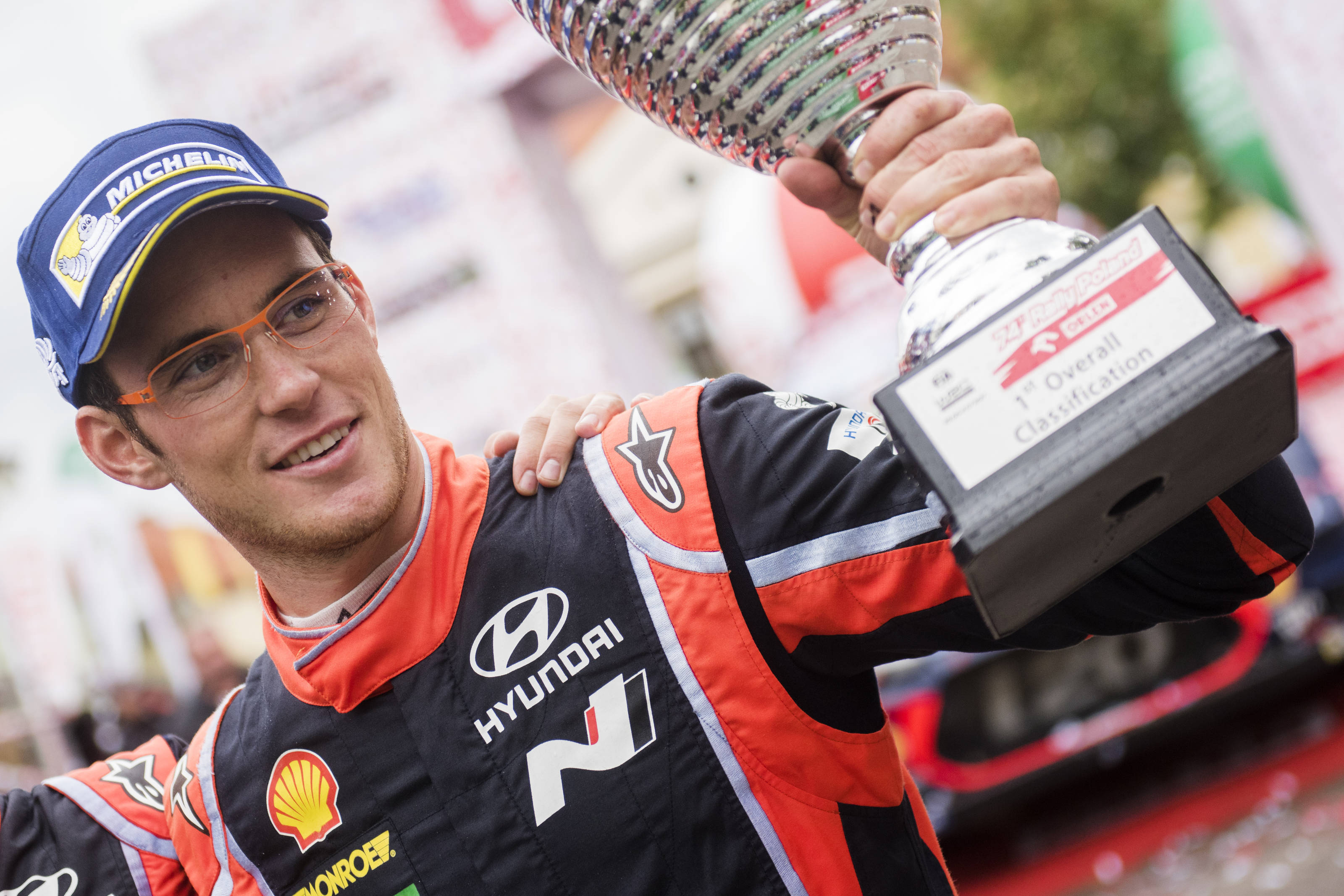 Round Nine, Rally Finland 
This was an amazing rally, just like twelve months previously, but for very different reasons. The first thing that happened was that Seb crashed out after hitting a tree on stage four. Both he and Julien were taken to hospital. It was also a bad stage for Ott, who hit a rock causing a puncture. Hayden also hit the same rock, but the damage caused put him out. Through all of this came Jari-Matti, Esapekka Lappi and Teemu Suninen! The Finns were taking this rally back in a big way. After lots of lead changes on Friday, it was Esapekka who was in front of Jari-Matti, on only his fourth WRC start!
Saturday saw Jari-Matti take the lead from his younger Toyota teammate. However, after just a few stages it would all come to nought. Jari-Matti ground to a halt in the second run of Ouninpohja, giving the lead back to Lappi. Behind all these quick Finns, was Elfyn Evans and Dan Barritt. They had found some great pace by the end of the day and found themselves just six seconds away from third place overall! Not bad for someone who'd not even run in the pre-event test!
No-one else led this event after Jari-Matti retired and Esapekka Lappi took his first victory! Incredibly, Elfyn and Dan came through and finished in second place! He passed Juho for third in stage 22, but then in stage 23, Juho repassed him, but also emerged in second overall after Teemu spun mid-stage! Anyway, at the end of all of that, Elfyn passed Juho in the very last stage to take second overall by just three tenths of a second!
In the battle for the world championship, things had got very interesting with Thierry Neuville drawing level with Seb Ogier on points, but being counted as leading at that point due to having three wins with Seb only on two.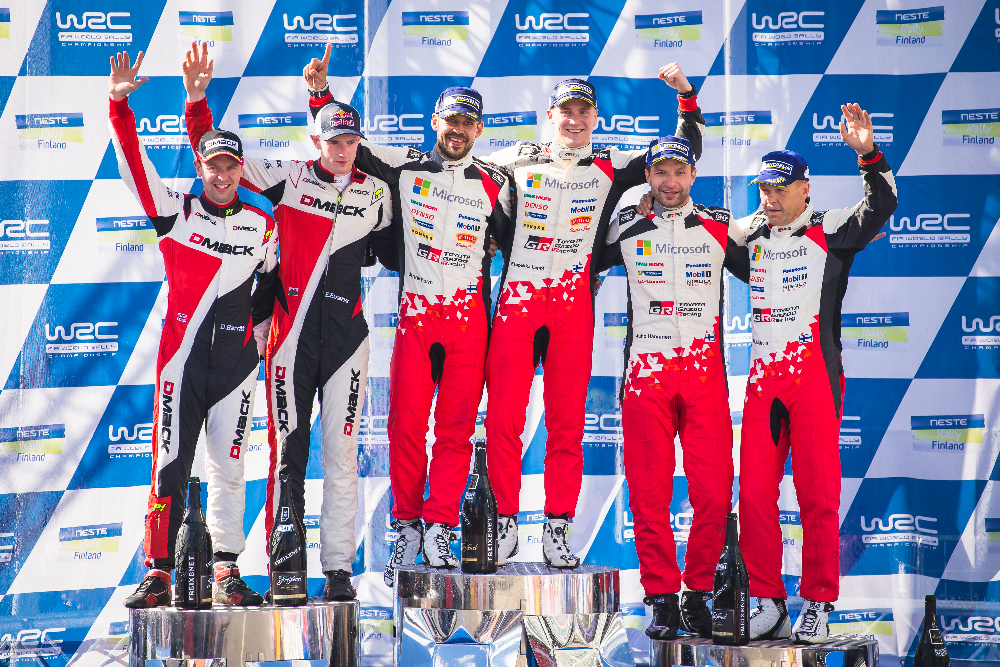 Round ten, Rally Germany 
Ott Tanak took his second victory of the year in a rally that M-Sport had never won before. Thierry who won this rally in 2014, crashed out in the Panzerplatte stage breaking his suspension. Many drivers have crashed in this stage, and the Belgian ace was yet another claimed by it. Kris sadly crashed out during the Thursday night super special, after hitting one of the concrete barriers lining the stage. Ogier finished third, knowing that would be enough to retake the lead in the championship, whilst Andreas, driving for Citroen finished in second place.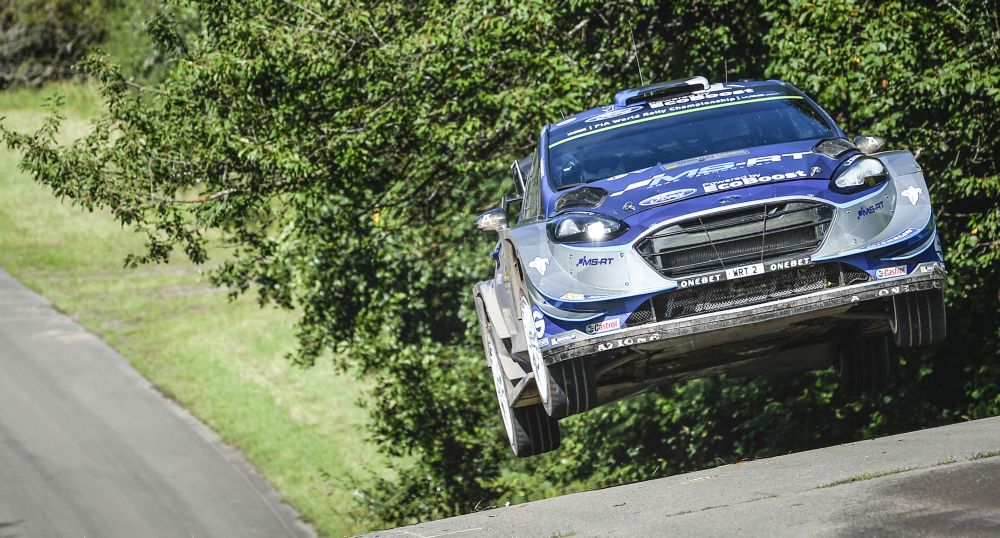 Round eleven, Rally Spain. 
Kris Meeke took his second victory of the year on the classic mixed surface event that is Rally Spain. Friday sees the crews tackle gravel stage, before switching to smooth tarmac for Saturday and Sunday. Kris mastered the challenge brilliantly, and we saw him and Paul back to their very best form. Andreas made his debut for the Hyundai team, leading at the end of the first day, but ultimately not scoring any points after hitting a rock on Friday.
Thierry also endured an event to forget after experiencing car troubles on Friday which would cause handling problems and then damaging his suspension, putting him out on Sunday. Mads drove a brilliant event, to finish fifth with Torstein alongside him in their Adapta run Ford.
Seb and Ott drove to second and third positions and with that result put M-Sport on the brink of the manufacturers championship, plus Seb had an almost 40-point lead over second placed Thierry.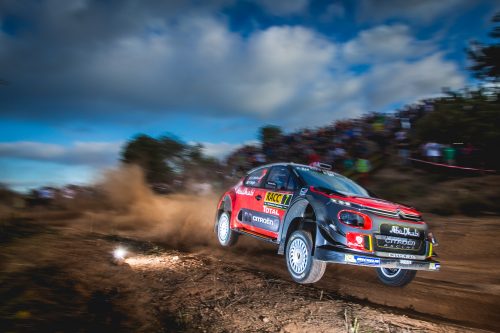 Round twelve, Wales Rally GB 
Elfyn Evans and Dan Barritt drove to a consummate first victory on home soil, the first Brit and also first Welshman to achieve this result and the first home winner since 2000! It started with stage wins on Friday, building on that with good pace throughout Saturday, including the foggy night stages. It was the kind of victory that Seb Ogier would be happy with.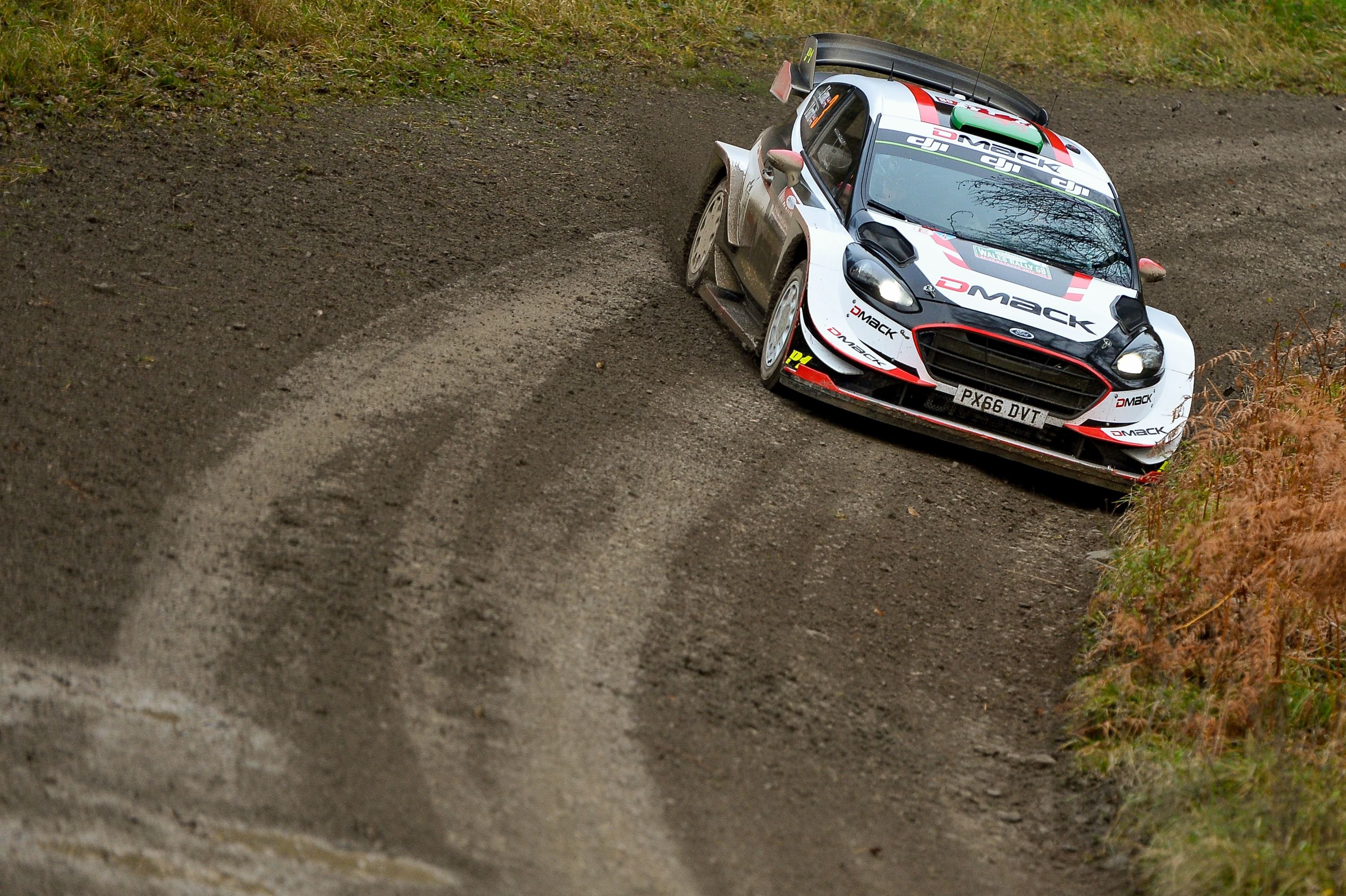 It was also a great weekend for the whole M-Sport team, with the manufacturers championship success, the first since 2006 and their first ever drivers title with Sebastien Ogier.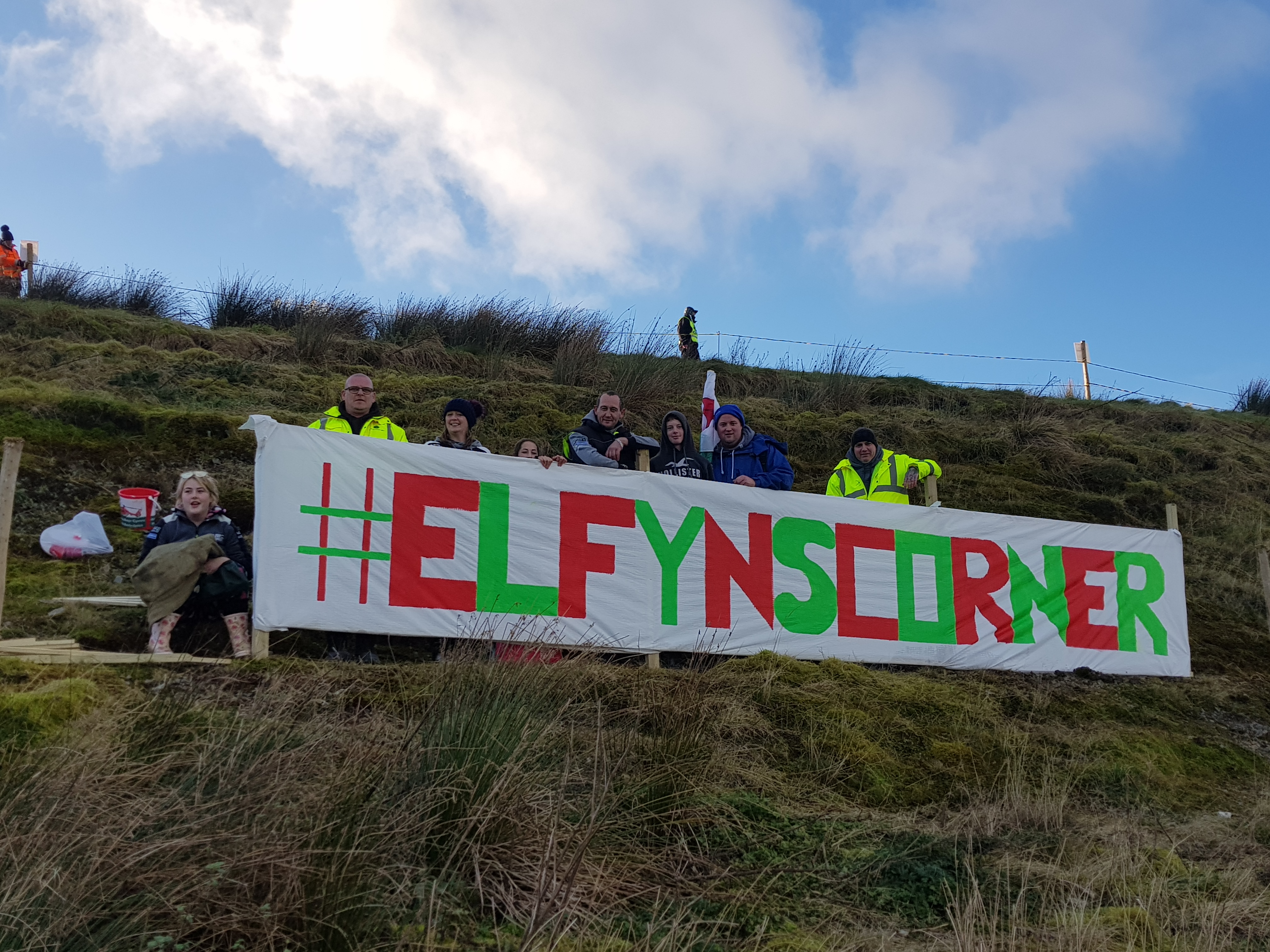 Thierry drove a great rally to finish in second place, after sliding wide early on Friday and having to fight back from a penalty that he got on Friday. He was driving better again after two non-finishes which had ended his fight with Seb for the world championship. Third place went to Seb Ogier.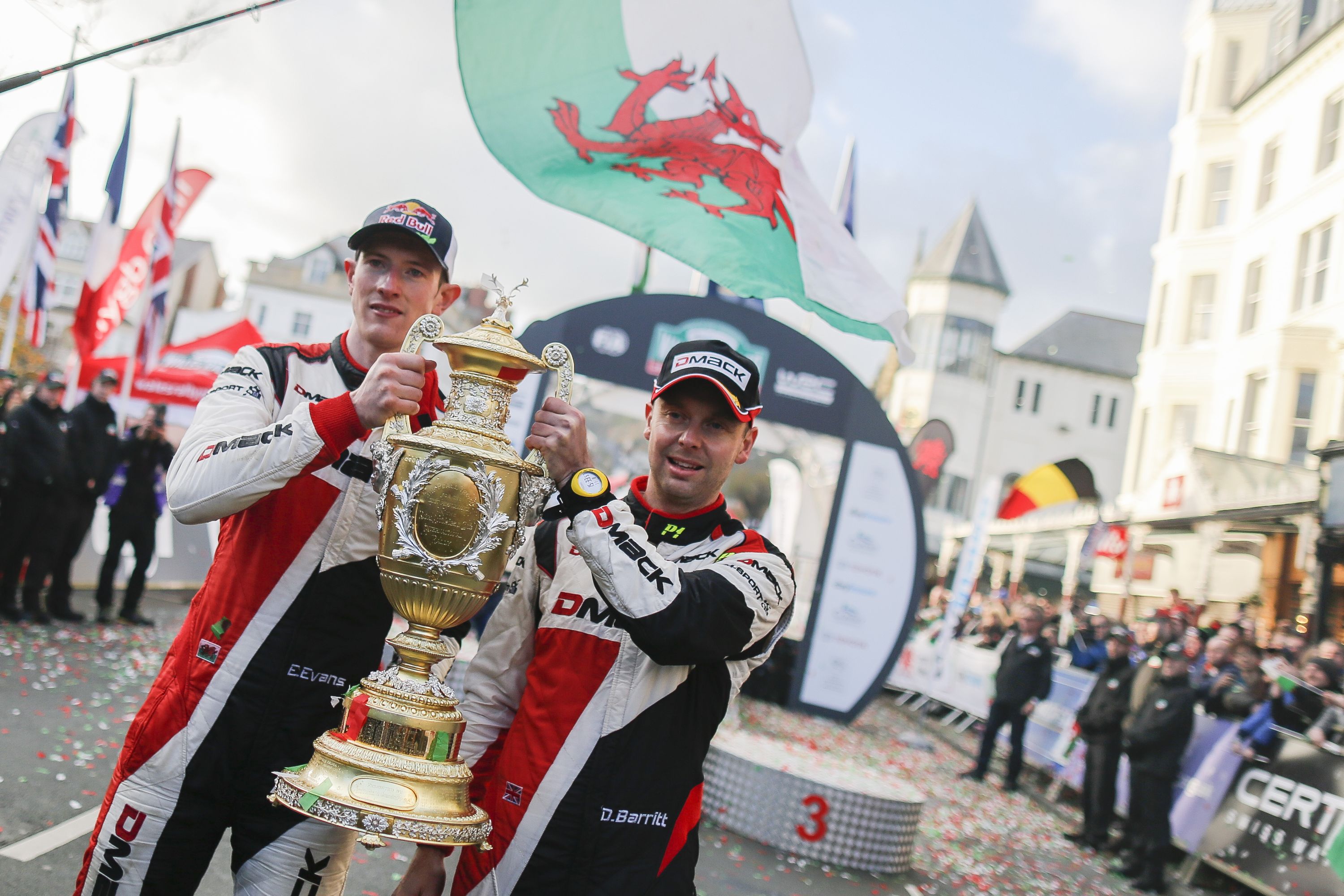 Round Thirteen, Rally Australia
Thierry Neuville showed that he was the man on the pace in 2017, with his fourth victory of the year Down Under. The victory came his way when his teammate, Andreas suffered a double puncture on Saturday morning when Thierry started to catch the Norwegian.
Jari-Matti had a pretty decent event, until Sunday. He was firmly in second place until the final power stage, when he crashed out. The weather turned really bad on Sunday and it was these conditions that saw him slide out.
With the Finn crashing his Yaris, Fiesta pilot, Ott moved into second. He'd been as low as sixth place, but had found good pace through Saturday to climb into the podium positions and held it together to take another podium in this stellar year for him.
Hayden completed the podium, bringing his hardest season at the top to an end. It was the second podium of the year for him.
Conclusion
Well, what a season we had to enjoy! Seven different winners and three different leaders in the world championship made this a year to remember. Three new winners as well, with Ott Tanak, Esapekka Lappi and Elfyn Evans all taking their maiden victories.
We had spectacular cars as well. These new generation WRC beasts sounded great, looked great and they tested the drivers to new levels.
We had some answers to some questions too. Could Seb win with a different team? He answered that question. Could anyone challenge him? Well, yes, sort of. Thierry took more victories, but with too many non-finishes, he fell short in the end. Ott Tanak took two wins as well, just like his teammate, but he's still early in his career and lacked the experience to consistently challenge Seb.
Kris Meeke took two wins as well, but also crashed out too often and was stood down for Rally Poland. In my opinion this was the wrong decision really.
Toyota made a great return to the sport with the team run by 4-times world champion Tommi Makinen, with two victories from Jari-Matti and Esapekka, even leading the drivers' championship after Rally Sweden. However, they weren't going challenge all year and they can count it as a really good result to finish ahead of Citroen in the manufacturers standings.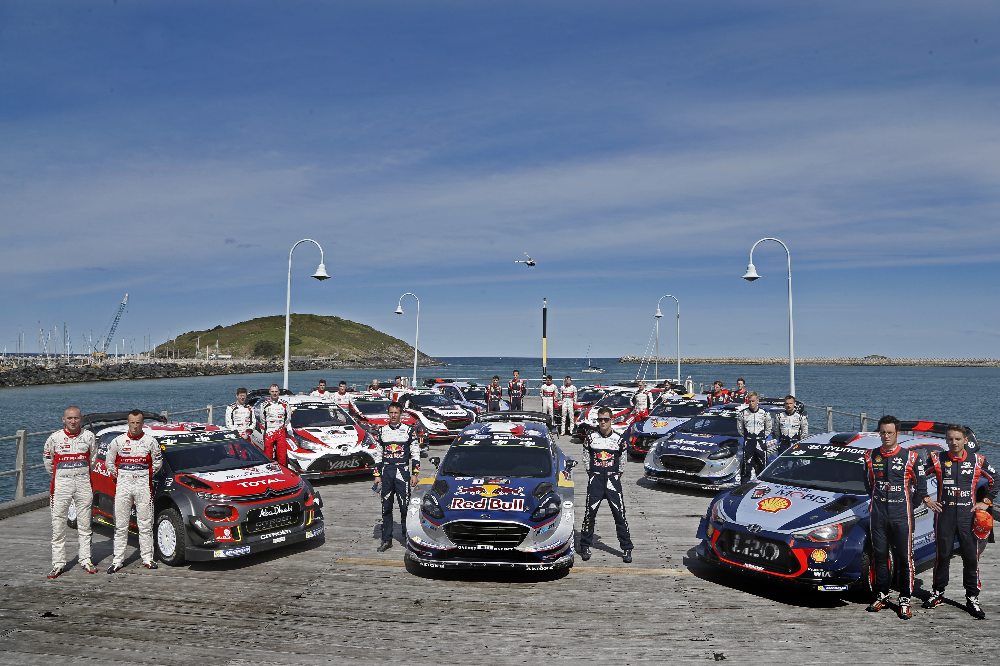 2017 FIA World Rally Championship for drivers
1 Sebastien Ogier 232
2 Thierry Neuville 208
3 Ott Tänak 191
4 Jari-Matti Latvala 136
5 Elfyn Evans 128
6 Dani Sordo 95
7 Kris Meeke 77
8 Hayden Paddon 74
9 Juho Hänninen 71
10 Craig Breen 64
11 Esapekka Lappi 62
2017 FIA World Rally Championship for manufacturers after round 13:
1 M-Sport World Rally Team 428
2 Hyundai Motorsport 345
3 TOYOTA GAZOO Racing WRT 251
4 Citroen Total Abu Dhabi World Rally Team 218
What will 2018 bring?! Its exciting times for sure!