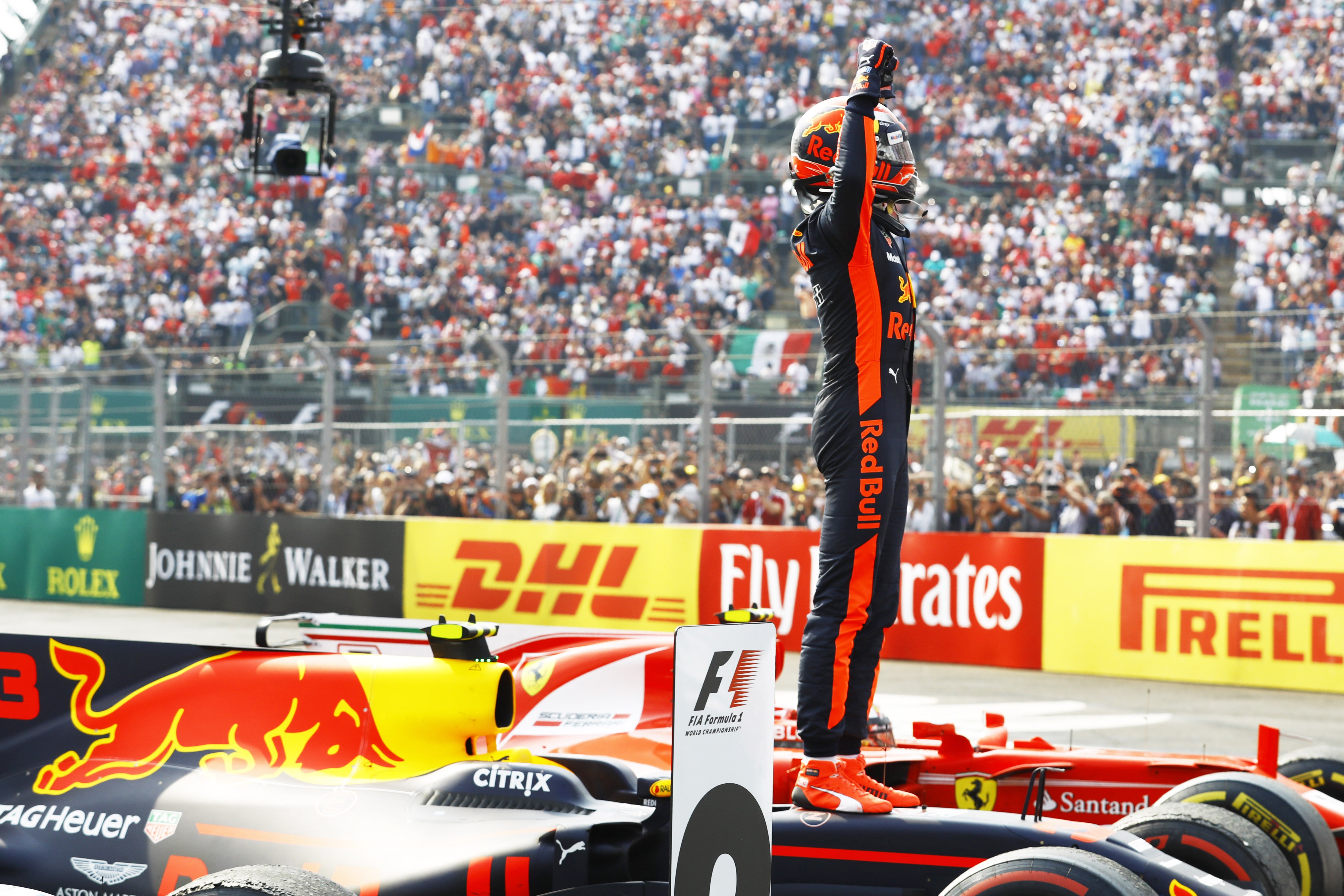 image courtesy of Pirelli Motorsports.
After an exciting qualifying yesterday in which Ferrari's Sebastian Vettel and Red Bull's Max Verstappen outqualified current Drivers Championship leader Lewis Hamilton, anticipation was the order of the day. Mathematically, as long as Sebastian Vettel finished third or lower Lewis Hamilton would win the title today. Even if Vettel had been on one of the top two steps of the podium, Hamilton only had to finish in the top 5 to secure his fourth trophy.
Despite his strong lead Hamilton was clearly on edge as the drivers got settled into their cars, complaining to his crew that his seat was too hot. One suspects he would've been happier in a different hot seat, namely that of pole position.
Penalties also reared their head today, with Ricciardo the latest to receive a penalty due to an engine change. The idea of using penalties to coerce reliability has clearly gone off the rails with the teams opting for strategic penalties instead, and otherwise just taking them as they come.
It would be hard to get a more exciting start, and if the Drivers Championship hadn't been nearly done for Hamilton it would've been even more exciting. Hamilton made a tactical error by an opportunistic attempt to get around Vettel after the Ferrari driver's contact with Verstappen. Had he hung back a bit he'd have likely been able to challenge for a podium spot, but instead wound up at the back of the field with Vettel. Vettel had to come in for a new wing, and Hamilton suffered a major puncture to his left rear tyre.
Both drivers came in for soft tyres, which had the potential to carry them both to the end of the race. While Seb seemed anxious to get back to business and climb the field, Lewis seemed diffident at best.
Despite his maturing over the past few seasons, Hamilton's own worst enemy continues to be Lewis Hamilton. Despite rampant speculation of damage that wasn't obvious on camera, Hamilton's car appeared in good order (and the pit wall confirmed that his floor was good), yet he struggled mightily to regain his race pace. It took some time before he was able to begin overtaking the usual suspects among the backmarkers, and he was even eventually lapped by Verstappen before getting his act together. You certainly don't see that every day. Once Hamilton began to get his head back in the game he was able to begin climbing the pack himself, and was able to salvage a few points by finishing in 9th.
It seemed that Hamilton had activated the Conspiracy Switch, asking his engineer Peter 'Bono' Bonnington , "Did he hit me deliberately?" Social media was subsequently off to the races with that one, bit clearly Vettel had much more to lose in this situation than did Hamilton. Hamilton's worries were clearly still getting the better of him, when asking later on what tyres the cars in front of him were using. Hamilton finally seemed to relax a bit later on when it was clear that Vettel wouldn't be able to close the gap to the frontrunners.
Fernando Alonso showed that he's still a fighter, giving Hamilton a good deal of trouble overtaking on lap 66. Hamilton opted for a more cautious approach this time, and while he was able to eventually make the overtake stick Alonso put up a fantastic defense.
Vettel himself had a few fraught moments, particularly following a mid-race tussle with ex-Ferrari driver Felipe Massa. It was quite something to hear his engineers talking him down, reminding him to remain calm. He certainly was able to get back down to business afterwards, though, and finished a very respectable 4th. He was certainly aided by a mid-race Virtual Safety Car brought about by Nico Hulkenberg's exciting retirement, and took advantage of an opportunity to pit for ultrasofts. Sadly, despite delivering a much better race performance (including setting several fastest laps) and Hamilton finishing well out of the top 5, Vettel wasn't able to finish high enough to keep his title hopes alive.
Lost in all this was Max Verstappen's masterful drive to finish 1st after setting the fastest lap of the race himself. Despite some early concerns over blistering on the left front, he drove an uneventful race staying substantially clear of second-place Valtteri Bottas. At one point his engineers had to chide him for not slowing down a bit, to which Max replied with a laughing apology. Watch this kid, he's going places. Here's hoping that Red Bull and Renault can deliver him a contending chassis and engine next year!
Renault's sudden lack of reliability, though overshadowed by the opening lap drama and the title contenders' battle back up the order, was a dubious star of the show. Daniel Ricciardo's penalty for his power unit change wound up being meaningless as he retired on lap 7 with an engine failure. Toro Rosso's Brendon Hartley was forced to retire as well, his engine going out in a puff of smoke reminiscent of his woes in qualifying. Carlos Sainz of the Renault factory team also retired his car late in the race.
Of the Renault retirements, the most spectacular was Nico Hulkenberg's. Reporting a loss of power and boost, Hulkenberg was instructed to immediately stop the car: "The car is not safe, the car is not safe, you need to get out by climbing onto the front of the car and jumping off." The battery systems store a considerable amount of energy, and one shudders to think what might've happened had Hulkenberg grounded himself while in contact with the car. Doubtless some will use this as another reason to move away from hybrid powertrains in the future.
Apart from Verstappen, Toro Rosso's Pierre Gasly was the final Renault-powered car left standing at the end of the race. While certainly better than Honda's performance over the last several seasons, one can't help but wonder if Renault is going to prove the best choice for McLaren in coming seasons – but then it's not like McLaren had a lot of options.
It's worth noting that both McLarens saw the chequered flag this time around. Alonso even took home a point.
Local favorite Sergio Perez certainly gave the home crowd some moments to cheer about, but a 7th place finish was doubtless a bit disappointing. Happily, with his Force India teammate Esteban Ocon finishing up in 5th the team has locked up 4th in the Constructors Championship and the boys will be free to race in the final two sessions. Bring us a good show, boys!
Happy birthday to Lance Stroll, 6th place and the points to go with it should make for a nice present.
As the sun sets on an eventful Grand Prix of Mexico, congratulations to Max Verstappen on his dominant victory! Congratulations as well to Lewis Hamilton for his 4th Drivers Championship.