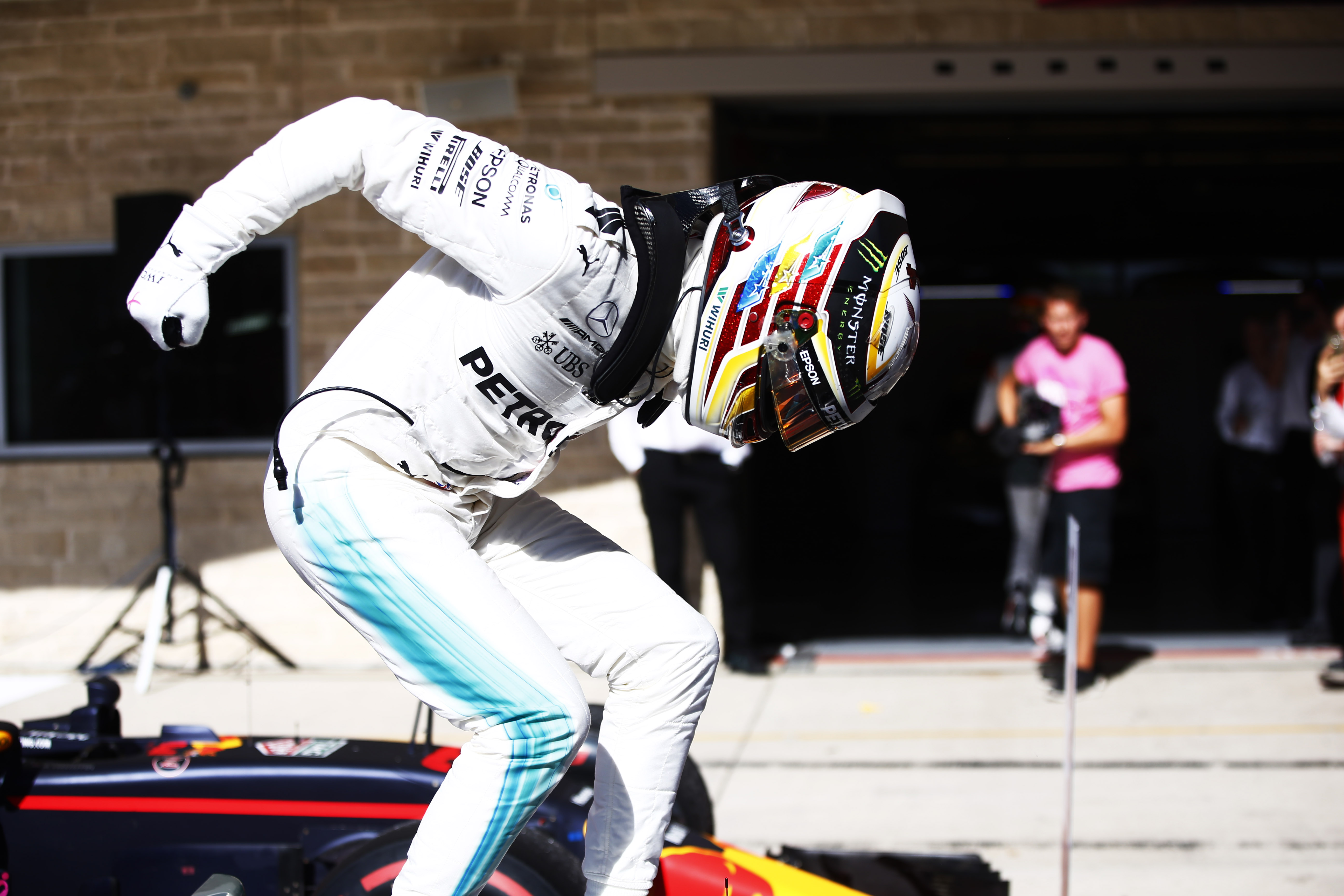 The weather just south of Austin, Texas was fine for the start of the United States Grand Prix, with the early morning rains moving on with plenty of time. That heavy rain, though, cleaned the track up considerably with all the rubber deposited over practice and qualifying washed away. This newly-green surface added an element of uncertainty to the pre-race proceedings. The very-American opening ceremony proved to be polarizing. For every fan that enjoyed Michael Buffer's boxing-style driver introductions (beneficial to an American audience, many of whom aren't as familiar with Formula One), there was one who found it 'cringey AF.' Whatever your reaction, you can't deny that Liberty Media delivered on the promise of spectacle for this race's opening ceremonies.
The word of the day for the United States Grand Prix was 'poised'. After a record-setting weekend, Lewis Hamilton and his teammate Valtteri Bottas faced the day poised to secure the fourth consecutive Constructors Championship for Mercedes AMG Petronas. Sebastian Vettel was poised to breathe a bit of life into the Drivers Championship if he drove well, and if he didn't (or if he suffered some other issue) Hamilton was poised to seal his fourth Drivers Championship. Carlos Sainz was poised to make a good impression in his debut with Renault. Brendon Hartley was poised to make a good showing in his first single-seater race in years. The paddock was full of expectations. Who would see their goals realized? Who would leave disappointed?
When the lights went out, Lewis Hamilton made a solid start but Sebastian Vettel did him one better, leaping off the line to take the lead at the outset. The remainder of the field enjoyed a fairly clean start.
The opening lap saw a great deal of shakeups in the field. Force India's Esteban Ocon briefly got the jump on Kimi Raikkonen for 5th, but it was not to last. Fernando Alsonso's McLaren overtook Carlos Sainz's Renault for 7th, in what I'm sure McLaren hopes to be a harbinger of next season. Williams' Felipe Massa overtook the other Force India of Sergio Perez for 9th. At the bottom of the field, Renault's Nico Hulkenberg took 17th from Haas' Kevin Magnussen and Stoffel Vandoorne of McLaren took 19th from Toro Rosso's Brendon Hartley. There was a contact between Weherlein and Magnussen, which was later determined to not merit any further action by the stewards.
And Max Verstappen began his inexorable climb in his Red Bull. In the first lap alone, he overtook both Saubers and Williams' Lance Stroll, bringing him up from 16th to 13th. In the second lap, he claimed Haas' Romain Grosjean and Toro Rosso's Dany Kvyat. Lap 3 saw him pass Perez, and Massa in lap 4, rising to 9th by lap 5.
Toward the front of the field, Red Bull's Daniel Ricciardo brought the fight to Mercedes' Valtteri Bottas several times in the early laps, but wasn't able to make any of the attempts stick. Raikkonen lurked quietly behind Ricciardo, searching for an opening. Hamilton and Vettel traded fastest laps early on, with Hamilton declaring that the, "[p]ace feels pretty good," as he settled into the groove. Hulkenberg's race came to an untimely end in lap 4 thanks to an engine failure, to the disappointment of both his fans and his team.
Lap 6 saw Hamilton finally able to make a move on Vettel to retake the lead. Despite a valiant defense, Vettel was unable to deny Hamilton, and the #44 Silver Arrow found its legs. Weherlein's race came to an end at this point with a retirement due to damage.
Lap 10 brought Max Verstappen into 6th place, overtaking Ocon in at turn 12. The teams began eyeing pit stops, with Stroll going in for softs on lap 11 and Ricciardo requesting that he be brought in as soon as there'd be good track position. Vettel reported blistering on the left front during lap 12, and Raikkonen made an attempt on Ricciardo.
Pit stops began in earnest in lap 13, with Ricciardo and Perez both taking new tyres. Perez, pitting from 11th and rejoining in 15th, opted for a set of softs, while Ricciardo pitted from 4th left the pits on a set of supersofts to rejoin in 9th. Ricciardo's stop allowed Raikkonen to rise to 4th and Verstappen to 5th. With his fresh tyres, Ricciardo handily overtook Sainz to advance to 8th. Ocon and Alonso both stopped for fresh rubber in lap 15, with Ocon rejoining in 12th and Alonso in 14th on soft tyres.
After setting the fastest lap thus far, misfortune struck Ricciardo. His Tag Heuer-branded Renault power unit gave up the ghost, leading him to coast to a halt on the grass past turn 15 and bringing out a double yellow for sector 3 as his car was recovered. Both Renault and Red Bull were doubtless feeling a bit of nervousness for their remaining drivers, though (spoiler alert!) there were no further Renault-powered retirements.
By this time, a significant gap had emerged between the Mercedes, Ferraris, and lone Red Bull at the front of the pack.
Lap 17 saw Vettel dive for the pits from second, emerging on his new set of soft tyres in 5th behind the hard-charging Verstappen. When faced with Vettel's pit stop, Hamilton confidently declared, "Tyres are good, I can extend." His confidence in his well-worn ultrasofts seemed to be well-placed, as the onboard camera shots showed no indication of striping or blistering. Nonetheless, worn ultrasofts, no matter how well-managed, would be tricky to match against Vettel's fresh set of softs. Vettel confirmed his tyres' puissance by setting the fastest second and third sectors, and then going on to set the fastest lap shortly thereafter.
Mercedes brought Bottas in for soft tyres in lap 18, causing him to take his turn in 5th when he rejoined the track and allowing Raikkonen, Verstappen, and Vettel to each climb one place. The battle in the midfield continued apace, with Sainz and Massa jockeying for position with McLaren and Force India. Sainz' stop in lap 19 for – you guessed it, softs – left Massa in 6th, trailed by Ocon, Alonso, Perez, and Vandoorne. Alonso issued a call to his team for strategy information, sarcastically telling them, "It'd be nice to know what I'm doing." Rejoining in 11th, Sainz would face an uphill battle for position for the remainder of the race.
Hamilton finally entered the pits in lap 20, also taking a set of soft tyres. His crew turned in an excellent stop, though this led to a fraught moment for Mercedes, as Vettel was closing fast while Hamilton climbed out of the pits and up to turn 1. While his tyres were a few laps newer than Vettel's, they were cold while the Ferrari's rubber was already up to temperature. Hamilton did manage to rejoin in 3rd, just in front of Vettel, and was able to defend his position. Vettel wobbled and ran a bit wide in turn 1, and Hamilton set about rebuilding his lead and catching Max Verstappen.
With Raikkonen entering the pits for softs in lap 21 (and duly taking his turn in 5th upon exit), Verstappen's strategy became a hot topic. Verstappen began the race on a used set of supersofts, and despite his masterful performance thus far they clearly wouldn't last forever. This was brought into focus in lap 23 when Hamilton was able to successfully attack Verstappen and reclaim the lead. The question of a Verstappen-Vettel battle began to loom when Red Bull finally called their wunderkind into the pits in lap 25 for a set of… softs. Verstappen dutifully rejoined in 5th.
In the midfield, Marcus Ericsson went into the pits in lap 21, emerging with softs of his own but falling from 13th to 18th in the process. In lap 25 tragedy – by now firmly farce – then struck struck Fernando Alonso. Again. With a call from the pit advising him to back off, he returned to the garage and ended his race with yet another Honda-powered retirement. Our hats are off to Alonso for being able to maintain any sense of equanimity after the absolute disaster that is the modern McLaren-Honda partnership, though doubtless seeing the Renault-shaped light at the end of the tunnel helps. We also wish Toro Rosso the best of luck for 2019. Unless Honda is able to resolve these serious issues, they'll need it.
The following lap, Alonso's more fortunate teammate pitted for a set of ultrasofts, rejoining in 15th. Sainz began to methodically reel Force India in up in the middle of the pack, while Perez and Ocon continued to vie for position themselves. Happily, both Force India drivers kept it clean, avoiding the on-track contact that cost the team so dearly earlier in the season.
At the front of the pack, Verstappen went on to set the fastest lap of the race. Vandoorne meanwhile passed Hartley on lap 28 and Stroll in lap 29 to rise back to 13th. Massa made his first stop of the race in lap 30, trading his supersofts for a set of new ultrasofts. This late stop did cost him, as he rejoined in 12th. Meanwhile, Hartley continued his quiet-but-proficient drive, breathing down Stroll's neck.
Continuing the long, slow burning battle between the Force India drivers and Sainz, Perez's calls to the pit wall requesting that Ocon let him by were denied. Ocon's fine, he was told, YOU need to manage better, and management's what we need right now. Sainz' patience finally paid off, and he overtook Perez at turn 19 to advance to 7th. This in turn left Perez in Kvyat's sights. In the midst of all this, Massa began to regain positions, overtaking Magnussen in lap 32 and later claiming the other Haas in lap 39.
Lap 38 saw a surprise pit stop from Max Verstappen for a set of supersofts. While exiting the pit, his crew radioed, "You know what we're up to. We need a big lap." Vettel followed Max in on lap 39 for a set of supersofts of his own. Pitting from second, he rejoined in 4th. This was a risky move. Would Verstappen's new supersofts outperform Vettel's used set? Would Vettel be able to close the gap to Raikkonen and Bottas? Ferrari would doubtless issue team orders, instructing Raikkonen to let Vettel pass, but Bottas certainly wouldn't be so obliging. Verstappen then set the fastest lap thus far.
By lap 42, Raikkonen was able to mount a successful challenge on Bottas for second. By lap 44, commentators were discussing the scenario of Vettel passing Bottas, and Raikkonen being issued the expected orders to let Vettel pass.
In an example of the interesting things that can happen when the front runners lap the backmarkers, on lap 46 Marcus Ericsson attempted to follow Vettel past Kevin Magnussen at turn 12 under the blue flags. Magnussen wasn't having it and tried to close the door. The drivers bumped, with Magnussen coming out worse for the wear after a spin, plummeting to 16th. Though Ericsson did briefly claim 13th, the stewards handed him a 5-second time penalty for his trouble and Stroll quickly overtook him for the position.
Meanwhile, Carlos Sainz continued his long search for advantage over Esteban Ocon, but Ocon's defense continued to be impregnable. This so impressed the world feed directors that they continued to broadcast the feed from Sainz's car as Vettel set the fastest lap of the race and approached DRS range on Bottas.
By turn 1 of lap 51, Vettel was in position to attack Bottas. Bottas, apparently relying on traffic to provide cover, miscalculated the his position relative to Vettel and the lapped Vandoorne and failed to mount an effective defense against Vettel's attack on the outside. This cost Bottas 3rd, and opened him up to attack from Verstappen. Bottas was able to more effectively use traffic, in the form of Romain Grosjean's Haas, to hold Verstappen off for a bit.
In lap 52, the expected radio call from Ferrari's pit wall to Kimi Raikkonen arrived. "Seb is now the car behind, Seb is now the car behind. OK, if Seb comes alongside, let him by." The Finn dutifully ceded 2nd place to his teammate. A short distance behind, Bottas had run out of time against Vertstappen. Verstappen attacked on the inside, forcing Bottas wide. Bottas wasn't able to make his counterattack stick, and with nothing to lose he made a gamble of his own by pitting for a set of ultrasoft tyres. Sadly, it amounted to nothing and Mercedes' in-house Finn was left to finish in 5th.
Overshadowed by the action at the front, Massa quietly overtook Kvyat for 9th place, and a couple of points for Williams.
Having dispensed with Bottas, Verstappen then set his sights on Raikkonen. With only 2 laps left and a little more than a second between them, Verstappen would have only one chance to attack Raikkonen. Pushing hard, it appeared that Verstappen would fall just short of Raikkonen.
As Lewis Hamilton crossed the line to secure the fourth consecutive Constructors Championship title for Mercedes AMG Petronas, Verstappen mounted an audacious attack on Raikkonen at turn 17 as the chequered flag fell, and claimed third place for his efforts.
In what will doubtless be a long-discussed penalty, the stewards determined that Verstappen had exceeded the track limits to gain advantage, and gave him a five second time penalty. This led to an awkward moment after the race, as Verstappen was already in the cool-down room.
The final finishing order, after time penalties, was:
HAM
VET
RAI
VER
BOT
OCO
SAI
PER
MAS
KVY
STR
VAN
HAR
GRO
ERI
MAG
DNFs:
ALO
RIC
WEH
HUL
Congratulations to Lewis Hamilton for a well-fought victory in Austin! Congratulations to Mercedes AMG Petronas for the fourth consecutive Constructors Championship! Congratulations to Sebastian Vettel for setting the fastest lap of the race, with 1:37.766 and keeping the Drivers Championship alive, at least mathematically! Congratulations Max Verstappen for getting us up out of our seats and shouting in the dwindling seconds of the race!
We can't wait to see what Mexico brings us on Sunday.