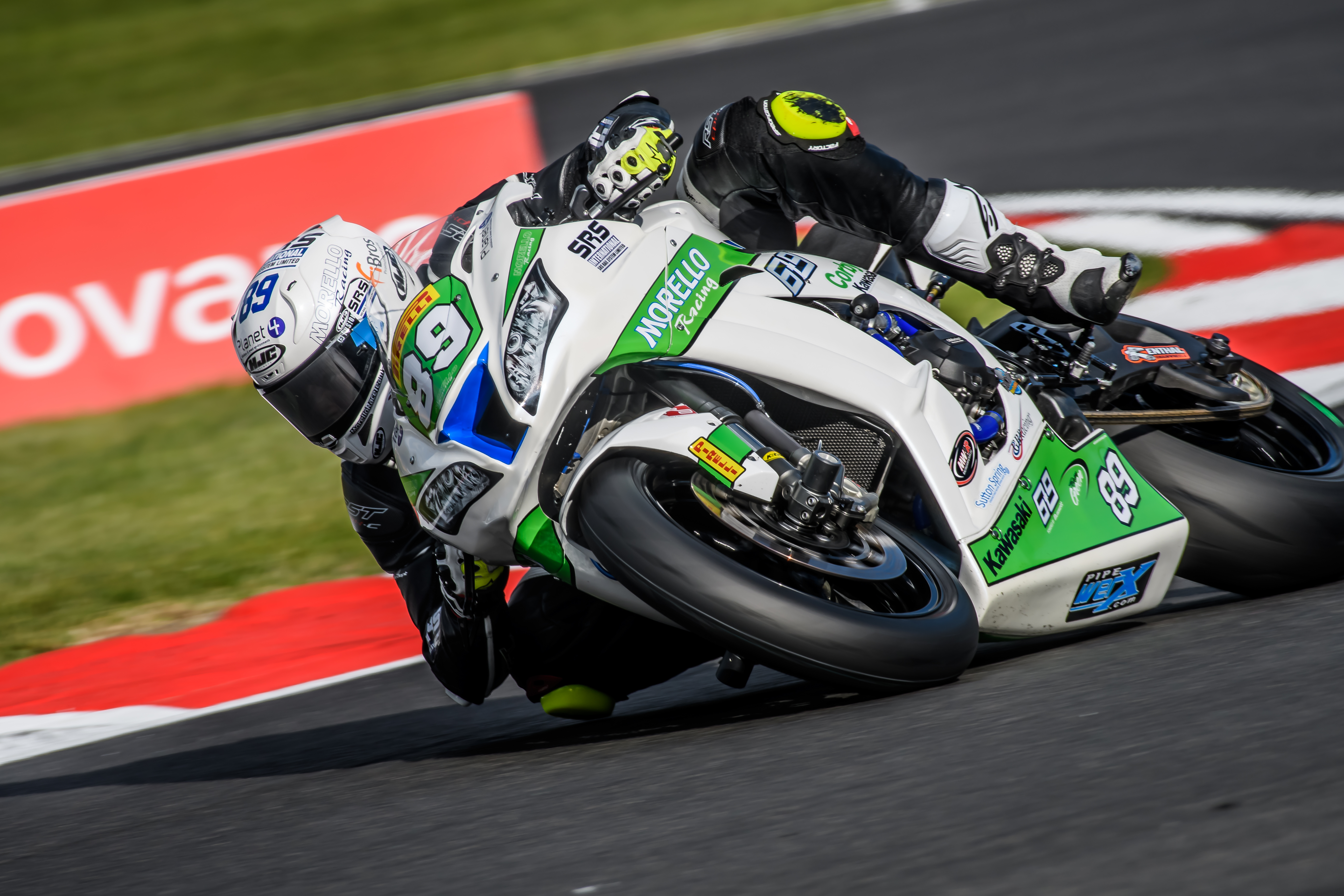 Back at Brands Hatch, I caught up with ex-Morello Kawasaki rider, Fraser Rogers, to chat to him about this season and his split from the Norfolk-based team. As well as this, he talks of possibly returning to the World Championships and also opens up about whether he has under achieved in 2017.
How has 2017 been – aside from your split with Morello Kawasaki?
It's been tough; in fact, very tough. I've shown that I have the pace to be at the front. I want to stay in the National Superstock 1000 championship in the UK or move up to the European Superstock 1000 class next season. I have some really good offers and I know that I can run at the front. I just need the right people and the right package to make it all come together and make everything work well. I have shown my speed this year but unfortunately, I've suffered a lot of bad luck.
Do you think you could go stronger in 2017, given 2016's stellar season?
I know what Morello will say but if you actually look through the results properly, then you will see that I went faster at near enough every circuit this season than I did last year. If you take out Thruxton and Cadwell Park, then I think you'll find that I went faster everywhere else. With the likes of Danny Buchan and Richard Cooper dropping down and some of the fast boys coming up, then you will also notice that the overall pace is faster and the depth of talent in the field is a lot stronger.
Did you feel any pressure from Danny Buchan when you was riding at Morello Kawasaki?
I've ridden in GPs and world championships and the National Superstock 1000 class and it doesn't really bother me. Everyone forgets that I've known Danny since I was 12-years-old. I've raced with him before. He is just a step ahead of me at the moment but that doesn't mean to say that it won't change in the future. It has been good being teammates with him this year; there's been no animosity with him, it's just been a healthy rivalry. He's not got to me all season. I've had other established teammates in the past.
Do you agree with Steve Buckenham (Morello Kawasaki Team Owner) that you have under achieved in 2017?
I wouldn't have said that I have massively under achieved. I finished 3rd in the first part of the Donington Park race and I beat Danny Buchan – my teammate – at Silverstone. I also had the fastest lap at Oulton Park earlier in the year. Like I said earlier, I have improved my lap times in 2017 but I've had a lot of bad luck this year too.
We didn't do a lot of testing pre-season, we had four days in Spain but that was it. The four day test was cut short to 1 and a half anyway. I had a some problem and the chain split the engine casings. The team lent my engine to another rider but that also meant that I couldn't continue, so we just packed up our stuff. We have done the official test this season but not massive amounts of testing elsewhere.
I don't agree with what Steve has said. I have had a lot of problems this year. I crashed out at Snetterton all on my own but I could've been on the podium because my pace was strong. At another round this year, we had a fuel leak. That meant that with three laps to go, I ran out of fuel and then dropped a load of positions. I had a clutch let go on me at Donington Park Part 2 of the 100 mile race whilst running third & at another round, rain cost me a race win whilst I was out on dry tyres. At another round, results were poor due to some other things going on behind closed doors in the team.
I wouldn't say I've under achieved because other wise, I wouldn't be in the position with the offers that I have on the table now. I have good British offers and offers also in the world championships and also in Moto2. I went to IDM and on a Superstock bike with treaded tyres, I was able to be competitive against Markus Reiterberger who is an ex WSBK rider. My results could've been a lot better but I know, in myself, I am good enough to be in a top team. Things just haven't fallen into place.
After three DNFs before Brands Hatch, or four because I wasn't riding there, I am 7th in the championship. I went into Brands Hatch knowing that I couldn't be beaten for 7th in the championship so how does that add up to me under achieving? Especially, in one of the most competitive stock championships in Europe. Steve is a great guy and Morello Racing are a great team but sometimes I just think 'they aren't for me'.
What are the reasons behind the split between yourself and Morello Racing?
I don't really know. The moment I knew about it most was after the Cadwell Park or Silverstone race. Obviously, some things were said by Steve and I kind of knew then that things had run their course.
Morello Kawasaki have been brilliant with me this last 18 months and I would like to thank them for that chance. Chris Sayle gets on with me really well and that is a shame when myself and Steve just didn't see eye-to-eye most of the time. It wasn't very harmonious at all and the short and the long of it was I just wasn't enjoying riding the bike or being in and around the team anymore, at which point its best to go our separate ways.
What does the future hold for Fraser Rogers now?
I've had a really good offer in National Superstock 1000 and likewise in the European Superstock 1000 championship. With Moto2 being confirmed for 2018, that is also an option, especially after I rode for the Fab Racing guys at Brands Hatch. If I can prove myself on a GP-spec bike then that is also an option. I want to end up back in the world championships so it is a logical step.
I would also like to thank all my sponsors for making this season happen, as without them I wouldn't be racing so I cant thank these guys enough. Simon Whatley from SRS Rail Systems UK,
Matt and James Cox from Swindon Karting Arena, Fibros Promotional Print, Gary from Planet 4, my family and everyone else thats helped me along the way. 2018 awaits us!
Image by: Peter Backhurst