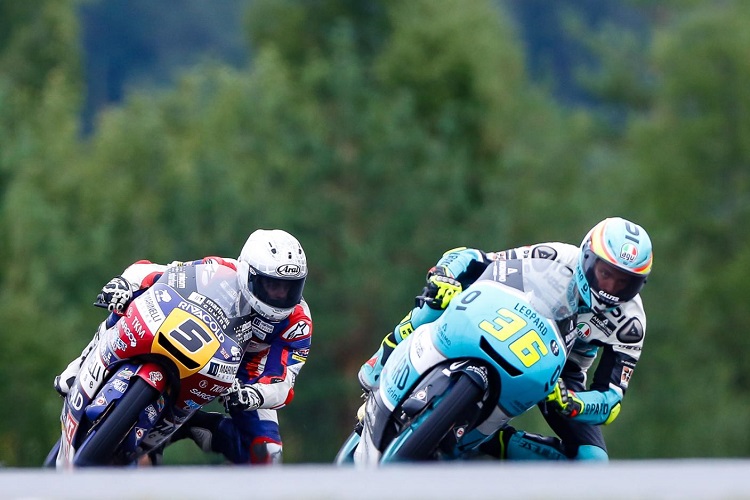 The Moto3 series returns this weekend to the stunning Philip Island circuit, Australia. A venue now infamous for its uncertain weather conditions is sure to provide similarly unpredictable racing.
Once again all eyes will be on series leader, Joan Mir (Leopard Racing). The Spaniard had a nightmare last time out at Motegi, and will be looking to bounce back and wrap up the championship in style here. The title permutations remain the same as last week:  If Mir wins, he's crowned champion. Equally, should Mir outscore Romano Fenati (Marinelli Rivacold Snipers) by five points or more, he will be champion. Mir now also doesn't have to worry about a possible challenge from Aron Canet (Estrella-Galicia 0,0) anymore. The Spaniard failed to finish on the podium in Japan and, despite Mir not scoring a point, has been eliminated from the fight for the championship.
Not that Fenati will have any intentions of yielding up his challenge so easily. The Italian took a stunning victory in Japan last weekend, and will be looking to repeat that performance in Australia. It is still a very tall order for him to wrestle the crown away from Mir's grasp – if he is to realistically win the championship he needs to win all three remaining races, with his rival slipping up along the way.  However, this is Moto3 – where nothing is certain and anything is possible.
This weekend the paddock also welcomes back Maria Herrera to the fold, as she fills in for the injured Albert Arenas at the Mahindra-Aspar team. Philip Island is a circuit where the 21-year old has traditionally produced good showings (having scored points here in 2015 and 2016 respectively).  She will be racing with the team until the end of the season and will be hoping to find a full-time ride on the grid for next season.
Expect action galore from a multitude of riders this weekend, including the likes of: John McPhee (British Talent Team), Andrea Migno (Sky VR|46), Enea Bastianini (Estrella-Galicia 0,0) and Phillip Oettl (Schedl GP) – all of whom are fighting over sixth place in the championship. The competition between these riders could not be more fierce, with only 11 points separating sixth placed McPhee from tenth placed Phillip Oettl. With the former still yet to secure a ride for next season, expect a no-holds-barred effort from the British rider as he aims to consolidate his position at the sharp end of the championship standings.