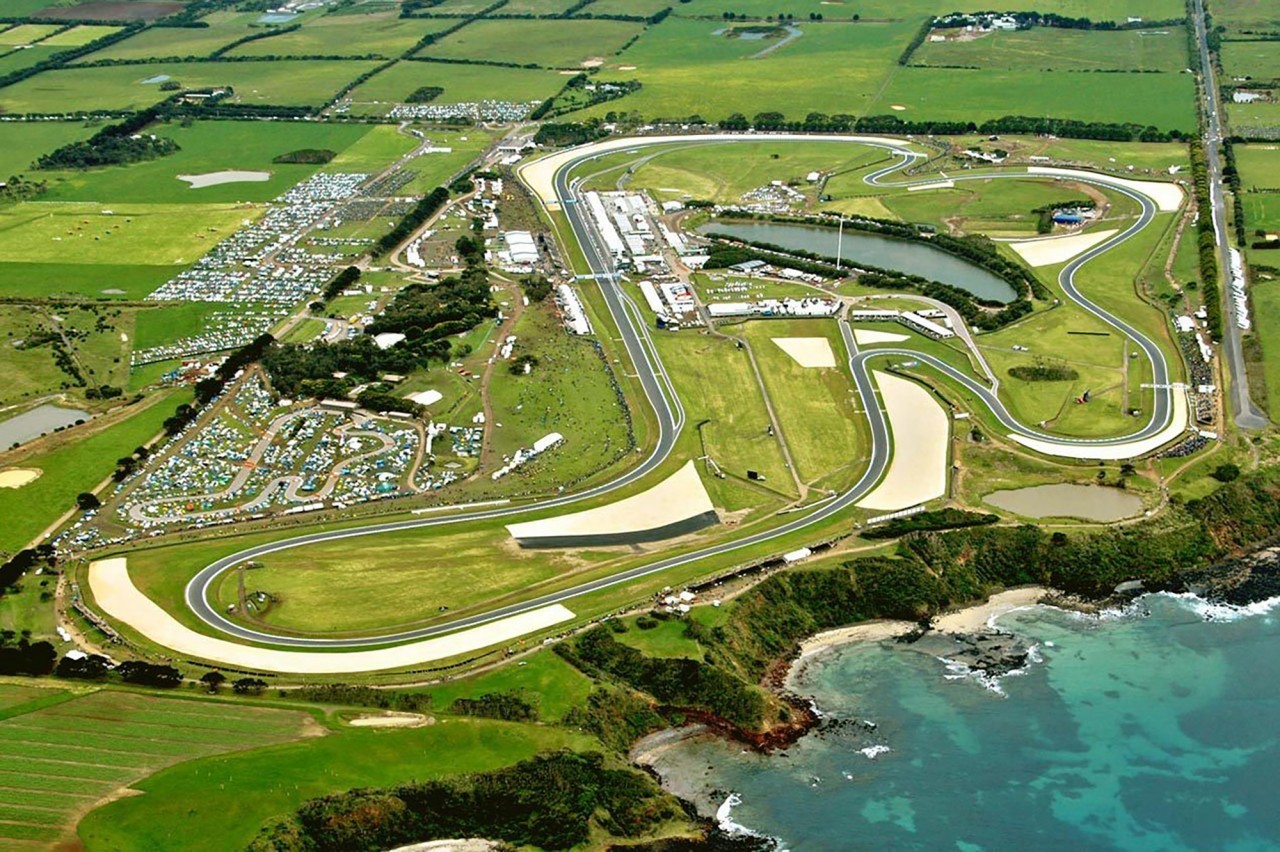 MotoGP heads Down Under for round 16, as we go to the Australian Grand Prix, coming from the high-speed, high-stakes Phillip Island Grand Prix Circuit, near Ventnor, Victoria. The track oozes fast bends and long, sweeping corners, as well as dead-stop hairpins and undulations. After their battle in Japan, Marc Marquez and Andrea Dovizioso will be looking to reignite their title fight and go head-to-head once more. Likewise, Maverick Vinales will want to give Yamaha something to cheer about as the manufacturer is still yet to win a race in the second half of 2017. Phillip Island has consistently hosted some of the best GPs over time and can also spring a few surprises. Last season, it was Cal Crutchlow who took the win and back in 2006, Marco Melandri took a surprise victory. Who will it be this time?
Marc Marquez' championship lead has been whittled away after losing a last-lap last-corner battle with Andrea Dovizioso at Motegi. The Spaniard has a terrible form in Australia, finishing just one race in the premier class, of which he won, in 2015. A disqualification in 2013, crash in 2014 and likewise again last season place Marquez on the back foot going into the Australian Grand Prix. Marquez is one of just three Spaniards to win at Phillip Island in the premier class, the others being Alex Criville in 1997 and Jorge Lorenzo in 2013. Will be become the first Spaniard to win two?
Andrea Dovizioso will be desperate to prove a point at Phillip Island. The smooth Italian left it late to take victory in Japan but, like in Austria, he beat Marquez on the run to the line. Ducati as a manufacturer have enjoyed endless success in Australia, winning four races with Casey Stoner. 'Dovi' has also won at the circuit, back in the 125cc class in 2004. He was 4th last season but 13th the season before, whilst his last podium was back in 2011 on a Repsol Honda. He has just one other podium in 2007 in the 250cc class, finishing 3rd.  In 2016, Marquez outscored Dovizioso in the last three races by the just three points. Will it be the same again this year?
Maverick Vinales is 41 points back of Marc Marquez and 30 behind Andrea Dovizioso. You'd have to say that it really is over for a championship challenge from the new Yamaha rider. Another disappointing result in Japan – where he was 9th – now means that Vinales can't hand more than 9 points to Marquez or more than 20 to Dovizioso if he is to remain in the championship race. Vinales was third at Phillip Island last season and 6th in 2015, both results coming for Suzuki. He was a winner in Moto2 in 2014 and 2nd in Moto3 in 2013. Vinales isn't out of the title race just yet but it'd take bad luck to go the way of the two ahead. Anything is possible in GP racing.
Dani Pedrosa's championship charge is now realistically over, as he is 74 points back off leading teammate, Marc Marquez. The Spaniard retired in Japan, meaning he must win every race and hope that Marquez picks up just one point from the remaining races. On top of that, Pedrosa doesn't go well at Phillip Island, with his light body weight often being the reason he can't generate heat into his tyres on an often cold track. Pedrosa didn't start last season's Australian GP and was 5th in 2015. His best result was 2nd, in 2013 but he's never won in the premier class. Could he shock us all come Sunday?
Valentino Rossi mathematically can't win the MotoGP championship in 2017, as he is now 76 points back of Marc Marquez with just 75 points left for the taking. Rossi has endured one of his most injury hit seasons of his career this year and of late, that has been detrimental to the Italian's fall in form. He loves Phillip Island however, taking 2nd last season, 4th in 2015 and winning most recently, in 2014, as well as a podium in 2013. Rossi won every Australian Grand Prix from 2001-2005 and had won at the track in 1998 and 1999. 'The Doctor' is the only rider to have won more times than Casey Stoner at the venue and he will be looking to extend that margin this weekend, as he is out there purely to race.
Johann Zarco completes the top six in the standings. The Frenchman started from pole at Motegi before dropping back to 8th in the closing stages – although he still finished top Yamaha. Tech 3 as a team have been successful at Phillip Island before, with a 3rd place back in 2014, with Bradley Smith. Zarco hasn't had a top five at the Australian Grand Prix since 2012 in Moto2 but did score a podium there in 2011. There has never been a French winner in the premier class at Phillip Island and the last time a French rider won at all in Grand Prix at Phillip Island was 2008, with Mike Di Meglio in the 125cc race. The last French rider to stand on the podium at Phillip Island in the premier class was Regis Laconi, also on a Yamaha, in 1999. The only other Frenchman to stand on a premier class podium at Phillip Island was Christian Sarron, in 1989. Could Zarco set the record straight?
Jorge Lorenzo is the 7th rider in the standings. He has won at Phillip Island three times; once in MotoGP and twice in the 250cc class. Lorenzo finished 6th in Japan and he hasn't had back-to-back 6th places since Donington Park and Assen in 2008. That is one record Jorge Lorenzo will not want to break.
Danilo Petrucci is closing in on Lorenzo for 7th. Petrucci, currently 8th, took his fourth podium of 2017 and will be hoping to make it five at Phillip Island. The Australian circuit is one of just two tracks at which Petrucci has finished every race in the points – the other is Valencia. His best result is 9th, coming last season.
Cal Crutchlow has mixed memories of Phillip Island. The Brit, who is 9th in the championship standings, won last year's race – the first time a British rider had ever won the Australian Grand Prix in any class. However, he crashed out of 2nd on the penultimate lap in 2014. He has one other podium, coming in 2012, when he was 3rd.
Jonas Folger isn't racing again this weekend. His seat is filled by Broc Parkes. The Australian has four World Supersport podiums to his name at the track as well as a 5th way back in 2001 in WSBK, for NCR Ducati. He has never scored points at Phillip Island in his GP career.
Suzuki looked well and truly back in good shape at Motegi, taking 4th and 5th with Iannone and Rins. This was the first time Suzuki achieved a double top-5 placing in a GP since the 2016 Japanese GP, when Vinales was 3rd and Aleix Espargaro was 4th. Suzuki haven't had back-to-back double top-5 placings since Brno and Misano in 2007, with John Hopkins and Chris Vermuelen.
KTM arrive in Australia, looking to improve on a mixed Japanese GP. They haven't had all of their fielded bikes in the points since Misano. Both riders have scored podiums at Phillip Island at some point in their careers, with Smith scoring one in MotoGP. KTM have never raced at Phillip Island so we will get a better indication of their performance after practice.
Aprilia had a good Japanese GP, with Aleix Espargaro finishing 7th and Sam Lowes finishing 13th, a personal best for Lowes. It was the first time that both of their bikes had scored points in the same race since Valencia last year. Stefan Bradl scored a third row start for the manufacturer last season at Phillip Island and they will want the same again from their riders this season.
The Aspar Ducati team will want more from their riders at Phillip Island. Both failed to finish at Motegi and they haven't had back-to-back non-point-scoring rides since Eugene Laverty and Nicky Hayden in 2015, at Malaysia and Valencia. Bautista has had a win and two podiums in the smaller classes but neither rider has finished higher than 5th in the premier class.
Scott Redding's difficult 2017 continued in Japan, when he finished 16th and out of the points. He was 7th at the Australian Grand Prix last year and has two podiums at Phillip Island from Moto2, in 2010 and 2012. His Moto2 championship challenge in 2013 came to an end at Phillip Island when he suffered a bad wrist injury, so he will want to make happier memories.
The Marc VDS Honda team are back to their normal line-up this weekend, with Jack Miller returning from injury for his home Grand Prix. Miller was 10th in the race last season and won the Moto3 event in 2014. Tito Rabat has just one podium at Phillip Island back in 2014 in Moto2. That was also the last time he scored a point in Australia.
The Avintia Ducati team had both of their bikes in the points at Motegi, with Baz 10th and Barbera 14th. That was the first time since Silverstone, back in August. They haven't had back-to-back double point-scoring rides since Losail and Termas de Rio Hondo at the start of the year. Baz has never scored a GP point at Phillip Island, although he was 2nd in a WSBK race at the track in 2014. Barbera was 2nd in the 250cc class in 2009 but that is his only podium. The Spaniard hasn't scored a point at the track since he was 5th there, in 2014. This is his best result in the premier class at the venue.
The championship can't be decided this weekend but it could take a turn in either Dovizioso's or Marquez' direction. One mistake or bad weekend could prove costly to their title charge and allow the pendulum to swing in either direction. Maverick Vinales will be there to pick up the pieces if the two leading riders in the championship tangle. You can never discount Valentino Rossi at the Phillip Island circuit and just watch out for Danilo Petrucci, who could spring a surprise come race day.