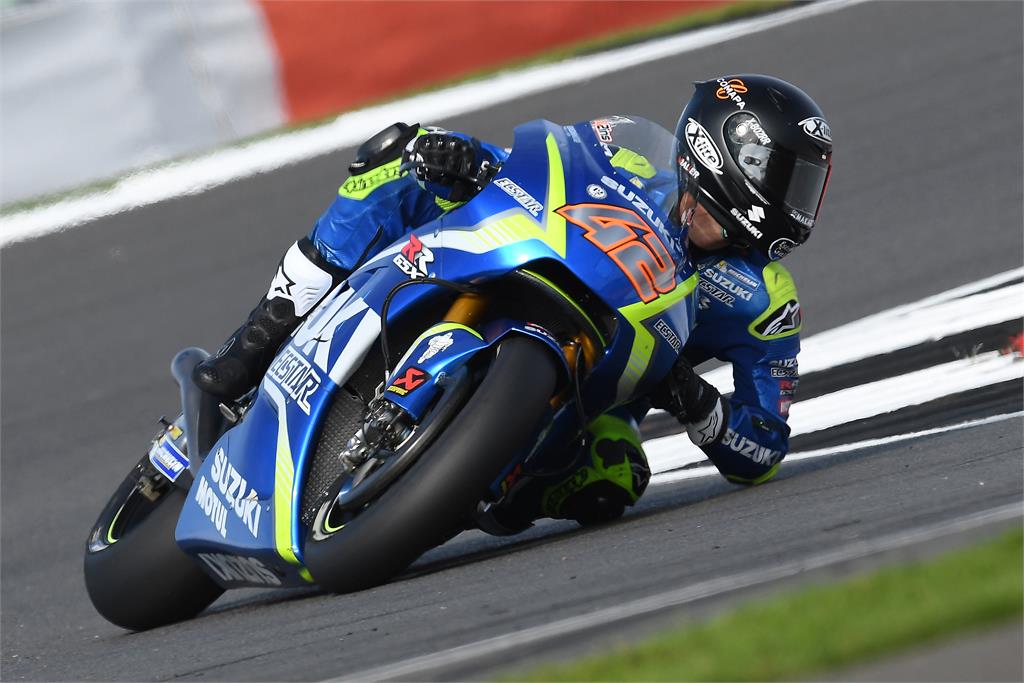 It had been a difficult maiden season in the premier class for Rins, who was forced to miss a considerable part of the first half of the season through injury. Sunday's British Grand Prix should therefore go down as being somewhat of a breakthrough moment for Team Suzuki Ecstar rider, Alex Rins.
Whilst to many, a P9 finish may not exactly be headline worthy, it would be wrong to underestimate the importance of this result. Both for team and for rider. Having made a solid start to the race the 21 year-old found himself leading a group consisting of Scott Redding, Alvaro Bautista and Pol Espargaro – class veterans – battling over seventh to tenth places.
The race marked a timely return to form for Rins as he matched his previous MotoGP best finish, achieved back at the opening round of the season in Qatar. In addition to this, the rookie ran close to, and at times had the measure of his more illustrious teammate, Andrea Iannone, throughout the weekend. The young Spaniard was understandably buoyant speaking after the race:
AR – I am happy for how the weekend went. Compared to previous races, in this one I managed to defend my position from the very early laps, and then I was able to try to attack. I'm satisfied by the work we are doing. We continue to improve, not huge improvements, but consistent. We have to keep on getting experience and to try to get better qualifying positions which would make the race easier.
For a rookie, the cost of having to miss multiple races is higher than others. A forced absence from riding the bike in any form – Suzuki would not let him test or participate in a practice session until he had fully recovered – had left Rins playing catch up with the rest of his competitors. However, we must give Suzuki credit here. So often we see riders rush back from an injury layoff, only to soon be sidelined again. On the contrary to that, any rider will tell you being fit is one thing but being bike fit? Totally different.
Suzuki clearly value the former Moto3 and Moto2 race winner as part of the long term vision for the team. When the team returned to the MotoGP paddock in 2015 they did so not to merely make the numbers up but to develop a bike that was capable of winning the championship.
Talk of winning championships is perhaps still premature for Rins but there is little doubt that the team are doing all they can to give their young charger the best possible machine. Speaking after the race, Suzuki technical manager, Ken Kawauchi, was understandably full of praise in his post-race debrief:
KK – This was his best race since his injury. He was able to fight consistently within the top ten in the race and he was also good in managing the tyres wisely. This is a big step he has made. With this race I believe he gained more confidence and in the next race he will also attempt even more. However, we have to work to give him more consistency and a more effective pace in the race. This is the next step we have to make.
The next round at Misano cannot come soon enough for Alex Rins and Suzuki.