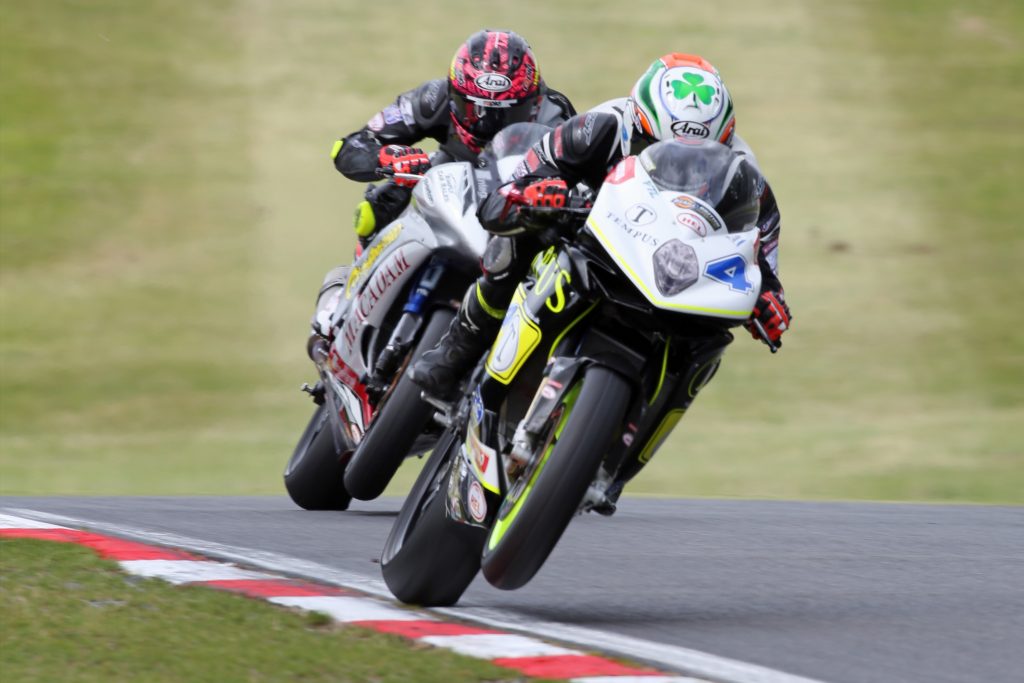 At Cadwell Park, I caught up with Dave Tyson – the Team Owner of the Tempus MV Agusta team. A fixture of the paddock, Dave has cut back his efforts in 2017 to focus on delivering Jack Kennedy a solid Supersport bike and so far, it's worked well. In this exclusive interview, he talks to us about his season so far, his 2018 plans and why he believes there are other alternatives to bringing in Moto2.
Sum up your season so far – a few dramas along the way but you're back up there now.
At round one, we probably weren't at our best as we had a few things to sort out due to it being our first proper run at things. I think Jack needed a bit more time on the bike as well. After that, we persevered and every weekend, we have something new on the bike. We had changed to a different engine builder at Knockhill and that has really progressed the bike. We have a little bit more power and a bit more drive out of the corners so the results have started to come now.
Jack has been going really strongly since Oulton Park, where he got his first podium of the season before he went off to the World Supersport championship. Since coming back, we've been on the podium in almost all the races.
Did Jack going to World Supersport help him?
Keeping him on a bike was a good thing and that was why we allowed him to do it. He was with a good team in Profile Racing and it'd make sense for him to do it, as going to WSS is a good step forward. He went to circuits like Donington Park and Imola so they were worthwhile circuits. Has it helped Jack? I think so, yes. It was more about him getting track time than racing in the world championship. The fact that he went so well was a massive benefit. He beat a former British Supersport champion who happened to be his teammate and has come back with a point to prove. He wants to be back in that series and he deserves to be there next year.
Do you think his experience in British Superbikes with Team WD40 help him?
I think when he was riding for WD40, it made him really appreciate a bike that works for him. Obviously, he had a tough couple of years but our bikes are working for him and he can extract the best out of it. He wanted to show everyone just how good he is and he is absolutely doing that with us, whereas he wasn't able to on the WD40 Kawasaki for whatever reason. He came to us to show that the last two years aren't the true Jack Kennedy and he's already done that. A lot of people have criticised us and said that our bike isn't good enough but, we've won more races than Kawasaki this year so yeah – I'll go with that!
Have you experienced any mechanical issues like the World Supersport MV Agusta teams seem to have?
Personally, I believe that a lot of the problems are down to electronics. We tried to talk MV into using Motec because we tried a kit one and that was horrific. They chose not to use Motec and have gone down their own route. We obviously use Motec which works fantastically well. We don't get too many issues with the bike – we had an engine problem on Friday at Cadwell Park but that's our first since Assen last year. Overall, it's pretty decent. We actually have to fly over to Italy very soon to spend some time with the MV factory with our engine specs and help them out a little bit. They've been very good to us over the years and I think we are in a position to repay them a little bit.
Has cutting your effort from other support series to solely focus on Jack helped?
I think it is the best thing we've done to be quite honest. We should've probably done it a few years ago. The MV in Superstock trim is the best bike there is. If you get the right team to run them, they could be a mega bike. They have 130BHP, quick-shifter, blipper, traction control etc. Would I go back to the other support categories? No I wouldn't. I'd like to get another Supersport bike out but that won't be happening this year. Our target at the beginning of the year was to have two of them out there, however, things transpired that actually, one was the final figure. I absolutely wouldn't put one out now because the team is perfect and I wouldn't want to bring in another variable with the potential of more stress, work and upset. If a rider is happy, he's fast. That's the case with Jack and we want to keep it that way. We bring new bits to the bike every weekend, some big, some little but they all help and we can quickly see if they work or not.
A one bike set-up has been brilliant because we can spend all our time, resources and efforts on that one bike. If you look at the Appleyard set up, it work brilliantly because they have one bike in Supersport and one in Superstock 600. The rule used to be that you'd have a progression ladder if you were a top team. Now, because the money isn't there to do that, teams just focus on what they want to be exceptional at.
Is there a plan to return to BSB soon?
I wouldn't run an MV Agusta Superbike – that would definitely not happen. If we went down the Superbike route, we'd have to pick a different manufacturer. I don't know what the future lies for us at the minute but if you'd have asked me when the Summer break came along and everyone else was at the TT, I would've said no because I didn't expect to be sat here. That's because our truck was broken in to. We've got to where we are off the back of a lot of hard work. The lads have been very good and we've been very fortunate. We have had a new sponsor come on board and they've put some money into the team and I hope that it can continue. In the next few weeks, we will make a decision on our 2018 plans.
Would you be looking to retain Jack Kennedy?
It all depends on what we do. If Jack has a desire to get back to World championship level and if the guys at Profile Racing want to go ahead and have him do that, that's fine. If we go back to Superbike and Jack wants to do that too, then we have to have a conversation about that progression. Whatever he wants to do, we will listen. We won't stand in his way if he wants to go to another team. He's a great person to work with, his dad is fantastic and hopefully, we will work together next year.
Would you move to a Moto2 bike if the series goes full Moto2?
I am not spending £50,000 to go and buy a competitive Kalex. I'm not against Moto2 at all, I understand why the organisers want to go to Moto2. My view on it is very simple. Supersport has only ever been three bikes. Over the course of the years, it's been Yamaha, Kawasaki and Triumph. We had a bit of Honda in WSS and still do. Now, in the UK, we have few Triumphs. However, we have MV Agusta which is still available to buy, we have Kawasakis that are still competitive and Yamaha – who just brought out their new bike! We still have three manufacturers and OK, Kawasaki don't make the ZX6 anymore. However, you also have Suzuki who still make their bikes and if you look at Lahti, I'd say the Suzuki is capable too!
There may be a rule change that needs to happen to ensure that those three bikes remain competitive but to have three manufacturers building bikes, it is the same as we've always had. It's no different. No disrespect to the Moto2 bikes in our races now but the one from Tony Scott is a bespoke built machine and not really a Moto2 bike. It's a trick bike but it's not a Moto2 bike. Calling it a Moto2 bike isn't actually factually correct. It is a development bike for a championship.
If you wanted to run a Moto2 bike, you'd need more people to work on the chassis dynamics because they're very separate to what we have now. The electronics are all standard so nothing would change there. But, you can't go and buy a new Honda engine for the bike so actually, it's already dead before it has started. Instead of going down the Moto2 route, look at what we already have. Protect the three manufacturers we already have, engage with them properly and get them on board.
The only reason that the Moto2 bike is there is because numbers were down at the start of the season. Martin Halsall was late to the party, Keith Farmer wasn't in it and we hadn't booked in either. Tony Scott proposes two bikes and Stuart Higgs can't turn it down because it boosts numbers.
The bigger question should be: why don't we adopt a WSBK format? You have full blown Supersport bikes with an 'Evo' class, totally get rid of a separate Superstock 600 class and replace it with a Supersport 300 series. WSBK made a definitive move last year. Get rid of the Stock 600 and replace it with Supersport 300. This year, there's 37 bikes on the grid. They've done something right!
It offers low budget racing in Supersport 300 for the guys in the standard class Moto3 championship who can't afford a £70,000 KTM Moto3. Surely that would be a better solution? You can run a Supersport 300 team on a very low budget. I think there are other questions to be had instead of everyone jumping on the band-wagon going 'Moto2 this, Moto2 that'. All the keyboard warriors come out to play unfortunately.
The Moto2 thing is going to happen but you must look at cost. There's a three year-old Kalex on Ebay today, ex-MarcVDS and it is priced at £50,000. No team in this Supersport paddock would spend that amount of money on it. You've then got to buy a load of spares and the end cost will be around £100,000. For £100,000, I'd go and do Superbikes!
You have to look at it logically. There's a big field in Superstock 600. Amalgamate them with Supersport, create an 'Evo' championship for a couple of years and let that find it's own natural progression. Suzuki are talking about bringing out their new 600cc bike, along with MV Agusta and the new Yamaha. If you have those three, then you have a great championship.
Image by Gareth Davies of Full Factory Photography