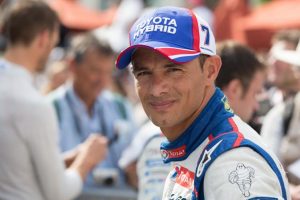 He is currently competing in the  World Endurance Championship for Toyota,  the WeatherTech SportsCar Championship for Rebellion and has competed for the Venturi and Techeetah Formula E Teams. He has raced at the 24 Hours of Le Mans sixteen times and competed at the 24 Hours of Daytona. He has also competed in the World Rally Championship and in V8 Supercars, but Stephane Sarrazin only ever had one Formula One race to his name.
Sarrazin was a test driver for the Prost Formula One team when a chance came to race at the 1999 Brazilian Grand Prix. Luca Badoer had sustained an injury during testing and Minardi asked for Sarrazin to replace him in Brazil.
Badoer had raced for Minardi in Australia, he retired with gearbox issues. The Grand Prix was won by Eddie Irvine in the Ferrari, he was joined on the podium by Heinz-Harald Frentzen (Jordan-Mugen-Honda) and Ralf Schumacher (Williams-Supertec). Now it was onto Brazil and the call came through from Minardi for Sarrazin to step in and replace Badoer.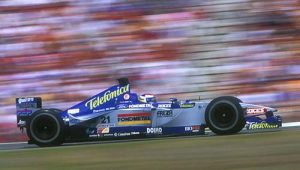 "I was reserve driver for Prost and suddenly Minardi called for a drive," Sarrazin was quoted as saying.
As the teams took to the track for practice it was Ricardo Zonta who would receive an injury after a big crash in Saturday practice that would see him out of the race.
Sarrazin qualified 17th out of the 21 drivers, he out-qualified his team mate, Marc Gene but the Minardi was over three seconds off Hakkinen who took pole. Sarrazin was over a second slower than the next car in front of him, the Williams-Supertec of Alex Zanardi.
It was Hakkinen who went off into a commanding lead, Coulthard stalled on the grid and he was pushed into the pit lane where he rejoined on lap 4. On lap 10 Benetton's, Alexander Wurz and Jordan's Damon Hill collided which ended Hill's race.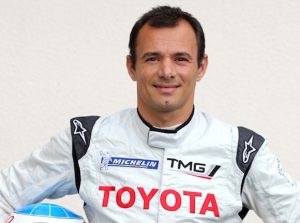 Sarrazin entered the straight on lap 31, there two reports that either his throttle stuck or he had a wing failure, but whatever the problem was, it sent him crashing into the wall and this effectively ended his only Formula One Grand Prix.
It was the disappointment afterwards that hurt Sarrazin.  After Brazil, Minardi asked him to complete the 1999 season with them. He states they called the Prost team many times but team principal, Alain Prost was adamant that Sarrazin would be driving for Prost. He placed a block on him moving to the Minardi team.  Sarrazin decided to be patient.
The following season he finished second in the Formula 3000 championship behind Nick Heidfeld. Prost told Sarrazin, "Sorry, I cannot take you, I have to take Nick for Mercedes engines for the year after."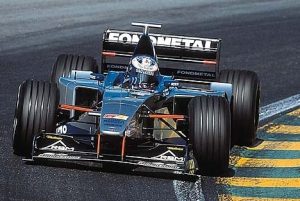 Sarrazin was heartbroken. He felt that he should have been stronger and taken the decision to join Minardi when the opportunity was presented. Despite this and the fact he only ever race once in Formula One, Sarrazin has gone on to have a successful racing career in other forms, he has finished 2nd on four occasions at Le Mans.
Just the single F1 Grand Prix but Sarrazin had many other races about him.
See you at the chequered flag
Neil Simmons
Twitter: @world_racing