The World Rally Championship heads to Germany as we enter round ten of one of the most exciting seasons in years.
Title protagonists Sebastian Ogier and Thierry Neuville are level on 160 points heading into Germany, a happy hunting ground for both drivers. Neuville took his maiden WRC win here in 2014, while Ogier has won here three times, including the last two years.
The German round of the championship always provides a stern test for the teams. Regarded as three rallies in one, Rallye Deutschland is renowned for its twisty vineyard stages, countryside routes and the dangerous military complex. Held mainly on asphalt, Rallye Deutschland is not one to be missed.
M-Sport will be hoping Ogier can help them deliver their first ever win here, the only rally on the calendar the famous team have never conquered. Team boss Malcolm Wilson said: "Rallye Deutschland hasn't been so kind to us in the past. It's the only event that we are yet to win, but this year we have our best chance of putting that right.
"We feel that we have a good package for Tarmac and we have been building on that during our pre-event testing.   "The competition will be extremely strong and I expect a hard-fought battle. The great thing about this year's championship is that it's anybody's game – but we aim to be in the fight and hope to come out on top," Wilson added.
Reigning champion Ogier said: "Every year I look forward to Rallye Deutschland, and this year's event will be really exciting with the championship battle so close. Naturally, we aim to deliver our best and get our championship defence back on track."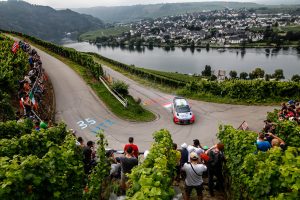 Hyundai consider this their home event, with their base in Alzenau just two hours away from the service park. Title challenger Neuville said: "Germany is usually a really good event for us, as a crew and as a team. We have great experience and memories from there, particularly from our first WRC win in 2014 with Hyundai Motorsport.
"Heading into this year's edition leading the Championship is something new, but I am really looking forward to opening the road. Hopefully, we can enjoy another strong performance, and try to increase our lead in the classification. It won't be easy, but we know we can be fighting at the front."
One team who know how to win the Rallye Deutschland is Citroën. The French manufacturer have 12 wins here, with Sebastian Loeb winning the first of those in 2002, Germany's first WRC rally. Loeb participated in one of the team's most incentive testing sessions yet. He and Daniel Elena ran on the final day following work from the three works drivers.
Team principal Yves Matton said: Everything appears to be following on consistently after the Tour de Corse, where we showed how competitive the C3 WRC is on tarmac. As has often been the case this season, the race is bound to be very tight. We aim to be among the frontrunners but it's difficult to make any predictions, especially as the weather is likely to significantly influence the way that the race plays out."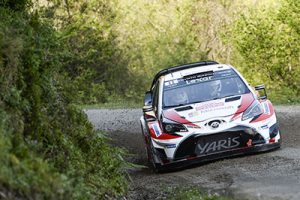 Toyota will want to continue their impressive debut season and after a win last time out in Finland, the likes of Latvala, Hanninen and Lappi will be keen for more success.