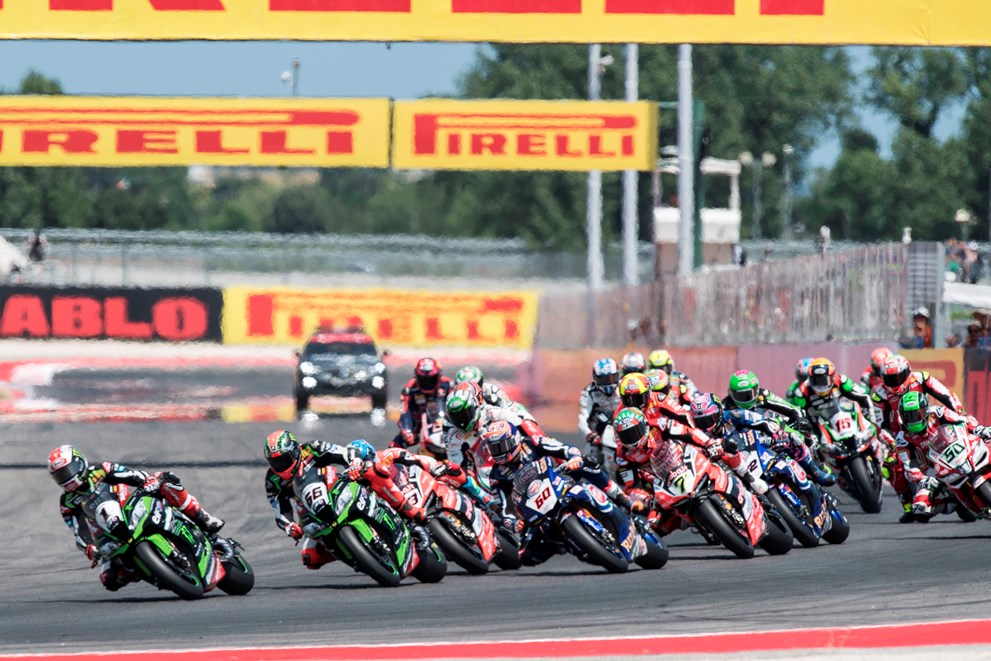 The World Superbike paddock gets back underway this weekend as the circus heads to the Lausitzring in Germany to begin the second leg of their 13 round season. This season more than any other and the direction the World Superbike series has gone down, has come under plenty of scrutiny from people who follow it closely.
Looking at it from a fans point of view, you can see why people aren't forking out the cash to go and see the racing. Having only two manufacturers at the front without any real threat from Aprilia, Yamaha, MV Agusta, Honda and BMW week in, week out, gets slightly repetitive and dare I say, boring.
I will never fall out of love with motorcycle racing, real racing fans will, I'm sure, agree with me on that. But, in the grand scheme of things, something has to change to allow the other manufacturers to be competitive on the world stage of production motorcycle racing.
This is nothing against the likes of Jonathan Rea, Chaz Davies and Tom Sykes. It's amazing to have three genuine world class British riders fighting it out at the front every race weekend, we couldn't ask for anymore as British racing fans. In my opinion, they could all be competitive in MotoGP, given they were on the right equipment at the right time.
The same can be said for several other World Superbike riders. Pata Yamaha teammates Alex Lowes and Michael Van Der Mark could win races if their package could compete with Kawasaki and Ducati.
Stefan Bradl is a former Moto2 World Champion, yet struggling to get into the top 10 at each round. Through no fault of his own, the new Honda Fireblade simply hasn't been able to be fast on the world stage. Their decision to go with Cosworth engines may prove to be a direction they'll regret taking.
Eugene Laverty is a World Superbike race winner and has also proven he can be quick on an unfavourable Ducati GP14 MotoGP bike. Maybe it will take a year for the Irishman to understand a Superbike again, having been away on MotoGP duty since 2014.
Leon Camier has been hugely impressive on the MV Agusta, a former British Superbike champion who should be expecting to fight for victories week in week out with the talent he has. However, the MV itself is based on an old model bike and the results Leon is delivering for the team are incredible considering the age of the motorcycle.
The list could go on. My point here is, imagine all of these boys mixing it with Rea, Davies, Sykes and Melandri at the front every weekend. THAT would be worth its weight in gold for every motorcycle racing fan. Yes, for other countries it may get slightly boring seeing the Union Jack every weekend but real fans would watch the close racing regardless.
We only have to look at the competitiveness of British Superbikes to see what a level playing field can do. The popularity of the series is sky high and the racing it provides from virtually every manufacturer on the grid only enhances that. Stuart Higgs has got the balance absolutely right with privateer teams having just as much chance of success as the more factory backed outfits.
Lets travel back to the 'Golden Age' of World Superbikes. King Carl had 90,000 British fans flocking to Donington and over 120,000 to Brands Hatch each year and until his accident at Phillip Island, he was undoubtedly the man to beat. Not just on track but off track as well, his confidence bordering-on-arrogance persona was marmite but everyone ended up embracing him.
After Foggy's retirement, the paddock was still treated to unbelievably close racing between every manufacturer in the paddock. In 2000, Colin Edwards and Noriyuki Haga went head-to-head whereas Neil Hodgson, Chris Walker and John Reynolds all created goose-bump moments with their fantastic wildcard performances. A year later, Edwards and Troy Bayliss went at it with Bayliss pipping the American, but through Ruben Xaus, Regis Laconi and Tadayuki Okada in the mix and you've got yourself a stacked field of closing racing, not to mention the annual trip to Sugo for the Japanese round – Tamada, Kitagawaw, Serizawa, Ryo and Takeda, the list goes on.
We all remember Edwards and Bayliss fight it out at Imola in 2002, one of the greatest battles I've ever seen on a race track in any series. Steve Parrish seemingly agreeing, it was one of the best races he ever commentated on. But when will these glory days come again? When will we see another vintage year of Superbike racing that captivates us all once more?
Elliott York