Ferrari appear to have finally gotten their act together in 2017 after two years of threatening to compete with the dominant Mercedes-Benz team in this current turbo era.
In 2015 Sebastian Vettel took three wins and apparent improvements in testing the following year suggested a challenge was imminent.
However, in 2016 the Scuderia developed an uncanny ability to snatch defeat from the jaws of victory with strategy costing them on at least two occasions.
So when Ferrari began to more than match Mercedes in winter testing, everyone thought "here we go again".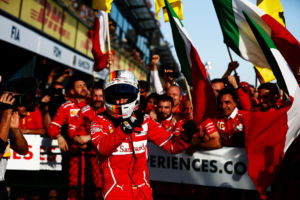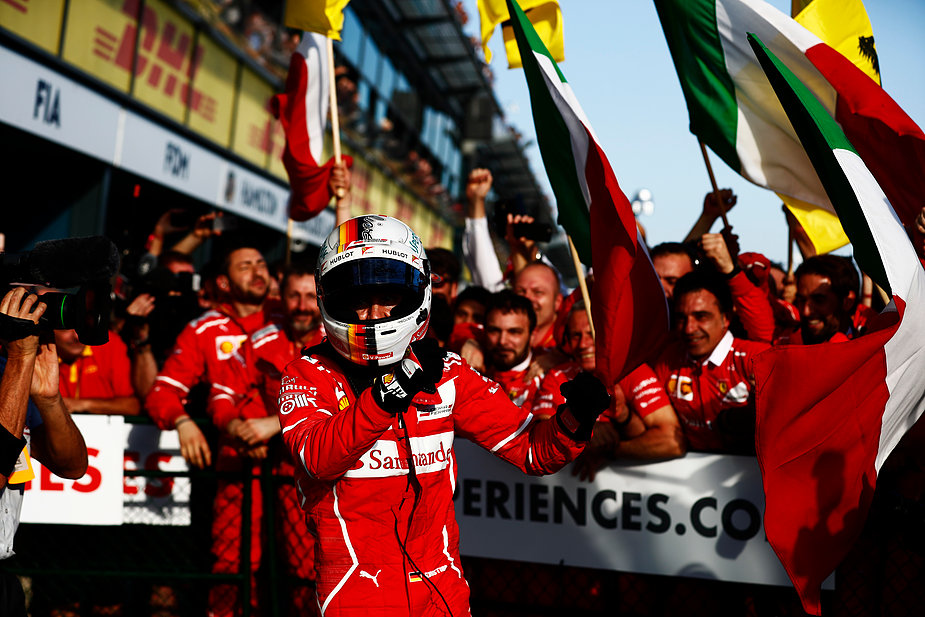 Everyone was wrong.
Ferrari were outqualified by Mercedes in Australia but Sebastian Vettel remained glued to Lewis Hamilton's gearbox, and overcut him successfully in the pitstops to send a message to the watching world, with Kimi Raikkonen fourth.
Vettel would take an eventful second place in China as Raikkonen took fifth, before Vettel continued his imperious start with victory in Bahrain as Ferrari's better race pace told.
While Hamilton struggled in Sochi, Ferrari did not and took their first front-row lockout since 2008. They couldn't convert that into a win as Valtteri Bottas' jet-propelled start put at the front, where he stayed despite immense pressure from Vettel.
Hamilton struck back at the Spanish Grand Prix but Vettel was second after eventually being passed by the Brit, while Raikkonen retired at the first corner.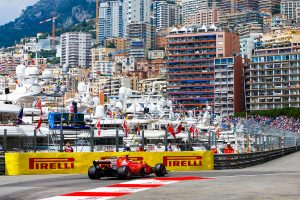 At Monaco Raikkonen took his first pole position since the 2008 French Grand Prix with Vettel second, Bottas third and Hamilton all the way back in 14th.
The two Ferraris built a gap early in the race but as the tyres began to wear Bottas and the two Red Bulls of Daniel Ricciardo and Max Verstappen reeled them in. Ferrari pitted Raikkonen first, while Vettel stayed out longer, re-joining clear in first place when he eventually did pit. He would hold the lead for the rest of the Grand Prix.
Canada was to that point the team's worst weekend. After damage sustained on the first lap, Vettel pitted for a front wing while Raikkonen slipped backwards. Electric and brake problems meant Raikkonen had to nurse his car to seventh, while Vettel recovered to fourth place while Hamilton won.
The previously friendly title rivalry then intensified at the Baku City Circuit in one of the most bizarre races in recent memory.
Vettel felt that Hamilton had brake-tested him under Safety Car conditions, and promptly rammed the Brit. He received a ten-second stop/go penalty, which would have seemed a lot harsher had Lewis Hamilton not needed to pit to replace a loose headrest. Vettel would finish fourth, one place ahead of Hamilton.
Vettel would finish second in Austria as Bottas won, while Raikkonen was fifth before a poor weeked in Britain saw both Ferraris suffer from punctures in the final laps. Raikkonen recovered to third while Vettel's issues were more severe and he could only finish seventh.
The gap between he and Hamilton was just one point, while Bottas was only 23 points back.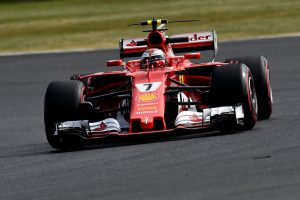 It was the perfect riposte from Ferrari in Hungary as Vettel and Raikkonen finished first and second. Vettel battled with steering issues and Raikkonen dutifully played the team game and acted as rear gunner in the face of a Mercedes advance.
Vettel said after the race that he owed the Finn a favour. This is a chance for the team to end nine years of silverware drought.
If Ferrari keep up their pace and finally deliver on three years' worth of promise for the rest of the season, he might owe Raikkonen plenty when the year is out.