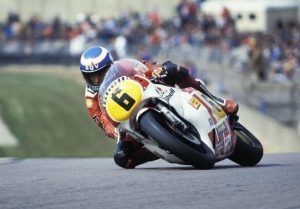 I was lucky enough to know that Steve Parrish would be at Snetterton a few weeks back for the BSB meeting, so I decided that after giving him a remote control rat to play around with at home, to get an interview with one of Barry Sheene's best friends. So, in this exclusive interview, Parrish reveals his racing career highlights, the best race he ever commentated on, the British Talent Cup, why he voted to Remain in the EU and what the easiest prank to play on someone is.
Main highlights of your motorcycle racing career?
Having lots of fun and causing chaos. I suppose you could say, 'enjoying living the dream'. I guess however that I peaked early; 1977 was my best year in the Grand Prix paddock. I had a cracking bike, it was the old Sheene bike from the previous season and I ended up fifth in the World Championship on it. I had lots of races against the heroes that I used to have posters on my bedroom wall of, such as Giacomo Agostini and Phil Read.
I carried on in British Championship's and just being involved after that was great. It's a lovely sport we are in and I met a lot of good friends via the sport, whilst also losing quite a few friends via the sport, as it was probably a lot more dangerous back then. However, I look at it as the best part of my life really and had the best part of 10-12 years racing motorcycles, which were massively exhilarating to ride, although a little bit dangerous and painful at times! I will always look back on my career and I'm often asked, 'what is your favourite form of racing?' and it would be motorcycle racing. I have more admiration for motorcycle racers than anyone else.
Who was your fiercest competitor back then?
I have to say Barry Sheene. At the time, he was the guy to beat. He was on the same bikes as I was on and he was pretty special. He beat me a lot more times than I beat him, I grant you!
How about your media career highlights?
One of the best races I have ever commentated on was Colin Edwards vs Troy Bayliss at Imola, for the 2002 World Superbike championship. Two guys, duking it out, whoever took the win, took the title, or near enough to that. It was very, very special and was probably one of the greatest motorcycle races we have ever seen.
Another one was Valentino Rossi beating Jorge Lorenzo on the final corner at Catalunya in 2009, which was very special. Generally, the highlights have been covering MotoGP for a number of years. Watching, admiring and meeting heroes of my world.
The 2017 North West 200 race was one of the greatest too, with Glenn Irwin beating Alistair Seeley. I really rate Seeley, he's been Mr. North West 200 for a number of years now but for the fans and also for the media, it was nice to see someone else take a win there. I never realised how much Glenn actually expected to win that race. Personally, I didn't think he had a chance because he had to relearn the circuit and he'd only ever ridden it on a 600cc machine. He came there on a bike that you wouldn't necessarily say was the ultimate bike for the NW200 but he endured the weird conditions we had. It's a shame he's injured now because I think his success at the NW 200 would've propelled him to greater things at BSB.
Do you think the NW200 deserves more media coverage?
I don't think you could say it "deserves" it because if it deserves it would generally get it. In Northern Ireland, it gets more media coverage than what the British Grand Prix gets here in mainland Britain. It is wall to wall coverage over there and I'd say that Seeley, Irwin and Michael Dunlop are all just as famous as any premier league footballer over in NI. You couldn't consider saying the same for Shakey Byrne or James Ellison over here because not as many people know who they are. Over in NI, motorcycle racing is on the front page of all the major newspapers. It would be nice if it got more over here but then again, we see nothing but women's rugby and women's cricket and it annoys me quite frankly.
What would you say to the people who want road racing banned? 
I think they need to go first. They need to know someone who does it, who gets the sensation and the satisfaction they get from doing it, the amount of fun they have doing it and the adrenalin rush they get from doing it. Unless they've done it, they're not qualified to say that it should be banned and I doubt that people who have done it would want it banned either!
What about your career in general, what was the hardest part?
I'd say that the hardest part of my career is the travel that you do. I don't do as much now but at one point I'd be away between 6-8 months a year. It takes a tole on your family, on your marriage – which they all went out the window – it's difficult to carry that through. I travelled a lot with my racing, then with my team ownership, then truck racing and then the media work. I had 40 years of going all around the world.
Sitting in hospital with broken legs and arms and not knowing who or where you are isn't much fun either. But I think if it was easy then everyone would do it. Truthfully, compared to many people in this world, I haven't had a lot of hard things to deal with. It's been hard in my own little world but I've been lucky and I don't think anything I've done has been mega, mega tough.
If you could choose one race circuit from your time (except the TT), which would you consider the most dangerous?
The Nordscheife Nurburgring circuit, when the German Grand Prix was held there. I found that very dangerous because it was difficult to learn, similar to TT for foreigners going there. I didn't think it was right to have the GP at the Nurburgring because Barry Sheene was still battling for the title and it was wrong to try and get people to learn a circuit as long as that, as all the locals had been there before and knew it better than us. Imatra was pretty dangerous in Finland, as was the Czechoslovakian Grand Prix on the old street circuit at Brno. Spa's old street circuit in Belgium was fierce too.
If you could go back to one race circuit to ride again, which would it be?
I'd probably choose somewhere nice and safe, like Mugello. You get to the stage where you've gone through a lot of accidents, so you don't really want to continue doing the hard stuff. That's why as you get older, you generally get slower. I've ridden a road bike around Mugello but I wouldn't mind riding a race bike round there. I rode a 500cc two-stroke round there in the 70s but it has changed a bit since then! I wouldn't mind a blast round on an RCV!
Your thoughts on the British Talent Cup?
I think it is great. I think any championship for youngsters to build up their talent in the kind of country we live in is good. It's a bit like an academy. The Red Bull Rookies has been brilliant, so many riders of today have come through that, such as Zarco. There can never be enough cups, simply because we need to give chances to kids who don't necessarily come from privileged families. It's an expensive sport and if you come from a not – so – privileged family, then you'll probably end up playing football or rugby or cricket, which you can do down on the village green. However, with motorcycle racing, you need a wealthy parent to get you a motorcycle. If you can get more riders then it's good because the bigger championships will be choosing from a bigger pocket of people.
I am a believer in the fact that if you can ride a motorbike, you can ride a motorbike, whether that be on a GP bike or Superbike. Danny Kent may be an exception to that and going back to my era, then Angel Nieto never could ride a big bike. Jonny Rea, Ben Spies and Cal Crutchlow have all proved that they can win or do well on either prototypes or road-go bikes. I don't think it will take away from riders coming to the British championship.
Will Brexit effect British motorcycle racing, or motorcycle racing on a whole?
I think it will effect the country. I voted to remain in the EU because I feel we are bigger and better and a lot easier together. I travel a lot and a lot of people do the same, so I don't really see the point in Brexit. For me, we've gone the wrong way. I'll get my shoulder behind it like everyone else however. It could, in theory, hinder international based British companies that want to trade with the EU, however I really don't know. I come from a period where, when I wanted to drive to Italy, I had to get stamps in France, Belgium, Germany, Switzerland etc. Open Europe has been a Godsend for everyone and lets hope it stays that way.
The state of other national championships. 
They lost their way a bit. We are sat here on a sunny day at Snetterton and the amount of teams, sponsors, motorhomes, personnel etc is huge. I've walked around just now with Matt Robert's and I think it is as good as any WSBK event, if not bigger. I suspect their series' aren't as healthy as ours because half the good guys come here anyway. BSB is unquestionably the strongest domestic championship in the world.
What are your favourite pranks?
Oh God. There's been so many of them! The easiest one to do and anyone can do this at home – it sounds like one of these Blue Peter programmes!  If you get they keys to someone's car, then just wind the window down and put a brick and some shattered glass on the seat. You need some broken glass of course – I always keep a dustbin full of broken glass which I get from Autoglass. Then, when the person comes out, all you have to say is that they've had problems with the gypsies or the neighbours. Lend them some tape to try stick it together and then they generally drive down to a garage or Autoglass to get it replaced, when the actual window itself is just wound down! I got my daughter not long ago – she should know better!
Now, with this remote control rat, it looks like it could be quite good for ladies toilets. You have to get in there in the first place and whizz it under and then listen for the scrambling of feet and the screaming.  In a restaurant would probably be good too. I know you used yours in KFC. If you do it in the right restaurant then you might be able to get a discount with your meal but then again, I might end up in the shit!
I would like to say a massive thank you to Steve for his time, as I know he was pushed for time as his Plummet Airways flight back to South Cambridgeshire was departing very shortly. We wish Steve all the best and look forward to seeing or hearing him in his various forms across the TV.
Interview by Kiko Giles – @MotoGPKiko