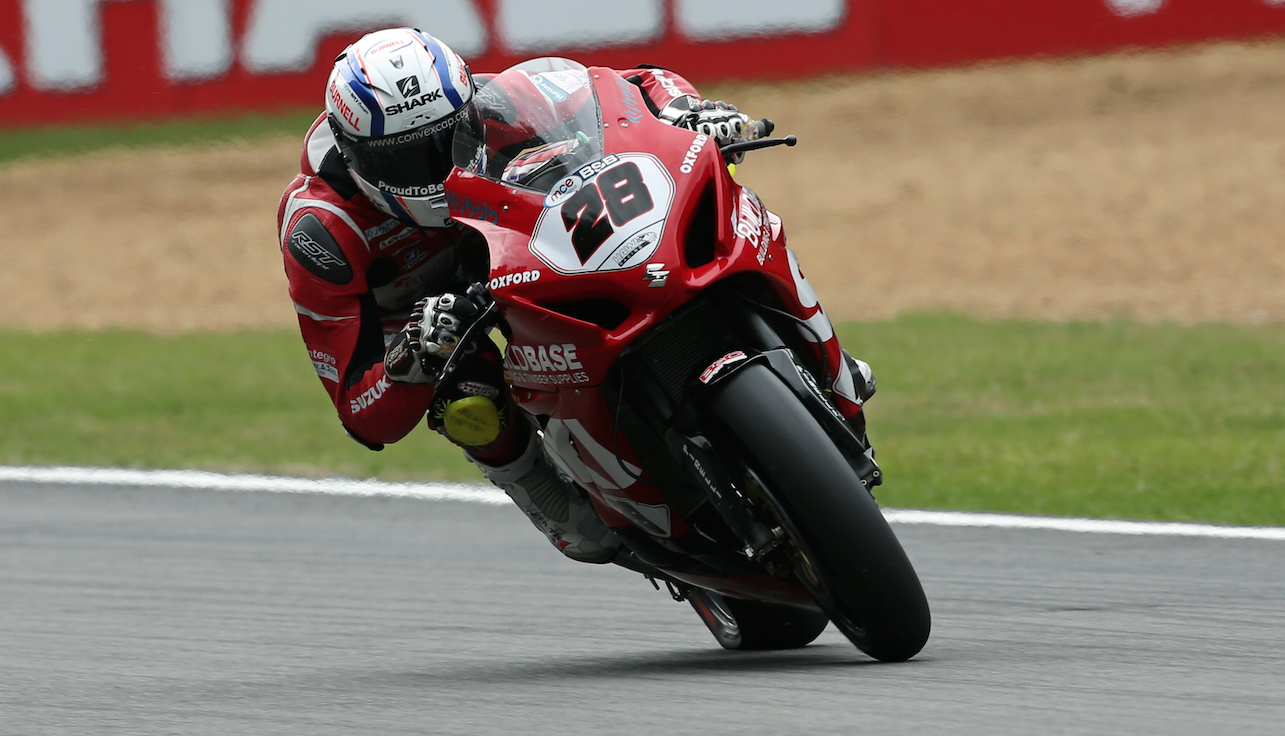 Bradley Ray is the unsung hero of Brands Hatch and in fact, the British Superbike championship in 2017. He has jumped on a brand new Suzuki and has consistently been quick, almost from the first race of the year at Donington Park. He has embarrassed the so called 'factory riders' of Taylor Mackenzie and Sylvain Guintoli and, in the process, made rapid gains to now be the top Suzuki rider in the championship, as well as becoming one of the most popular riders in the whole paddock.
Now, we talk about this 'old guard vs newcomers' but I think we all need to remind ourselves of a few things. Whilst being extremely talented and quite young, Luke Mossey, Glenn Irwin and Jake Dixon, the other three notable youngsters, have had over a year on a 1000cc Superbike, and in the case of Luke Mossey, he has had over two years to gel and adapt. Bradley Ray has had half a season, yet he is upsetting the front runners and the supposed 'top riders'. Other riders such as Taylor Mackenzie, whilst being young and fast, have done this PR sanitised seven month circus tour which is BSB, before. The high pressure, action-packed world of the premier motorcycling championship in the UK is relatively new to Bradley Ray, but like his on track performances, he's taken to it all like a duck to water.
One other reason why Bradley Ray is a standout performer and for me, one of the best riders of the season is because he has had to stomach being down the bottom end of the time-sheets. His first race performance at Brands Hatch GP was simply sensational. I was abroad at the time and when I was listening to Fred Clarke's commentary on the BSB website, I couldn't believe that he had managed to come from row eight to 12th in just one lap. That shows many things about Ray. The first being that he is resilient. Some other riders may have just got fed up after a poor qualifying and not bothered trying to get to the top 10 in the race, instead settling for a position further down the field. It also shows that Brad is very determined to succeed. He isn't happy being 'the other' Suzuki.
It isn't just his on track capabilities either. The rider from Kent is also one of the most approachable in the paddock. Fans love him and they have good reason to. He will stop and chat for a good few minutes if he's not too busy, similar to that of Glenn Irwin. It is like walking into a bar and just chatting to someone. It feels that you are talking more-so to a mate down the local battlecruiser, not one of the fastest guys on two wheels in the country.
I spoke to Bradley at Knockhill, with him saying that podiums aren't an unlikely aspiration and that he hopes to be on one before the end of the year. With performances like the one at Brands, where not only did he steam through the pack, but he achieved his joint best result of the year in race two, it is hard to imagine that he will be near the back in qualifying for very long. One good session could see Brad in the battle for a podium and who knows, with a bit of Lady Luck, a win.
We haven't seen someone come to British Superbike from the series' support classes and be this competitive since Leon Camier in 2007. Not only was he competitive but he was also captivating, likewise for Ray. Both are gangly, both are from Kent and both are extremely quick. Brad Ray is what I'd call a BSB production-line success. Yes, he went and did a bit of racing in Spain and the Red Bull Rookies but he rode a little EE 125cc bike just a couple years ago, dominated the second half of last year's British Supersport class and has hopped on an unproven Suzuki and grown in stature at a rate which in recent years, has not been seen.
It is also testament to the British Superbike Championship and just how much support there is for young talent. Well done to Stuart Higgs in making it one of the best sporting championships in the world. The support for the riders is not just across the BSB field either, there is great support down the classes to, with big teams in BSB even supporting riders in the CoolFab series – such as Tag Racing and Team WD40. The spread of success is now proven, as Bradley Ray came out of the same, CoolFab series.
The revelation that is Bradley Ray has many good years ahead of him and I'm fairly sure that whatever bike he rides, he will turn it into a successful piece of machinery. He will be on the podium very soon and if the form of the other Suzuki boys carries on, who'd put it past an early promotion? – speculation of course. A bit of backing from the series and it won't be long until Bradley Ray is a household name in the world of British sport and who knows, maybe even the sporting world.
Thank you to Gareth Davies of Full Factory Photography for the image.