Austrian GP news: 
The big news of the weekend was that the Austrian track had been changed. Turn 2 had now been split into two sections, a "flip-flop chicane", now being re-named turns 2a and 2b. It caught some riders out over the weekend but, in the end would hopefully create some interesting overtaking opportunities.
Qualifying:
Cloudy conditions greeted the riders on Saturday, but they remained undeterred.
Aleix Espargaro (Aprilia) looked to be confident, taking an early provisional pole in Q2. Jack Miller (Ducati) was also on fine form and soon took the pole spot. The championship leader, Fabio Quartararo on the other hand seemed to be struggling getting to grips with his Yamaha.
The Ducati's though were dominant at the Red Bull Ring as Enea Bastianini took his first Moto GP pole, with a flying lap time: 1:28.772, ahead of Francesco Bagnaia (Ducati) and Miller – an all Ducati front-row.
Race:
The weather remained cloudy for Race Day, leaving many fans to wonder if it would indeed rain as the bikes lined up on the grid, ready for lights out: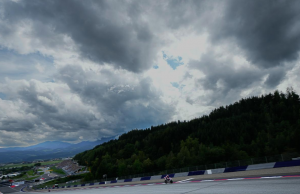 Bagnaia got a great start, leading Bastianini and Miller into the first corner and through the new chicane for the first time.
However, turn 4 saw Joan Mir (Suzuki) take an early tumble from the race. Seen holding his ankle in the gravel, (it was later confirmed that he had had medical checks and that he had broken his ankle. We wish him a speedy recovery).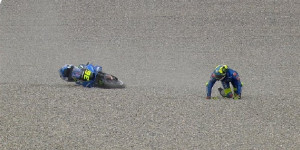 On lap 4, Maverick Vinales (Aprilia) had managed to pass Quartararo for 5th place and the four front Ducati's started to gain a lead ahead, with Jorge Martin in 4th taking the first fastest lap of the race, (1:30.364). Another pass came from Miller to take 2nd place from Bastianini, but 'The Beast' was having none of it and passed him right back.
By lap 5, A. Espargaro had taken fastest lap (1:29.979), while his teammate had been given a track limits warning and if that wasn't bad enough, Maverick also got passed by 2 riders on the same lap (lap6), forcing him back to 8th place.
Back at the front, the four Ducati's suddenly got broken up by the Yamaha of 'El Diablo', taking 4th spot from Bastianini. Seconds later, Bastianini appeared to have a technical fault and pulled out of the race. On the same lap it was Remy Gardener's (KTM) turn to bow-out early as he crashed out – turn 4.
Bagnaia then led Miller, Martin and Quartararo onto lap 7.
With 22 laps to go Miller passed his teammate to briefly take the lead, but Bagnaia out-braked him, re-claiming his lead.
Fastest lap was soon taken by Martin – lap 9. Could he get close enough to the factory Dukes, with only a 1.023 second gap between them, to fight for the win? Further down the field Takaaki Nakagami (Honda) took to the gravel, finishing his race early.
Martin indeed managed to eat into the leading gap and soon got it down to 0.311 seconds. By lap 12 he was right on the back of Miller. Which Ducati would be dominant?
With 16 laps until the end, another track warning got issued, this time to Quartararo. Behind him Luca Marini (VR46) took 6th place from A. Espargaro and behind them Darryn Binder crashed out.
The next lap, Martin clipped the gravel forcing him to take evasive action and he took to the run-off section of the track, Fabio passed to take 4th place, but Martin also needed to make sure he wouldn't incur a penalty so also gave back a second, but quick-thinking meant he also managed to keep his new position – 5th.
Two laps later and bad luck continued to keep hold of Vinales who got passed not just by Johann Zarco (Ducati) but also Suzuki-man Alex Rins.
10 laps to go – The front 3 riders had all managed to create gaps between each-other. Bagnaia still led Miller by 0.896 seconds. Quartararo continued to hunt down Miller with 0.515 seconds between them. A few places behind them Espargaro put up a great fight from the Italian – Marini, but in the end Marini passed him again on lap 21, this attempt the pass stuck.
Things were heating up, with only 4 laps until the finish line, a surprise move came from the Yamaha in 3rd – Quartararo passed Miller on the new turn 2b, to take 2nd place, leaving Miller in the clutches of Martin, who quickly seized the opportunity and passed Miller to take 3rd spot. Miller fought back though to re-take 3rd. Meanwhile, another yellow flag waved, this time for Yamaha rider Frankie Morbidelli, who crashed out turn 2.
Due to the on-going battles behind him, Bagnaia managed to extend his lead further to 1.554 seconds from the Championship leader.
Then it was Martin's turn to receive a track-limits warning 2 laps later, as a result of his tussle with Miller.
Last lap – the clouds above still seemed dull and grey but the rain had stayed away.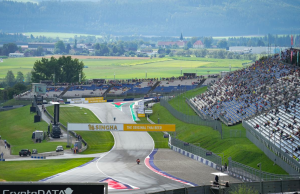 Turn one saw Martin try to overtake Miller once more, but this time resulted in him seeing the gravel instead. He managed to get back into the race and still finished in the top 10. This error meant that Miller could now finish comfortably on the podium.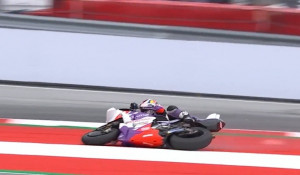 Bagnaia managed to remain in complete control of the entire race and passed the finish line to take his 3rd consecutive race win in a row ahead of Quartararo and Miller. Behind them in 4th was an elated Marini.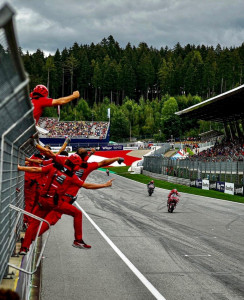 Top 10 race finishers:
| | |
| --- | --- |
| 1st | F. Bagnaia |
| 2nd | F. Quartararo |
| 3rd | J. Miller |
| 4th | L. Marini |
| 5th | J. Zarco |
| 6th | A. Espargaro |
| 7th | B. Binder |
| 8th | A. Rins |
| 9th | M. Bezzechi |
| 10th | J. Martin |
Top four championship:
| | | |
| --- | --- | --- |
| 1st | F. Quartararo | 200 points |
| 2nd | A. Espargaro | 168 points |
| 3rd | F. Bagnaia | 156 points |
| 4th | J. Zarco | 125 points |
The racing was super exciting and had fans on the edge of their seats through-out.
Can Ducati continue their streak into the next round at Misano on 4th September? Or would Someone else step onto the top spot? 
Featured image – Courtesy of: Moto GP official Twitter page