McLaren CEO Zak Brown has said he believes fans of the team have "a lot to be excited about" in the 2019 season, after a challenging 2018 campaign.
McLaren finished sixth in the constructors' championship on 62 points, with the highlight being a fifth-place in the Australian Grand Prix courtesy of Fernando Alonso. Team-mate Stoffel Vandoorne had a best finish of P8, which came in the Mexican Grand Prix.
In a year when they believed their new Renault power-unit would propel McLaren up the order, it is difficult to call 2018 anything but a disappointment for them.
"2018 was a difficult year," Zak Brown said, "but one where we've implemented a lot of change. We've learned a lot, we understand the mistakes we've made, and we've worked hard to make sure we don't replicate those moving forward. We did finish sixth in the championship, so on paper it was a step forward from 2017, but it certainly wasn't a season of the calibre that anyone at McLaren or our fans would have expected."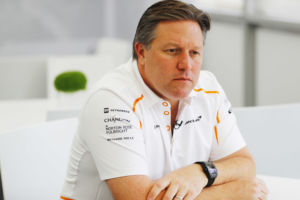 Brown is optimistic about the team's chances in 2019 though, highlighting in particular the numerous personnel changes they have made. "We've brought in Gil de Ferran," he said, "who brings an unusual mix of a racer's instinct with strategic acumen, promoted Andrea Stella to lead our performance development and analysis group, brought back Pat Fry as engineering director to lead the design of the MCL34, and of course appointed James Key as our technical director to give us the singular technical leadership that has been missing."
Speaking of the development of their 2019 car, Brown added, "Everyone is working extremely hard. We have a good understanding of what we need to do to improve our race car. The changes we've made over the last five or six months, both in our structure and leadership, are already in play and beginning to take effect.
"We need to get back to the basics, come out with a stronger car next year, and continue on the rebuilding journey to get us back to winning races. 2019 should be another step forward in that direction."
With Fernando Alonso retiring from F1 and Stoffel Vandoorne moving to Formula E, Carlos Sainz and Lando Norris will be driving for McLaren next year. Sainz made the move to McLaren from Renault, whilst Norris will be making his F1 debut.
Featured image – Mark Sutton/McLaren