Belgian driver Stoffel Vandoorne is to leave McLaren at the end of the 2018 season, with Lando Norris set to replace him. Two miserable years with the Woking-based team have led to Vandoorne being shown the door and, with Fernando Alonso having made the decision to retire at the end of the year, McLaren will walk into 2019 with the all-new driver line-up of Norris and Carlos Sainz.
Where, however, did things go so wrong for Vandoorne?
There was a promising future for Stoffel Vandoorne prior to joining McLaren at the start of the 2017 season. The Belgian won championships in Formula 4, Formula Renault 2.0, and GP2, and was hotly tipped to be a success as part of McLaren's young driver programme.
It was even a promising start to life in F1 – he deputised for the injured Fernando Alonso at the 2016 Bahrain Grand Prix, after the Spaniard's huge shunt at the previous race in Melbourne. Vandoorne out-qualified Jenson Button in the other McLaren, and took the team's first point of the season with a P10.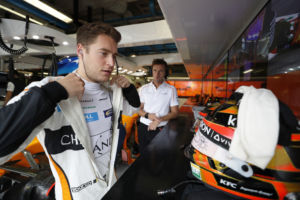 Vandoorne was rewarded with a drive for the 2017 season after Jenson Button retired at the end of 2016, but after all the hype and promise surrounding the future of his F1 career, things have not gone well at all for Vandoorne.
Vandoorne was partnered with Alonso for 2017, and since has been out-qualified by him 30 times over the period of the whole of last season and the first fourteen races of 2018. Vandoorne, by stark contrast, has out-qualified Alonso just three times since the start of their partnership, and Vandoorne has been an average of 0.3 seconds slower than Alonso. It's a big margin.
Vandoorne's average finishing position in 2018 has been 12th, with Alonso's being 9th, and he is currently 36 points behind the double world champion in the championship.
Vandoorne has visibly struggled for pace in his McLaren, regardless of the comparison with Alonso, who is after all a double world champion and arguably one of the best ever drivers in the sport. The Belgian hasn't looked comfortable, and has struggled to be on the pace in many of the Grand Prix since the start of 2017.
This is strange. After all, he did a superb job in 2016 in Bahrain, and it was then when many keen eyes in F1 turned to him as a future world champion. The performance issues could potentially have been down to the radical changes to the cars made between 2016 to 2017, or due to the pressure that he may have felt having to try and compete with Alonso.
Earlier this year, Alonso leapt to Vandoorne's defence and said that past team-mates have been "a lot further away" than him. He was stated that there was a major issue with downforce on Vandoorne's car, and even urged the team to analyse data to try and resolve the issue.
A lot of scepticism greeted these comments, and many have suggested that Alonso was merely trying to convince us all that Vandoorne's lack of performance has been the fault of outside factors.
The claims aren't without substance though. Honda – who were ridiculed for three hapless years supplying McLaren, with reliability failures littered throughout the tenure – have worked very well for Toro Rosso this year, and McLaren have shown little improvement with the Renault engines they expected would take them much further up the field, suggesting a serious problem with the McLaren chassis.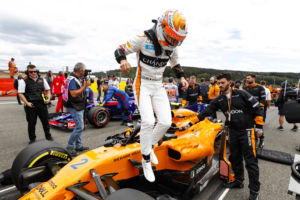 This will be of little consolation to Vandoorne, because the circumstances of being in a poor car up against Alonso have still meant that his F1 future dangles on a string.
The car has, however, been very unreliable and slow. The Renault engines have not treated customer teams McLaren or Red Bull well at all this season, and Alonso said after the Italian Grand Prix that McLaren have "taken a step backwards" in terms of reliability this year. That being said, Vandoorne and Alonso have each had two reliability failures this year, and Alonso has still managed to easily out-perform him this year.
Where next for Vandoorne? There is still hope for him. Williams, Haas and Toro Rosso are all still yet to announce their driver line-ups for next year. There is no secure future for Brendon Hartley or Romain Grosjean after disappointing seasons thus far for them, having been out-performed by Pierre Gasly and Kevin Magnussen at Toro Rosso and Haas respectively.
Gasly is moving up to Red Bull to replace Renault-bound Daniel Ricciardo for next year, meaning that there are potentially two seats available at Toro Rosso, with Daniil Kvyat linked with a potential return to F1 with them.
Lance Stroll is set to move to Racing Point Force India following the buyout of the team by his father, and Sergey Sirotkin may yet be dropped by the British team. Sauber are set to keep Marcus Ericsson because of his funding, but Charles Leclerc may well be off to Ferrari if Kimi Raikkonen retires at the end of the year. Rumours are now floating around that Ferrari have agreed a deal with the Monegasque for next year.
Let's not forget also that, as it is, Esteban Ocon – despite having done such a good job for Racing Point Force India – may well be forced out of the team if and when Stroll is signed to partner Sergio Perez because of the ownership by his father. That then means that he will also be looking for a team for next year.
There is yet hope for Vandoorne, but after such a torrid time with McLaren, his hopes of staying in the pinnacle of motorsport are hanging in the balance.