Formula 1 announces a multi-year extension with the Japanese Grand Prix, ensuring that racing will remain at Suzuka Circuit for at least another three years. The multi-year extension between Formula 1 and race promoter Mobilityland will see the FIA Formula One World Championship continue to visit the historic circuit until 2024.
A mainstay on the Formula 1 calendar since 1987, the circuit has hosted many iconic championship deciders as well as some of its most memorable moments. Its only breaks in 34 years came in 2007 and 2008 when Fuji Speedway took over, including when it was cancelled in 2020 due to the COVID-19 pandemic. The Japanese Grand Prix's contract had been due to expire after the 2021 season.
Suzuka has struggled financially at times, not helped in part thanks to poor fan interest with no Japanese presence on the grid, the last being Kamui Kobayashi in 2014. The 2017 Japanese Grand Prix saw a 5.5% decline in attendance, the biggest percentage drop on the Formula 1 calendar at the time. Moreover, the Japanese Grand Prix only counted for 2.8% of TV audience in Japan, compared to 5.5% for European races.
However, there has been a remarkable shift in Japanese participation and success in recent years. Honda became the sole supplier for Red Bull and Alpha Tauri, taking seven victories in little over two seasons. Additionally, highly-rated Japanese driver Yuki Tsunoda has given the Japanese fans someone to support, hopefully for years to come.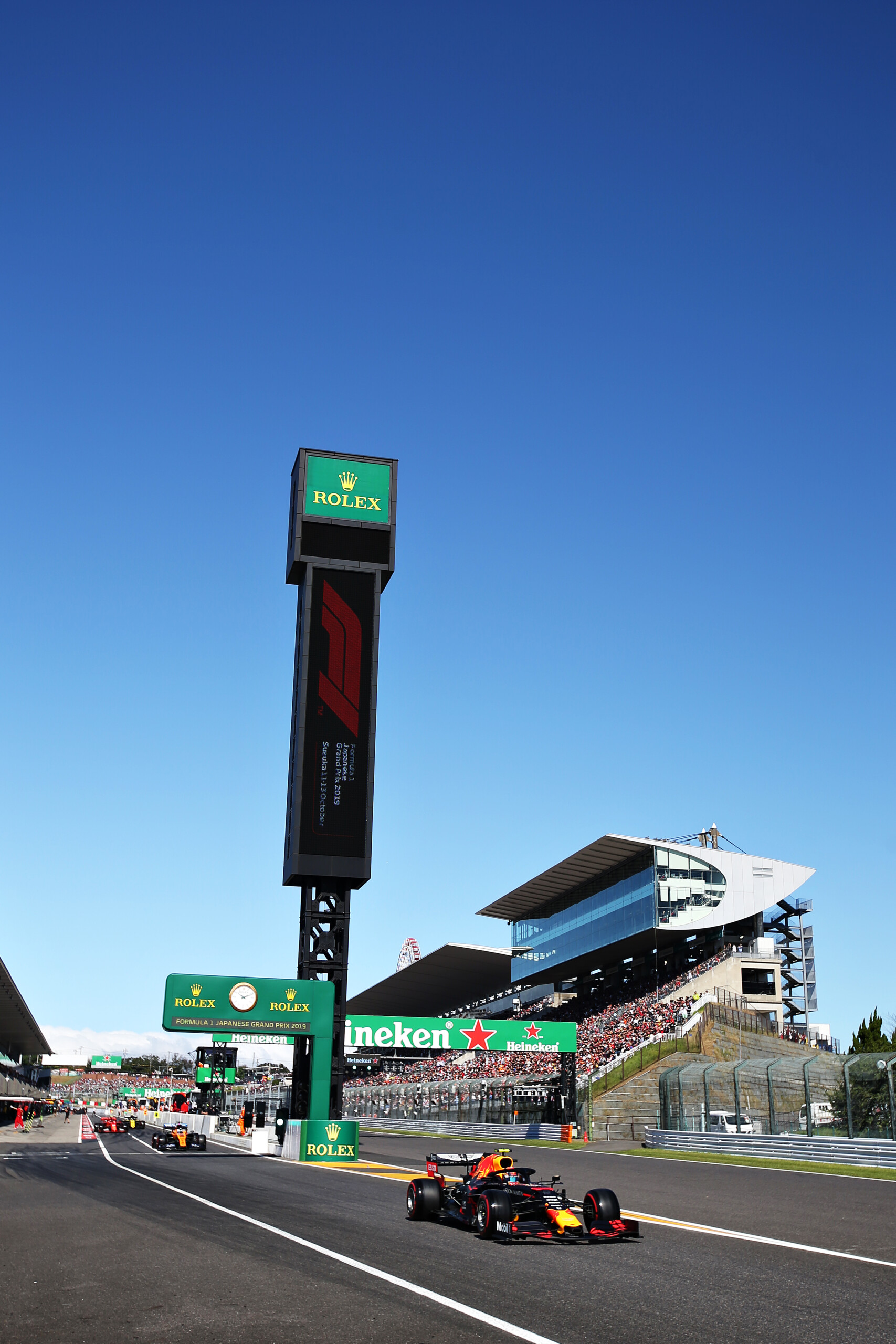 Stefano Domenicali, President and CEO of Formula 1:
"I am truly delighted that Formula 1 will continue to race at Suzuka Circuit for another three years. Japan holds a special place in the hearts and minds of F1 fans all over the world, and Suzuka has played host to many of the sport's most legendary moments, with 11 Drivers' titles being decided there. The Japanese Grand Prix has always showcased gripping, edge-of-your-seat drama, and I am thrilled we can continue to bring the action and excitement that is Formula 1 to the passionate motorsport fans of Japan.
"This extension is part of our long-term commitment to growing the sport in Asia, and we are pleased to be able to continue our successful relationship with Mobilityland. I'd like to personally thank Mr Tanaka and his team for their continued efforts in reaching this agreement, and we look forward to working with the promoter to increase the popularity and fanbase of Formula 1 there."
Kaoru Tanaka, President Representative Director of Mobilityland Corporation:
"As a result of repeated negotiations with Formula 1, we have been able to conclude a contract on hosting the event from the year 2022 and onward. We would like to express our sincere gratitude to Formula 1 members, including first of all Mr Stefano Domenicali, for the great understanding that was shown during the negotiations.
"We are determined to continue to our efforts together with local residents of Mie Prefecture and Suzuka City so that Suzuka Circuit will continue to be loved by fans all over the world and contribute to the prosperity of the motorsports culture.
"In 2022, Suzuka Circuit will celebrate its 60th anniversary. In addition to the Formula 1 Japanese Grand Prix that will be held from the year 2022 and onward, we will take on new challenges for the future while also cherishing the history and traditions of the sport so that we may provide fans with surprises, joys and emotional experiences. Please look forward to the events to come."
With the likes of two-time Indianapolis 500 winner Takuma Sato in IndyCar, Le Mans winner Kazuki Nakajima and Yuki Tsunoda in Formula 1 – it has never been a better time to be a motorsport fan in Japan.
The 2021 Japanese Grand Prix is set to be held on the 10th October providing no further postponements or cancellations.