Charles Leclerc's Bahrain hotel room ought to have been marked a no-go zone. It's a testament to the Monegasque, humble and self-examining in his conduct, that it would be the first place he gives himself chance to vent. He navigated each interview with professionalism betraying his years, out of the car, onto the podium and back down the steps on his way to an apologetic Scuderia.
Never has it been as easy to forget, that this is a day on which a driver achieved their first podium in Formula 1, for the most historic racing team of all time. This should have been cause for celebration. Instead, Leclerc would be forgiven for wanting to slump in the corner of said room and attempt to retcon his most recent memory with force.
Having taken his first pole position, Leclerc was adamant both to his team and the breathtaken media that the job wasn't over – "I am trying to stay as cool as possible, because there are no points for pole position". He knew Sunday, his true date with destiny, awaited him. With a red tuxedo immaculate and a metaphorical tie millimetre-aligned, Leclerc spent 47 laps wooing to the utmost only to be stood up at the table in the night's dying moments.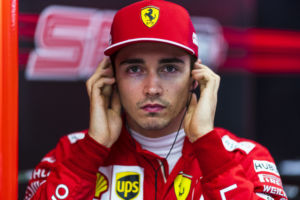 The term 'bitter blow' doesn't do it justice. Leclerc was faultless, a messy first lap aside, on a day where the infectious seeds of inconsistency were sprouting up all across the grid. Mercedes had collapsed pace-wise. Sebastian Vettel relapsed into troubles of the recent past. Pierre Gasly was again cast in the sea of the midfield, and Red Bull were in no position to put up a fight. The only one who had both the machine, and the disposition to utilise it, was him.
But, as we know in F1, the Gods can strike at any time. Again, Leclerc was humble in his approach to the media after the race – "It happens, it's part of motorsport". The fabric of not only his successes, but his career and person, is a stoicism that affords clarity, and a rigid confidence in the ripples of outside influence evening themselves out over seasons and careers.
To make it big in racing, all drivers have to learn this the hard way. The biggest surprise is how Leclerc exudes this sense he was born with it. His ability to think long-term is an offshoot of his acceptance that outside variables can't be changed, and as we've seen many a time through his interviews he likes to instead look inwards at every opportunity, and obsessively hold himself to account wherever he can. It's beyond admirable.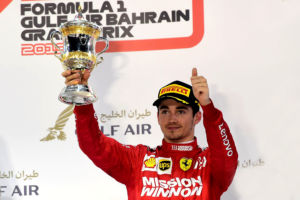 It's a sign of being in control, even when every single thing outside of your mind and body wants to break you down. That losing yourself is improbable, bordering on impossible, because there's a foundation of introspection that can't be shaken. Leclerc's painfully emotional F2 win in Baku is proof of this; his father had passed away mere days ago, the pressure of his 'next big thing' tag was weighing down on him, and the race was as chaotic as they come. His focus that day was as though those issues were denied access into the confines of his cockpit.
He'd go on to suffer a troublesome first three races with Sauber, visibly struggling to tame an unpredictable car. Instead of looking to deflect, or simply carry on as normal, Leclerc opted instead to ask himself difficult questions, more so than with his team. He certainly helped Sauber develop the C37 into a midfield mainstay, but the hardest treatment was placed by himself, on himself. No one was willing to do it with a rookie who hadn't even been driving poorly, but let it be known Leclerc holds himself to world-class standards.
And he does this because each and every time, it's allowed him to blossom. Even when most other drivers want an arm around the shoulder from their team, and an easy time of it in the press pen, Leclerc doesn't allow himself the satisfaction of such comforts until he's improved in a way no one would even have noticed but himself. The mental solidity that takes, when locked in the furnace of Formula One, is unfathomable.
So if anyone can handle the pain of having the most glorious win of any driver's career – a maiden victory with Scuderia Ferrari – kissed away into the wind, it is Leclerc. As much as we'd all understand if he locked himself away with a whisky bottle until the pain numbed, it is not, never has been and never will be his way of dealing with issues. Leclerc always bounces back, and every ounce of adversity only serves to make him stronger.
[Featured image – Ferrari media]