The final day, and not a short day either with 55km's over four stages. Two of the stages would also only be run once as well giving an extra dimension to the final day.
There was overnight drama for two of the drivers. Firstly, Thierry had drama coming back to the service park, with smoke coming out of the car. It was a turbocharger failure for the Belgian. Then Oliver who had a large lead was given a one-minute penalty for celebrating after the flying finish in the final Lousada stage with some donuts. Gus therefore was now leading the WRC2 category.
Into the first stage then, SS16 Paredes – 11.05 km was won by Takamoto from Kalle and Dani. Thierry's problems with a lack of power were also clearly not solved and was 1 minute 26 seconds slower than the Japanese driver. In WRC2 Oliver was really quick setting a time that was just 11 seconds from the fastest driver and bringing the gap down to just 22 seconds from the category leader and fellow Toksport teammate.
Next up then, SS17 Fafe 1 – 11.18 km, the dress rehearsal for the Power Stage and Kalle was fastest from EP by just 2 tenths of a second and Ott third. Kalle now had a lead of close to one a minute. Oliver had also reduced the gap to Gus to just 15 seconds! He really wanted the win!
There was another stage win for Ott in SS18 Cabeceiras de Basto – 22.01 km from Dani and Takamoto. Oliver also was going well, setting the fourth fastest time, although there was a lot of tyre saving going on. The young Swede had now reduced the gap to just 8.7 seconds!
Well, it was time for the final stage, SS19 Fafe 2[Power Stage] – 11.18 km. Ott set the early pace, but Kalle came through and eclipsed his time, going seven tenths faster. EP was third and Takamoto and Dani rounded out the top five fastest in the stage and took the points. In WRC2, there was a really close finish with Oliver going fastest from Nikolay and Andreas taking the final point for third. Gus hung on for the category win by just 1.2 seconds from the charging Swede!
Let's take a look at the final standings and hear from the drivers.
Final Overall Classification –Rally de Portugal
| | | | | |
| --- | --- | --- | --- | --- |
| 1 | K. Rovanperä | J. Halttunen | Toyota GR Yaris Rally1 | 3:35:11.7 |
| 2 | D. Sordo | C. Carrera | Hyundai i20 N Rally1 Hybrid | +54.7 |
| 3 | E. Lappi | J. Ferm | Hyundai i20 N Rally1 Hybrid | +1:20.3 |
| 4 | O. Tänak | M. Järveoja | Ford Puma Rally1 Hybrid | +2:04.1 |
| 5 | T. Neuville | M. Wydaeghe | Hyundai i20 N Rally1 Hybrid | +8:22.5 |
| 6 | G. Greensmith | J. Andersson | Škoda Fabia RS | +9:43.4 |
| 7 | O. Solberg | E. Edmondson | Škoda Fabia RS | +9:44.6 |
| 8 | A. Mikkelsen | T. Eriksen | Škoda Fabia RS | +10:26.4 |
| 9 | Y. Rossell | A. Dunand | Citroën C3 | +11:33.2 |
| 10 | T. Suninen | M. Markkula | Hyundai i20 N Rally2 | +12:16.3 |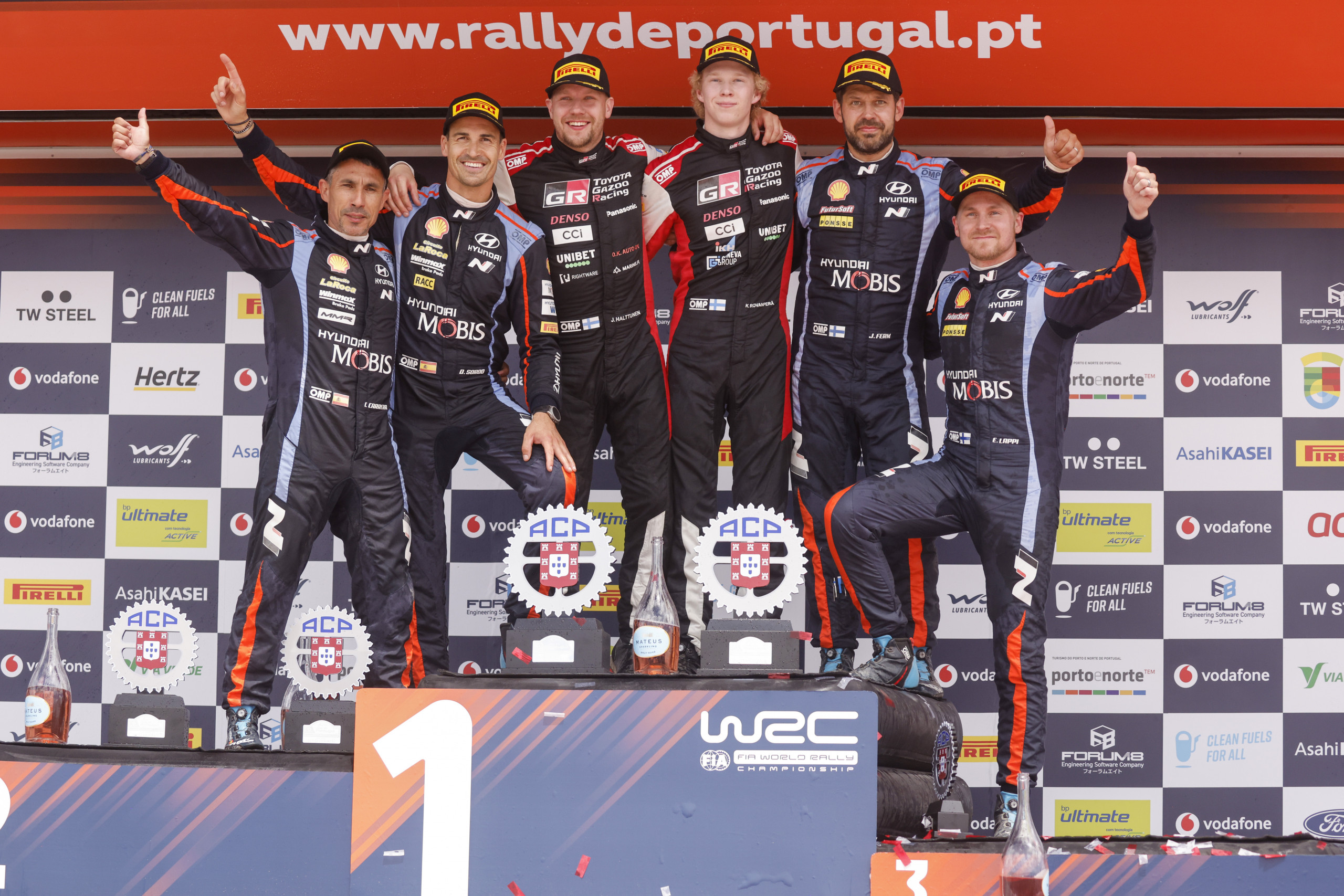 Toyota Gazoo Racing WRT 
Kalle Rovanperä
"This win has been a long time coming. There have been some difficult weekends but all the time I knew that when we can have a clean weekend and a good drive, we are right in the game. It's nice to win here in Portugal again and to finally be back on the top. A big thanks to Jonne and to the team, who have been pushing forwards all the time. This weekend we had a good feeling with the car, and we were able to push hard. In the Power Stage I wanted to take as many points as we could because I knew we would likely have to open the road on the next event anyway. It was not a perfect stage, but it was enough, so I'm happy. Sardinia will be more difficult, but we will definitely try to continue like this."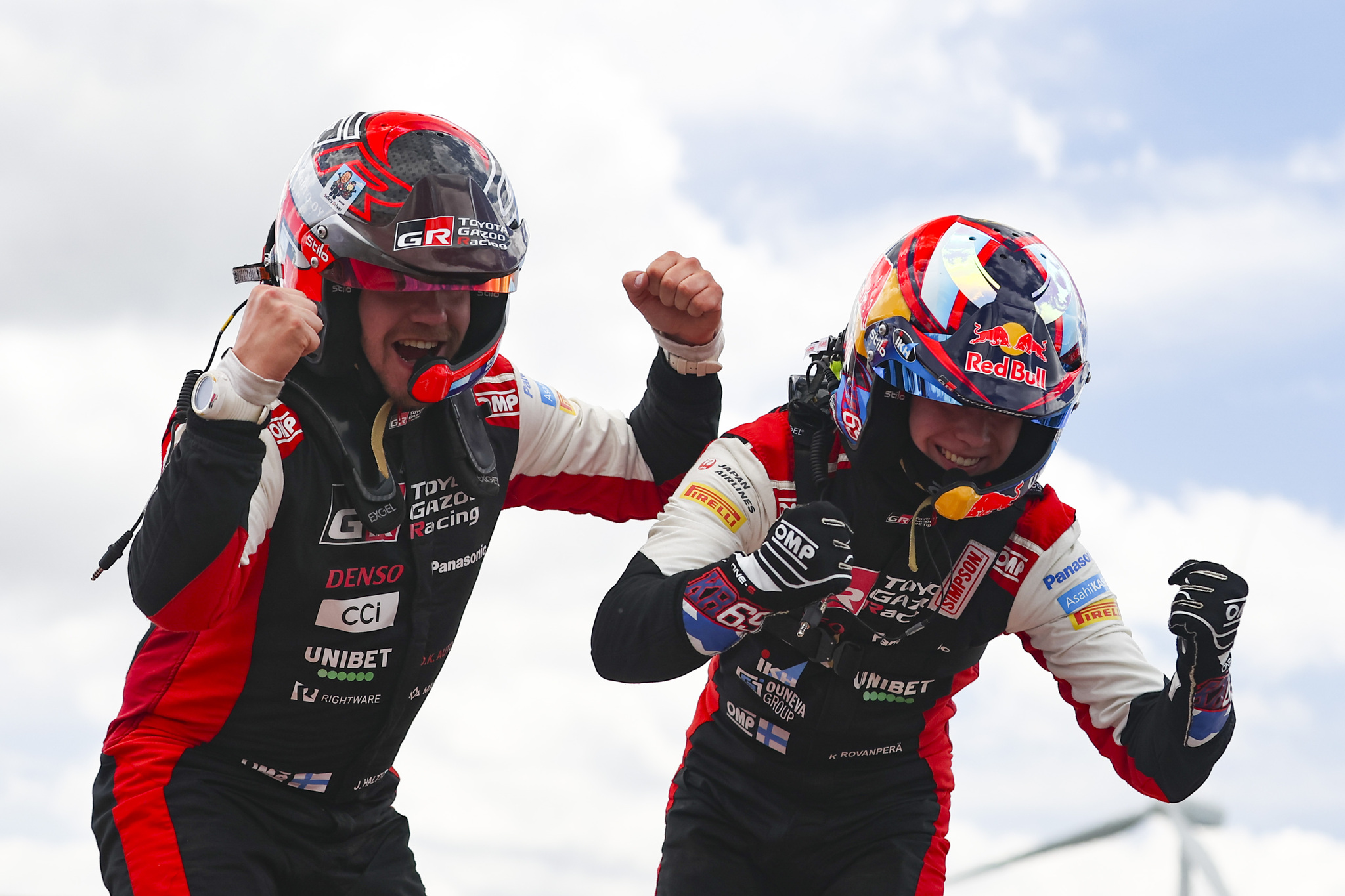 Takamoto Katsuta
"It has been a challenging weekend after the issue that we had on Friday. I was expecting a lot for this rally, so I was really disappointed, but sometimes this happens. After that I just had to try and get more experience and learn something for the future. It was not so easy cleaning the road, but the car felt fantastic, so the team and the engineers did a great job. On the Power Stage there were narrower ruts from the cars ahead, so I still had to open the line a bit, yet the time was pretty OK. It's good to finish the rally and get some points for the team: huge thank you to them and big congratulations to Kalle and Jonne."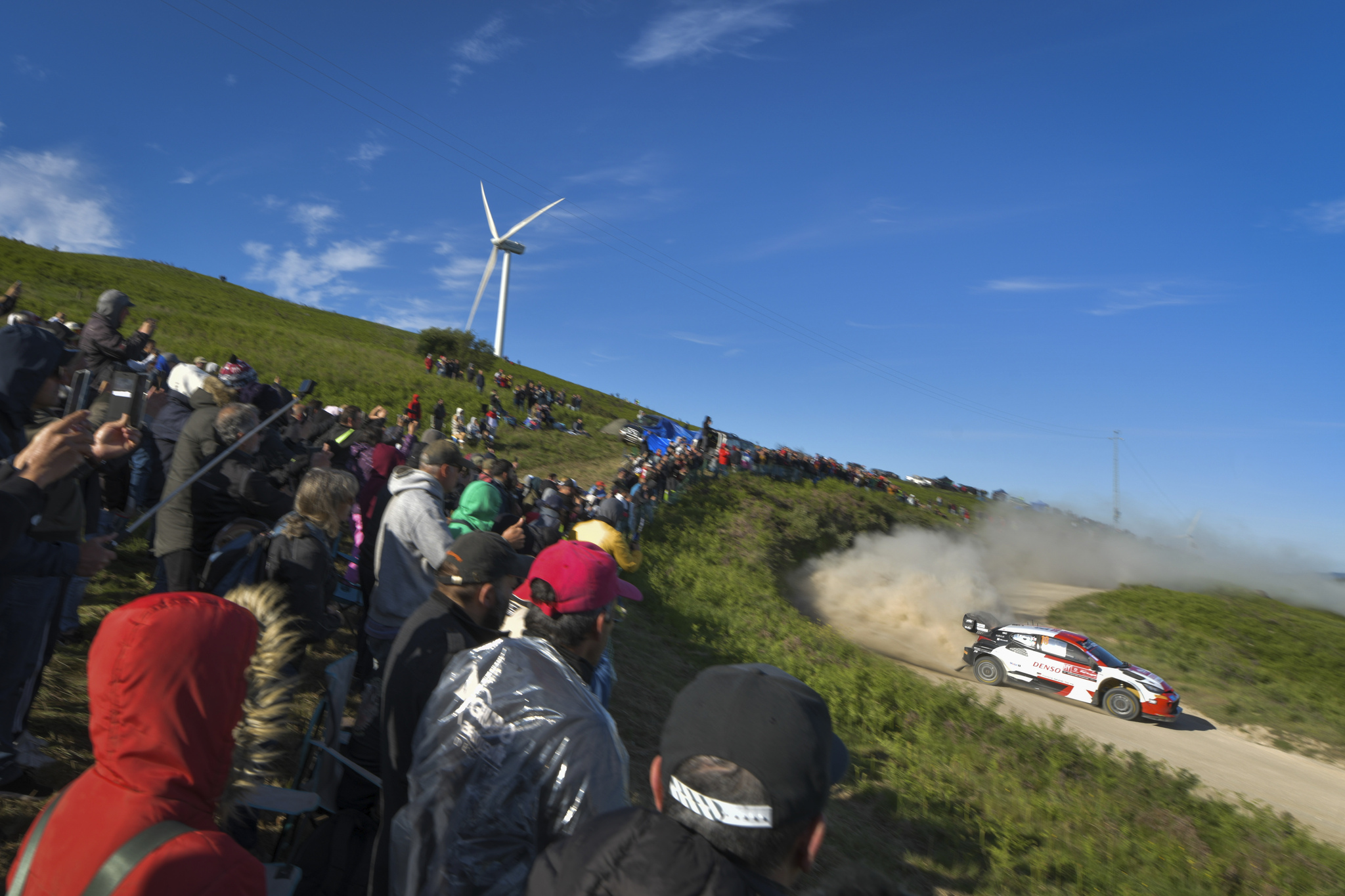 Hyundai Motorsport
Dani Sordo
"I'm really happy to get the podium but in particular our performance yesterday was really satisfying for us. In the morning we weren't really on it but in the afternoon, we found our pace, and it was the best feeling. This is for you, Craig. I think we drove very well, so I have to say thanks to him. He was with me all rally long and he was pushing me to the limits. I want to give this podium to his mum and dad, because I promised them, I would wear this helmet for him. Thank you very much to them. The fans have been amazing as always here in Portugal, you can absolutely feel their support in the car. I remember called Craig after Sweden and told him he was so fast, and he said 'hell, now you have the pressure!'. Well Craig, I am back."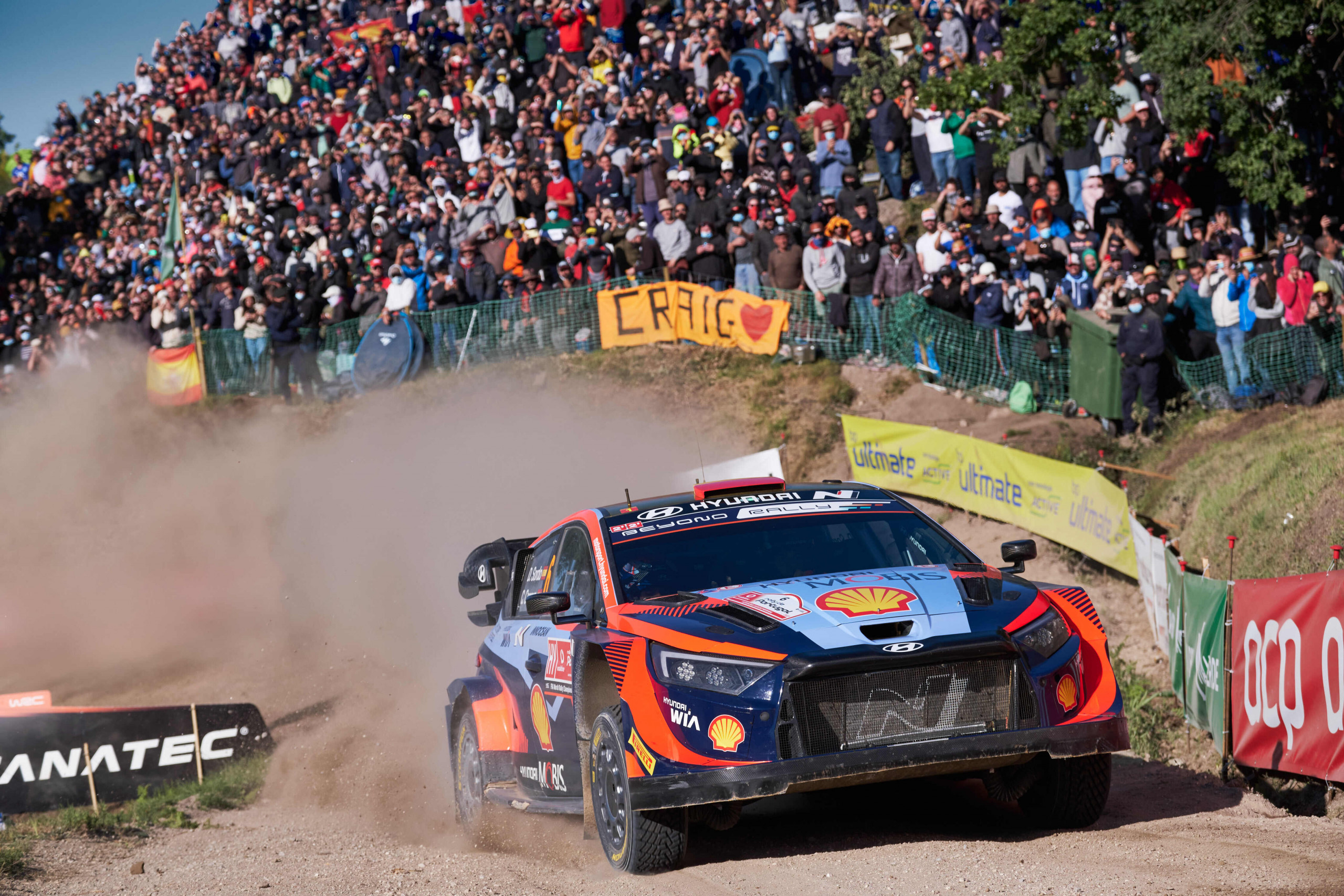 Esapekka Lappi
"A little too much action on the final day for our team in terms of technical issues, both for Thierry and then myself right at the end. Two kilometres from the end of the last stage, we picked up a problem with our turbo as well. Overall, we had a good weekend. It was a strong consistent drive with no other problems, and it is a good result for the team to be second and third. We've scored important manufacturers' points today. I'm sure the team will carefully investigate the issues so they don't happen again, and we can be better in the next rounds."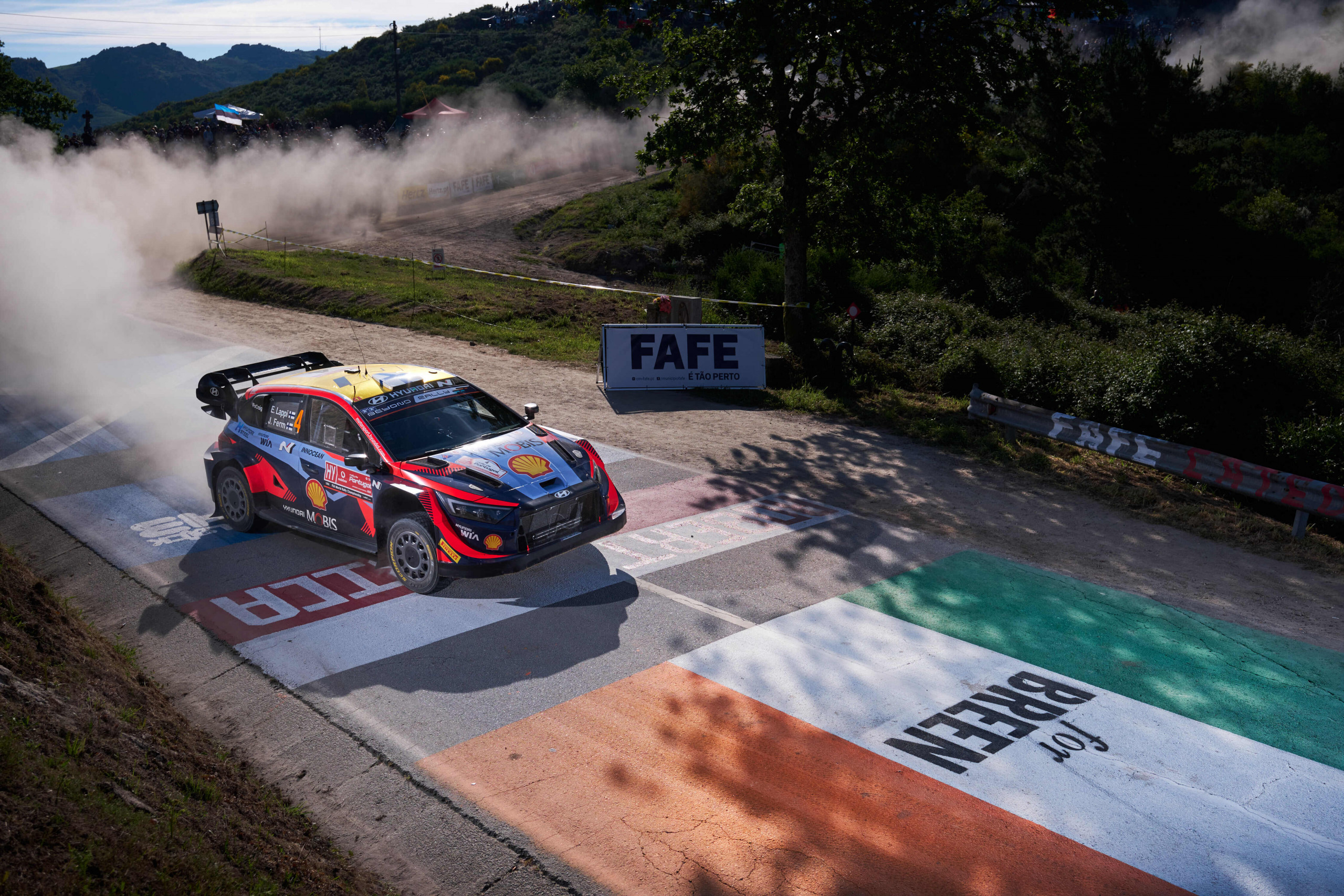 Thierry Neuville
"In short, this is what rallying is all about – full of ups and downs. It is one of the most cruel motorsports, if not sports, in the world. We have to face situations like this sometimes, but it is never easy. Martijn and I put a lot of energy and effort in, but we go home with very little points and not the result we were looking for, so we're very disappointed about that. Rallying is never over until it's over, and we paid the price today. I want to give a round of applause to the organisers, they have done an incredible job, and to the spectators as well. They were just perfect, so at the very least we enjoyed that. A weekend to forget; let's see what we can do in Sardinia."
M-Sport Ford WRT 
Ott Tänak
"Overall, a demanding weekend for sure. We have been struggling quite a lot, it's just about understanding how we can go on from here. It's my second gravel rally in the car now, in Mexico I wasn't feeling completely confident, and it has been hard to figure out what's been missing, but I would say this weekend has given us a lot more understanding and now I think we have enough information to move forward."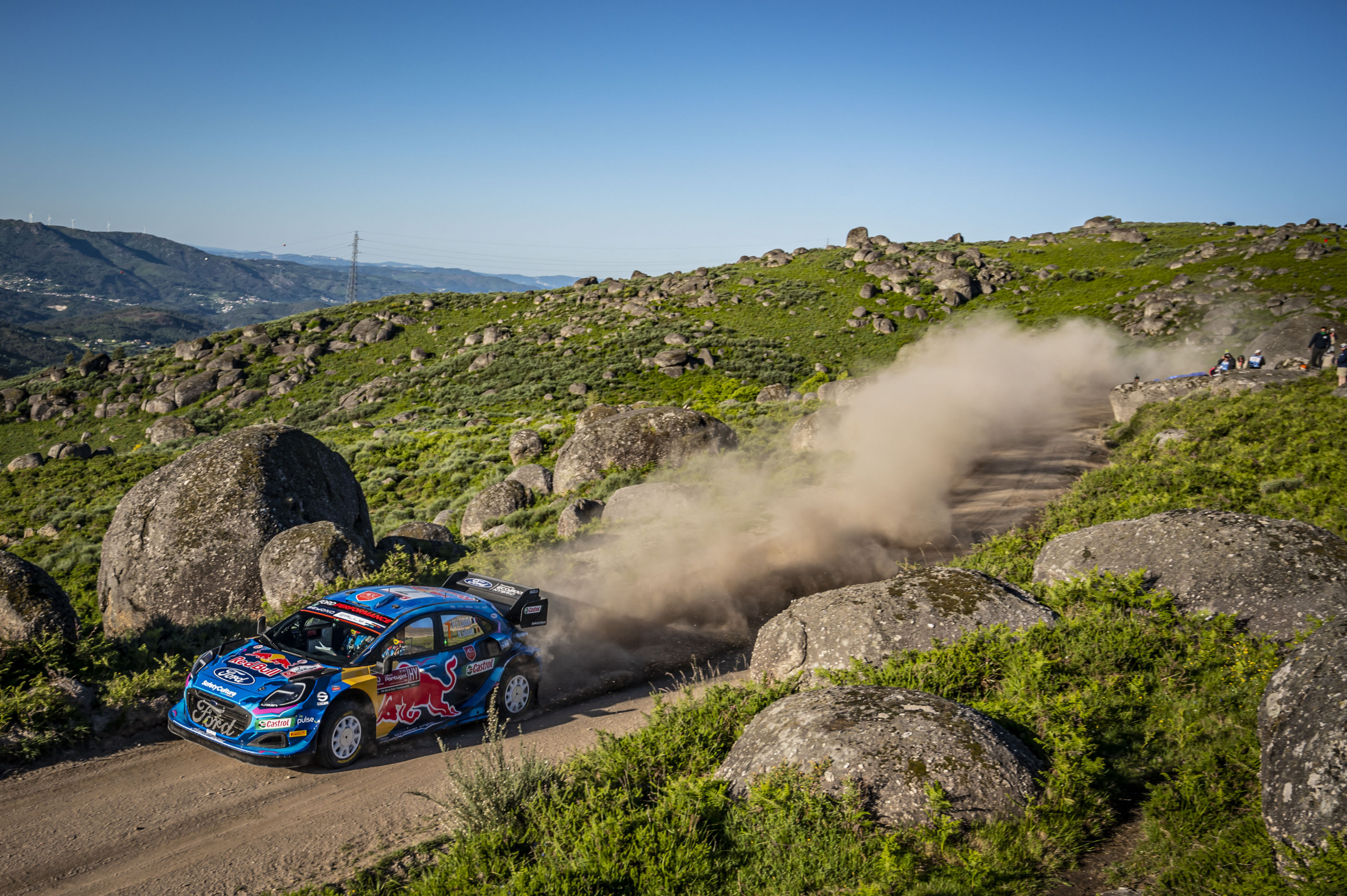 Pierre-Louis Loubet
"Our performance, in terms of pace, I think is strong already. On Friday and Saturday, the pace was there which is good, we went back to the set-up we had last year, and I feel better in the car. We were able to set a best time and fight for the top-three, but unfortunately the small mistake on Saturday had big consequences for us. It's a shame but part of the rally unfortunately. I'm sure with the pace we have then the right results will come."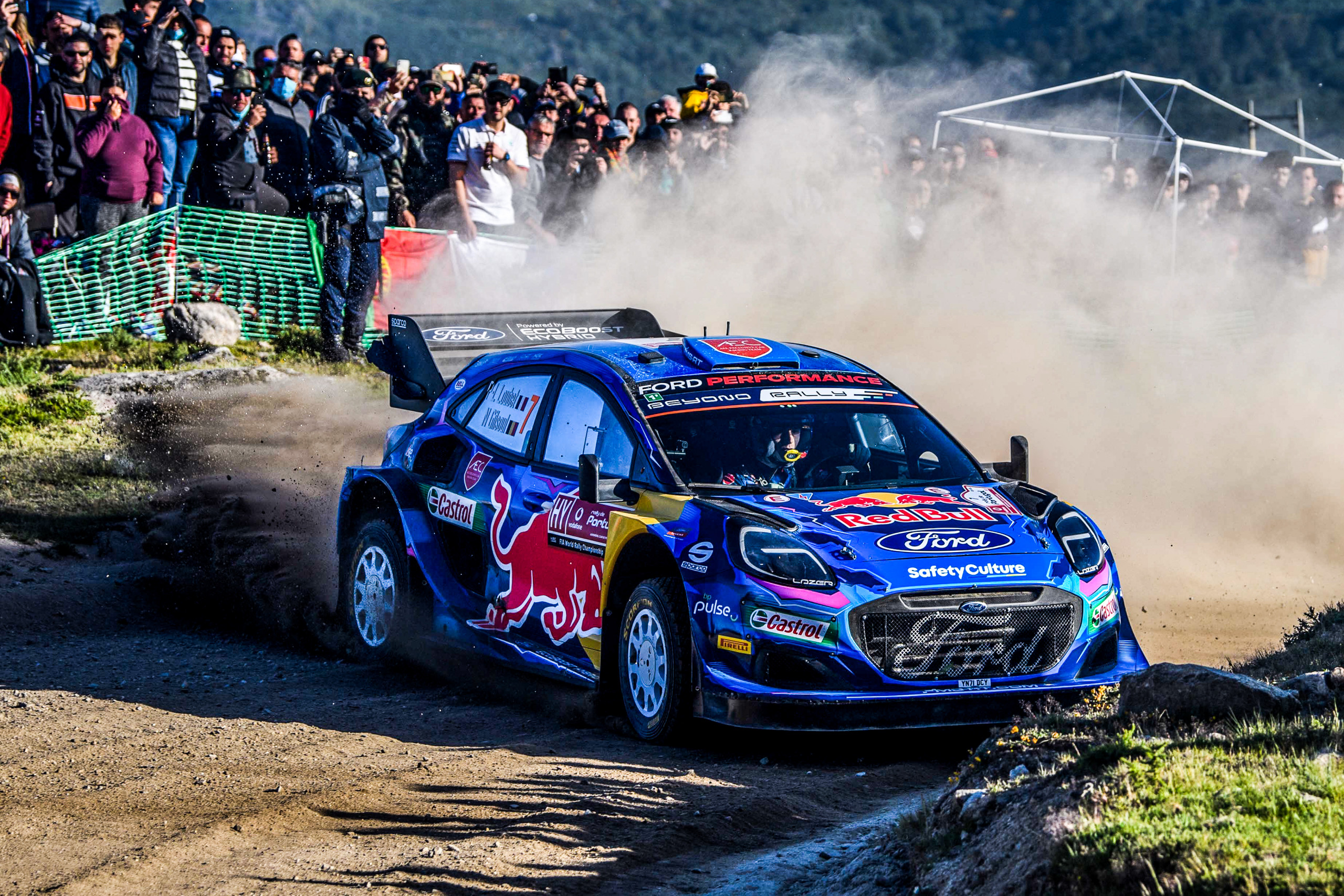 WRC2
Oliver Solberg – Toksport
"So close! We gave it absolutely everything, we left it all out on the stages. Of course, it's hard when we get so close to the win, but we couldn't do more today. First, I want to say how much I love to drive here. This rally is fantastic. And the fans are amazing. It's frustrating, we didn't make such good choices with the tyres and with the set-up, but we still built a good lead, and we had this rally ready to win.
"The good news for us is that we came to this rally 10 points behind in the championship, we leave one point behind. That's positive, that's progress.
"For the penalty, of course we accept the stewards' decision. I was just trying to give something back to the fans, so many of them were standing, waving and cheering – like everywhere on this rally, the people were amazing, and I wanted to be happy with them. I understand this was the wrong thing to do and rules have to be abided by.
"For the team, thank you. Toksport gave me and Elliott a great car again. We were able to win seven stages and I feel we had this rally under control. To leave this event like this is a tough one, but OK, it is what it is. We move on.
"Before I go, I want to say, one more time, thank you to all the fans in Portugal. This country and these people are just fantastic. This place is the heart of the World Rally Championship. I love this event and can't wait to be back here again next year."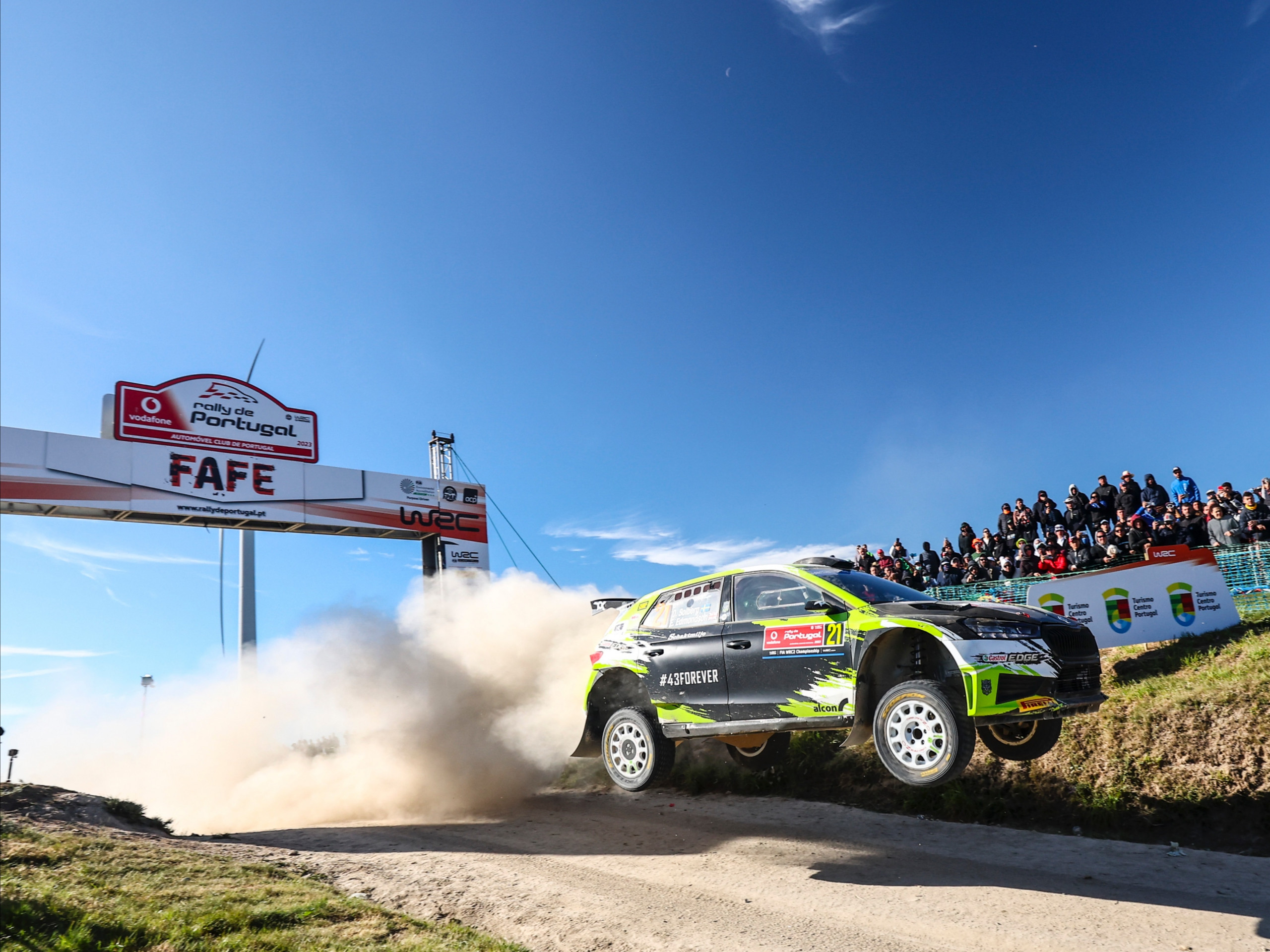 Adrien Fourmaux
"We didn't have issues other than the punctures, otherwise it's been very good, and we were doing well leading up to stage four. I think it's been a strong performance this weekend, it's a shame about the punctures but that's part of the game. On Sunday we were focusing on the power stage, and in the end, we scored two points so that's a real positive."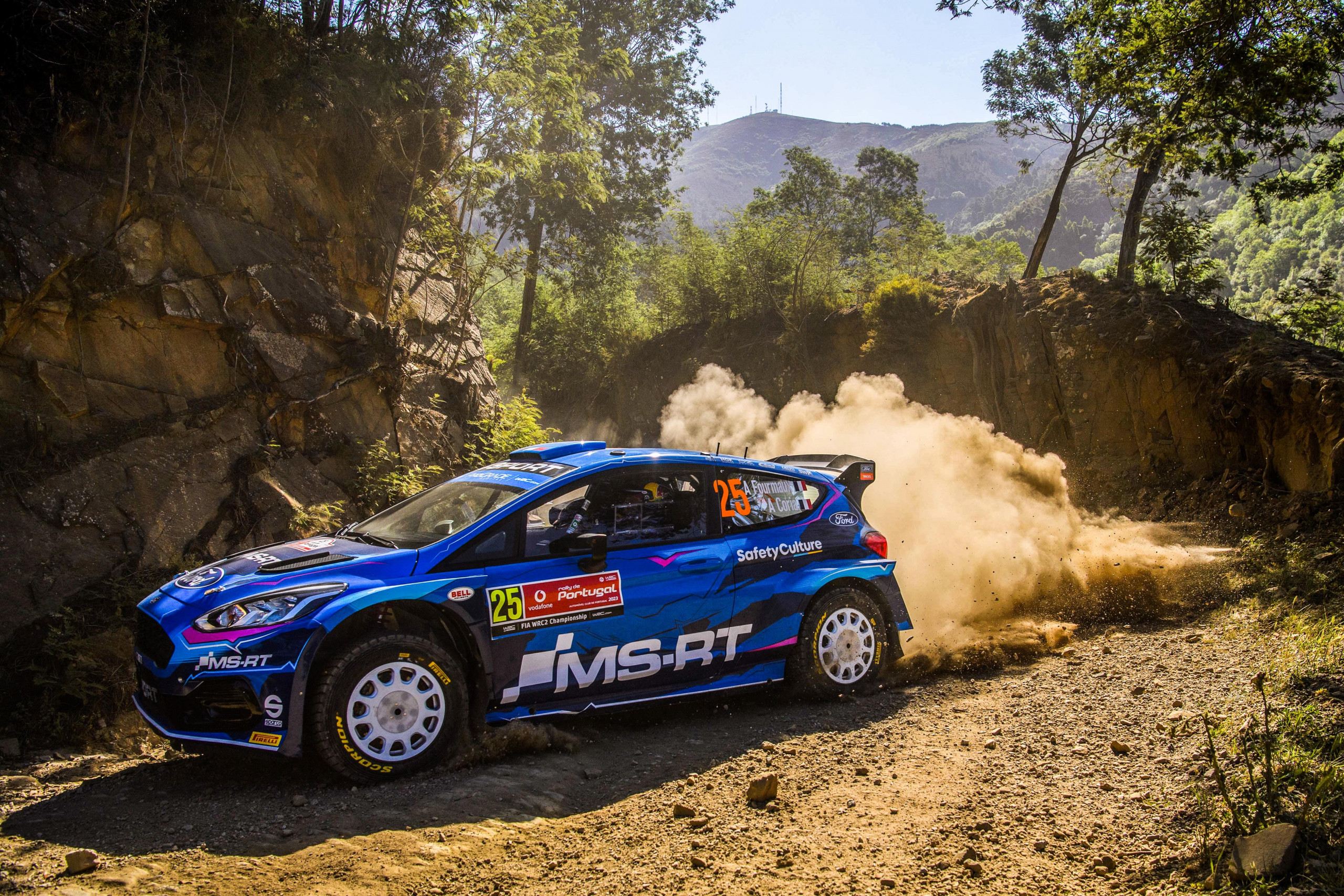 2023 FIA World Rally Championship for Drivers' Standings
After round 5
| | | |
| --- | --- | --- |
| 1 | K. Rovanperä | 98 |
| 2 | O. Tänak | 81 |
| 3 | S. Ogier | 69 |
| 4 | E. Evans | 69 |
| 5 | T. Neuville | 68 |
| 6 | E. Lappi | 49 |
| 7 | D. Sordo | 36 |
| 8 | T. Katsuta | 20 |
2023 FIA World Rally Championship for Manufacturers' Standings
After round 5
| | | |
| --- | --- | --- |
| 1 | Toyota Gazoo Racing World Rally Team | 201 |
| 2 | Hyundai Shell Mobis World Rally Team | 169 |
| 3 | M-Sport Ford World Rally Team | 134 |
Summary
Well, what an impressive drive from the world champion crew! Kalle and Jonne made the most of their road position and built a lead which was unassailable. It's fair to say that they were back to the supreme best from last year, looking really comfortable on the stages.
Dani and Candido came out on top of the trio of battling Hyundai crews that saw EP and Janne fight with Thierry and Martijn, swapping positions before the final problem that caused the Hyundai crewed by the Belgian crew to lose power. A double podium for the Hyundai crews though is a real bonus and shows the car has good performance.
It was a case of what might have been for the two M-Sport crews. Both Ott and Martin and Pierre-Louis and Nicolas challenged at the front, winning stages and setting times good enough to take a possible podium. With the Estonian crew, their challenge was ended by the puncture, whist the French and Belgian crew saw a small mistake have big consequences. The positive is that the car does have pace and they are both capable of taking a great result in the remaining rallies.
Next rally is on the first weekend of June as the championship moves to the Island of Sardegna. Pop back just before or follow myself on Twitter to await my preview.