The first full day of competitive action in Croatia saw some incredible drama out there. Here's the round-up of the first eight stages from Friday.
First up, SS1 Mali Lipovec – Grdanjci 1 – 19.20 km and with the crew starting in championship order, Seb was first in and would ultimately set the fastest time from Thierry and Ott. At this stage, Kalle and Elfyn were holding fourth and fifth overall, a little over ten seconds from the leader. In the WRC2 category, Yohan held the lead From Emil and Gus with third.
It was all change in SS2 Stojdraga – Hartje 1 – 25.67 km with both Seb and Kalle suffering punctures at the same point and on the same side in the stage and having to change their wheels. Seb lost over a minute and Kalle over two minutes changing their wheels. Thierry also had some drama, colliding with a bale in a chicane and damaging the right front bumper and splitter. Once Elfyn completed the stage he now held second overall, whilst Esapekka moved into third, and just 5.6 seconds covered the top three.
Into SS3 Krašić – Vrškovac 1 – 11.11 km and Seb was back to the fastest time, but of course was holding seventh overall, now a minute and thirty seconds from Thierry. The Belgian was second fastest and opened up the gap to Elfyn a little to over 15 seconds.
The final stage of the morning loop SS4 Pećurkovo Brdo – Mrežnički Novaki 1 – 9.11 km and Seb was making the most of still being first on the road and took another stage win, whilst Ott and Elfyn were second and third respectively. In WRC2, Yohan continued to lead, from Nikolay who gained two places overall and moved into ninth overall.
After the service break, Seb was fastest in SS5 Mali Lipovec – Grdanjci 2 – 19.20 km from Elfyn who was starting to close the gap to Thierry, whilst Ott was third fastest. There was a change in positions further back, with Pierre-Louis moving into fifth place.
Esapekka took his first stage win in SS6 Stojdraga – Hartje 2 – 25.67 km from Elfyn whilst Seb was third. The former champion was now up into fifth overall, whilst Elfyn had now closed the gap to Thierry to just eight seconds. Kalle was also on the move up the leader board gaining one position and moving into eighth overall.
We had another new stage winner with Ott winning SS7 Krašić – Vrškovac 2 – 11.11 km from Thierry and Elfyn. Ott moved ahead of Esapekka and into third overall, just 1.5 seconds ahead now of the Hyundai driver.
The final stage of the day, SS8 Pećurkovo Brdo – Mrežnički Novaki 2 – 9.11 km was won by Elfyn from Kalle and Ott was third fastest. Thierry was fifth and lost a further few seconds of his lead to Elfyn, the gap just 5.7 seconds at the end of the stage.
Let's take a look at the top positions and hear from the drivers.
Classification after Day One
| | | | | |
| --- | --- | --- | --- | --- |
| 1 | T. Neuville | M. Wydaeghe | Hyundai i20 N Rally1 Hybrid | 1:16:02.4 |
| 2 | E. Evans | S. Martin | Toyota GR Yaris Rally1 Hybrid | +5.7 |
| 3 | O. Tänak | M. Järveoja | Ford Puma Rally1 Hybrid | +30.0 |
| 4 | E. Lappi | J. Ferm | Hyundai i20 N Rally1 Hybrid | +33.4 |
| 5 | S. Ogier | V. Landais | Toyota GR Yaris Rally1 Hybrid | +1:23.7 |
| 6 | T. Katsuta | A. Johnston | Toyota GR Yaris Rally1 | +1:52.1 |
| 7 | P. L. Loubet | N. Gilsoul | Ford Puma Rally1 Hybrid | +1:52.9 |
| 8 | K. Rovanperä | J. Halttunen | Toyota GR Yaris Rally1 | +2:40.3 |
Hyundai Motorsport
Thierry Neuville
"First of all, I am happy to get to the end of the day in the lead of the rally; this is the best result we could expect especially after the incredibly tough week we have had as a team. It was a big relief as we passed the final stage end and saw we were still in front. It has not been an easy day; this morning, it was tough and more challenging than we were expecting. We changed the dampers on the car and felt more comfortable, but I still don't feel that I can commit 100%. We were fast but we weren't chasing those final tenths of a second which make all the difference. The next two days will also be challenging; we have a new stage which was dirty in the recce, and we must remember we will be starting from the back of the field, so it could be tough."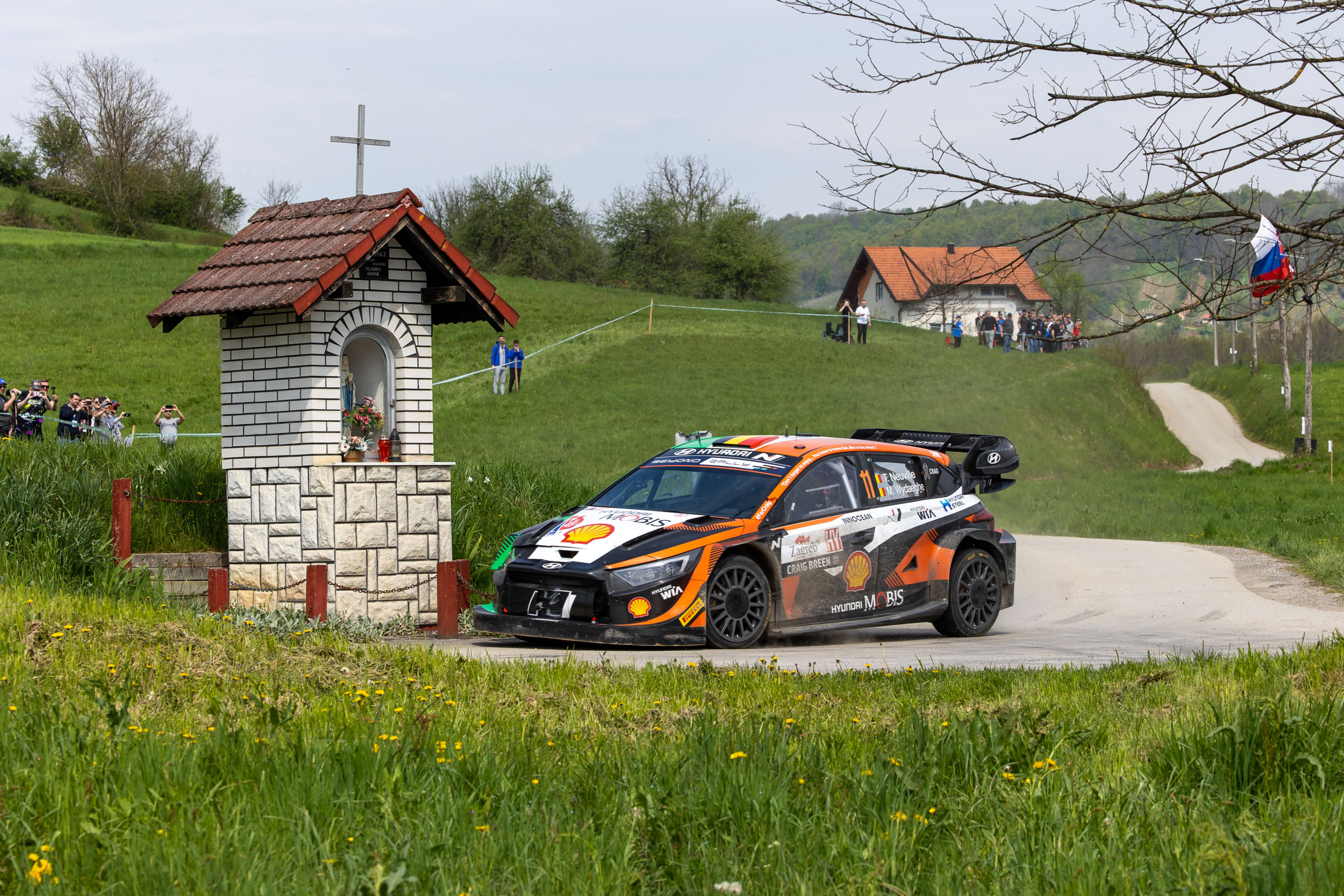 Esapekka Lappi
"This morning, we didn't have the greatest pace, but we also carried a disadvantage that we didn't do these stages last year. We were lacking a bit on the pace notes as a result, particularly on the high-speed parts; we needed to make sure they were correct so we could commit more. There were lots of places where I know I could gain on the second pass, and we made good progress. The conditions in the afternoon were much better and more equal for everyone. The gravel crew notes were also more precise which gave me extra confidence. It was quite an enjoyable afternoon. Tomorrow could be a bit 'easier' for me as I have done all but one of the stages before. I'm looking forward to it."
Toyota Gazoo Racing WRT
Elfyn Evans
"It's not been easy out there today. The grip was changing almost with every corner and the amount of dirt brought onto the road from the cars in front of us was varying quite a lot. It maybe wasn't the strongest start to the day, with a lot of pollution on the road with our road position in the first stage this morning. But after that we kept building and building. This afternoon we had some rain showers, and it was a bit of a lottery, but we actually managed to make the right tyre calls at the right time. So, it's been a pretty positive day overall. There's a long way to go, but it's hopefully going to be an interesting fight for the rest of the weekend."
Kalle Rovanperä
"This morning was more difficult than I expected. The conditions were tricky with more loose gravel and less grip than anticipated. The setup we started with was not so good for me in these conditions, so I was struggling a bit with the balance. Then in the second stage we had the same thing happen as Seb: I had this compression in my pacenotes but it seems the bump was bigger than expected. This afternoon was definitely much better. In mid-day service we could make some changes to the setup, and it was much easier to enjoy the driving and to be on the pace. Hopefully we can continue with a good feeling tomorrow."
Sébastien Ogier
"The pace was good this morning but unfortunately, we lost a lot of time when we had to stop in SS2 and change the wheel. It happened in a compression on the road in a high-speed section, which is difficult to see in the recce at slower speeds. I was trying be safe and avoid the cut on the inside of the road, but the impact in this compression was too hard. After that, we just needed to keep pushing and try to catch back as many positions as we can. The gap in front now is pretty big so it will be tough to gain more, but we have nothing to lose so we need to keep trying and see what happens."
M-Sport Ford WRT
Ott Tanak
"The afternoon was better than the morning, although we didn't make a good choice in one stage, which was tricky, but other than that the last two were more positive. It's been quite an improvement since Monte, and also to get reliability and to have a bit of fun actually. Everything is open, we need to keep doing own, and I'm pretty sure we haven't seen the full potential of this car and there's still a few things to do, so let's go step by step."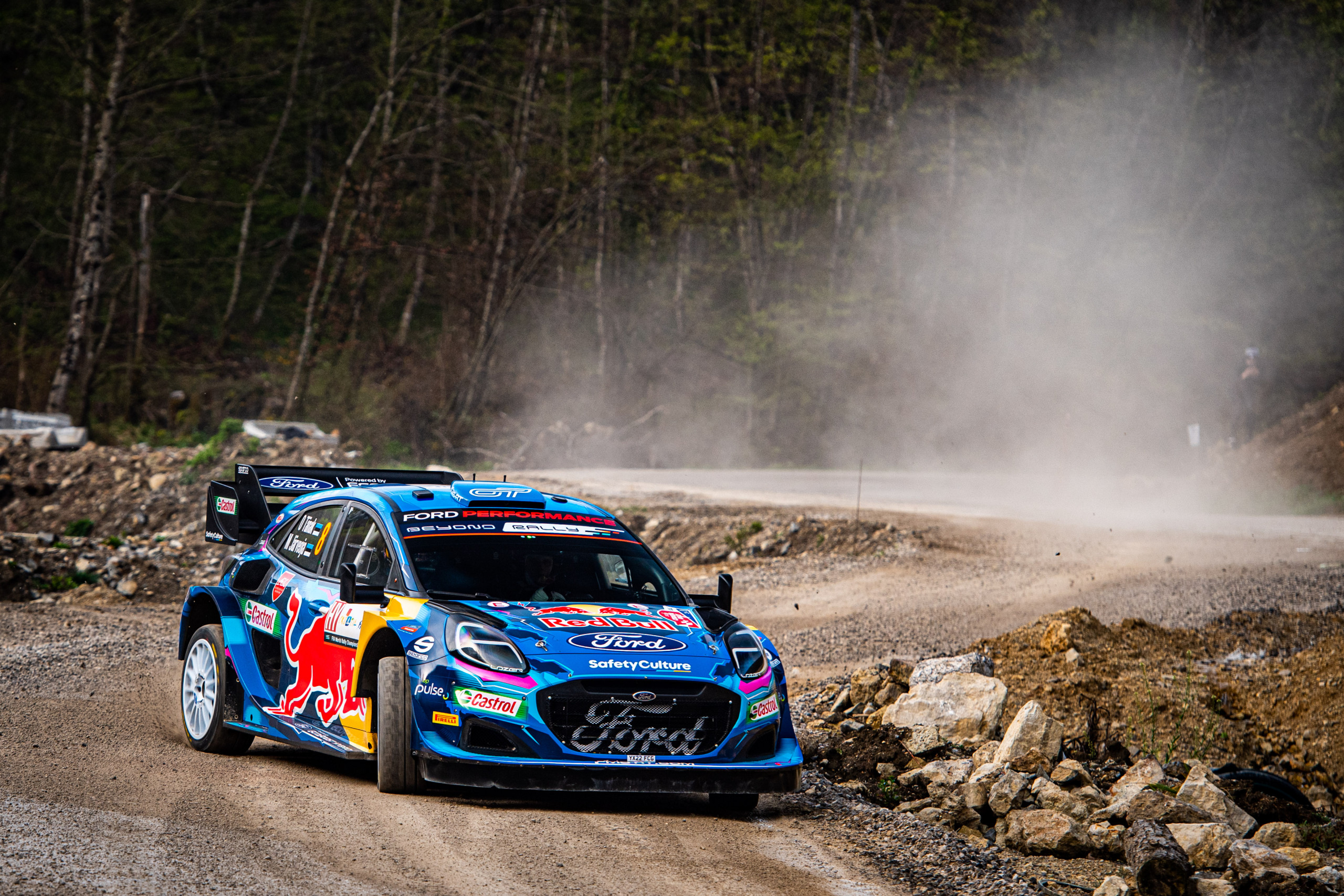 Summary
Well, after a full day of rallying, the leader board is interesting. It should be noted that Seb was given a one-minute penalty for moving away with the safety belts not done up after the tyre change and therefore dropped two positions to seventh overall. That means that Takamoto and Pierre-Louis both gain a position each and hold fifth and sixth respectively.
Saturday will see the crews take on 116km's over eight stages. Can Elfyn close the gap further and take the lead? We shall see.