The last race before the teams could enjoy the summer break took place at the Hungaroring, on the outskirts of Budapest. The twelfth round of the season started very interesting with a spectacular wet qualifying. The starting grid was thus very shaken up, with Toro Rosso in P6 and P8. Carlos Sainz started from fifth, while Red Bull were disappointed with P7 and P12. Force India were disappointed as well, with neither driver making it to Q2. Lewis Hamilton took pole in front of his teammate, with Kimi Räikkönen following in third ahead of Sebastian Vettel.
A wet qualifying meant that all teams were free to choose on what dry tyre to start the race on. Both Mercedes drivers started on the ultrasofts, while Vettel chose the softs and Raikkonen chose the ultrasofts.
The start went well for Lewis Hamilton and he maintained the lead, while Bottas kept second. It was behind them where a change took place as Vettel overtook his teammate Räikkönen into turn two. By the end of the first lap there was already one retirement. Charles Leclerc was forced to bring his car to a halt after flying debris from contact between Ricciardo and Ericsson ahead of him damaged his radiator.
On lap six, Max Verstappen pulled over to the side of the circuit, telling his engineer over the radio that he had no power. He sounded very angry and disappointed, with the spotlight once again on Renault after yet another forced retirement. His expletive-filled message made sure that FOM had a busy time censoring it. It was reported that the problem lied within the MGU-K, meaning he might have to take a grid penalty at the Belgian Grand Prix.
On lap fifteen Kimi Raïkkönen was the first to make a pit stop. He went from the ultrasofts to the softs, which meant he was probably going for a two-stop strategy rather than a one-stop. The stop took a bit longer than normal, because there was some rubber stuck in the brakes that the mechanics had to remove. He emerged in sixth, in front of Sainz and Ricciardo.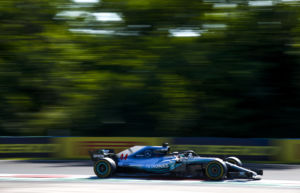 Valtteri Bottas responded to Raikkonen's stop by going to the soft tyre a lap after his fellow Finn. That same lap, Ricciardo finally got past Sainz, and he set about chasing down Raikkonen and claiming the fastest lap as he did so. Vettel  was losing time to Hamilton, and by lap nineteen the gap had opened up to almost nine seconds.
On lap twenty-two Ferrari told Vettel over the radio that they had switched to 'plan C'. He began to close the gap, but a mistake on lap twenty-three meant he lost all the time he had gained.
McLaren were struggling for pace, with Alonso and Vandoorne fighting for eleventh place. Hamilton stopped for new tyres on lap twenty-six, changing from the ultrasofts to the softs. Could he make it to the end on these tyres?
Daniel Ricciardo meanwhile was fighting against Gasly. The Honda-powered Toro Rosso looked strong, but the Australian lunged down the inside at turn one and taking fifth place, although he had yet to make his pit stop.
Mercedes told Bottas that Vettel was probably going for another fifteen to twenty laps on his softs, and that the German was being held up by traffic.
After thirty-five of the seventy laps, Vettel was leading with a 12.5 second gap to Hamilton, who had a gap of twelve seconds to his teammate behind. Räikkönen was fourth, followed by Ricciardo, Gasly, Alonso, Vandoorne, Magnussen and Ocon completing the top ten.
On lap thirty-nine Ferrari mechanics brought Raikkonen in for a second pit stop, opting for another set of softs. A lap later Vettel pitted for his first stop of the race, choosing the ultrasoft tyres so he could try and attack the Mercedes duo. The pit stop was a bit slow, and he re-joined one second behind Bottas.
Daniel Ricciardo went to a set of ultrasoft tyres with twenty-five laps to go. He was sitting comfortably in fifth place, with a gap of fourteen seconds to Kimi ahead and twenty-two seconds to Gasly behind.
On lap fifty-one a yellow flag was brought out for Vandoorne, who had to retire the car because the gearbox was gone. This yellow flag resulted in a Virtual Safety Car, but Hulkenberg was the only one who used it to make another pit stop.
With fifteen laps to go the battle between Vettel and Bottas was heating up, as Vettel got into DRS range. Ferrari reported to Vettel that Bottas was struggling with his tyres, and to continue to put pressure on him.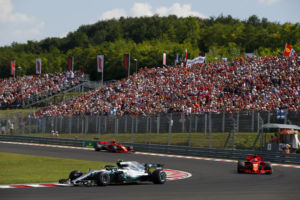 In the closing laps it became a three-way fight for P2, with Raikkonen having joined the fray, although it was clear that Räikkönen was not allowed to make it difficult for his German teammate. Over the radio Vettel was asked by his engineer how fast he could go. In response, he said he could go half a second faster but it was impossible as he was still stuck behind Bottas.
On lap sixty-five Vettel tried the overtake on Bottas, going around the outside of the Finn at turn one to get a better exit. He was in front of Bottas going into turn two and closed the door. Contact between the two, as Bottas clipped the back of Vettel, damaged the front wing of the Mercedes. Replays suggested Bottas braked too late, and that it was no more than a racing incident.
Bottas dropped back as a result, and found himself fighting with Ricciardo for fourth. By lap sixty-eight Ricciardo was in DRS range and tried to overtake Bottas around the outside of turn one, but it once again ended in disaster as Bottas ran a bit wide, making contact with Ricciardo's sidepod and pushing the Australian wide.
Mercedes advised Bottas to let Ricciardo pass in the hope to avoid a penalty afterwards. He did get a ten-second penalty after the race, but he kept his fifth place because the gap to Gasly was big enough. He also received two penalty points.
Up front, Hamilton took victory, with Vettel and Räikkönen completing the podium. Bottas finished in fifth place after letting Ricciardo pass. Behind him, Gasly, Magnussen, Alonso, Sainz and Grosjean completed the top ten.
Hamilton now leads the championship with 213 points, and Vettel follows with 189 points. Meanwhile a Finnish battle for third place is on, with Räikkönen on 146 points and Bottas on 132 points.
Now the summer break finally has arrived. In four weeks time Formula One will return to the Ardennes forests for the Belgian Grand Prix at Circuit de Spa-Francorchamps, a fan-favourite track and loved by the drivers. Let the fight for the championship go on.
Featured image – 2018 Großer Preis von Ungarn, Sonntag – Steve Etherington