The second day of competitive action then and 150km's over six stages. Opening the road would be Alberto Heller in his Puma Rally1.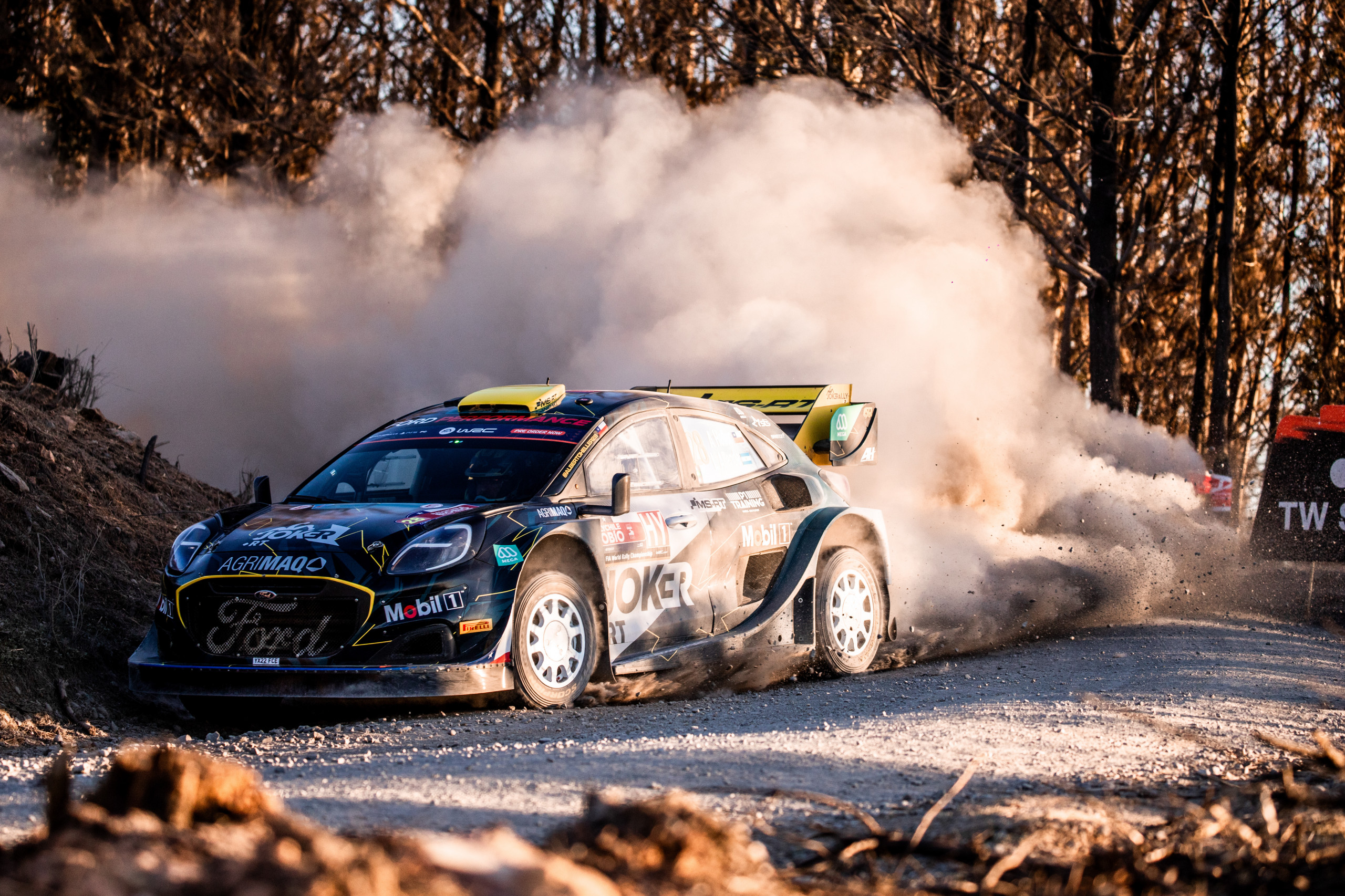 Into SS7 Chivilingo 1 – 27.19 km and Kalle was fastest from Ott and Elfyn. The Welshman regained second overall, now 13.8 seconds behind Ott, and Teemu was now 8 tenths of a second behind Elfyn. Further back Kalle passed Thierry for fourth overall, the Belgian now 4.7 behind the championship leader. In WRC2 it was a good stage for Oliver despite a spin in the stage as he was fastest from Yohan and Jorge. Former category leader Sami had an issue with the dust though and was fourteenth fastest, 39.6 down on the Swede who now led the category from the Finn, a healthy 26.3 ahead. Also on the move was Gus who passed Nikolay.
Next up was SS8 Rio Lia 1 – 21.09 km and Ott took this one from Elfyn by 6.8 seconds and Thierry a further 6.8 behind. Teemu was now 11.5 behind Elfyn in their fight over second place. There was a change though between Thierry and Kalle, with the Belgian passing Kalle again back into fourth. In WRC2, Yohan was fastest from Gus and Emil. The top two overall were fifth and seventh in this one, Oliver pulling away a little from Sami.
The last stage before service, SS9 Maria de las Cruces 1 – 28.72 km and there was huge drama in this one. Where do I even start with this? The following crews all had rear tyre failures, Elfyn, Takamoto, Kalle and Alberto leading to huge time losses for them. Elfyn dropped two positions to fourth place. The Toyota team made a mistake in going with soft tyres leading to their cars dropping back. Teemu was now back into second place and Thierry up now and into third. It was such a dramatic stage that two WRC2 cars placed fourth and fifth fastest, with Nikolay and Yohan respectively taking those positions. Gus was third fastest in the category. Top three remained Oliver, Sami and Gus.
After lunch time and the service break next up was SS10 Chivilingo 2 – 27.19 km. Kalle was fastest from Elfyn and Thierry. The Welshman took a couple of seconds from the third placed Belgian. In WRC2 Gus was fastest from Sami and Yohan. The Frenchman was having a much better day compared to Friday. Oliver was only eighth fastest and dropped out of the lead, now 2.5 seconds behind new leader Sami.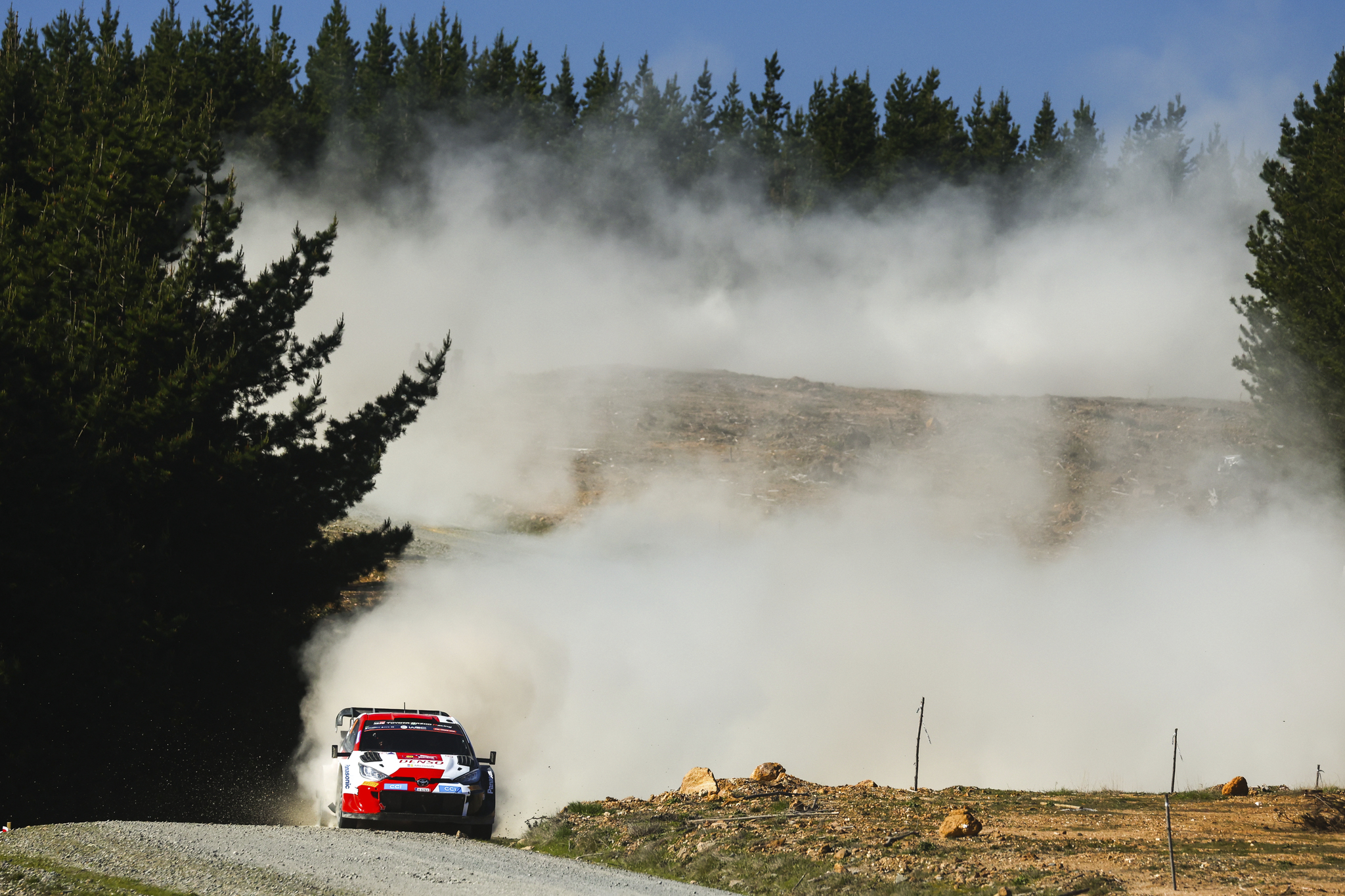 Next up was SS11 Rio Lia 2 – 21.09 km and Ott was quickest from Teemu and Elfyn. Thierry remained in third overall behind Teemu and Ott, but Elfyn had closed the gap a little to the Belgian. Yohan was fastest in WRC2 from Gus and Kajetan. Sami remained in the lead from Oliver and Gus whilst Yohan had now moved into fourth in the category as Emil and Nikolay dropped back.
The final stage then of the day then, SS12 Maria de las Cruces 2 – 28.72 km and would this stage deliver the huge drama that it did earlier in the day? Well, there was not the drama as earlier. Ott emerged fastest from Thierry and Elfyn. The gap grew five seconds between Elfyn and Thierry. It was all change in WRC2 though. The top three fastest were Oliver, Gus and Kajetan. Meanwhile Oliver took the lead from Sami who dropped from first place to third, with Gus moving into second.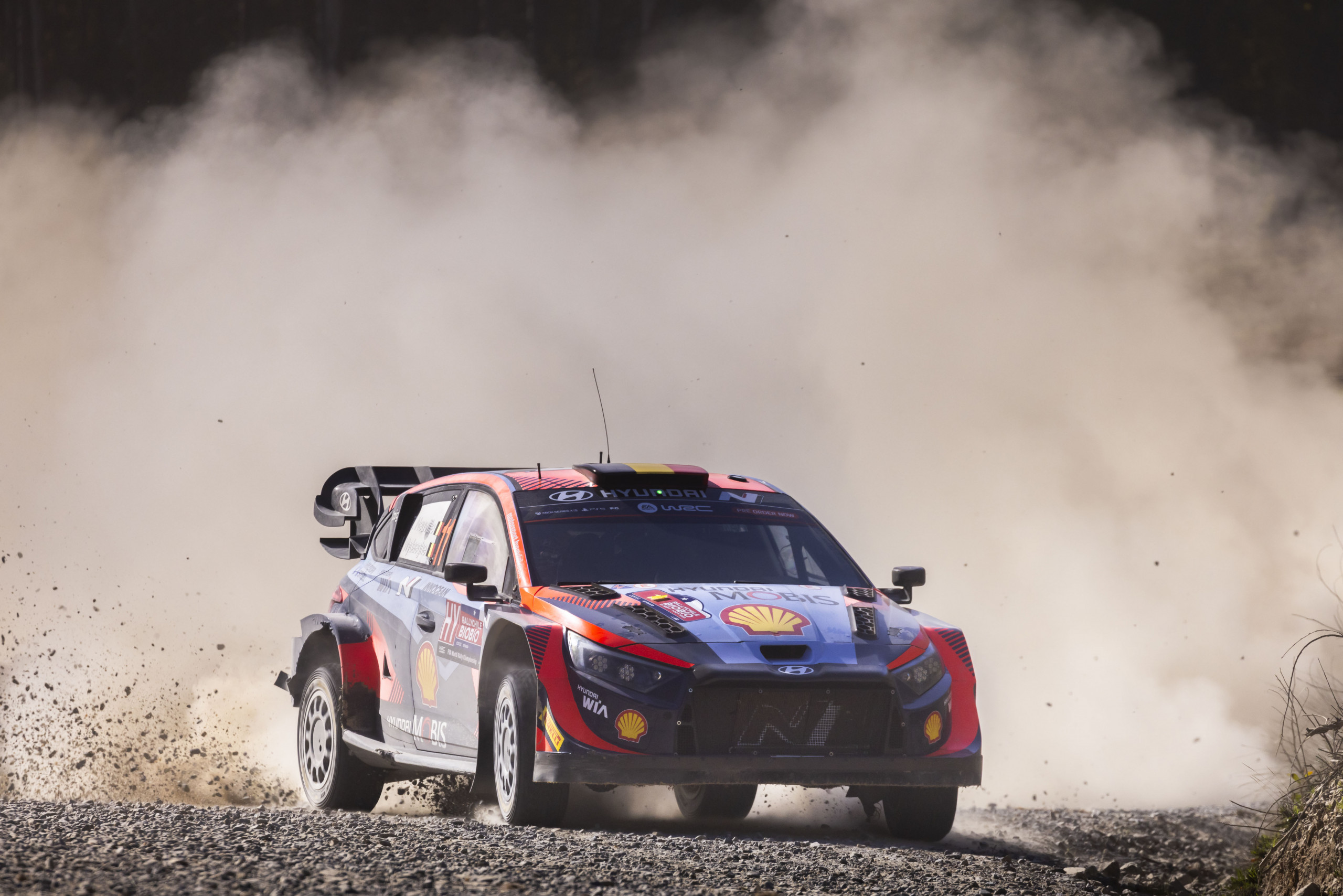 Let's take a look at the top positions and hear from the drivers.
Classification after Day Two
| | | | | |
| --- | --- | --- | --- | --- |
| 1 | O. Tänak | M. Järveoja | Ford Puma Rally1 Hybrid | 2:36:16.2 |
| 2 | T. Suninen | M. Markkula | Hyundai i20 N Rally1 Hybrid | +58.3 |
| 3 | T. Neuville | M. Wydaeghe | Hyundai i20 N Rally1 Hybrid | +1:12.2 |
| 4 | E. Evans | S. Martin | Toyota GR Yaris Rally1 Hybrid | +1:22.9 |
| 5 | K. Rovanperä | J. Halttunen | Toyota GR Yaris Rally1 Hybrid | +2:02.2 |
| 6 | T. Katsuta | A. Johnston | Toyota GR Yaris Rally1 Hybrid | +4:07.2 |
M-Sport Ford WRT
Ott Tanak
"Ah, we definitely had a good tyre choice, well not good, just better than the other guys. Hyundai was also quite good and covered for all the situations. Elfyn, Takamoto and Kalle, they were quite brave. Elfyn was still quite close to get it done, but just missed by ten kilometres. The tyre choice was just guesswork. We'd never done these stages and did not know how the stages would evolve."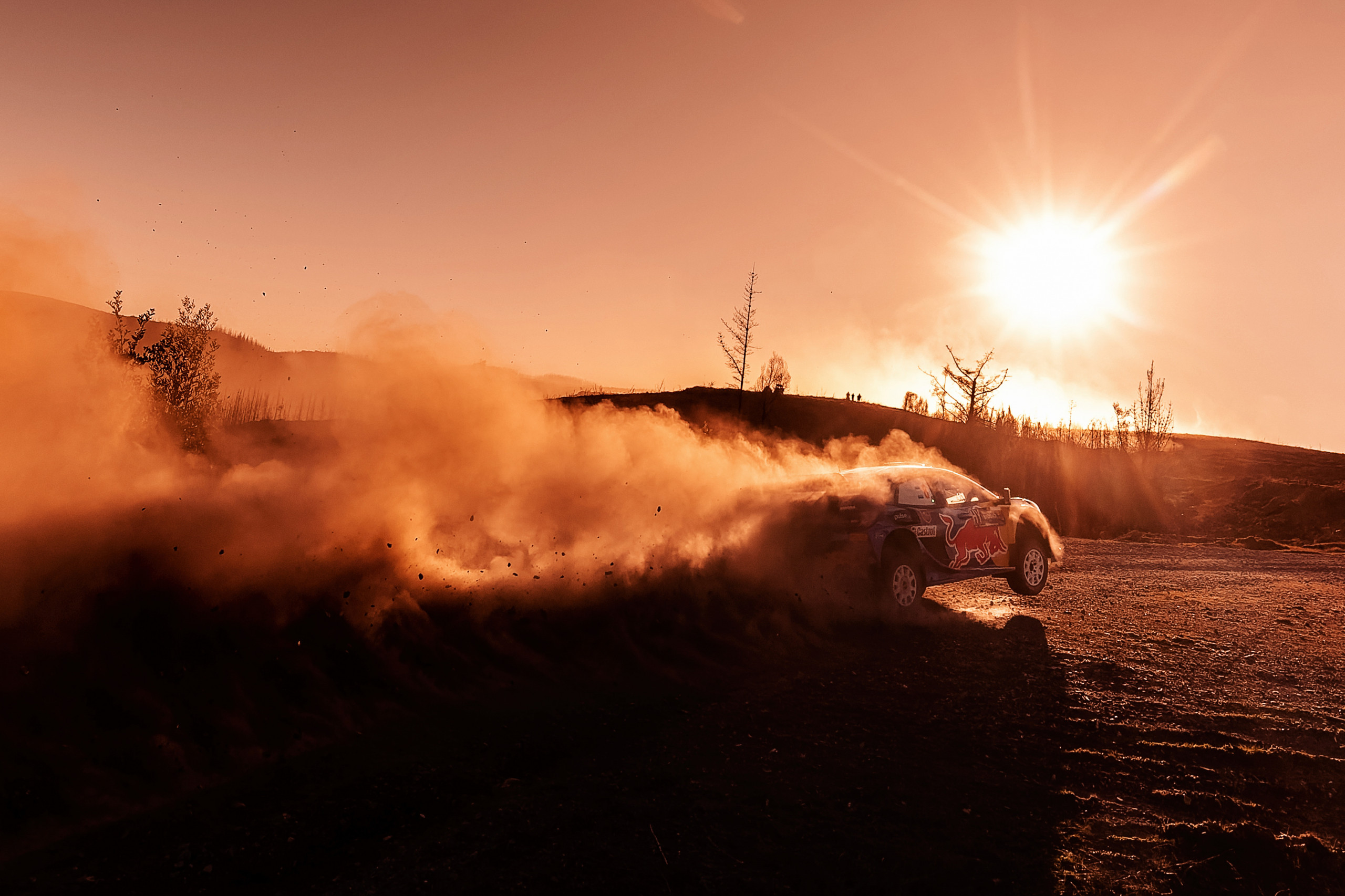 Hyundai Motorsport
Teemu Suninen
"It was a nice battle today; I think it was all about keeping the mind calm and focusing on all the different things and managing the tyres. We saw clearly if you attacked on the first stint you were losing time. Overall, I think it was a good day from us, but it was really tricky. The road surface is changing junction to junction, corner to corner, requiring constant management. In some sections you really had to use the tyres, or you would have been so much slower, which was intense. It would be great to finish second tomorrow; I think it would prove something from my side, but there is still one long day to go. It only counts afterwards when we finish the rally and the results come in, so we still have to keep focused."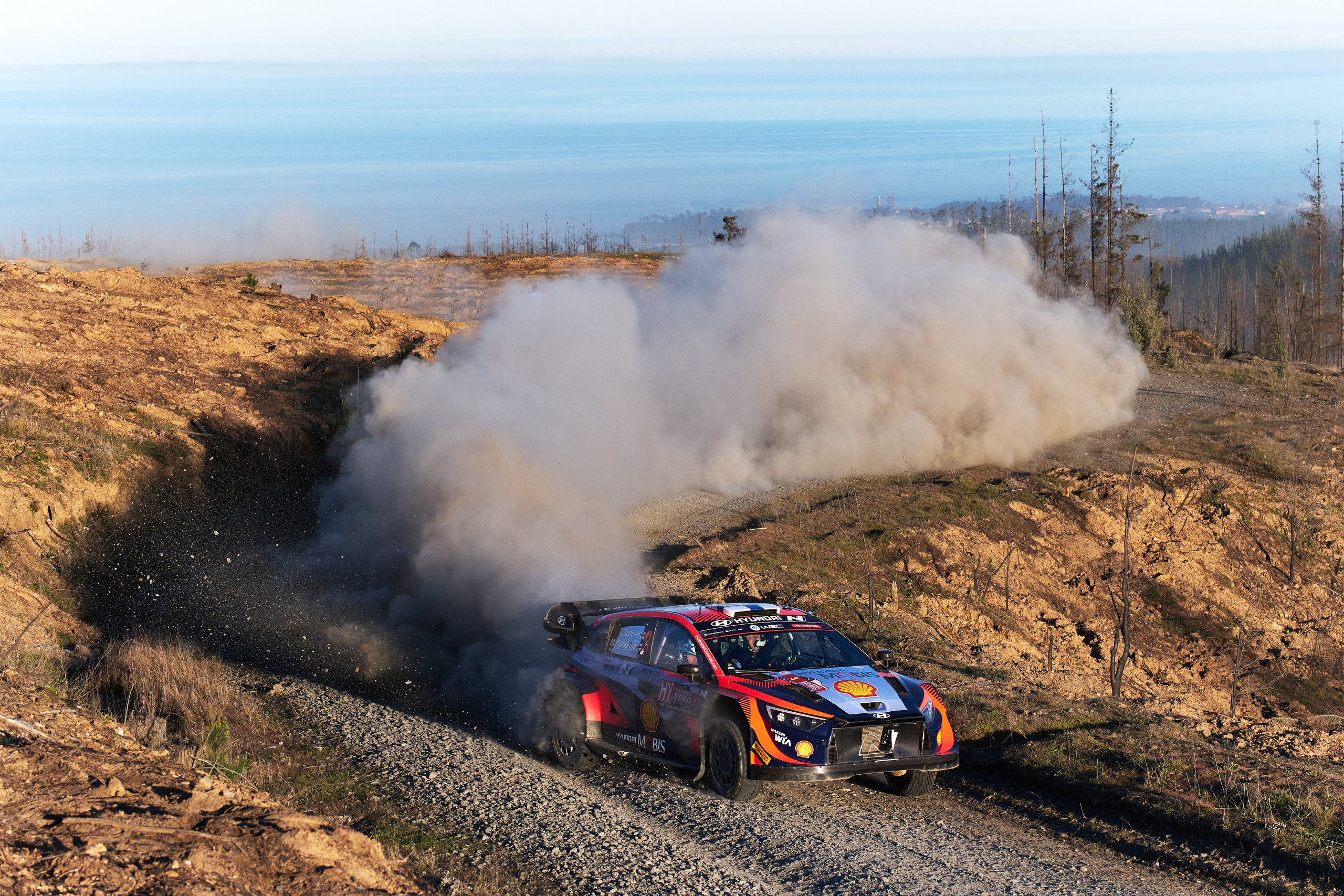 Thierry Neuville
"We were trying to do the job as best as we could today, but I think I did a little bit too much tyre management in the middle stage of the second loop. We got a little bit closer to second place, which was the target, but it was not a problem-free afternoon. We lost the hybrid between the first and second stage of the afternoon, and on the last one I lost all power and had to do a reset, so we were late leaving the start line. Unfortunately, that lost us a few seconds, but it is what it is. Tomorrow is going to be another challenge with two shorter stages, but we're going to do the maximum we can. It is not going to be easy, as there is a high risk of fog, which could turn around the whole classification if it is really impactful."
Toyota Gazoo Racing WRT
Elfyn Evans
"This morning we knew that tyre wear might be high, but we weren't anticipating it to be quite as high as it was. The grip levels and temperatures are relatively low here, but the roads today were extremely hard and aggressive for the tyres. It was just a pity that we couldn't see out the final five kilometres of the morning loop: it seems I went too quickly at the beginning of the stage even if it didn't feel that way, and we dropped a lot of time. At least we could claw some back this afternoon and there's still an opportunity to fight for the podium. Thierry still has a decent gap with not so many kilometres to come, but we will of course try our best."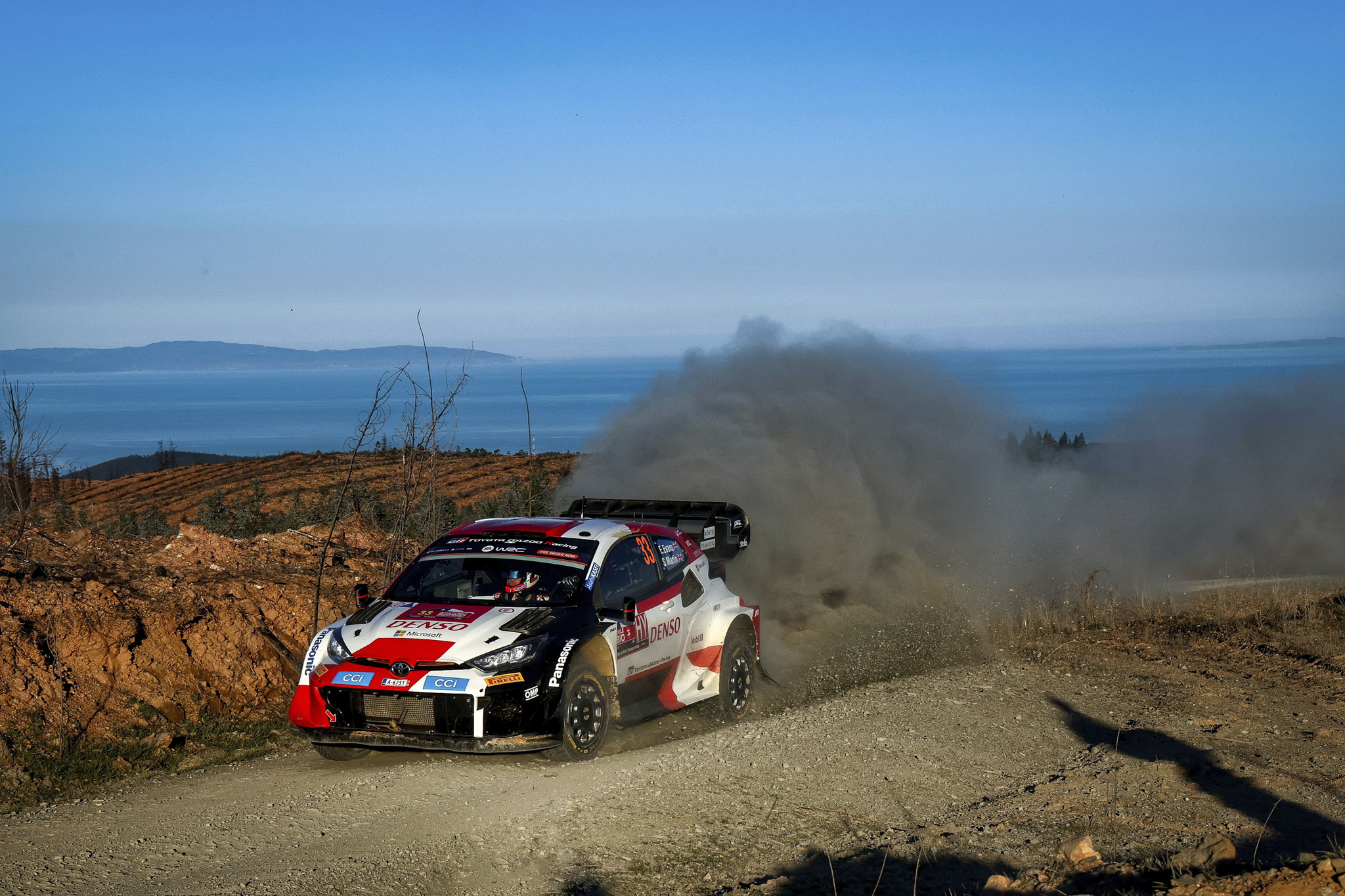 Kalle Rovanperä
"Clearly, we were a bit too optimistic to take soft tyres this morning. Already at the end of the first stage it was quite clear that the tyre wear was much more than we had expected. In the afternoon it was still really difficult to manage even with the hard tyres on the car, but they were still in quite good condition for the last stage, where we lost some time in the dust behind another car. At least for the drivers' championship it's good for us to be only one place behind Elfyn at the moment, and we'll see what we can do in the Power Stage tomorrow."
Takamoto Katsuta
"Today's stages were totally different to yesterday and the surface was very, very abrasive. Already in the first kilometres of the first stage, I could feel so much grip and at this point I knew that I needed to save the tyres. The afternoon was easier for the tyre choice, but wear was still very high, and we had an issue with one tyre in the second stage. We lost a lot of time today, so now I just want to finish the rally with a good feeling, and I will of course try to push for some extra points on the Power Stage."
Sunday
Well, with 54km's over four stages on the final day, what would the final day hold for the teams and crews? The four stages are completely new to the crews. Can Ott and Martin hold on to take a popular victory for M-Sport, or will there be further drama out there? Can Elfyn and Scott pass Thierry and Martijn and take third place?
In WRC2 can Oliver and Elliott hold on for victory or will be see more drama and the top positions change again?