With overcast skies, cold conditions and a damp track, it could only be Silverstone for the British Grand Prix and what a grand prix it was! David Alonso with the ride of a lifetime starting at the back of the grid to take his first Grand Prix win in Moto3.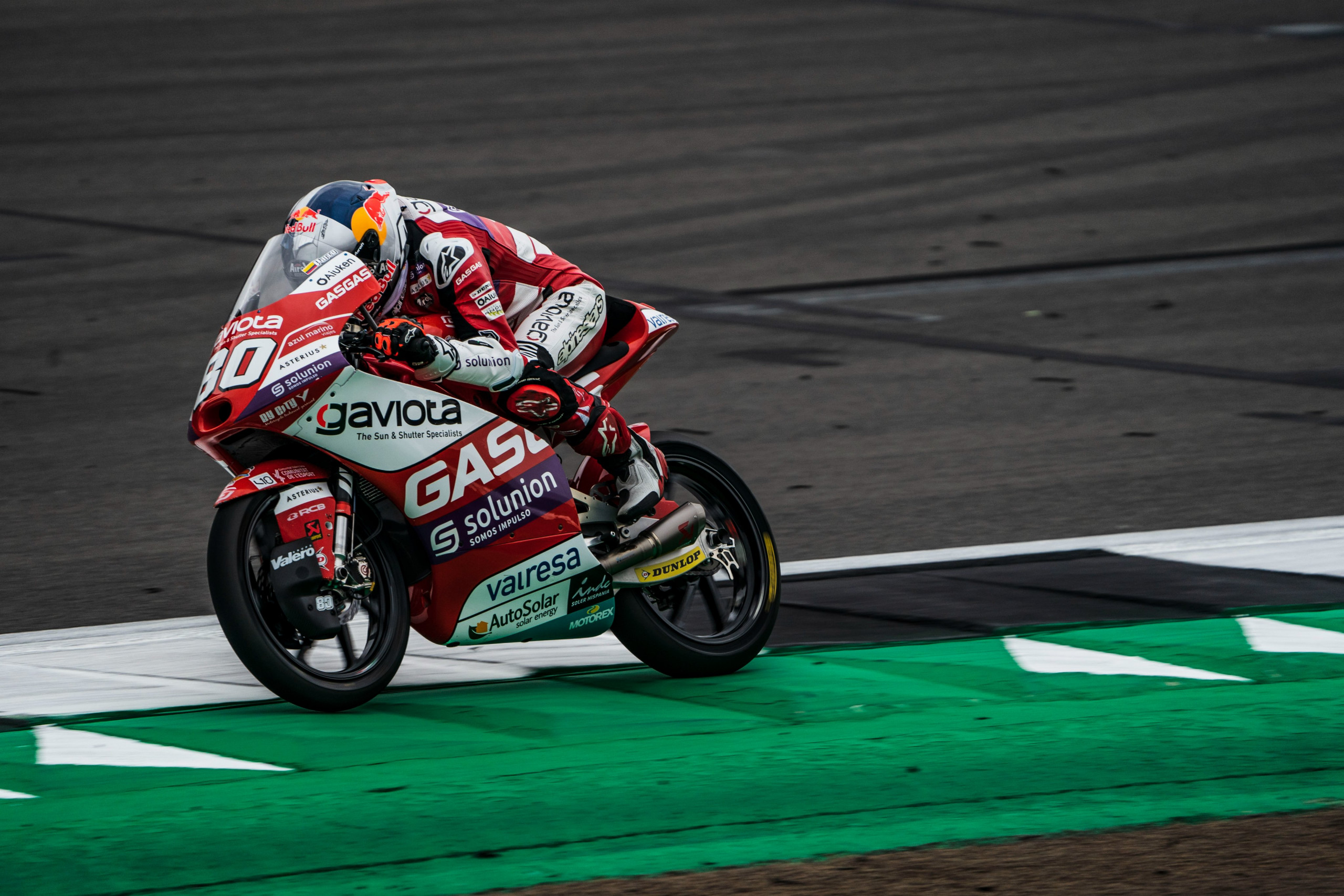 Race winner at the Dutch TT in Assen and main title rival to Daniel Holgado, Jaume Masia failed to convert his pole position finishing way down in 18th place. Holgado finished in 3rd place taking a championship lead of 22 points to the next round in Austria. Ayumu Sasaki finished 2nd for the Husqvarna team also moving up to second in the championship standings.
AS IT HAPPENED
A British rider on the front row of the British Grand Prix, and it started with heartbreak for Scott Ogden as the Vision Track Racing Team rider couldn't get the bike going for the warm up lap. A front row start ruined and Ogden would have to start at the back of the grid.
Masia got off to a great start only to be overtaken by Holgado into turn 1.  A few corners in and Deniz Öncü was up from starting 9th to 1st battling with Holgado and Masia at the front of the Grand Prix. Now onto the Hangar Straight up towards Stowe corner, Öncü was side by side with Holgado as they come through the final corners to complete the lap 1. Öncü leading the way with Masia 2nd and Holgado in 3rd.
GASGAS Aspar rider David Alonso at the end of lap 1 was up an incredible 16 places and David Muñoz for BOE Motorsports up 12 places. Incredible starts for Alonso and Muñoz.
14 laps to go and Alonso goes by Artigas up to 11th, at the front its ever changing with Öncü making a mistake at Copse corner allowing Ortola and Sasaki to come through and join the party at the front. Alonso, didn't stop there on lap 2 getting by Romano Fenati and quickly Joel Kelso up to 9th now for the Colombian teenager.
Into lap 3 now, Diogo Moreira posts the fastest lap of the race so far, Masia leads from Sasaki in 2nd followed by Holgado and Ortola. Yellow flags in sector 1 waved as Masia crashed out of the lead going into The Loop, a nightmare for Leopard Racing and Masia after such a strong weekend starting on pole position.
Still on lap 3 and the order is now Holgado leading with Moreira in 2nd who started 17th on the grid, followed by Tatsuki Suzuki in 3rd who started 10th and Alonso in 4th who started the race at the back of the grid.
Lap 4 and Holgado now looking to capitalise on Masia no longer at the front trying to break from the group, but the rest of the pack have other ideas. Moreira, Alonso and Sasaki ever dicing and changing positions at every opportunity along the long winding Silverstone circuit.
Lap 5 and Öncü is now back on the attack on Sasaki's back wheel trying to take the lead hard on the breaks as they break into vale corner coming to the end of the lap. Holgado lead at the start of Lap 5 and ending it in 7th place. Any of the top 10 to 15 riders could possibly win this race with 10 laps to go. A classic Moto3 race unfolding here at Silverstone.
Coming up to half way through now and Alonso leads, a potential superstar in the making, you would never of thought that this was his very first time racing at Silverstone.
Collin Veijer posting fastest lap after lap now up to 8th after starting down in 15th. The leading group of 10 riders all fighting for the win. With constant dicing and changing of positions the race is shaping up a for a last lap battle to take victory.
Lap 11 of 15 and Holgado leads with Ortola, Alonso, Sasaki and Öncü all dicing and swapping positions. Its been an incredible Silverstone Grand Prix so far and its impossible to call as to who is going to take victory. No rider able to pull a gap at the front and Silverstone offers so many different lines and overtaking opportunities.
3 Laps to go now and yellow flags appear in sector 4, Matteo Bertelle and Suzuki crash out as Alonso is making his way back from 8th to 5th. Sasaki leading from Öncü and now Alonso up to 3rd place half way through lap number 3. To the end of lap 3 we go now and across the line Holgado pulls alongside and by Alonso into first along the Hamilton Straight. Sasaki now into turn 3 past Alonso as they go onto the Wellington Straight. This race is heading for a photo finish.
Last lap now and championship leader Holgado leads with Alonso 2nd and Öncü 3rd. Sasaki and Ortola coming together battling for 4th place just behind the leading 3.
Into Luffield Corner and the Colombian teenager Alonso goes up the inside of Holgado and takes the lead. Sasaki now goes by taking the lead into Maggotts and Becketts. Down into Stowe corner Alonso retakes the lead from Sasaki and hangs on to take the win. What a race. The GASGAS Aspar Team have found a superstar.
The top 15 point scoring positions were covered by just 1.572 seconds at the end of the Grand Prix. One of the closest finishes in Grand Prix history. What a comeback race for Moto3 after the summer break.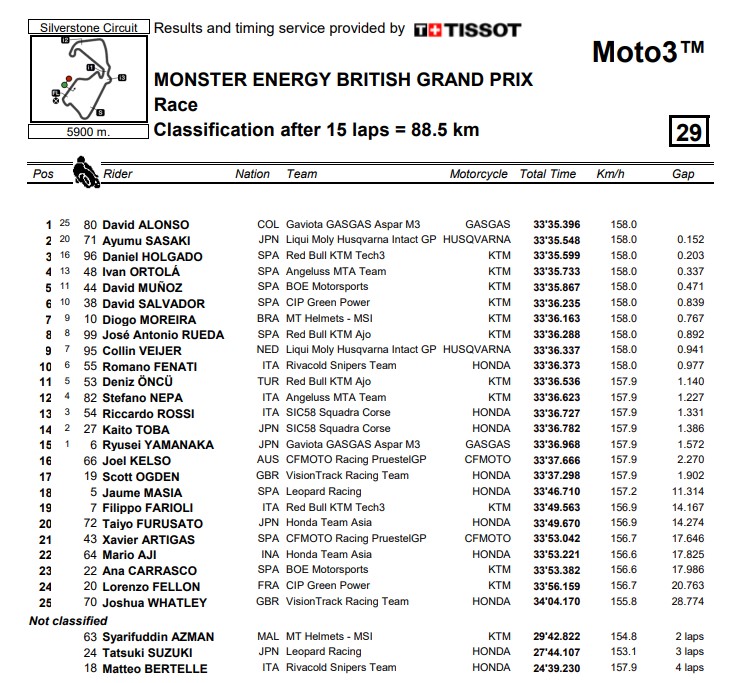 Image Credit: MotoGP
Feature Image Credit: MotoGP