Formula E: Season 10 Provisional Calendar Announced with Tokyo Occupying a Slot
Tokyo has been confirmed to be hosting the 7th round of the ABB FIA Formula E World Championship in 2024. It will be the first time the capital of Japan will have hosted an official FIA World Championship round.
The race will be held on March 30th and the track will feature the Tokyo Big Bay convention centre in the city.
Confirming the news today, the Governer of Tokyo, Yuriko Koike said "I am delighted by the official decision that Tokyo will host a Formula E race in March 2024." They later went onto say "This race will be held around Tokyo Big Sight in Tokyo's bay area, where developments are underway to become a sustainable next generaction city."
Provisional Calendar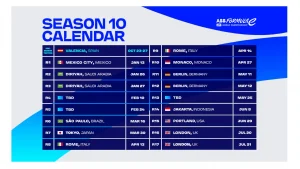 The provisional calendar is similar the season 9 calandar with pre season testing later this year in October with the cars hitting the track in Valencia from October 23rd to October 27th. There is then a 2 and a half month wait until we official get racing in January where the first race of the season will be in Mexico City on 13th January followed by a double header in Diriyah on January 26th and 27th. There will be a race on the February 10th and February 24th but these are locations have not been confirmed yet.
We return to Sao Paulo in Brazil for the season Sao Paulo E-Prix on March 16th with the teams then flying to Tokyo on March 30th. We then have a 2 week break before a double header in Rome on April 13th and April 14th before returning to Monaco on April 27th. We return to Berlin for a double header on May 11th and May 12th. Round 13 takes place on May 25th but a location is still to be determined.
Jakarta and Portland are rounds 14 and 15 and taking place on June 8th nd June 29th respectfully. We then round off Season 10 of Formula E with a double header in London taking place on July 20th and Jult 21st.
Speaking about Tokyo and the Season 10 Calendar, the Co Founder and Chief Championship Officer of Formula E Alberto Longo said "We are excited to take Formula E to the streets of Tokyo next season." "The Season 10 Calendar represents our ongoing mission to create a dynamic schedule of new cities hosting eces for the first or second time like Tokyo, Sao Paulo and Portland alongside established hosts like Berlin,  Rome, London, Monaco, Diriyah and now Jakarta."
The Chief Executive Officer of Formula E Jeff Dodds said "Tokyo will be a highlight of our historic 10th season." "We are also in advanced discussions with many more iconic world cities who are keen to host a Formula E race and create blocker world championship motorsport events with us." Mr. Dodds confirms that he expects the new calendar to be updated later this year.
The Director of FIA Circuit Sport Department Marek Nawarecki said "This calendar is an illustration of Formula E's continuing growth and promises to treat fans to another season of superb racing with the new GEN3 car, which has already produced countless crowd-pleasing battles."