On a glorious day in the Tuscan hillside, Daniel Holgado stamped his authority on the Moto3 championship with a slipstreamed snatching victory in Mugello. Holgado now heads to the Sachsenring next weekend with a 35 point lead in the championship. With no victory from pole position so far this season, an ongoing curse causing major heartache for our Turkish teenage wonderkid, Deniz Öncü. Losing a race in the last few metres can't be easy to take, and I'm sure Öncü will be gunning for revenge next weekend in Germany.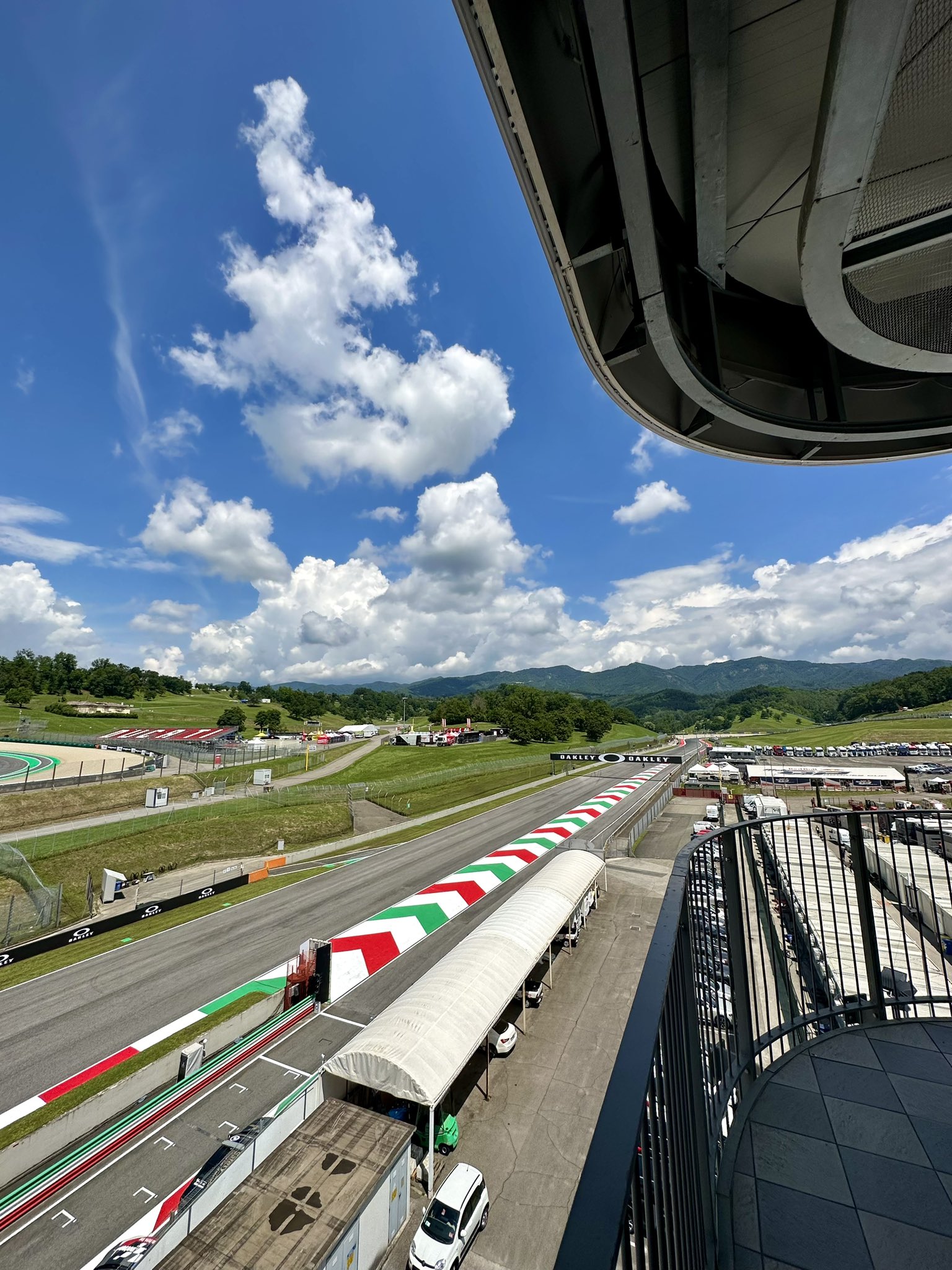 Image Credit: Leopard Racing 
AS IT HAPPENED
With no threat of rain and the track temperature at 36°, we all know that Moto3 at Mugello produces a blistering slipstreaming battle at the front and this race was no exception.
Before we got going, Romano Fenati stalled at the start having to start in the pit lane watching the rest of the pack blast down to San Donato (turn 1) with Holgado moving up to 2nd. Pushing hard on lap 1, Öncü managed to create a  bit of a gap in his favoured sector 3, only to be swallowed up, caught and past on the straight by Holgado and Ayumu Sasaki closing out the first lap of the race.
Approaching the end of lap 3 and into lap 4,  a snaking slipstreaming train of Moto3 riders dicing into turn 1 was becoming common practice for the race. A leading group of 8 riders now lead by Öncü onto lap 4, and it was anyone's guess at this point as to who would come out on top.
Each time Öncü tried to break free from the pack, the group of riders behind had other ideas, especially Sasaki in the early stages of the race. Sasaki clearly comfortable sitting in second place and dicing with Holgado, Öncü and Jaume Masia at every opportunity. Could any rider break free and build a lead?
Once again @Denizoncu53 and @AyumuSasaki1 can stretch the gap! ⏱️

And it seems this time they did break the slipstream back to @daniholgado96 and co! 💨#ItalianGP 🇮🇹 pic.twitter.com/MKf78f8LMn

— MotoGP™🏁 (@MotoGP) June 11, 2023

As the laps ticked by it was becoming clear that whoever was leading this race after the last turn of the last lap, it was going to be difficult to win the race.  A special mention to Öncü and the overtake around the outside of Masia at the start lap 6 into San Donato it was definitely my favourite overtake of the race.
As we move past half distance, we had a tightly bunched up group of 5 riders continuing to dice and swap places at every opportunity. With 7 laps left to go any of the 5 riders could take victory in the Tuscan hillside. Öncü, Sasaki, Masia, Holgado and David Alonso all showing what they're made of as the Italian crowd looked on with awe as to who would come out on top.
They haven't been able to shake the riders behind! ⚔️@Denizoncu53 gets swallowed up on the straight but he's so good on the brakes! 👊#ItalianGP 🇮🇹 pic.twitter.com/r9sLSuDedI

— MotoGP™🏁 (@MotoGP) June 11, 2023
Snaking along the straight with 3 laps to go, it was clear that this was shaping up to be a last lap thriller of a finish and we weren't disappointed. Even as the leading pack all received conduct warnings, it wasn't going to stop any of them in pursuit of victory in Mugello.
Now heading into the last lap of the race, Sasaki was 3 bike lengths ahead heading down into San Donato and leading the race coming out of turn  1. Out of turn 2 and into turn 3, Holgado didn't wait any longer to make a move and take the lead of the race. Holgado holding station for now in the next few corners until Öncü made a move in his beloved Arrabbiatta 2 (Turn 9). Now with only 5 corners left, Öncü clearly desperately clinging on to first as we headed into the final few corners. As the group wound round the last corner to take the straight for the final time and with only a few metres to go for Öncü,  the slipstream blasted Holgado by Öncü taking the chequered flag and first win away from Öncü, gifting Holgado's 3rd win of the season. A cruel and thrilling finish to an action packed Moto3 race in Mugello.
🏁 #Moto3 RACE 🏁@daniholgado96 BREAKS @Denizoncu53's HEART ON THE LINE! 🤯#ItalianGP 🇮🇹 pic.twitter.com/ynHYLQ3rH3

— MotoGP™🏁 (@MotoGP) June 11, 2023
As we move on to Germany this week in the second race of our triple header of back to back races, will Öncü manage to finally get his maiden victory? Will anyone manage to put a dint in Holgado's championship lead?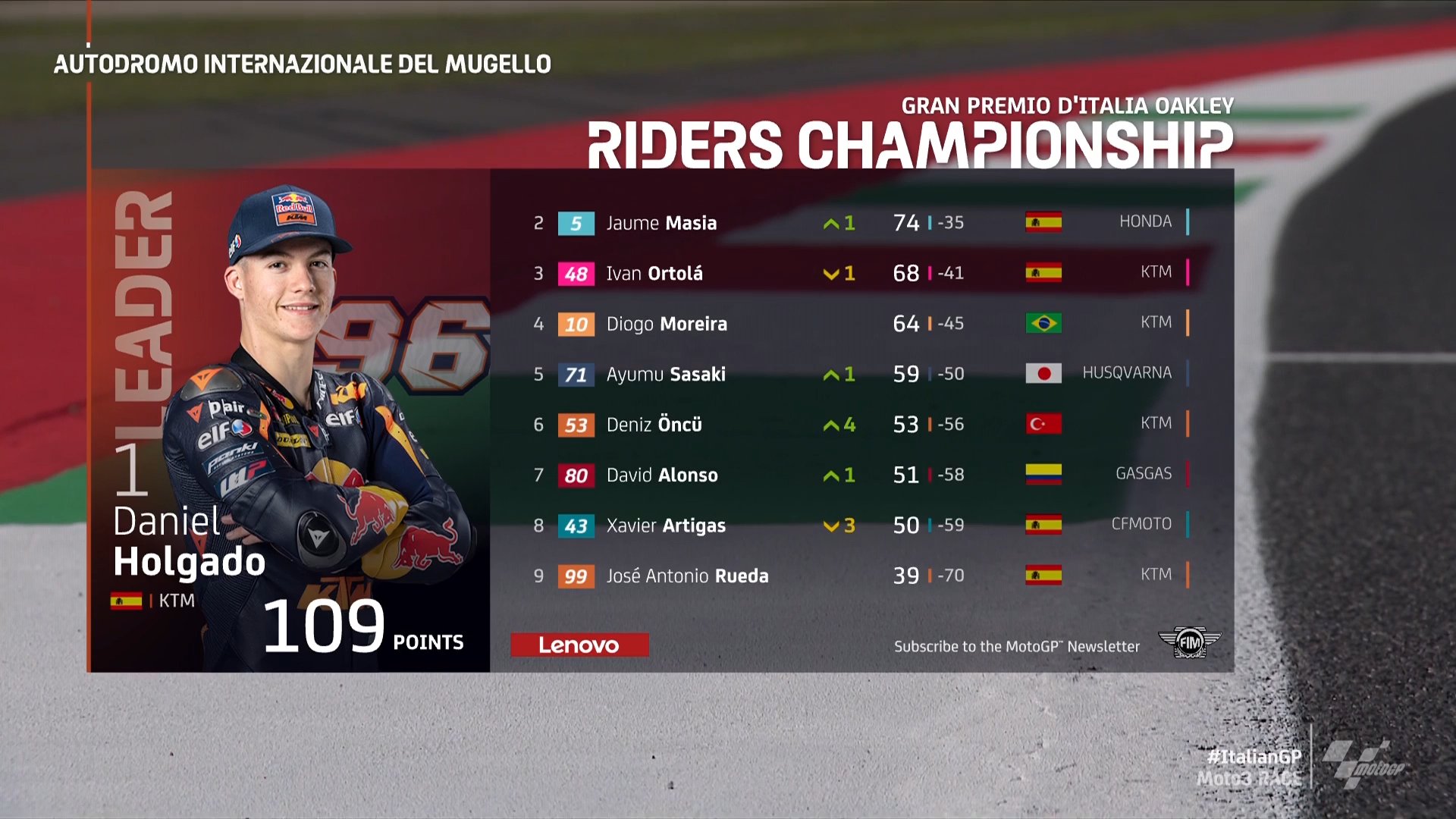 Image Credit: MotoGP
Feature Image Credit: MotoGP