There were two short stages on the first day of the event and we had an early leader in the shape of Ott and Martin who led Kalle and Esapekka.
Friday
The first full day of real stages would see the crew tackle eight stages and 124 km's in total, although only six real stages and two mickey mouse stages at the end of the day.
First stage then would see the crews enter in championship order. Yep, Ott and Martin would be first into SS3 El Chocolate 1 – 29.07 km and but they would suffer a turbo failure in the stage and lose so much time. Both of the other Puma Rally1 had problems as well, with Jourdan having an accident and Pierre-Louis damaging his suspension. The Frenchman was out for the day sadly. There was a lead change as well, with Esapekka moving into the lead, Seb into second and Dani into third. Of course, the demise of Ott meant that Kalle was going to open the road for the rest of the day.
Into SS4 Ortega 1 – 15.71 km and Seb was fastest from Esapekka and Elfyn. The Welshman's pace took him ahead of Dani and into third place. Meanwhile, Kalle was on the move as well, as the Finn passed Thierry for fifth overall. Meanwhile in WRC2 we had a battle between Emil, Gus and Adrien with just seven seconds between them.
The last morning stage, SS5 Las Minas 1 – 13.79 km and Esapekka set the fastest time from Seb and Dani. It was not a good stage for Takamoto as he lost control and slid off the side of the road. The car was not damaged, but the bank they slid down was too high to drive back onto the road.
After the lunch service the second run of SS6 El Chocolate 2 – 29.07 km saw Esapekka fastest again from Seb as they continued their fight for the lead, but the Finn was opening up the lead from his former Citroen teammate. In WRC2 there was a lead change with Emil tumbling down three places as Gus, Adrien and Oliver moving ahead of the Finn.
Next up was SS7 Ortega 2 – 15.71 km and Seb closed the gap to Esapekka to just three tenths of a second. Elfyn remained third overall. However, Dani fell from fourth to sixth overall with Thierry and Kalle both moving ahead of the Spaniard.
The final proper stage of the day then SS8 Las Minas 2 – 13.79 km and Esapekka led a Hyundai 1-2 with Seb third fastest. Elfyn was till holding third overall, but with Thierry faster, he closed the gap to the Welshman ahead. Meanwhile in WRC2 Oliver dropped two places with Emil and Kajetan moving past the young Swede who was now in 11 place overall.
The last two stages SS9 Las Dunas Superspecial 1 – 3.53 km and SS10 Distrito León Mx SSS – 1.30 km ended the first full day of the rally. Esapekka led from Seb by 5.3 seconds with Elfyn holding third overall.
Let's take a look at the top ten and hear from the drivers.
Classification after Day One
| | | | | |
| --- | --- | --- | --- | --- |
| 1 | E. Lappi | J. Ferm | Hyundai i20 N Rally1 Hybrid | 1:25:12.0 |
| 2 | S. Ogier | V. Landais | Toyota GR Yaris Rally1 Hybrid | +5.3 |
| 3 | E. Evans | S. Martin | Toyota GR Yaris Rally1 Hybrid | +30.1 |
| 4 | T. Neuville | M. Wydaeghe | Hyundai i20 N Rally1 Hybrid | +39.8 |
| 5 | K. Rovanperä | J. Halttunen | Toyota GR Yaris Rally1 | +59.7 |
| 6 | D. Sordo | C. Carrera | Hyundai i20 N Rally1 Hybrid | +1:27.2 |
Hyundai Motorsport
Esapekka Lappi
"This has probably been one of the best days of my career. I hoped that I could fight at the top but to be leading and fighting all the time against Séb was not in my mind. I was confident that our pace would be competitive, but I didn't really give it much thought. This is a good car. We did a lot of work during Monte-Carlo and Sweden, as well as between those events. We can now stop searching for the right set-up because I think we've found what I like, so I can just concentrate on the driving. You can then gain time here and there. I've been trying to keep it clean, close to the limit, have good acceleration out of the corners and just see at the end what times we have set. It's been a positive start."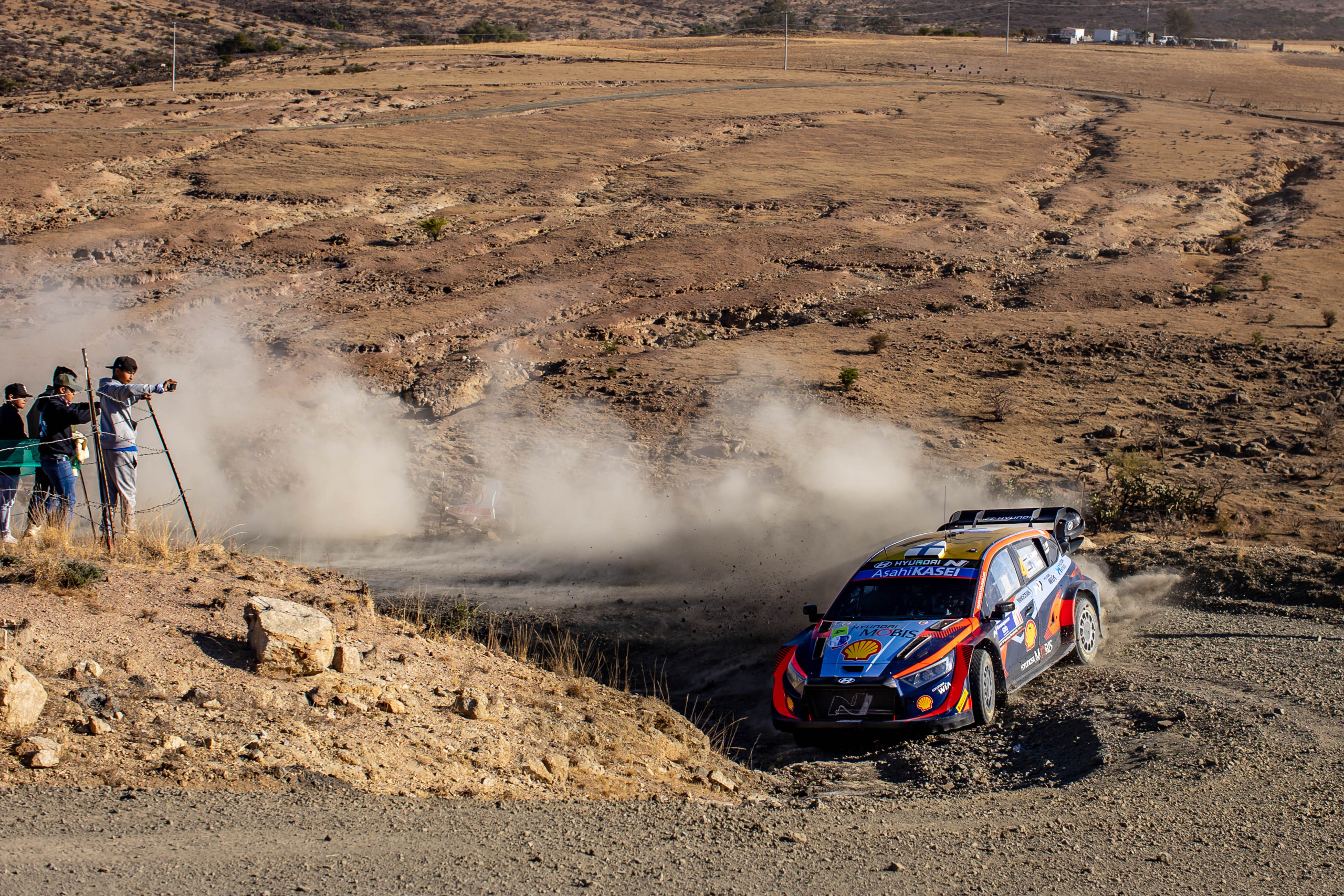 Thierry Neuville
"I think we expected more from the day, but we had a few situations that cost us some time. In the morning loop, in SS4, we had a hard compression on the car, hitting a bump that was not there in the recce, causing the loss of the hybrid. On this particular stage, at high altitude and with long straights, we lost a lot of time and that influenced our position. I have been working on the car throughout the day; we had some concern with the driveshaft in the heat – the grease was gone – so we had to try and repair that between every stage. We also had a blocked rear right damper in SS8, which might have been related to the morning issue, but we were able to clear that. It could have cost us more, so we were fortunate to make it to the end. Ultimately, we are 20 seconds clear of Rovanperä and less than ten from Evans, so I think we've done a good job today."
Dani Sordo
"In general, we were having a really nice day, and we had found a good feeling from the car until we lost our chances of a podium push in the afternoon loop when we picked up a puncture in SS7. I felt good at the start but then after the first few corners, the car started to slide too much from the rear when I came on the throttle. I thought it was a diff problem; I couldn't drive the first few kilometres, and I then realised I had a puncture. Before that, we'd been on the pace, but the problem now is when you have an issue on the first day you start closer to the front on Saturday, so we'll have to keep pushing and try our best to regain something."
Toyota Gazoo Racing WRT
Sébastien Ogier
"It's been a good day and we can be happy tonight. There was not so much more we could do except for taking a lot of risk and that's never the approach I like to have on this rally. So I'm satisfied. Esapekka has done a great job as well and is in the lead, so there's still some work for us to do and some analysis to do tonight to try and find a bit of extra speed. The gap is very close, and tomorrow's stages have a different profile and different grip, so we'll see how the fight evolves."
Elfyn Evans
"Overall, it's been a positive day. Maybe we were not quite as fast as we would have liked to be, but Rally México is a rally where you also have to look after the cars and the tyres. So, I was perhaps a bit careful in some moments but the feeling in the car has been quite OK. This afternoon there were a few surprises with a few big rocks, and we lost a bit of time in some of those places, so we'll look to try and improve on that for tomorrow. We're on the podium for now but there's still a very long way to go, with a big day tomorrow."
Kalle Rovanperä
"Today has not been too bad considering our road position. I think we did what we could, and we tried our best and the time loss is probably what we would have expected running at the front. It was actually better than I was expecting in the first two stages this morning, even though we were kind of cleaning the road. We lost a bit more on the third stage when we didn't have the hybrid available. There was still quite a lot of cleaning this afternoon, but I think we managed it well. Tomorrow we'll be in a better position, and we need to be on the pace straightaway in the morning."
M-Sport Ford WRT
Ott Tanak
"It's been a tough day, generally some issues out there which I didn't notice this morning so, yeah, let see now. Would be nice to find some more pace."
Saturday
With 126km's over nine stages there would be a good challenge for the crews out there in the first seven stages, with two mickey mouse stages to end the day.
First stage of the day, SS11 Ibarrilla 1 – 14.82 km had a sting in the tale. Our overnight leader, Esapekka Lappi was last through the stage, and unfortunately, he lost control on a right hander and spun into a post at the side of the road. This took the power out for some houses nearby. The stage was won by Seb from Elfyn and Thierry. Meanwhile in WRC2 Gus remained in the lead. These crews did not complete this stage due to the accident for Esapekka.
Next up was SS12 El Mosquito 1 – 22.56 km and finally Thierry found the car to his liking and was fastest from Elfyn and Seb. Meanwhile Ott was climbing up the leaderboard and after setting the sixth fastest time was now into thirteenth overall and about a minute away from the points paying positions. WRC2 top three remained Gus, Adrien and Emil.
Into SS13 Derramadero 1 – 21.70 km next and Thierry continued to show great pace winning the stage with Seb and Elfyn second and third fastest. Elfyn reported at the end of the stage that he was a bit safe in places but said that things were going quite well.
The final morning stage before the service break, SS14 Las Dunas Superspecial 2 – 3.53 km and as usual Thierry who is the super special specialist was fastest from Seb and Oliver in his Fabia Rally2! Sadly, Elfyn lost 1.7 seconds to the Belgian. He would look to fight back in the proper afternoon stages though.
The afternoon action started with SS16 El Mosquito 2 – 22.56 km as SS15 was cancelled due to the damage to the post damaged by Esapekka. Seb won the stage from Thierry and Elfyn. Although the Belgian was faster, it was only by two tenths of a second and Elfyn remained eight and a half seconds ahead of his challenger. In the WRC2 category Oliver was fastest from Gus and Adrien, whilst the Brit continued to lead the category by 18.8 seconds over former M-Sport teammate, Adrien.
The second run of SS17 Derramadero 2 – 21.70 km saw Thierry set the fastest time from Elfyn with Seb third and looking to manage the gap that he held over his teammate. Elfyn did lose a little bit of time to the charging Belgian, the gap now just 5.9 seconds between the two of them. There was a change in positions between Oliver and Kajetan as the Swede moved ahead and into fourth place in the WRC2 category.
The last two stages were the mickey mouse SS18 Las Dunas Superspecial 3 – 3.53 km and SS19 Rock & Rally SSS – 1.30 km with Ott setting the best times on both. In the battle over second overall, Thierry closed the gap even further to just 4.3 seconds.
Here's the top positions at the end of day two.
Classification after Day Two
| | | | | |
| --- | --- | --- | --- | --- |
| 1 | S. Ogier | V. Landais | Toyota GR Yaris Rally1 Hybrid | 2:35:37.6 |
| 2 | E. Evans | S. Martin | Toyota GR Yaris Rally1 Hybrid | +35.8 |
| 3 | T. Neuville | M. Wydaeghe | Hyundai i20 N Rally1 Hybrid | +40.1 |
| 4 | K. Rovanperä | J. Halttunen | Toyota GR Yaris Rally1 | +1:34.0 |
| 5 | D. Sordo | C. Carrera | Hyundai i20 N Rally1 Hybrid | +2:21.2 |
Toyota Gazoo Racing WRT
Sébastien Ogier
"I think I can be very satisfied with my day. To be in the lead tonight with a bit of a gap is great, of course. It was another strong day with a bit of a different approach once the battle with Esapekka ended this morning. I felt sorry for him because he was doing a great job. But this is rallying, and you have to put three days together to win. After that I tried to stay in more of a safe mode but still, we managed to set some good times and increase our lead. It was a surprise to me to see the time in SS16; I was just trying to be very clean and maybe my tyre management helped to make the difference. Tomorrow could still be the trickiest day of the rally with the longest stage to get through, so we cannot afford to relax."
Elfyn Evans
"It's been a solid day out there and a close fight. Of course, I would have preferred to increase the gap behind us rather than concede some time. Thierry has ever so slightly had the upper hand, but it's been very close on most of the stages with only a few tenths of a second in it. Things have been working well inside the car and I've been feeling quite comfortable, but there's still a big fight on. Tomorrow has a mix of stages with sections we've driven already and others we haven't, so it could be tricky to choose the tyres and nail the setup. But we'll try to prepare well tonight and do our best to secure the position."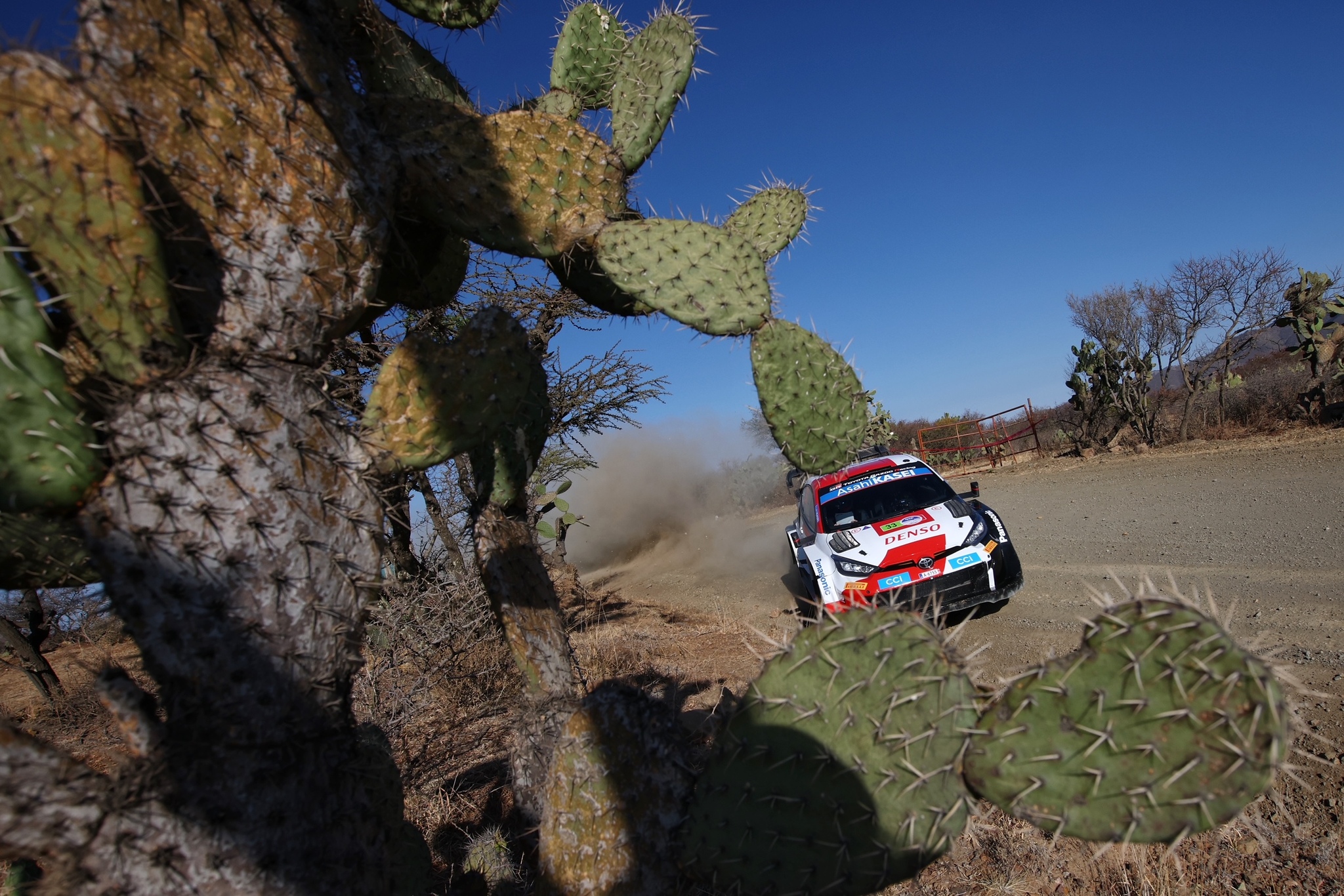 Kalle Rovanperä
"It's been a tough day but quite OK overall. We were trying to have good pace and I felt the driving was good but it seemed the road was getting faster with each car so it was not easy. We also had to use a lot of soft tyres yesterday to give us more grip when cleaning the road, so we had to use some hards this morning which was not ideal. When the gaps in front and behind are quite big it's always difficult to maintain the speed and stay focused, but we could have some good pace in some stages this afternoon. Tomorrow we'll just try to have a clean morning and then focus on the Power Stage."
Hyundai Motorsport
Thierry Neuville
"I have continued with the same speed as we were driving yesterday, but we attacked a bit more this afternoon to try and close the gap to Elfyn. It worked out quite well. We won three stages this morning and moved up to third on the classification. I felt sorry to see EP and Janne going off first thing; they were doing a great job out there. We knew with a better road position we could be faster but obviously Elfyn also increased his speed. He has been driving well so the gaps have been small. On the last stage, unfortunately, we picked up a puncture after 1.5km, which lost us 1.5-2s, otherwise the gap would have been below three seconds. Still, it's a small margin, so we are going to push for it on the final day; we've been trying all weekend and we are now firmly in the fight for second place."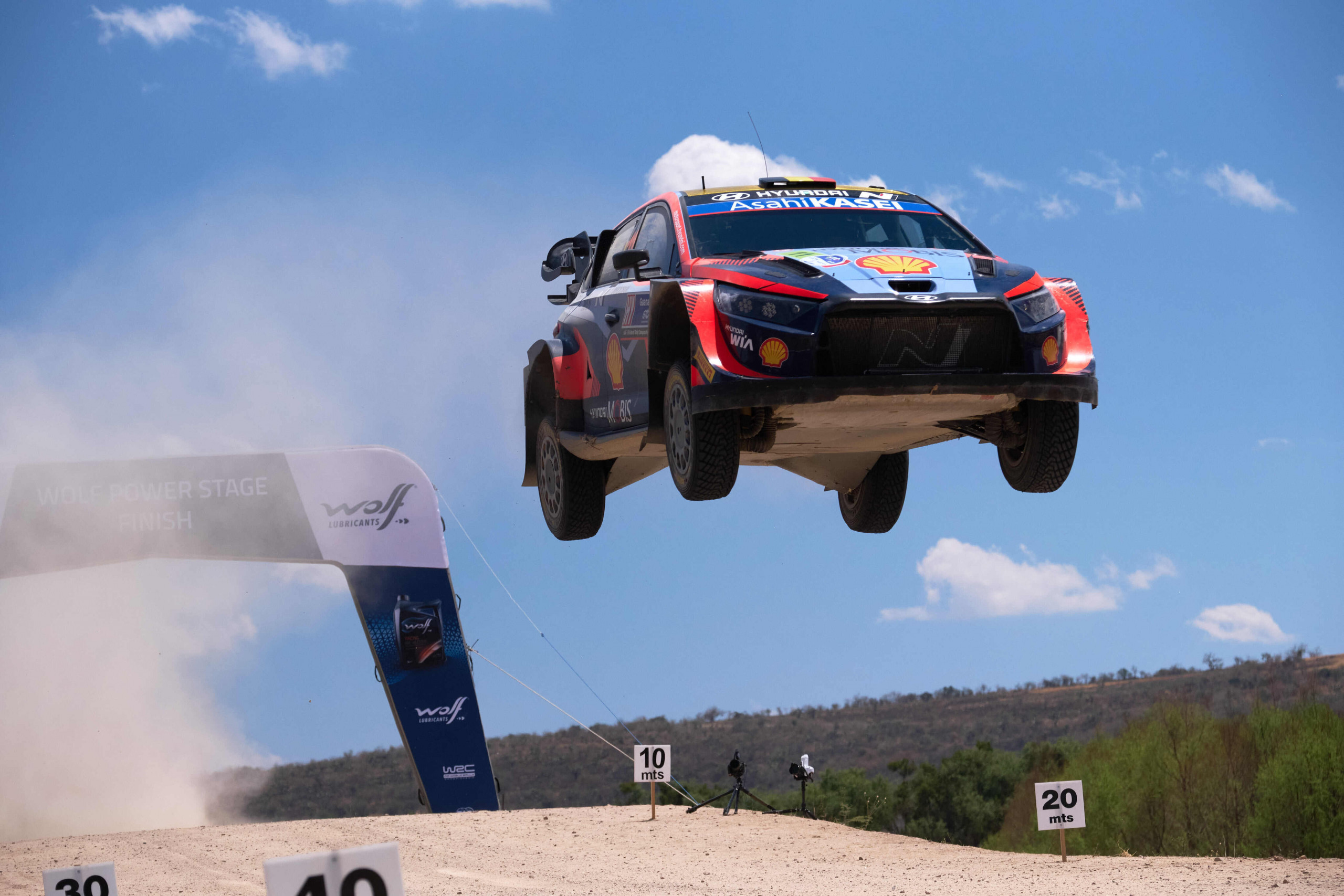 Dani Sordo
"With our road position today, it has been difficult to stay on the pace of the crews in front. The road cleaning effect is very high. Unfortunately, we lost Esapekka's car early on, which from a team perspective has made things a bit harder. I have to say, though, that the roads here in this rally are nice to drive. I've enjoyed it a lot but sometimes we have just lacked grip; that tends to improve when more cars have been through each stage. Still, we're here inside the top-five, so we will keep motivated, keep pushing and we will try to enjoy ourselves also on the final day. We'll continue to give our maximum."
Esapekka Lappi
"As we have often said, when you drive with more caution and safety, it becomes more difficult; I think this is exactly what happened on the opening stage this morning. I wasn't attacking or pushing particularly hard. There was a long right-hand turn which you cut before the entry to the left-hander where we crashed. I felt that I got a bit stuck on the cut, and I couldn't make the entry immediately. I missed the apex by about 40 centimetres, went wide by about half a metre and touched a bank. That alone would have been OK, but we then spun and hit the post. There was also a fire in the car, which we managed to put out. I am disappointed, of course. We need to take away the positives from yesterday, along with our pace from Sweden. We have the speed; we just haven't been able yet to translate into the results we know we can deliver."
M-Sport Ford WRT
Ott Tanak
"Compared to yesterday it's been a fantastic day, amazing I must say, ah yeah, it's been trouble free and quite a bit more fun, but still struggle to drive the car fast and for me it's a bit unnatural but at least we are a bit closer than yesterday. Just the way it's behaving with many surprises and unexpected moments from nowhere, it's difficult to find the confidence, but I must say that we've definitely learnt something today, and I'd like to believe it can only get better from here.
Sunday
The final day then with 61km's over four stages including the longest stage of the day and event, Otates at 35km. A proper stage.
First up was the final run through SS20 Las Dunas Superspecial 4 – 3.53 km and Elfyn did well to limit the time loss to just 2 tenths of a second going second fastest to Thierry.
Onto SS21 Otates – 35.63 km and Elfyn was fastest from Thierry by 1.7 seconds and the gap between grew to 5.8 seconds in their battle over. Seb was third fastest in the stage. Sadly Pierre-Louis had a belt failure in this one and stopped to change the belt. Ott was taking it easy as he felt there was a problem with one of his dampers. However, he had now made it into the top ten at last.
Into the penultimate stage then SS22 San Diego – 12.61 km and Thierry was fastest from Ott and Elfyn and the gap between them was just 2.7 seconds. What caused the time loss then? Well, turned out that there was some damage to his GR Yaris which he'd been fixing, and he was managing the problem that he'd picked up in Otates.
The final one then, SS23 El Brinco [Power Stage] – 9.59 km and Seb was fastest amazingly from Ott and Thierry. There was heartbreak though for Elfyn who only managed the sixth best time and ultimately Thierry pipped him to second overall by just 4 tenths of a second. However, what an amazing drive for Seb to his seventh Rally Mexico victory, the most in history!
In WRC2, Gus scored a very well-deserved class win from Emil, with Oliver taking third. The Brit hadn't put a foot wrong all weekend.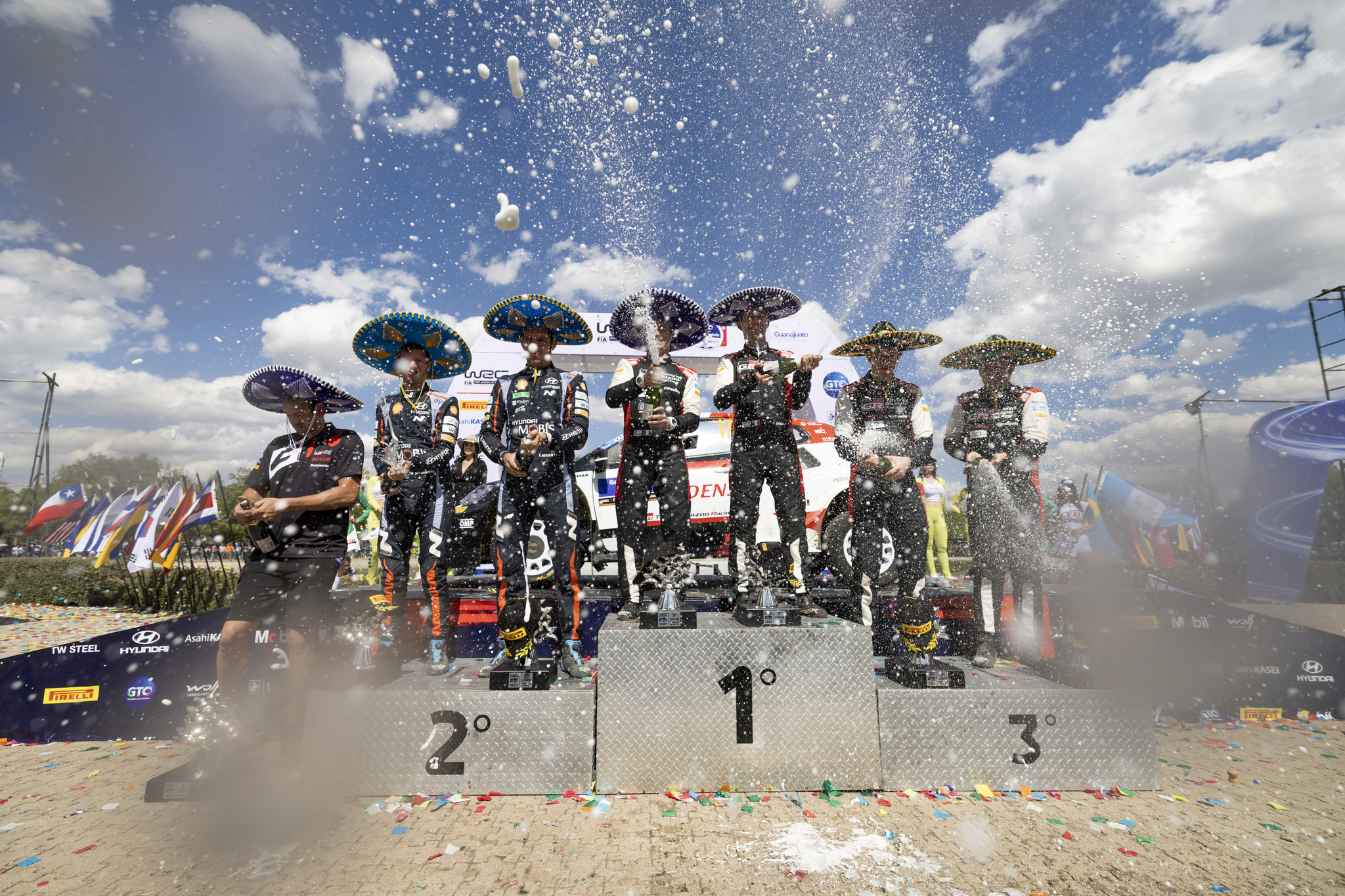 Here's the final standings.
Final Overall Classification – Rally México
| | | | | |
| --- | --- | --- | --- | --- |
| 1 | S. Ogier | V. Landais | Toyota GR Yaris Rally1 Hybrid | 3:16:09.4 |
| 2 | T. Neuville | M. Wydaeghe | Hyundai i20 N Rally1 Hybrid | +27.5 |
| 3 | E. Evans | S. Martin | Toyota GR Yaris Rally1 Hybrid | +27.9 |
| 4 | K. Rovanperä | J. Halttunen | Toyota GR Yaris Rally1 | +1:55.3 |
| 5 | D. Sordo | C. Carrera | Hyundai i20 N Rally1 Hybrid | +2:58.8 |
| 6 | G. Greensmith | J. Andersson | Škoda Fabia RS | +12:31.5 |
| 7 | E. Lindholm | R. Hämäläinen | Škoda Fabia Evo | +13:04.4 |
| 8 | O. Solberg | E. Edmondson | Škoda Fabia RS | +13:37.7 |
| 9 | O. Tänak | M. Järveoja | Ford Puma Rally1 Hybrid | +15:19.6 |
| 10 | K. Kajetanowicz | M. Szczepaniak | Škoda Fabia Evo | +15:56.6 |
Toyota Gazoo Racing WRT
Sébastien Ogier
"It has been an amazing weekend and I'm very happy to take this victory. We came here with a clear goal to win this rally. The car was great this weekend; it was a faultless weekend for us and a strong weekend for the team, so thank you to them for making this possible. When you end up taking 30 points it's really a perfect weekend. We had great pace when we needed it, and great management too when it was required. It's not easy when you need to manage a gap like that, and I think today was the toughest loop of the weekend. I could afford to lose a bit of time, but it was important to stay focused. I felt I had to go for it in the Power Stage because I love that stage, and it's important to score the points, also for the team. Records and numbers are always nice and of course I'm proud of them, but the most important thing for me is this victory."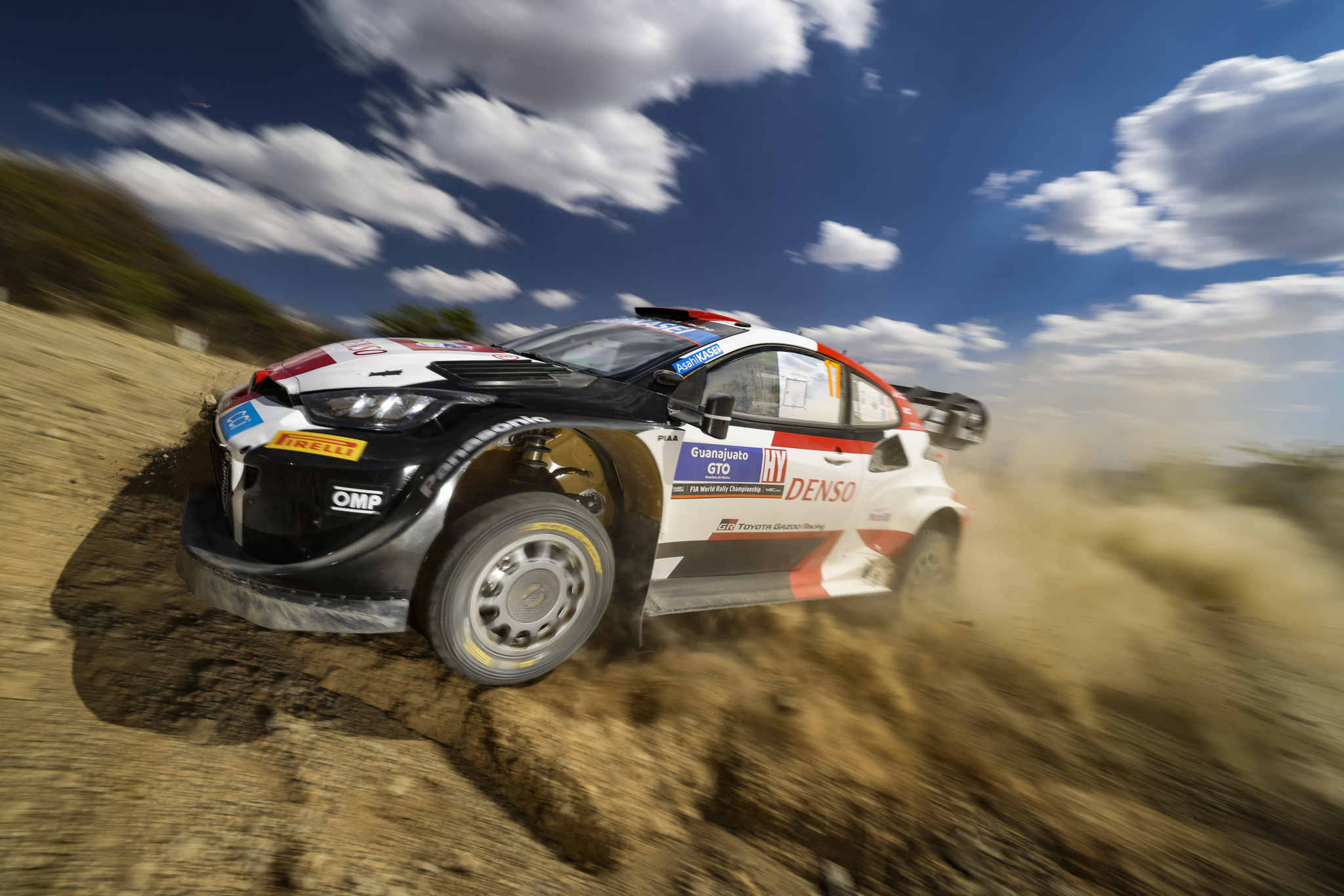 Elfyn Evans
"We had a pretty good start to the final day, but unfortunately just near the end of the long stage we picked up some damage to a suspension arm. We could carry out a repair on the road section, but I felt I had to try and take care with it through the last two stages, and we weren't quite able to keep Thierry at bay. It was very close in the end but just not quite enough. Overall though it has been a solid weekend. I think we had the speed to finish second and the positive thing is that we are back on the podium after what feels like a really long time. So, I'm happy for that and also now with the feeling in the car on gravel."
Kalle Rovanperä
"It has not been an easy weekend for us. We lost out on Friday when we were kind of opening the road and then we were a bit behind in the fight for the rest of the weekend. I was hoping we could get some more points from the Power Stage; we were pushing really hard and tried everything we could, but we lost the rear wing going wide in one corner and after that I couldn't really push so much without that downforce. But to finish fourth overall from our starting position gives us some decent points. Congratulations to Seb who did a great job this weekend."
Takamoto Katsuta
"This was a difficult rally for me because all of the stages were new for me, and it was hard to know what to expect. I had to be a bit cleverer on Friday; maybe I was in too much of a rush to move forwards and one mistake cost us quite a lot. It was a very high-speed section, and I was a little bit optimistic on the braking point, a bit too late to turn in and we lost the line. Thank you to the team for fixing the car. It was not so easy to get back the confidence and the feeling, but it was nice to finish the rally and get some experience on all of the different stages. I found that the grip levels are changing a lot – more than I had expected after the recce – and it's not easy to trust it 100 per cent. The car was amazing, but I was not able to use its full performance. Hopefully next time I can do that and have a better result."
Hyundai Motorsport
Thierry Neuville
"I have been flat out all weekend, and I am delighted to take our third podium in three rallies. We had tried hard to improve the car all weekend; the handling has been getting better. With our road position on the first day, it was tough; we ended Friday almost 40 seconds adrift of the lead. Since Saturday, things have been better and slowly we could catch up with Elfyn. He didn't make it easy, so we had to fight hard right to the end. After today's long stage, Otates, I was a bit disappointed, as I had to slow down for a couple of dogs on the road. That cost us time, but I stayed calm and saw an opportunity in the Power Stage. I pushed as hard as I could, without taking unnecessary risks. Second place is a great reward for the whole team."
Dani Sordo
"I have mixed feelings because on the one hand I am pleased that we could score some good points for the championship, but there is also a little bit of frustration. The puncture we had on Friday prevented us from being more involved in the fight. We had higher expectations coming into this event. The competition is fierce and there are a lot of strong drivers at the front. We did well to bring the car home in the points and I am sure we can do an equally good job at our next rally. It has been great to be back in Mexico on amazing roads, in front of all these incredible spectators who give so much love and support to WRC. I've enjoyed it and I think we've shown our potential."
M-Sport Ford WRT
Ott Tanak
"Happy to cross the finish line, there was nothing more we could have taken from here. Still, it's positive to at least take some points because on Friday it didn't look like we could get any points. The car [performance] is there, it has always been there, it's just me and the car are a bit of a mismatch, which is tricky but let's see what we can come up with in the next weeks."
Pierre-Louis Loubet
"It's been a tough weekend for sure. A few mistakes with my driving, it's like that. We can take experience and I know it will be good for the future. I am sure we will have some better days."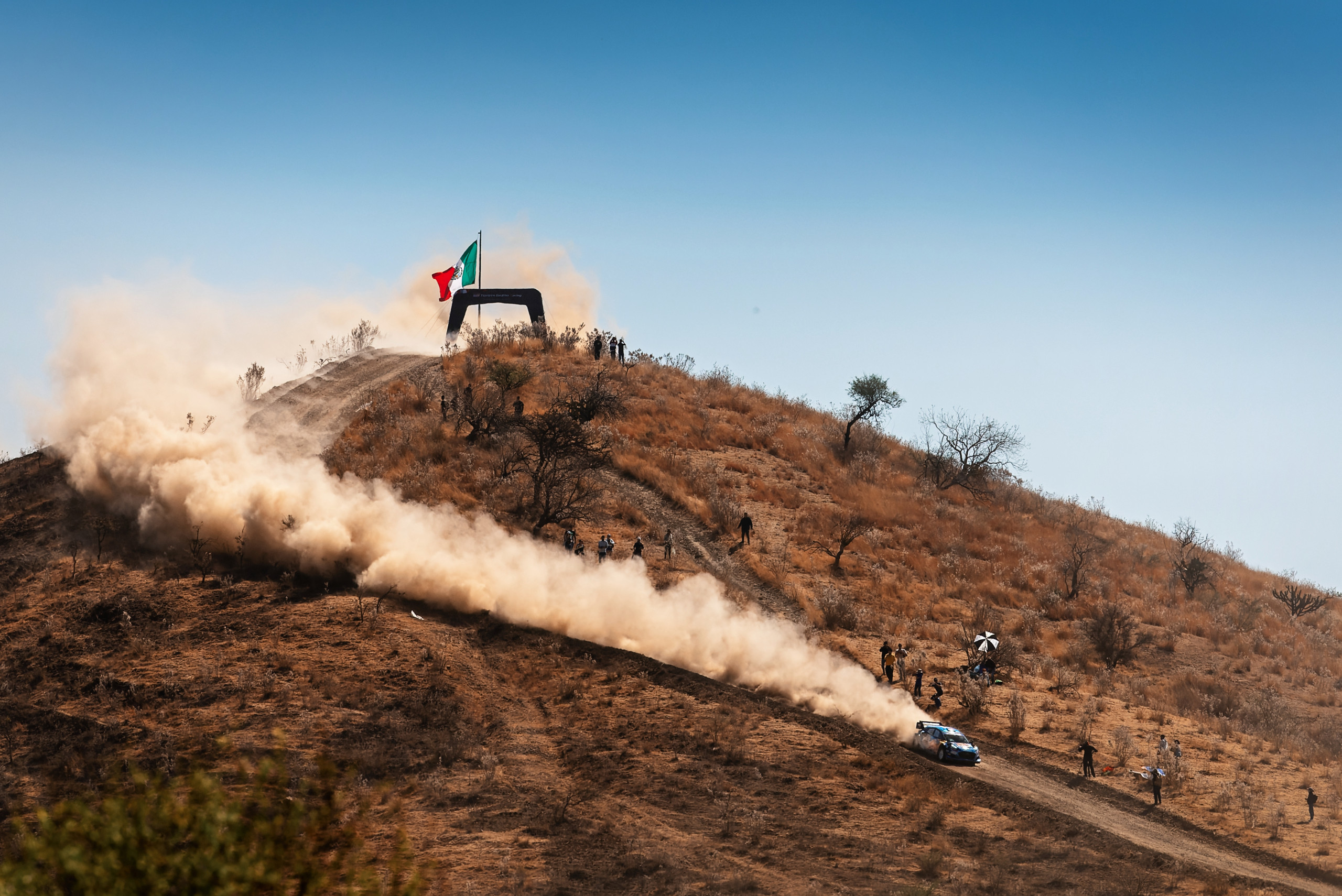 Oliver Solberg (WRC2)
"Third isn't exactly what we came here chasing," said Oliver, "but it's good for the championship and I'm happy enough. This is a really tough event. It's tough for the tyres, the cars and everything, with the altitude, the heat and the rough, rough roads. We go home with some good points and a big smile.
"This rally has so many amazing people, so many fans and fantastic spectators, to give them something to cheer for is a really nice feeling."
"There was a compression in the stage before," explained Oliver. "It was not too big, but we dropped the three cylinders. After the stage, I was checking to the sensors and all the connectors, but we couldn't find anything. That was a bit frustrating, it would have been nice to take more points.
"But OK, like I said, we had a good time on this rally, and we are more ahead than when we started. That's good. I have to thank Elliott for another great job as well as the whole team. What a weekend for Toksport! Our team has been leading for the whole time. Congratulations to Gus [Greensmith] and Jonas [Andersson] on taking the win and with Emil [Lindholm] and Reeta [Hämäläinen] second it means we are dominating the podium. I'm very happy for everybody in Toksport – it's a very cool bunch of people."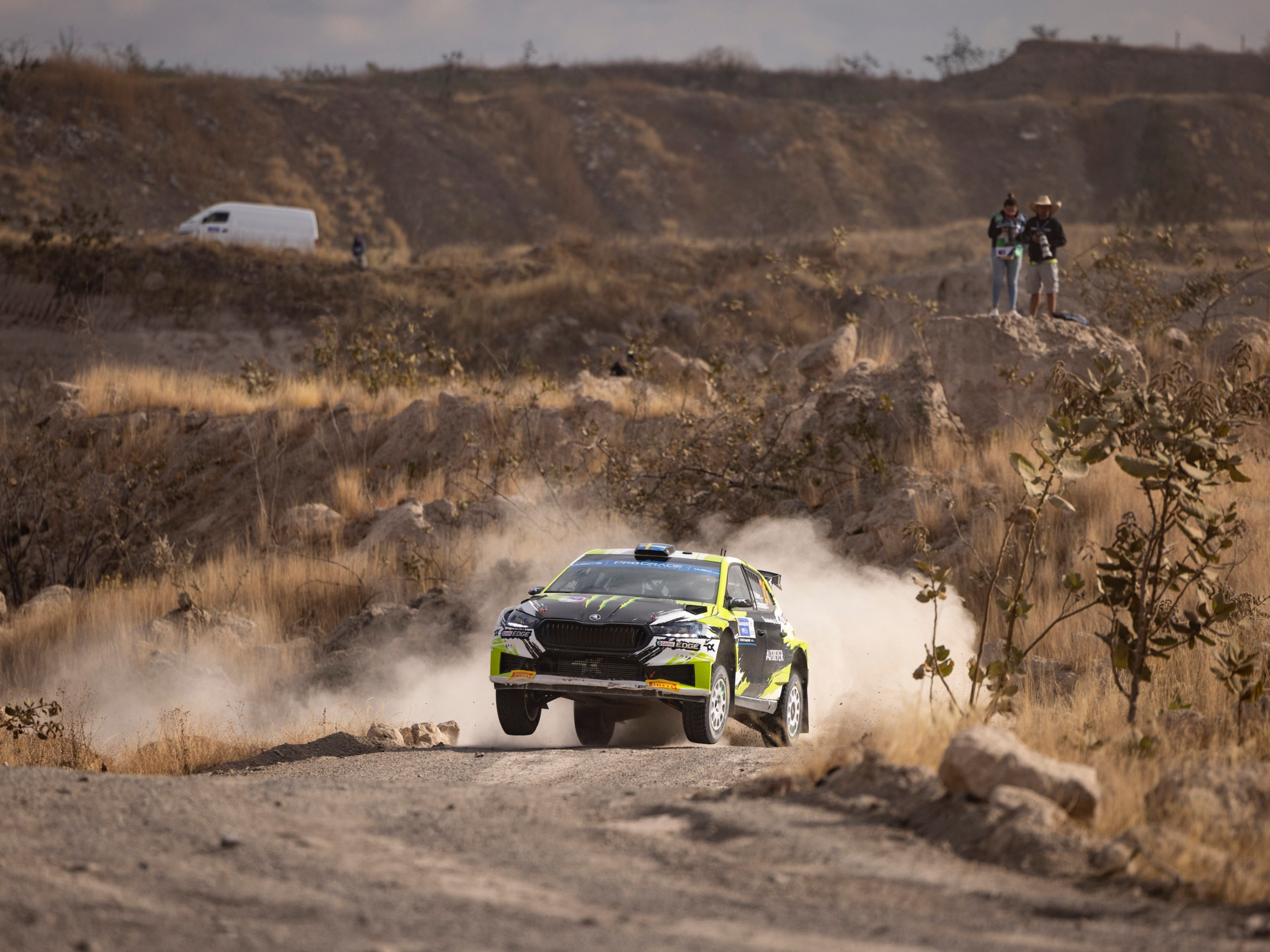 Summary
Well, what an incredible return to Mexico for the championship! Seb drove a very good rally and took a very good victory. Having said that, Esapekka had a great first day and was leading when he crashed. It was a shame, as we lost a really good battle that could have lastest the whole rally. We will never know if the Finn could have kept Seb behind him. Hopefully we'll get another chance this season to see them fight it out again.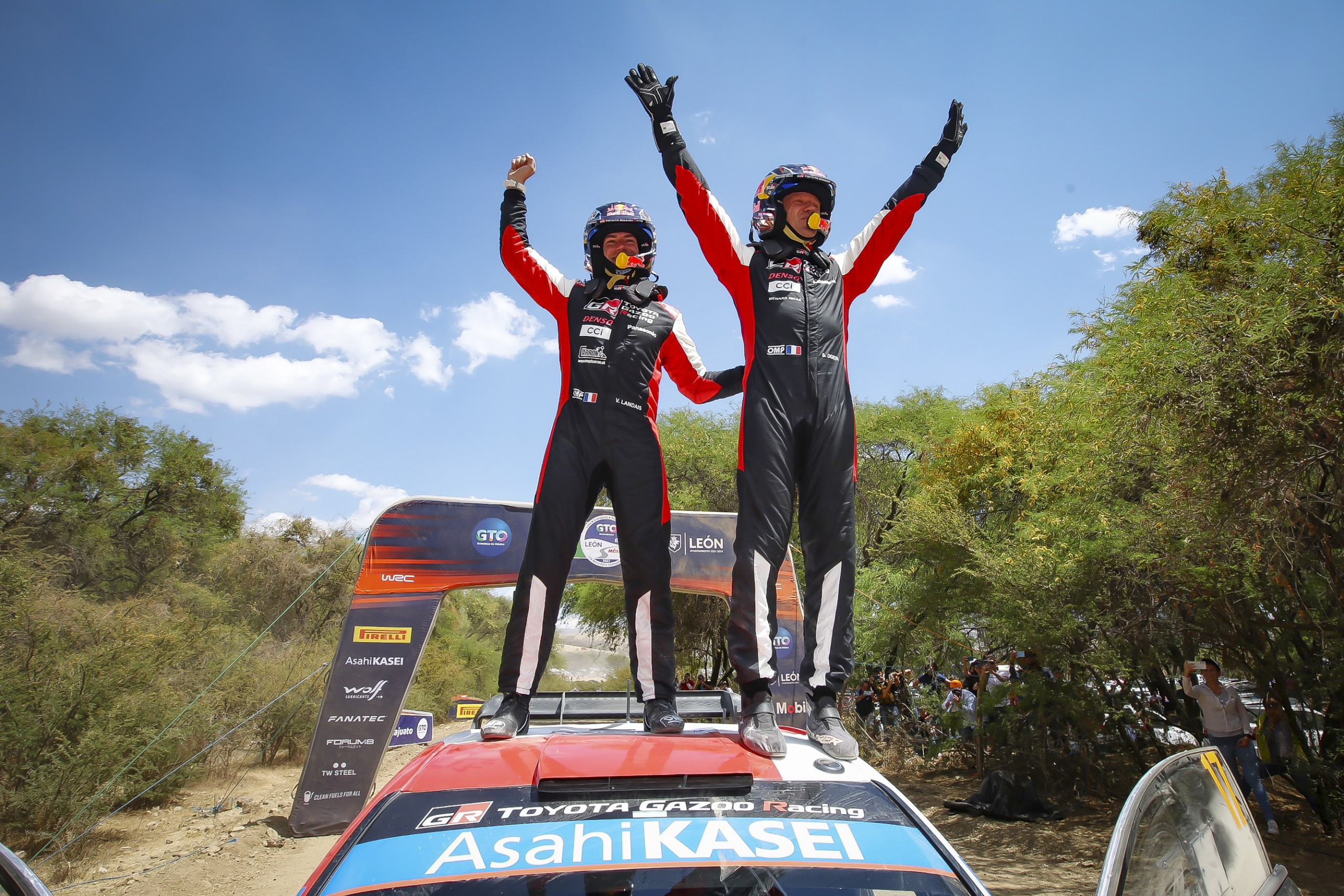 Thierry had a crazy rally and took his time to find some pace out there, struggling to find the right set-up for his i20 Rally1, but once he got there was no stopping him. He got very lucky with taking second place on the final stage when Elfyn had the suspension problem.
Finally, Elfyn, we saw a really great drive from the Welshman, and he deserved to finish in second place. Winning the longest stage of the rally and setting a number of top three times out there. He really does not like and get on with the mickey mouse stages at all.
Next rally is Rally Croatia in the middle of April from the 20th to the 23rd. We know that Seb will be competing there as well, and the part time driver is leading the championship!
2023 FIA World Rally Championship for Manufacturers'
After round three
| | | |
| --- | --- | --- |
| 1 | Toyota Gazoo Racing World Rally Team | 127 |
| 2 | Hyundai Shell Mobis World Rally Team | 100 |
| 3 | M-Sport Ford World Rally Team | 73 |
2023 FIA World Rally Championship for Drivers'
After round three
| | | |
| --- | --- | --- |
| 1 | S. Ogier | 56 |
| 2 | T. Neuville | 53 |
| 3 | K. Rovanperä | 52 |
| 4 | O. Tänak | 47 |
| 5 | E. Evans | 44 |
| 6 | C. Breen | 19 |
| 7 | D. Sordo | 17 |
| 8 | E. Lappi | 15 |
| 9 | G. Greensmith | 8 |
| 10 | T. Katsuta | 8 |