Image courtesy of Scuderia Ferrari 
In the heart of their factory in Italy, the reveal saw the Tifosi line up on Valentine's Day to see what their favourite team's next car would look like
The SF-23 is very similar to their 2022 contender which saw a radical change primarily due to the major regulation changes.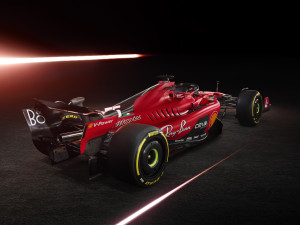 image courtesy of Scuderia Ferrari 
In terms of the livery, the SF-23 has seen more black visually on the car compared to last year. This is mostly notable on the rear.  This could be related to the minimum weight requirement as stated in the regulations.
Speaking about the SF-23, Ferrari's new Team Principal Frédéric Vasseur said "…the most important thing is the speed of the car. I think we are focussed on the livery today but quite soon we'll be focussed on the performance."
Speaking about the upcoming season, driver Charles Leclerc said: "We want to improve. Last year was a good step forward and we need to do just the same this year and hopefully get the championship. That is the target for the team and for me too. "
Talking about the SF-23, driver Carlos Sainz said: "…the car is a bit more styled, a bit more redefined which is like a good evolution from last year, a lot more details in it"
The teams shakedown at Fiorano is on going but the team will pack up all their equipment and go to Bahrain for the pre season testing next week, February 23rd to February 25th before the opening round of the season a week later.