Oxford Products Ducati rider Tommy Bridewell was upbeat about his season in a behind the scenes interview with Eurosport's Steve Day, who caught up with Tommy after the free practice sessions.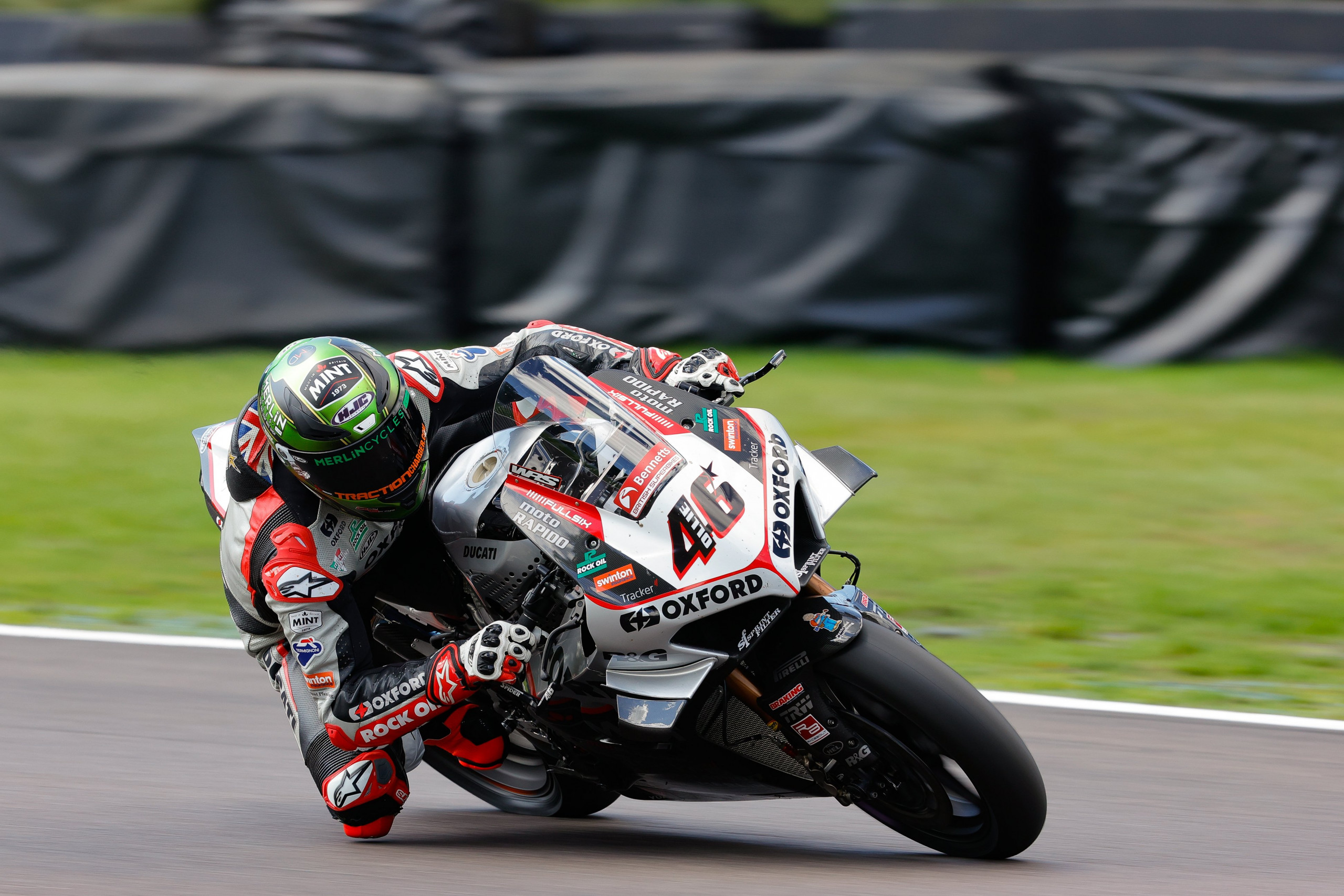 The man sitting in third place in the Showdown standings is fully aware of the job on hand this weekend but more than anything, Bridewell is hoping for an enjoyable finish to what has been a good, successful season for himself and Steve Moore's team.
"A good day today. It's fairly easy really. We know what we have to do. We just have to go out and win the races, but I think ultimately, I just want to enjoy the last round of the season to be honest. There's been so much going on outside of racing, with losing riders and that just puts it all into perspective really. In truth we are all good mates off track, but all enemies on track. I just want to have fun and enjoy racing the bike. It's been a pleasure working with the team and having another good, successful year together. What will be will be and I'm not going to overcomplicate it. It's fairly obvious Brad certainly has a hand (or even a hand and half) on the trophy, but when there's that glimmer of hope, as a racer, it's what motivates you, it's what drives us. If I wasn't mathematically able to win the championship, I'd still try as hard but there's that extra little bit of fire in your belly to really say "It isn't over till it's over" so we are out tomorrow to have a good, safe race and see where we end up at the end of it."
When asked about his highlights and lowlights of 2022, amongst others being the only rider to make it into Qualifying 2 every round of the season…
"Yes, I have 100% success rate for going straight into Q2. Before they brought in the new format where the top 12 are straight through to Q2, I was terrible on a Friday. It didn't mean that much barring a bit of testing and analyzing the bike. As soon as they brought that in, it was like you HAD to be top 12, so ever since they brought that in, I've been inside the top 12 so it's great to keep that one going."
"This season all in all has been tough. We've had hard times on trying to understand the dynamics of the bike. The weight distribution has been a bit tricky but this last part of the year, we have really chipped away at it and got a lot better at it. I know it's a bit late in the game, but Donington was a really good turning point for us where I got a really good inroad with it and it felt a lot better and we can translate it here to Brands Hatch."
Bridewell sits 67 points behind Ray in the championship. He effectively needs to win all three races this weekend and Ray to DNF the entire round to take the championship. A very unlikely situation but as Oulton Park proved, antying can happen in bike racing.