British Superbikes Donington Park 2022 – Round 10
Bradley Ray of Rich Energy OMG Racing Yamaha has one hand on the 2022 British Superbike trophy. He also has his feet, a space on the mantlepiece, the Brasso polish ready and has fitted the single spotlight on the ceiling in readiness for the grand unveiling. (I'm joking but you get the drift). Barring a disaster beyond his control, it's hard to see anyone else winning this year's championship, although considering the BSB action of late, we shouldn't count our chickens before they have hatched.
A solid 4th , 2nd and 1st over the three races at Donington Park has all but sealed the deal for Ray going into Brands Hatch in two weeks' time. Ray currently leads 2nd place in the championship Glenn Irwin, HRC Honda Racing and Tommy Bridewell, Oxford Products Ducati in 3rd by 66 and 67 points respectively, with only 75 points available over the Brands Hatch weekend. Mathematically, it is now only Ray, Irwin and Bridewell who can lift the championship trophy in 2022. Fourth place in the standings is Lee Jackson, FS-3 Kawasaki, who sits 76 points behind Ray overall leaving him out of contention for 2022 glory along with the remaining riders who originally entered as the Showdown 8.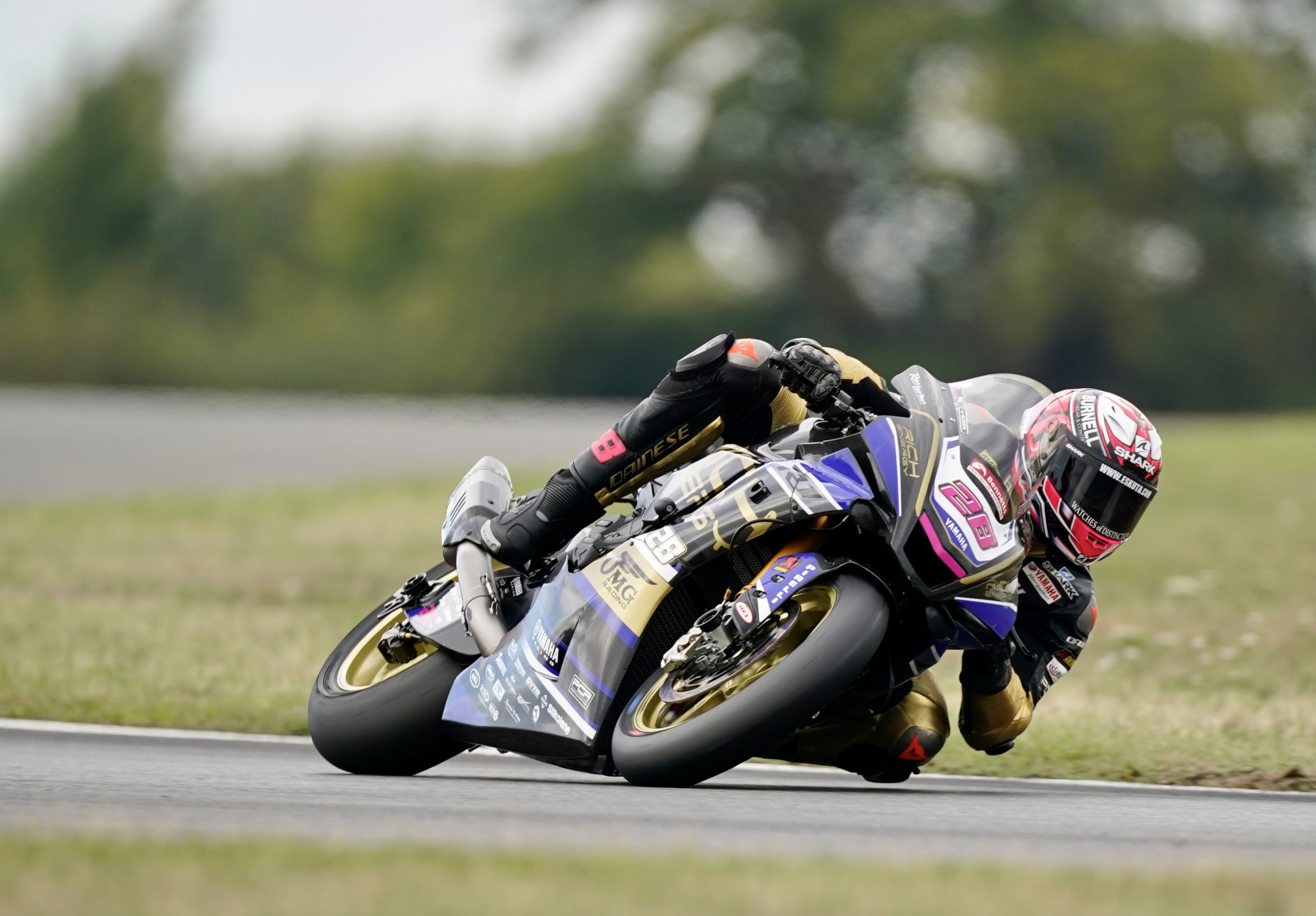 Bradley Ray – Image Courtesy of Official BSB
The star of the show?
In most people's eyes at Donington came in the form of MCE Ducati rider, Tom Sykes. The popular Yorkshireman found a setup that suited his Ducati, on a track he has a lot of experience at which was enough to power home to two race victories. After a season long struggle to find his feet in the British Superbikes, Sykes has crossed the line between 'also ran' and 'winner'. Sykes' first stint in BSB was between 2007 and 2008 (also a wild card appearance in 2010) which bagged him 18 podiums, 5 of which were wins, but since returning to the series after over a decade on the world stage, Sykes has struggled to find the form that himself and the Paul Bird team expected.
Alongside that of his teammate, Josh Brookes, many came to expect 2022 to be a year that didn't bear fruit for the Panigale V4 after both riders failed to make the Championship Showdown. An emotional Paul Bird could be seen after the race on Saturday being congratulated by many in the pitlane after what is widely considered a torrid year for the Cumbrian outfit. Sykes was also in top form for Race 3 but an incident involving Jason O'Halloran wrote off a potential 3rd podium of the weekend when the McAMS Yamaha rider collided with the rear of Sykes' Ducati under braking for the Melbourne Loop hairpin. Sykes is heavily rumored to be returning to World Superbikes in 2023 in partnership with Puccetti Kawasaki. Personally, I wish Tom had decided to stick with British Superbikes for 2023, as this weekend has proven that on the right day, he has the skills to succeed in this paddock. I firmly believe there are/could have been British Superbike Championships on the table for Tom had he chosen to stick around a little longer and I can't help feeling the warmer climates, GP Circuits, familiar motorcycle packages and world stage have dragged one of BSB's headline acts away from us. Perhaps next year we will see the reasoning behind it all if the rumors are proven to be true and Sykes does depart from whence he came. For now, Brands Hatch awaits Sykes and hopefully his recent run of form could be the ignition his gunpowder needed to go out with a bang at the series finale.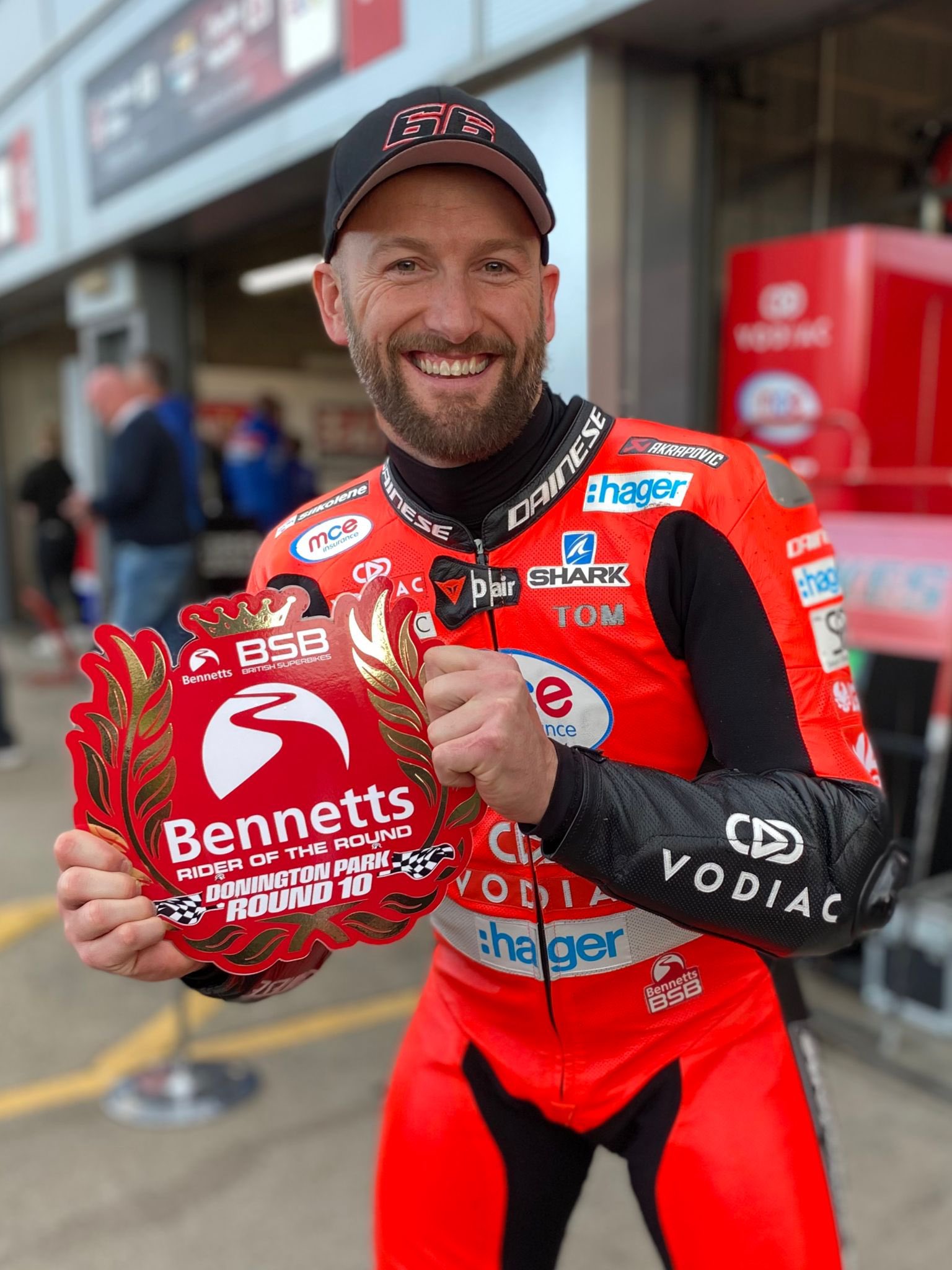 Tom Sykes – Picture Courtesy of Official BSB
Another decent race weekend for Glenn Irwin has seen the popular Honda Racing UK rider climb to second in the championship standings. Perhaps the gap is a little too much for Glenn to bridge, but certainly finishing runner up for 2022 is something Glenn has firmly got the scent of in the nostrils, despite losing his left foot peg late on in race three, Glenn was able to fight for the podium against Synetiq BMW (and Brother) Andy Irwin and Rich Energy OMG Yamaha's Bradley Ray. The joke around the paddock would see Glenn line up at Brands Hatch with no foot pegs on and win all three races.
Glenn Irwin – Image Courtesy of Official BSB
A strong weekend for Glenn Irwin has come at the cost to Tommy Bridewell. With an 8th, 6th and 4th place finish in the weekend's three races, the Oxford Products Ducati rider has seen his place in the overall standings slip to 3rd, be it by only a single point, but with Brad Ray finishing all three races in front of him, Tommy along with Glenn, has nothing but an almost vertical uphill climb now to win the British Championship. Silly Season rumors in the paddock have Tommy Bridewell riding again for Ducati in the 2023 British Superbike Championship but perhaps in a different shade of grey….and by grey, I mean RED… but as it stands, all rumors are yet to be confirmed.
Special mentions of the weekend: –
Kyle Ryde. The Rich Energy OMG Racing Yamaha "Youth" had a couple of top 10 finishes which will go a long way to settling the nerves of the last few rounds and go hand in hand with some confidence building chest bumps which he fully deserves after being re-signed for 2023 in the same team. Consistency is the key and Rich Energy OMG Racing Yamaha clearly think there is a lot of untapped potential in the young rider and his future. Well done Kyle.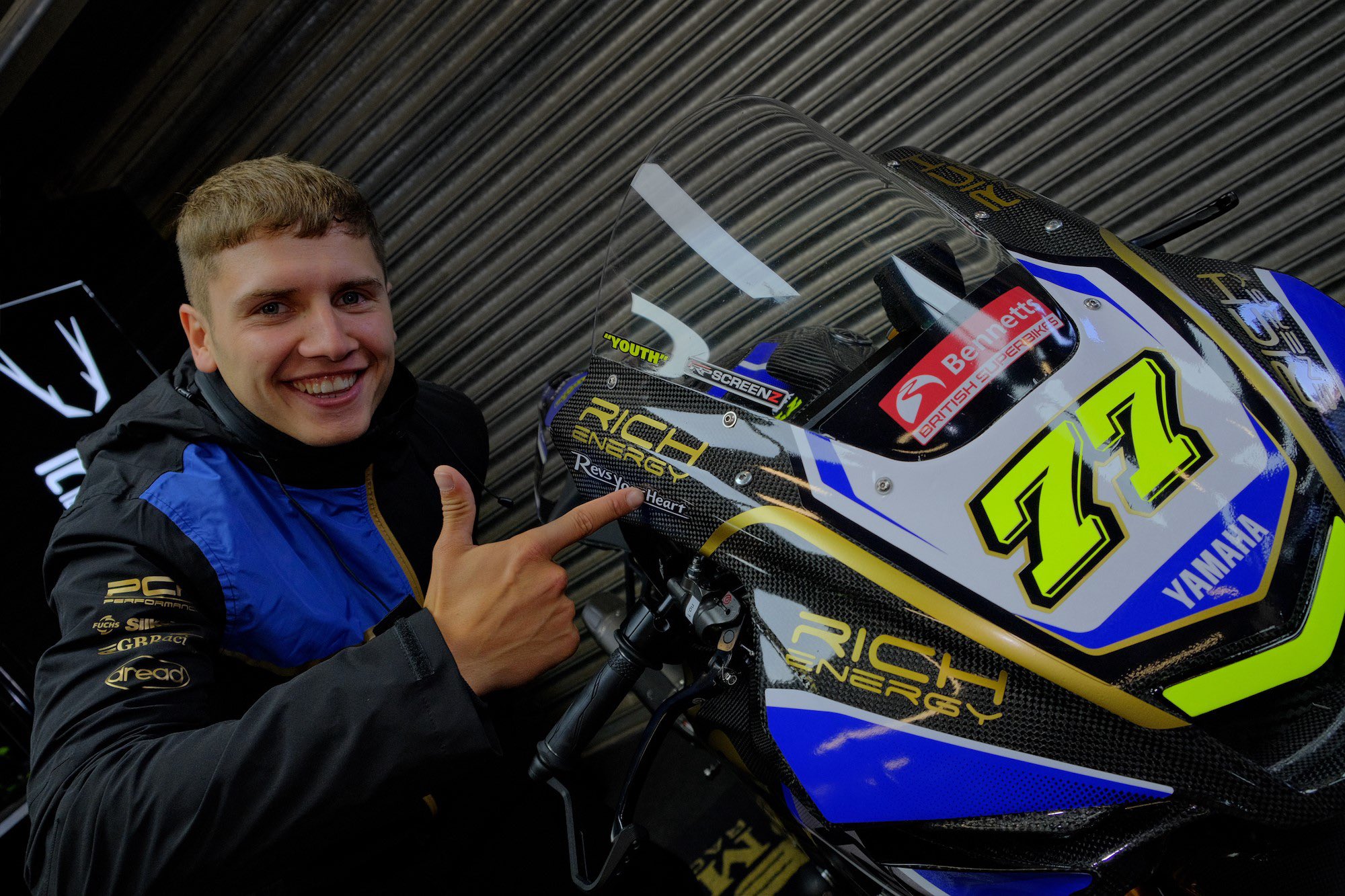 Kyle Ryde – Image Courtesy of Rich Energy OMG Racing Yamaha
Andrew Irwin. The Synetiq BMW rider has form for success at Donington Park in recent years. Notably his dust up with brother Glenn, when both rode the Honda Racing UK bike in 2020 to take race wins. Electrical gremlins hampered Irwin in Race 1 on Saturday but in Races 2 & 3 on Sunday, Andrew Irwin was able to fight for a 4th place and 2nd place finish proving he has the talent for this game, but perhaps not the tools. Danny Buchan has also had an up/down year on the M1000R BMW which has proven to be difficult to ride for all the entrants, including FHO Racing's Peter Hickman and Ryan Vickers. Great to see Andy up there again. There's no better spectacle in BSB in my eyes than watching the Irwin Bothers go at it at the front of the pack.
Charlie Nesbitt. Drafted in to replace Christian Iddon, who fell foul of BSB's Concussion Protocol, Nesbitt found himself on the Buildbase Suzuki Superbike for the weekend after running for the team in the National Superstock during 2022. Rumored to have already signed a deal for the Buildbase team for 2023, though not yet announced, it looks like this was Nesbitt's early shot at a little testing and ride out on a Superbike, albeit a little earlier than expected. With a 19th, 13th and 13th finishing all three races and some scalps to his name, including current 2022 rider for Buildbase Danny Kent, Charlie has done himself a world of good at Donington. Well done.
Another special mention is to our beloved mate, and friend of the Motorcycling world, Chrissy Rouse.
Chrissy slipped off his motorcycle at the Goddard's hairpin and sustained serious head injuries via contact with a following motorcycle. Chrissy was transferred to Nottingham hospital where he had a neurological procedure upon arrival and is currently in a serious condition in Intensive Care. I met Chrissy a few months ago and he was a proper good lad. Understanding the process of building an online following and podcast, he was very helpful in his advice and was the first rider to allow me to hone my interviewing skills late at night after a full day's work and an evening run. I met him again at the Oulton Park round and he took the time to talk to me when he didn't have to, all of which brought me firmly onto team Rouse. Our industry has grown to love Chrissy via his own podcast, Chasin' the Racin' hosted by himself and Road Racing colleague Dominic Herbertson and I know when I speak for the entire motorcycle community when I say, "Come on Chrissy, we are all praying for you!" We are all feeling this one and I hope that Chrissy Rouse makes a full and fast recovery.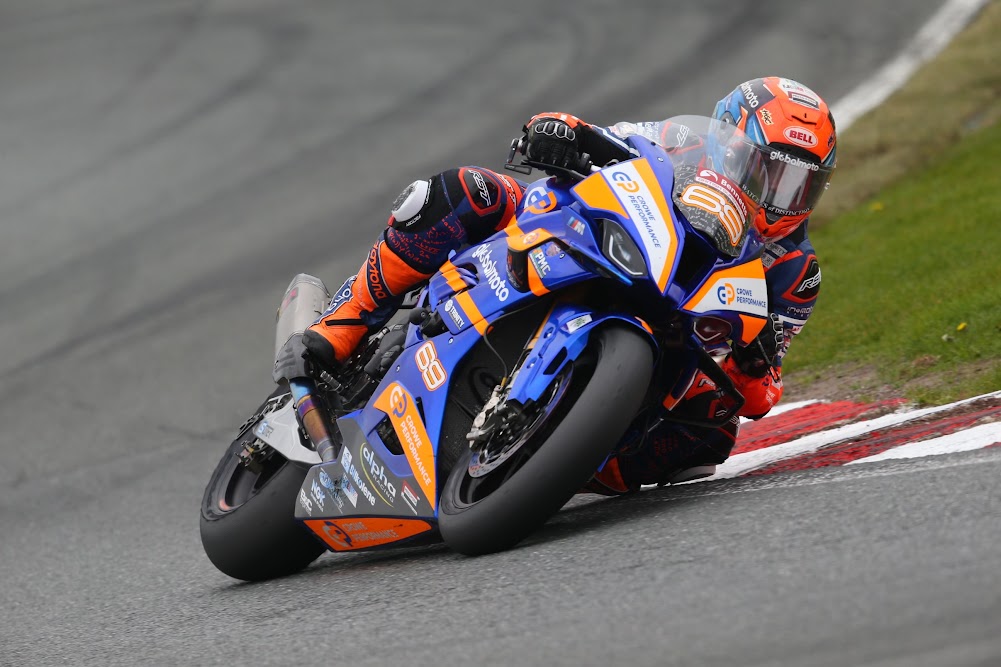 Chrissy Rouse – Picture courtesy of Bonnie Lane
The 2022 British Superbikes Championship concludes in 2 weeks time at Brands Hatch. A circuit famous for some of the best title fights in the last 20 years. I hope for a good show at Brands, but I fear it won't be the exciting title fight finale we would want. Perhaps we can have a weekend long battle for the race wins, even if we aren't going to get one for the championship.
RACE 1 Points Finishers
Sykes, O'Halloran, Hickman, Ray, G Irwin, Jackson, Ryde, Bridewell, Haslam, Vickers, Brookes, Buchan, Neave, Takahashi, Mizuno
RACE 2 Points Finishers
Sykes, Ray, G Irwin, A Irwin, Jackson, Bridewell, O'Halloran, Hickman, Brookes, Vickers, Ryde, Buchan, Nesbitt, Kent, Takahashi
RACE 3 Points Finishers
Ray, A Irwin, G Irwin, Bridewell, Buchan, Ryde, Jackson, Vickers, Kent, Haslam, Hickman, Stacey, Nesbit, Neave, Takahashi