Superpole saw the rookie, Iker Lecuona (Honda HRC), claim his maiden WorldSBK pole with an unbeaten lap of 1:40.766. The Kawasaki team mates of Lowes, and Rea, were in 2nd, and 3rd respectively.
Lights out for race 1, and it was Bautista (Aruba.it Ducati), with an amazing start to get the hole shot, after only qualifying in 5th. The same couldn't be said for Rea who got nudged out wide by Rinaldi (Aruba.it Ducati), and then almost got taken out by Locatelli (Pata Yamaha), the Italian himself also going wide. The Northern Irishman found himself down in 9th after that dust up. It was Toprak (Pata Yamaha) in 2nd, with Lowes trailing behind in 3rd. Drama also for Oettl (GoEleven Ducati) who went down, his race was over.
Next lap and positions were as follows; 1. Bautista 2. Toprak 3. Lowes 4. Rinaldi 5. Lecuona 6. Bassani (Motocorsa Ducati) 7. Rea 8. Gerloff (GRT Yamaha) 9. Locatelli 10. Redding (BMW Motorrad). Lecuona then got dropped a further place, after Bassani came through to take 5th, the pole man finding himself in 6th. Drama then for Bernardi (Barni Racing Team), who got taken out by Vd Mark (BMW Motorrad), and his race was over, Vd Mark stayed on track.
With 18 laps to go, Redding, who was not having a good start to his weekend crashed out, the BMW ploughed into the gravel, and his race was over. Bautista was already applying the pressure out in front, and was putting down some quick lap times. Lecuona had regained some composure after his bad start, and was now up to 4th, Bassani, and Rea were behind in 5th, and 6th respectively.
Next lap and Bautista was continuing his relentless pace, he set a new fastest lap of 1:41.926. Toprak was trying to stay in contact, with the gap now 0.4s to the Spaniard ahead. These leading two were already pulling away from Lowes behind in 3rd. Rea was still in 6th, and was desperate to make up positions, as he could see his title rivals disappearing down the track.
With 15 laps remaining, Lecuona moved through on Lowes to take 3rd. Bautista increased his gap over Toprak to 0.7s. Meanwhile further back, Rea who had been lining up Bassani, made his move into turn 10, trying to cut up the inside, however Bassani snapped straight back immediately and shut the door. Rea was growing increasingly frustrated to be so far back.
With 13 laps to go, Bautista now had a gap of just over 1s to Toprak, and showed no signs of letting up the ferocious pace. Meanwhile there was now a 4 way battle for 5th, between Bassani, Rea 6th, Locatelli 7th, and Gerloff 8th.
Next lap and Rea once again lined up Bassani, this time down the long straight, and into turn 1, the move stuck this time, and Bassani had no answer as Rea dived up the inside to take 5th. Rea was now behind his team mate, and had massive work to do in order to limit the points deficit to his title rivals.
With 11 laps remaining, Vd Mark, who had had an earlier altercation with Bernardi, was forced to retire due to a mechanical issue, and that was both factory BMW riders out now, a bad start to the weekend for them. Toprak was struggling to keep contact with Bautista, and the gap was out to 1.6s. Meanwhile further back Locatelli made a pass on Bassani into turn 6, cutting up the inside of his Italian compatriot. Bassani responded a few corners on into turn 9, and retook the position. Locatelli who was having an eventful race, then ran out wide for the second time, and managed to rejoin in 9th. It was; 6. Bassani 7. Gerloff 8. Rinaldi 9. Locatelli.
Next lap and Lowes had a gap of 0.5s to his team mate behind in 5th. Would we see team orders come into play? Meanwhile out in the lead Bautista now had a commanding 2.5s lead over Toprak, who seemed to be struggling with tyre grip. The Turk was 3.5s ahead of Lecuona in 3rd. Further back it was; 12. Laverty (Bonovo Action BMW), 13. Mahias (Puccetti Racing Kawasaki), and 15. Nozane (GRT Yamaha).
With 8 laps remaining, Rea was still trailing his team mate by 0.5s. Toprak continued to lose his advantage, and was now only 2.3s ahead of Lecuona in 3rd. Meanwhile further back, Gerloff pulled off an audacious move into turn 1, taking both Bassani, and Rinaldi, and cut through into 6th. Locatelli was still in 9th.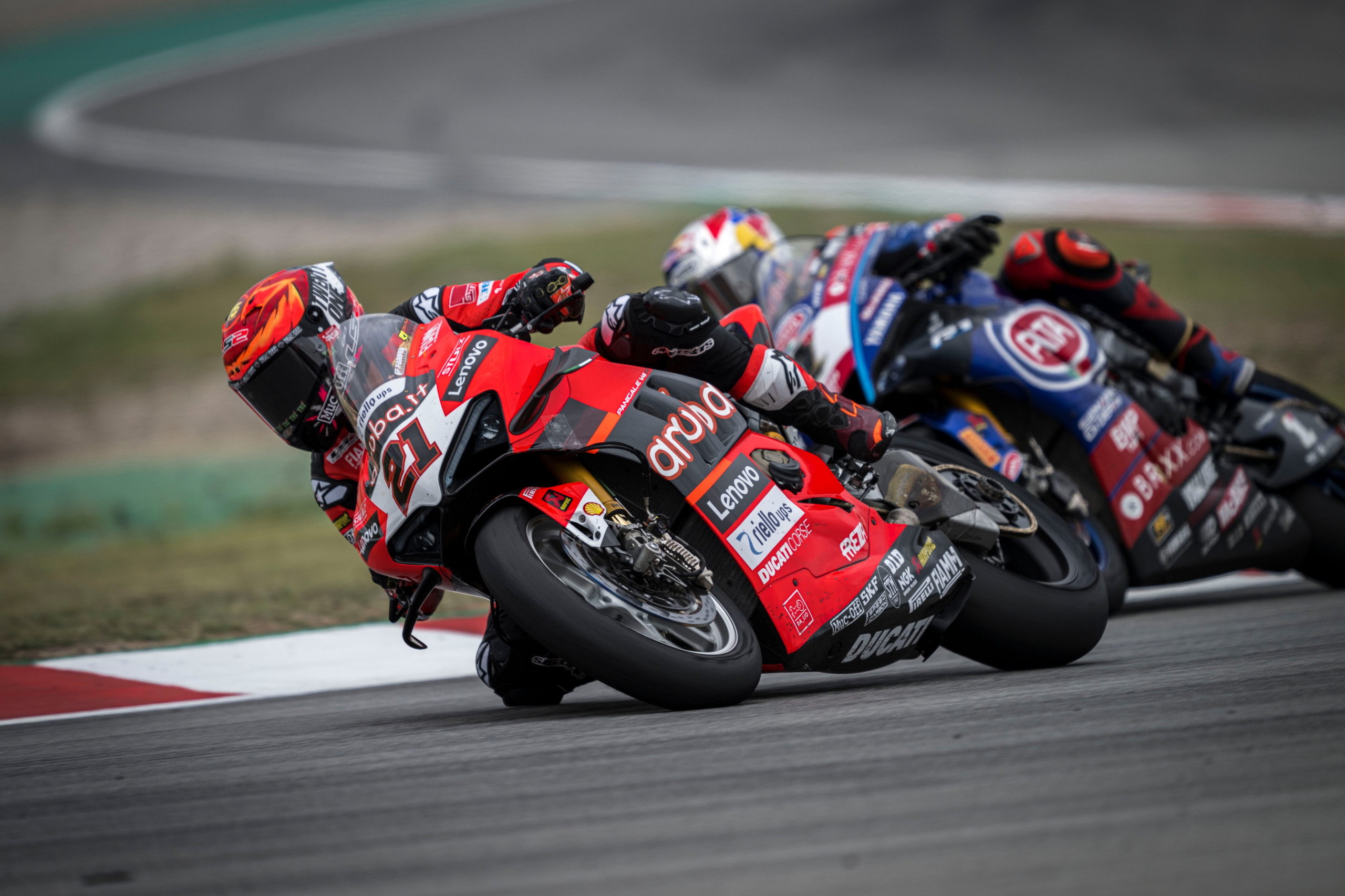 With 7 laps to go, Rinaldi was finding extra pace on the Ducati, and barged through on Bassani into the last corner to take 7th. Meanwhile Lecuona continued to reel in Toprak, the gap closing all the time, the harder tyres were paying off for Lecuona. It didn't appear to be team orders, but Rea did come through on Lowes to take 4th.
Next lap and Rea continued his late race charge to the front, out braking Lecuona into turn 1 to take over 3rd. Rea was now only 1.6s behind Toprak, and you wonder what could have been, had he not had the bad start. Meanwhile out in the lead, and with the hammer firmly down, Bautista was now leading by 5.9s, and that you felt would be enough to claim the win.
With 5 laps to go, Toprak continued to drop back like a stone, and was now only 1.1s ahead of Rea. The R1 had grip issues, and the rear was spinning up out of every corner now. There was now a 3 way battle for 4th between Lecuona, Lowes, and Gerloff. Meanwhile at the front Bautista increased his lead to 7.5s.
Next lap and again Gerloff pulled off another audacious move into turn 1, again taking two riders to move into 4th, this time its Lecuona, and Lowes. The Texan was having one of his best races of the season so far. Rea made an easy pass under Toprak into the long turn 4, to move into 2nd, with his lack of grip Toprak couldn't respond.
With 3 laps to go Gerloff dived under Toprak, again into turn 1 to take 3rd. Meanwhile further back, Rinaldi continued to make up positions late in the race, this time moving up to 6th after getting through on Lecuona.
Next lap and Toprak continued to drop back, and Rinaldi was able to move through on him into turn 10. Positions were as follows; 4. Rinaldi 5. Toprak 6. Lecuona 7. Lowes 8. Bassani 9. Locatelli.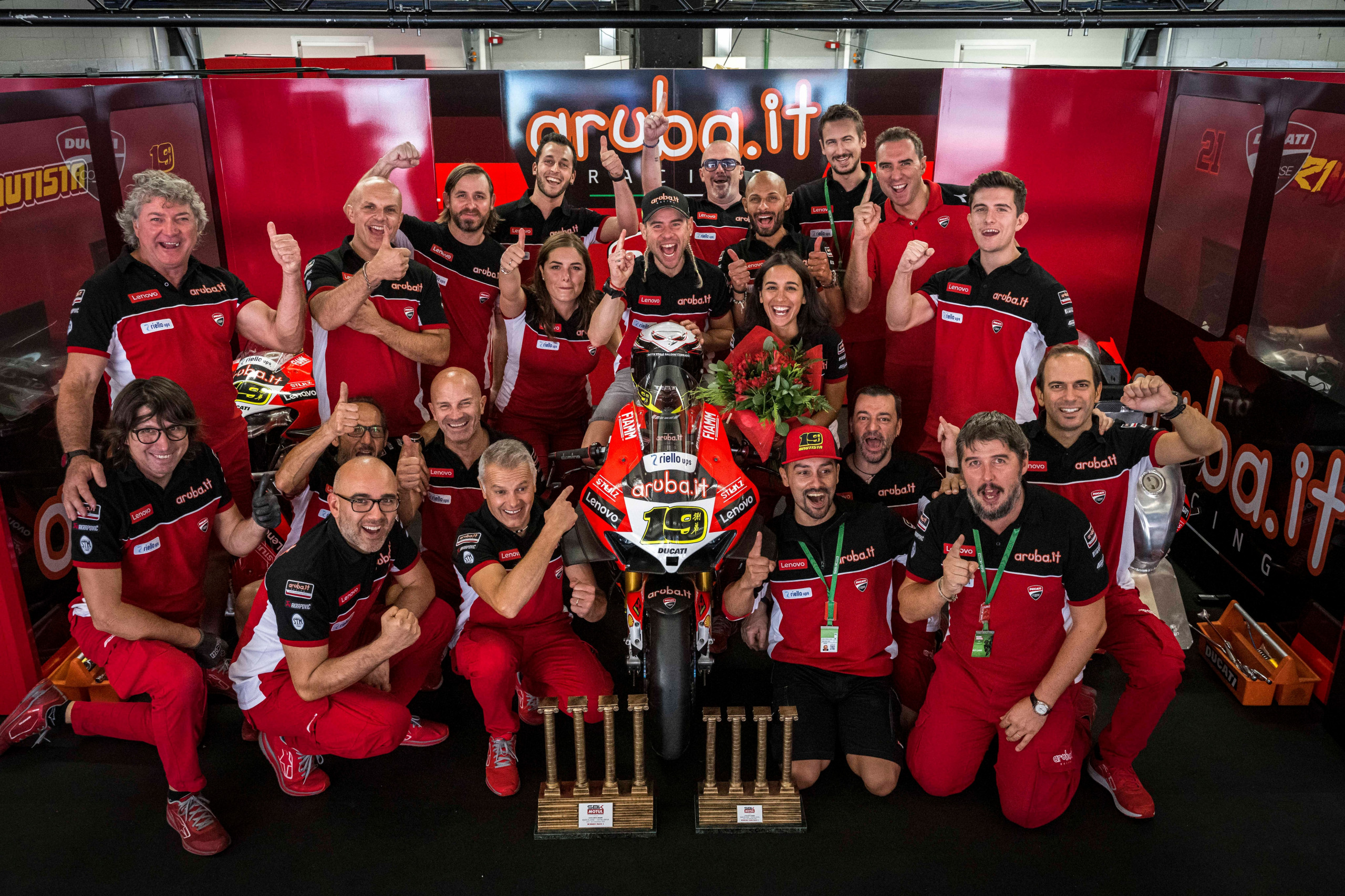 Last lap and Bautista had extended his lead to an unassailable 10.5s. Gerloff had caught Rea, and was looking for a way past. Bautista crossed the line to take the win, Rea managed to hold off Gerloff to take 2nd, while Gerloff gets 3rd. Rinaldi 4th, Toprak 5th, Lecuona 6th, Lowes 7th, Bassani 8th, Locatelli 9th, and a respectable top 10 for Laverty.
A dominant victory for Bautista, who maybe had a point to make, after the spat between himself and Rea.
Result top 5:
Bautista (Aruba.it Ducati)
Rea (Kawasaki KRT)
Gerloff (GRT Yamaha)
Rinaldi (Aruba.it Ducati)
Razgatlioglu (Pata Yamaha)
Championship top 3:
Bautista – 357 pts
Razgatlioglu – 313
Rea – 305
Featured Image courtesy of Ducati