Superpole saw Rea (KRT Kawasaki) take top spot with an unbeaten time of 1:36.124, followed by Razgatlioglu (Pata Yamaha), and Redding (BMW Motorrad) in 2nd and 3rd respectively.
Conditions were perfect for Race 1, with Toprak opting to go with a harder front tyre, while most of the grid chose a softer option.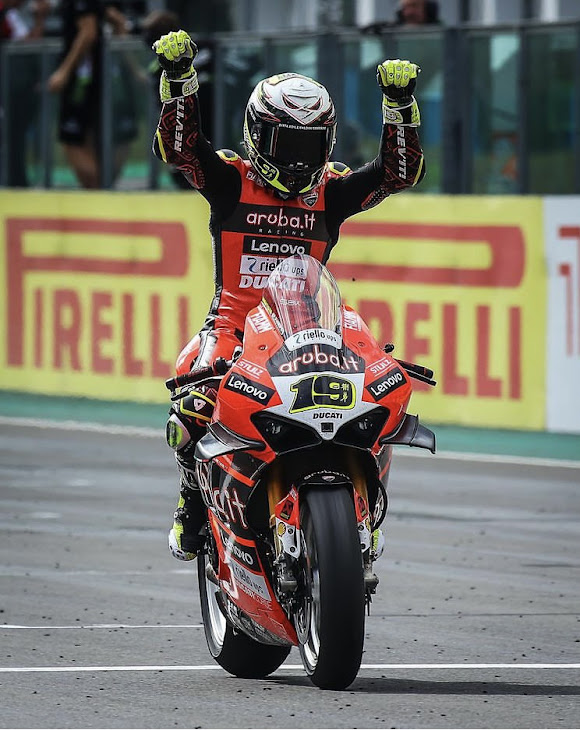 Lights out for race 1, and it was Toprak with the hole shot into turn one, followed by Redding, Rea and Bautista (Aruba.it Ducati). Lowes (KRT Kawasaki) in particular, was looking quite aggressive early doors. With his hard front tyre yet to get up to race temperature, Toprak ran wide and allowed Redding to come through and snatch the lead.
Next lap and both Toprak, and Rea came through on Redding, the Brit getting barged down into 3rd. And then in the space of a one lap, massive drama as first Rea goes down into the last chicane turn 17, looking like he clipped the curb on the exit. A few corners later, and Toprak appeared as if he could not get his Yamaha R1 stopped into turn 13, with the rear violently snapping around. It could have been a nasty crash, but with the skill of a world champ he was able to rejoin the race in 23rd. Rea was not as lucky,  his ZX-10RR needed to have work done on it, and went back to the garage.
Bautista was now in 2nd behind Redding, and could no doubt scarcely believe his luck, with his two main title rivals both going out.
With 17 laps remaining positions were as follows: 1. Redding 2. Bautista 3. Baz (Bonovo Action BMW) 4. Rinaldi (Aruba.it Ducati) 5. Bassani (Motocorsa Ducati) 6. Lowes 7. Gerloff (GRT Yamaha).
Next lap and Bautista had closed the gap to Redding, and was looking for a way past. The gap behind to Baz in 3rd was now 1.4s. With the power, and in particular the aggressive acceleration of the Ducati, Redding was battling to keep Bautista at bay. The Spaniard does eventually come through on Redding, snapping under him to take over the lead. Further back it was the Honda HRC team mates of Lecuona and Vierge in 8th, and 9th respectively, Locatelli (Pata Yamaha) 12th, and Toprak was in 23rd.
On lap 9 of 21, Bautista ran wide, and allowed Redding to close the gap. Meanwhile behind in 3rd, Baz was struggling to keep contact with the leading two, and had now been caught by Bassani and Rinaldi.
Rea managed to get back out on track after his bike was repaired, and was obviously trying to get a few more laps of racing in, although any chance of scoring points was now out of the question. Meanwhile at the front, there was now a three way scrap for 3rd, with both Bassani and Rinaldi  keen to claim a podium. Further back it was Gerloff and Lowes in 6th, and 7th respectively.
With 10 laps to go, Rinaldi made his move, and dived under Bassani to take 4th. And with the pressure mounting behind, Baz crashed out and into the gravel, his race was over. Meanwhile at the front, Bautista was now finding his groove, and set the new fastest lap of the race of a 1:36.715, increasing his lead over Redding to 1.2s.
With 8 laps remaining, Rinaldi over shot turn 1 and flew across the gravel, although he was able to stay upright and rejoin the race in 8th. Meanwhile at the front Bautista continued to increase his lead, with the gap now 1.5s to Redding. Incredibly, Toprak was now up to 14th, after scything through the back end of the field, and was in point scoring contention.
Next lap, and Bautista as usually happens on the Ducati, was finding extra pace in the second half of the race, and the gap had increased to 1.6s to Redding. Gerloff was having a decent race in 4th, as too was Lecuona further back in 6th.
With 4 laps to go, Locatelli had moved up from 12th, and was now in 9th. Gerloff was all over the back of Lowes in 4th, and looking for a way past, although the Brit was having a decent race himself, and rode aggressively as he had all race. Postions were as follows: 1. Bautista 2. Redding 3. Bassani 4. Lowes 5. Gerloff.
Next lap and Bautista was looking comfortable out in the lead, with a gap of now almost 3s to Redding. Vierge looked to be having some trouble as he was steadily losing places, and was now down in 13th.
Final lap, and Bautista crossed the line to take the win, followed by Redding who had one of his best races of the season so far. Bassani 3rd, Lowes 4th, Gerloff 5th, Rinaldi 6th, Locatelli 7th, Oettl (GoEleven Ducati), 8th, Lecuona 9th, Mahias (Puccetti Kawaski) 10th. Toprak 11th.
Result top 5:
Bautista (Aruba.it Ducati)
Redding (BMW Motorrad)
Bassani (Motocorsa Ducati)
Lowes (KRT Kawaski)
Gerloff (GRT Yamaha)
Championship top 3:
Bautista – 323
Rea – 267
Razgatioglu – 265
Feature image courtesy of WorldSBK