This was going to be an important day to get through, with no mid-day service and eight stages for the crews to tackle. They were split into two loops, which meant that there were new stages in the afternoon. Elfyn and Scott returned to competition and would be first on the road. Here is the startlist for Saturday – Evans, Greensmith, Neuville, Rovanperä, Katsuta, Fourmaux, Sordo, Breen, Loubet, Tänak, Lappi.
First up then, SS10 Tempio Pausania 1 – 12.03 km and Ott was fastest from Craig and Thierry. There was huge drama though as Esapekka came through, clipped a rock and pinballed off the bank at the side of the road, ripping a rear wheel off the GR Yaris and the Finn was out for the day. Thierry was on a big push to catch the cars ahead, closing the very large gap to Kalle ahead but still 39 seconds behind the championship leader. Craig was now in second and Dani held third overall after passing Pierre-Louis who was now 2.3 seconds behind the Spaniard.
Next was SS11 Erula – Tula 1 – 15.27 km and it was a 1-2-3 for Hyundai with Ott fastest from Thierry and Dani. Takamoto had a stall in the stage and dropped one place behind Kalle who was now up to sixth place.
Craig took his Puma to a stage win in SS12 Tempio Pausania 2 – 12.03 km with Ott and Pierre-Louis second and third in the stage. The big news from this stage though, was that Thierry rolled his i20 and although he and Martijn got the car back on its wheels, it was clear that they could not continue and retired in the stage.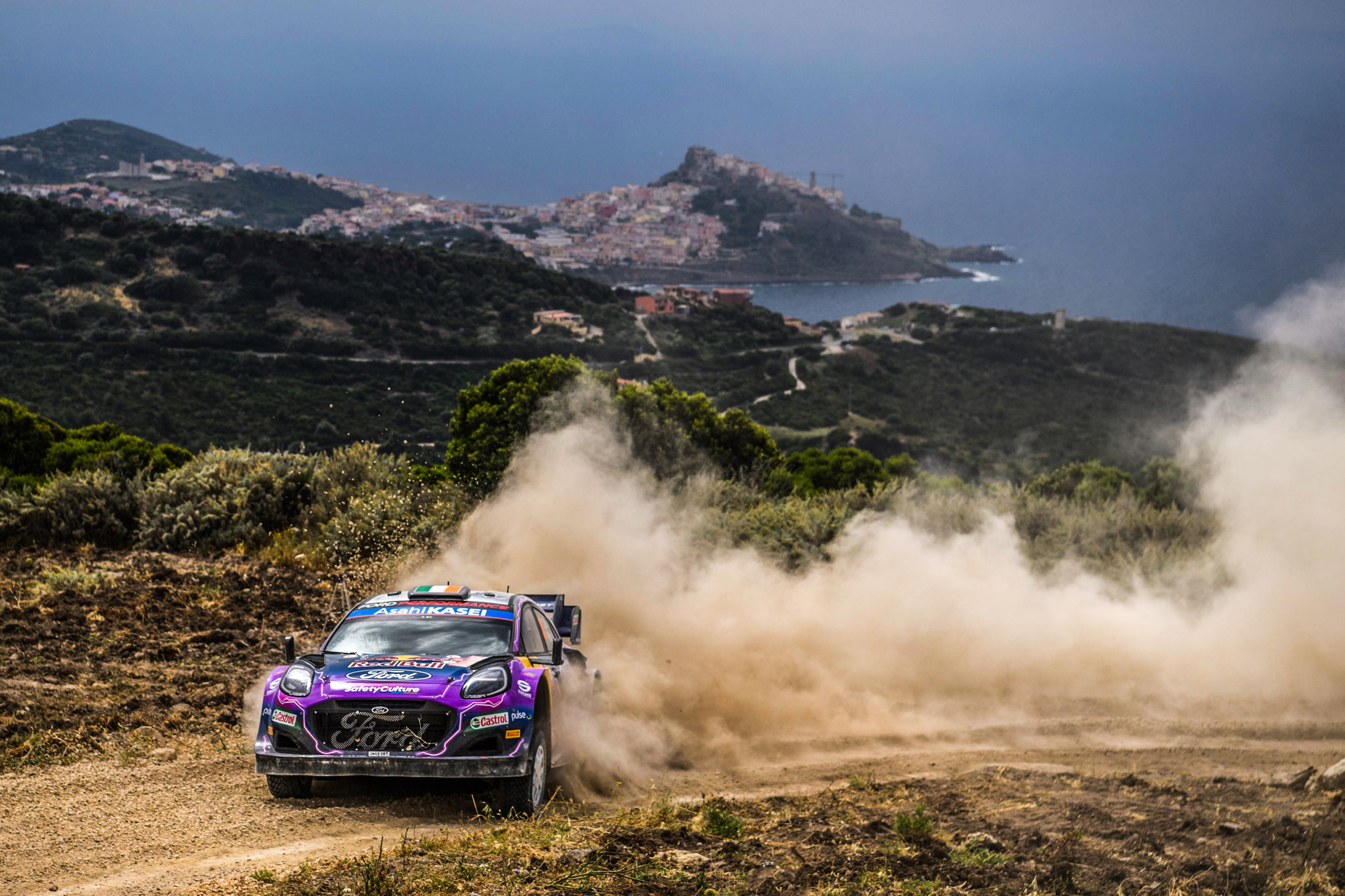 Ott came back in SS13 Erula – Tula 2 – 15.27 km with the fastest time from Dani and Craig. Kalle had a little spin in this one, setting the eighth best time but still maintaining sixth overall. The stage winner was starting to really build on his lead, the gap now over 30 seconds.
After the break Ott also won SS14 Coiluna – Loelle 1 – 21.60 km with Kalle and Craig second and third. Elfyn showed the pace that we briefly saw yesterday with the fifth best time, despite being the first car into the stage. Ott's lead over Craig was now approaching 40 seconds, whilst the Puma driver was moving further ahead of Dani.
Into SS15 Monte Lerno di Pattada 1 – 17.01 km and It was another stage win for the Estonian crew, with Dani and Elfyn second and third. Ott's lead was now 45 seconds over Craig, and he said that he wasn't even pushing hard, but clearly, he was very comfortable in his i20 and he could show his best pace.
Just two stages left then, and Ott won SS16 Coiluna – Loelle 2 – 21.60 km as well. Craig and Kalle were second and third in the stage. Unfortunately, Elfyn stopped again with a problem with his rear suspension. Meanwhile, Takamoto was getting through the stages in the best was possible after first damaging the aero and then the radiator later in the water splash.
The final stage then, SS17 Monte Lerno di Pattada 2 – 17.01 km and first to complete was Gus. Next through was Kalle and Takamoto. It all changed with the next crew though, as Adrien lost control of his Puma and ended up beached on the edge of the road with the rear in the trees lining the right-hand side of the stage. The stage was red flagged, but in the meantime, Dani had started the stage, so he had to slow down. Once Adrien was moved to a safe spot, the stage was restarted and Craig, Pierre-Louis and Ott started the stage, but the only one that completed the at a competitive pace was the Frenchman. There was some confusion for both Craig and Ott, who both got shown the red flag again and slowed accordingly. In the end the three drivers that slowed, were given a notional time.
Classification after Day Two
| | | | | |
| --- | --- | --- | --- | --- |
| 1 | O. Tänak | M. Järveoja | Hyundai i20 N Rally1 | 2:43:35.6 |
| 2 | C. Breen | P. Nagle | Ford Puma Rally1 | +46.0 |
| 3 | D. Sordo | C. Carrera | Hyundai i20 N Rally1 | +1:06.8 |
| 4 | P. L. Loubet | V. Landais | Ford Puma Rally1 | +1:31.8 |
| 5 | K. Rovanperä | J. Halttunen | Toyota GR Yaris Rally1 | +2:23.2 |
| 6 | T. Katsuta | A. Johnston | Toyota GR Yaris Rally1 | +3:52.3 |
| 7 | G. Greensmith | J. Andersson | Ford Puma Rally1 | +5:03.3 |
Let's hear from the drivers
Hyundai Motorsport
Ott Tänak (1st)
"Today was very good, I had a great feeling in the car, and I was able to control things. It's been quite a long time since we had a run like that, to be honest. It was a bit more challenging when the conditions were hot, especially at lunchtime, otherwise the roads were holding up well. It was enjoyable. In the first stage this morning, when Esapekka was still in the fight, we gave it a good push. We wanted to start well. After that, we were step by step kind of slowing down but the times kept coming. If you are in the right mood and rhythm that's how it should be. We had a few driveability issues at times, but that seems to be related to the temperature; when it cooled down it became better again. We've been in this position before, and we know anything can still happen. It's not over until the finish line is crossed."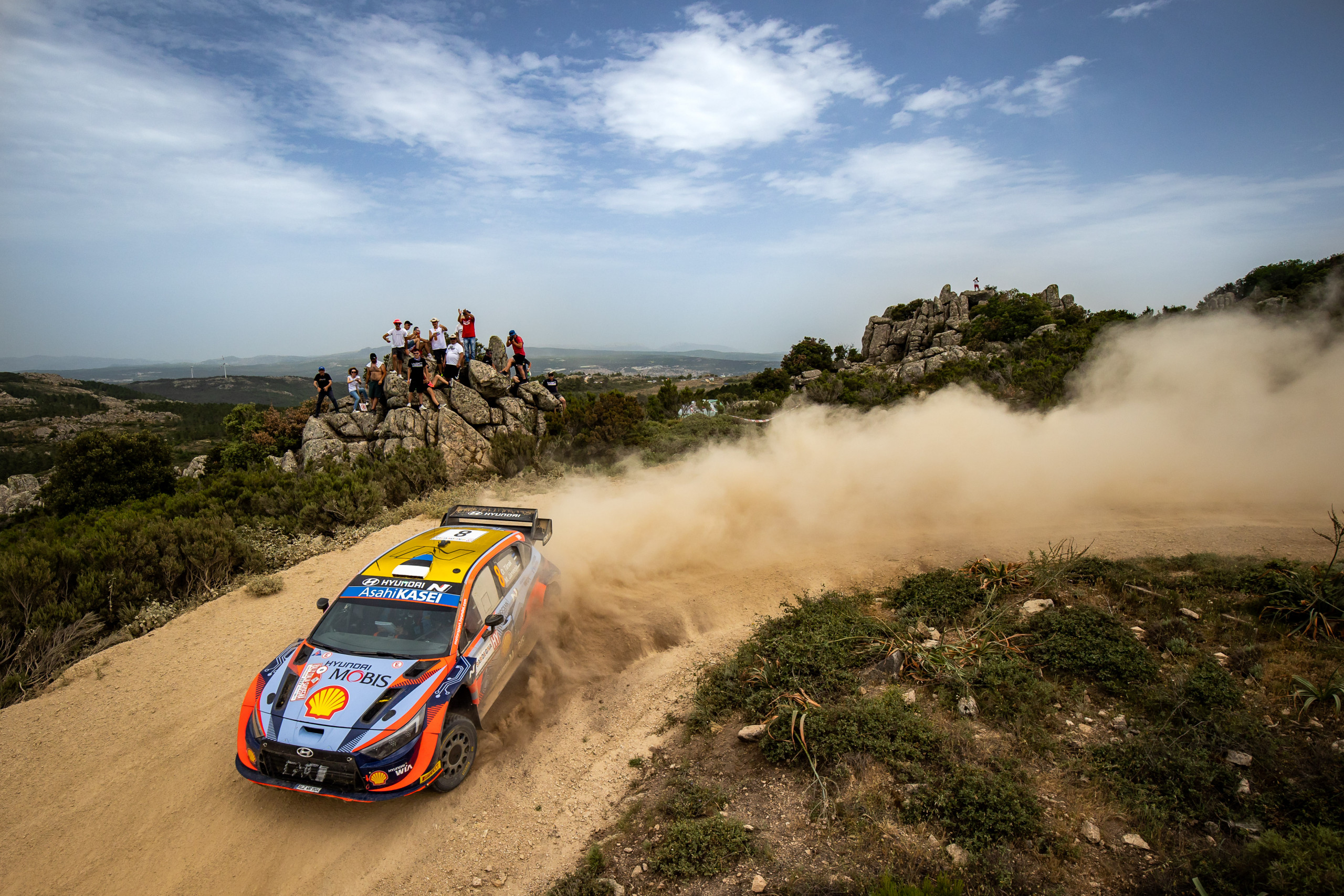 Dani Sordo (3rd)
"We had some good luck to be here at the end of the day in one piece – we had a few moments today. It was a mixed day for us. We lost some time on the more slippery stages and we need to work a bit in this area. On the second pass, things were generally better. We had a problem in the SS16 water splash. I went in a bit fast, and water came into the car. For a moment, I thought we'd stop there but thankfully the engine started running again and we could complete the stage. The battle with Craig for second was nice, but he had a really good day and was faster than me, so it will be difficult to catch him. We don't have many kilometres left tomorrow. We want to fight with no problems, while also keeping Loubet behind. Let's see if our good fortune continues until the end of the rally."
Thierry Neuville (SuperRally)
"After the disappointment of Friday's technical issue, our target this morning was to go out there, give it a big push and have some fun. We made an aggressive tyre strategy and went hard on the opening stages. The tyres felt good, and the first two times were interesting. Unfortunately, we went a bit over the limit on the third one. I got caught out at a slow right-hander; I was late on the brakes, I climbed up the embankment and rolled the car. We kept going but I couldn't make it to the end, and we had to retire for the day. Our rally was basically over yesterday but we wanted to continue fighting, not only for us but also for the team and mechanics, who always do an incredible job. We knew it would be a risk, especially when trying to make the impossible possible. We will be back in action tomorrow when we'll be giving it everything to take maximum points in the Power Stage."
Toyota Gazoo Racing WRT
Kalle Rovanperä (6th)
"This morning especially was quite tricky with low grip and technical stages we couldn't do too much. But we managed to just keep our own pace and then in the afternoon we could start to be a bit faster. We changed some small things on the car and I was able to find a bit more grip and feeling. That made the afternoon a bit more enjoyable. The plan was to stay out of trouble and this meant we were able to gain some places with others dropping out. Tomorrow the aim will be similar until the Power Stage and then we'll see what we can do there."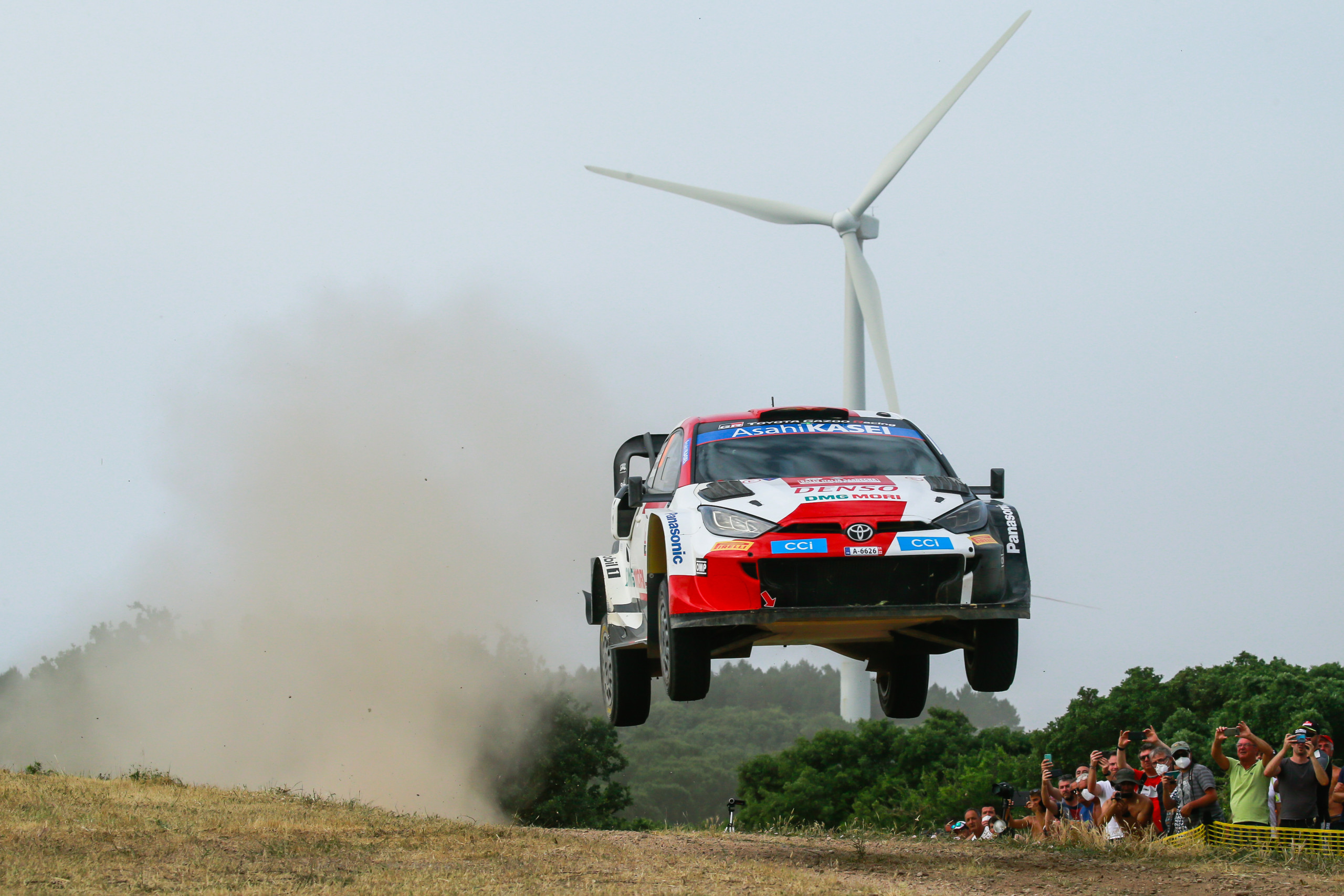 Elfyn Evans (SuperRally)
"Today we knew it was going to be a difficult day opening the road and it's never easy to set good times from the front. So really it was just an opportunity to learn more about the car on gravel and use it as a test session, and everything was going quite OK actually. Then in the penultimate stage unfortunately something broke at the rear after an impact, but we didn't lose too much from that. Tomorrow the main aim is to see what we can do from our position on the Power Stage and try to take some points if we can."
Esapekka Lappi (SuperRally)
"This morning we didn't change the rhythm from yesterday and the beginning of the first stage went pretty cleanly. We weren't taking any risks. But in this narrow section there was a stone on the ground which threw us off the line – only slightly, but it was enough to make us hit the wall on the right and then a tree on the other side. It is pretty hard to accept because we were not going particularly fast. But this stage is very tricky and narrow and clearly in some places it was pretty rough as well. I had been feeling really comfortable in the car and we will see if we can try to find that feeling again tomorrow."
Sunday
Just 39km's over four stages for the crews to tackle. Can Ott hold on and take a well-deserved victory?