Having previously never started a Moto2 race from the front row, rookie Pedro Acosta will have the honours of leading the field off the line for tomorrow's race as he clinched his maiden pole. He will be joined on the front row by Jake Dion and Augusto Fernandez, as Sam Lowes and Ai Ogura both crash out.
Before the 2022 Moto2 season had begun, many had their sights set on rookie rider Pedro Acosta and predicted he would be a title contender. However as the season kicked off Acosta was nowhere to be seen, unable to qualify higher than 10th or finish a race higher than seventh.
With the sun shining down on the Le Mans circuit, it seemed that today would be Acosta's day. He hit the top of the timing sheets with over three minutes remaining in Q2, with a time of 1:35.803 that no one was able to challenge.
Joining him on the front row will be Jake Dixon, who was able to put together a brilliant lap despite seeming to struggle to find his flow all weekend, and Augusto Fernandez.
Lining up in sixth for tomorrow's race will be new boy, Alonso Lopez, who is replacing Romano Fenati. On his first step up from Moto3, he laid down an impressive performance to secure a second row start for tomorrow.
It was a much trickier day for Sam Lowes and the two Honda Team Asia riders, Ai Ogura and Somkiat Chantra, as all three riders crashed during Q2. However, thanks to some early banker laps, they will start tomorrow's race from fourth, eighth and 11th respectively.
Our championship leader, Celestino Vietti, has struggled for pace all weekend, forcing him to join the Q1 group. These woes continued throughout the session as he failed to sit within the top three even once in the session. He was unable to progress to Q2 and will start tomorrow's race from the lowly 19th spot on the grid.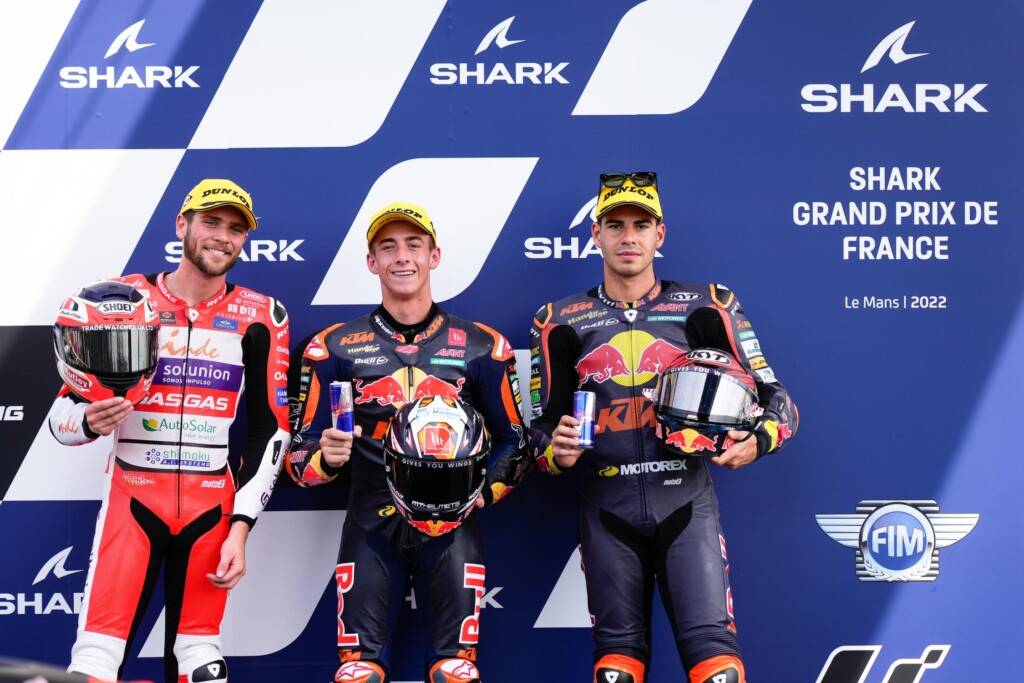 QUALIFYING 1
As everyone completed their first flying laps of the session, it was Manuel Gonzalez who jumped to the top of the timing sheets first. He set an initial benchmark of 1:36.645. Behind him was Lorenzo Dalla Porta in second, Jorge Navarro third and Vietti in fourth – all had provisionally booked a place in to Q2.
With eight minutes left on the clock, Alessandro Zaccone crashed at Turn 8, bringing out yellow flags in Sector 3. Less than a minute later, Sean Dylan Kelly crashed at Turn 14 to bring out yet more yellow flags, this time in at Sector 4. The biggest looser from they yellow flags seemed to be Joe Roberts who was just appeared to be in the wrong place at the wrong time.
With just less than five minutes of the session remaining, Niccolo Antonelli became the next victim of the tricky Le Mans circuit, as he crashed at Turn 8. Lucky he was unscathed as he returned to action following surgery for arm pump earlier in the week.
At this point in the session, Dalla Porta was at the top of the timing sheet with Fermin Aldeguer, Bo Bendsneyder and Navarro just behind him. There was just 0.04s covering there top four riders and everything was still to play form.
Sitting just outside the top four was Vietti who returned to tack for some final flying laps with four minutes left in the session. He had just enough time to complete three flying laps and, whilst each was an improvement on the last, he still wasn't able to break in to that elusive leading group. Whilst his lap times were fastest that most in sectors one and two, he was loosing out considerably in sectors three and four.
The checkered flag fell and with no one able to improve on their lap times or challenge the top four, it was Dalla Porta, Aldeguer, Bendsneyder and Navarro who progressed to Q2.
QUALIFYING 2
The first flying lap of Q2 was set by Lowes on the Elf Marc VDS machine. He then improved on his early banker lap with a 1:36.071. In hindsight, this lap would prove vital as with nine minutes left on the clock, he suffered a horrible highside at Turn 8. The rear of the bike stepped out as he exited the corner, causing a highside which threw him down on to his shoulder before the bike hit him in the back.
Just moments before this incident, Ogura also crashed at Turn 8 – in an uncharacteristic move, the bike slid from underneath him as he touched the throttle to exit the corner. This combination of incidents resulted in yellow flags waving across both Sector 2 and 3.
As the session continued, and with just seven minute remaining, a number of riders seemed to pick up the pace – this included Acosta and Dixon who were setting flying sector times. As Acosta jumped up to third, the provisional grid was lead by Lowes, Albert Arenas and Acosta. Lopez, on his first Moto2 outing, was in provisional fourth ahead of Ogura in fifth.
With three minutes to go, Fernandez leapt to the top of the timings, only to have provisional pole snatches away moment later, as Acosta crossed the line. The next bike across the line was Dixon, who split the leading pair to take second. Lowes had now been shuffled off the front row and had no way to fight back as he sat in the garage.
As the checkered flag fell, no one looked to be able to improve on their times or challenge the leading pair. The final nail in the coffin came when Chantra suffered a fast front end crash at Turn 10 bringing out the yellow flag at sectors 3 and 4 and halting anyone from challenging Acosta.
Further down the grid, Aron Canet took seventh after a quiet and difficult weekend. Bo Bendsneyder was the best Q1 progressor in ninth, just ahead of Tony Arbolino in tenth.
Feature Image Credit: MotoGP