Ed Carpenter Racing's Rinus Veekay followed up topping practice two by bagging his second career pole at Barber Motorsports Park out doing Arrow McLaren SP, Ganassi, Penske and Andretti. VeeKay's blistering final lap of a 1:06.2507 prevented Pato O'Ward from going back to back for pole position. O'Ward qualified second with a 1:06.4003 but said to NBC that a mistake in one corner cost him pole.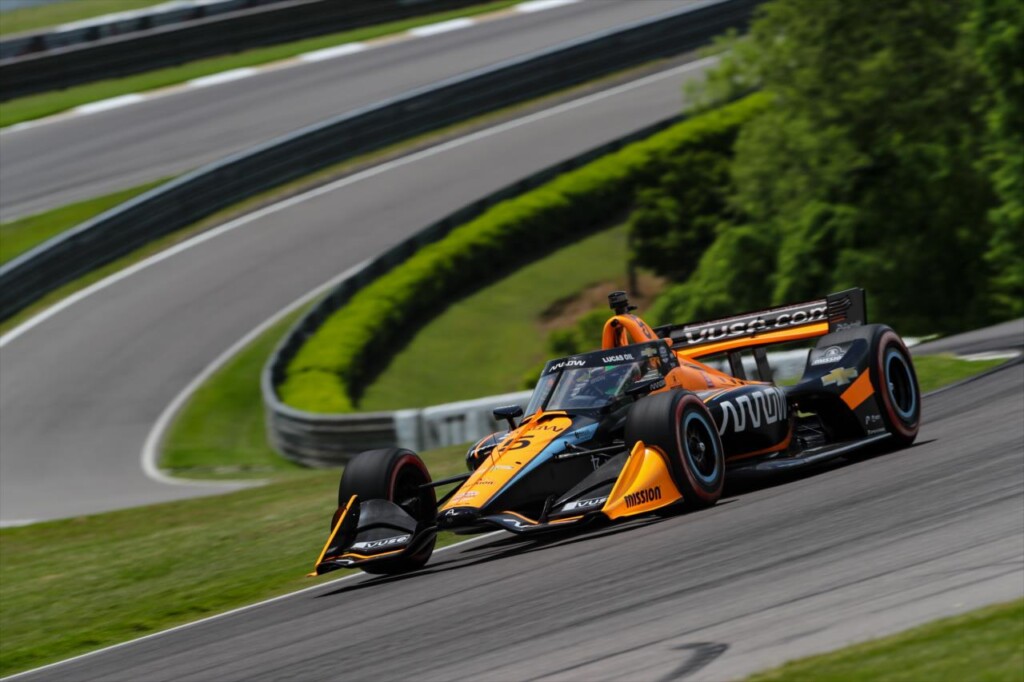 VeeKay speaking to NBC about his feelings towards tomorrow's race said his "confidence is high". The last time VeeKay put his ECR Chevrolet on pole, was at the Indianapolis Road Course in 2020, a race track he won at in 2021 after managing to pass Romain Grosjean, scoring his first IndyCar Series win.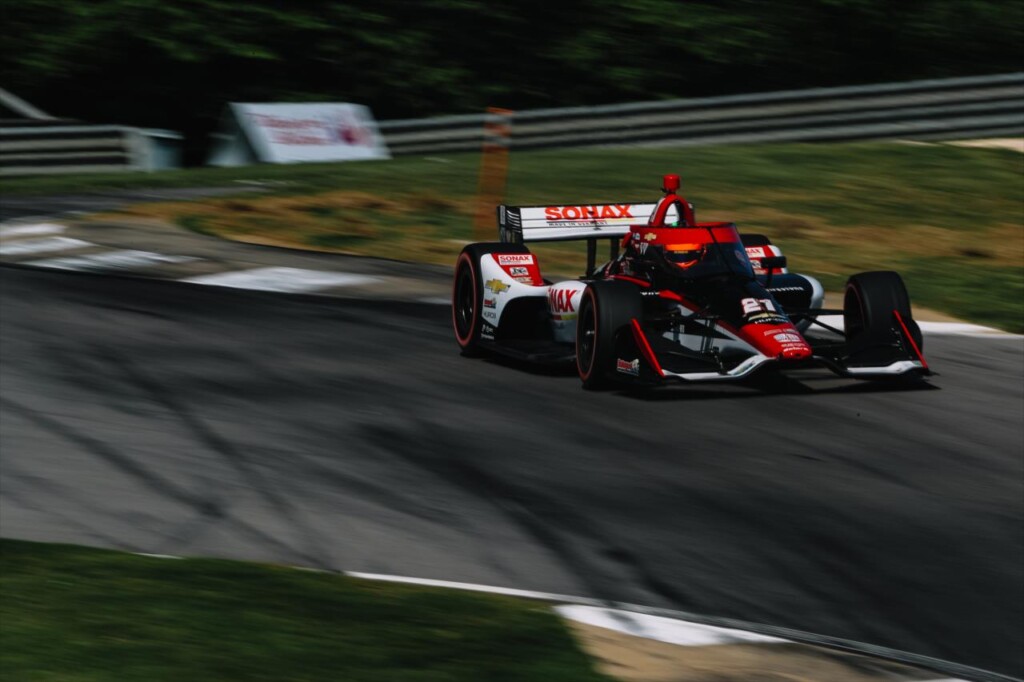 Álex Palou and Scott McLaughlin qualified third and fourth respectively, both of whom were consistently the fastest drivers out of their respective team camps heading into qualifying after two practice sessions.
From a smashed up Andretti Honda in practice only three hours before after overcorrecting and colliding with the turn 17 guard rail, Alexander Rossi made the Firestone fast six and qualified an impressive fifth place. Rossi's car had been pushed hurriedly out of the paddock with him already in the car to even make qualifying. Felix Rosenqvist qualified sixth making McLaren SP the only team to have more than one car in the fast six on a day where Andretti and Ganassi were expected to make up the majority of the field in the session.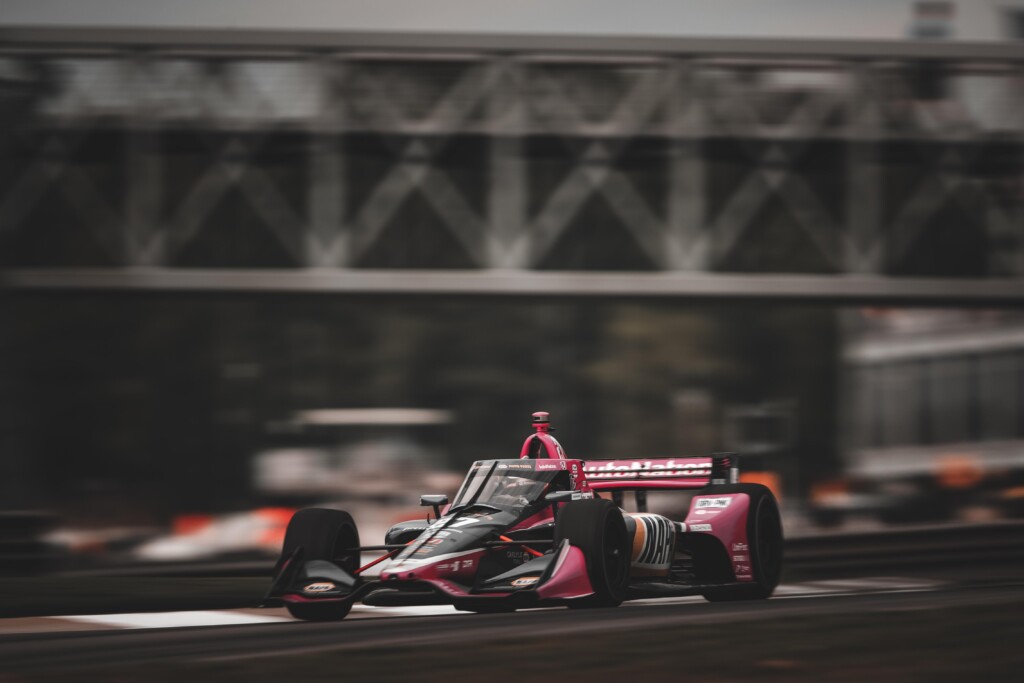 What contributed to the shuffling up of drivers who made up the fast 12 and the fast six, was a series of red flags that ended the earlier qualifying sessions with time to spare, cancelling out any hot laps drivers were currently on. In round one, group two rookie David Malukas brought out the red flag with less than a minute to go after getting loose coming over the hill into turn 15 and instead went off the track and collided with the outside guard rail.
Even more unfortunate was when Marcus Ericsson got beached in the turn nine gravel trap at the very end of the fast 12 session, ending many driver's flying laps. Colton Herta who had been at the top of the board for much of the session until late on, instead had to settle for 10th place after having gone out for his final hot lap later than he expected it. Talking to NBC, Herta said "Ericsson ruined it for us". Ericsson was 9th before being relegated to 12th in the session for bringing out the red flag.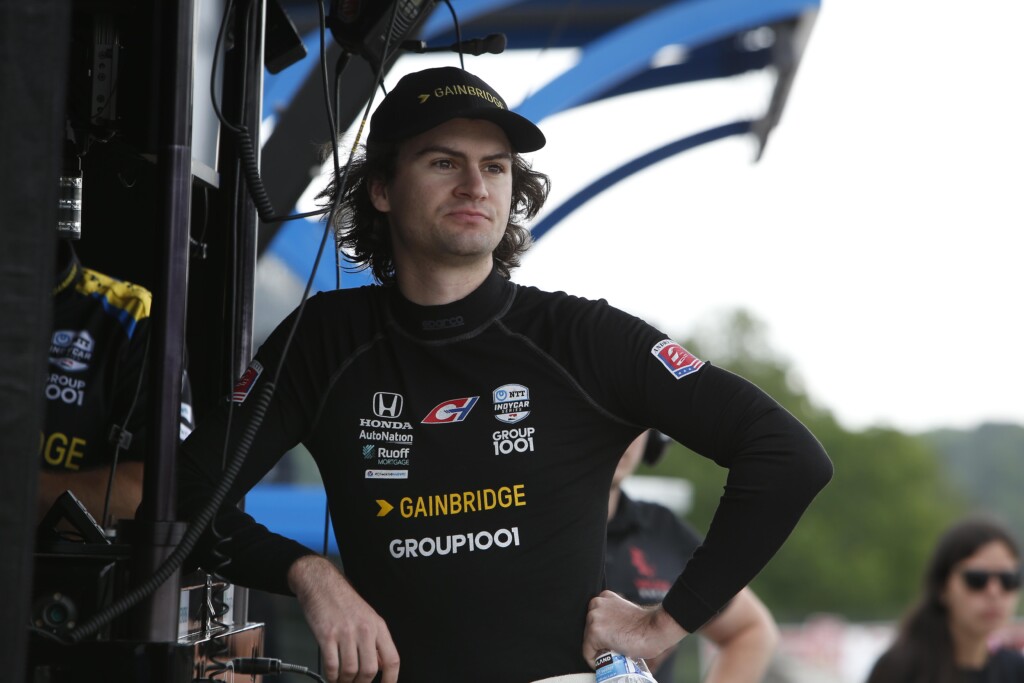 Newgarden and Grosjean faced the same fate, instead qualifying seventh and eighth. Grosjean was expected to be making a run for pole for tomorrow's race and had been hitting the top of the board throughout qualifying, while it was anticipated that Newgarden, the three-time Barber winner, would make the top five.
British rookie Callum Ilott and Juncos Hollinger Racing would have a breakout day qualifying 11th. Ilott had also been on a quicker lap when the red flag came out but said to NBC that he was very happy to have qualified as well as they had.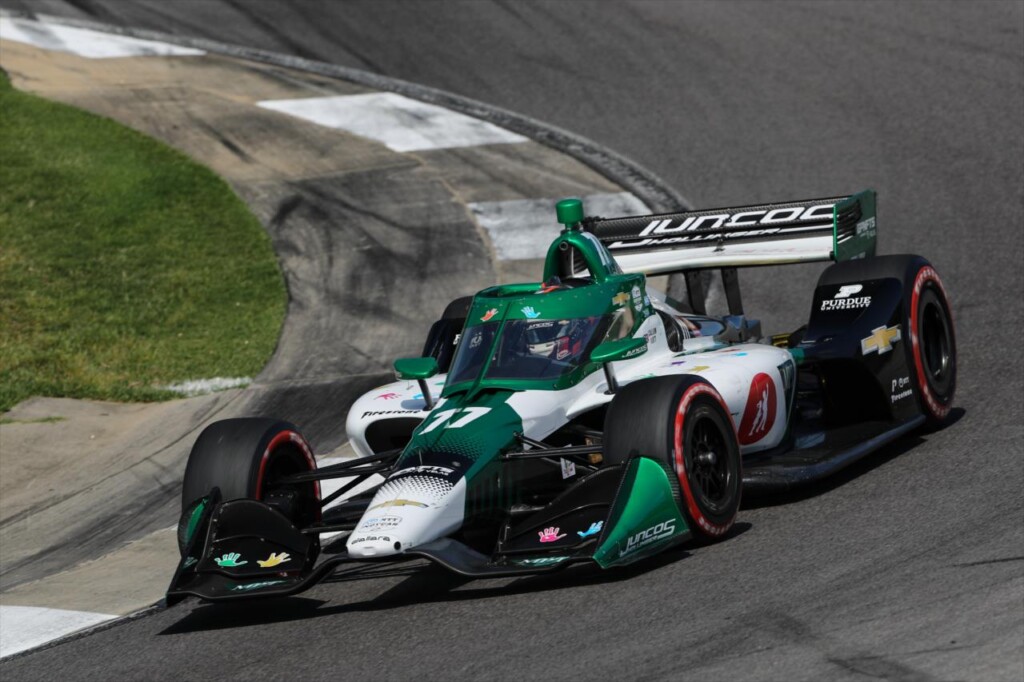 A major upset in round one, group one saw Scott Dixon only manage seventh in the session and Will Power, the four-time Barber pole sitter who was fighting understeer in the car, only manage an 11th place. Dixon and Power will start 13th and 19th for tomorrow's race.
Meyer Shank Racing had a challenging qualifying session. Hélio Castroneves while not making it out of round one, group two, finishing in eighth place, would also go for a spin coming out of turn nine after lighting up the rears on a flying lap at the end of the session, and ended up facing backwards on the inside grass patch. Teammate Simon Pagenaud only managed 12th in the session. Castroneves and Pagenaud will start 16th and 24th respectively.
The full qualifying order: Rinus VeeKay (1st), Pato O'Ward (2nd), Álex Palou (3rd), Scott McLaughlin (4th), Alexander Rossi (5th), Felix Rosenqvist (6th), Josef Newgarden (7th), Romain Grosjean (8th), Graham Rahal (9th), Colton Herta (10th), Callum Ilott (11th), Marcus Ericsson (12th), Scott Dixon (13th), Christian Lundgaard (14th), Jack Harvey (15th), Hélio Castroneves (16th), Takuma Sato (17th), David Malukas (18th), Will Power (19th), Devlin DeFrancesco (20th), Kyle Kirkwood (21st), Conor Daly (22nd), Dalton Kellett (23rd), Simon Pagenaud (24th), Tatiana Calderón (25th), and Jimmie Johnson (26th).
ECR's Rinus Veekay and McLaren SP's Pato O'Ward will lead the field to green at 12:15 Central Time tomorrow for the Honda Indy Grand Prix of Alabama. 
Featured Image: Rinus VeeKay celebrating with the NTT P1 Award (Photo by Joe Skibinski/IndyCar Media)