It was a brilliant return to Sweden for round two of this year's world rally championship, with young Finns Kalle and Jonne taking victory for the Toyota Gazoo WRT. Here's the story as to how they took a third career win at the top level.
Friday
The first day saw 125km's over seven stages and the startlist looked like this – Rovanperä, Breen, Neuville, Greensmith, Katsuta, Evans, Tänak, Fourmaux, Lappi, Solberg.
First stage then, Kroksjö 1, 14.98km and the top three was Ott, Kalle and Oliver and only one second covered the top three. The top Puma crew were Craig and Paul who held seventh and was a little over seven seconds from the lead.
Onwards then to SS2 Kamsjön 1 – 27.81 km and we had a change in the top positions. Esapekka was fastest from Kalle and Oliver and now he was in the lead from Kalle and Oliver. Ott dropped from the lead into fourth place. Two other drivers were also moving up with Elfyn moving into fifth and leapfrogging Thierry and Takamoto jumped into seventh. Unfortunately, Craig suffered a spin and was out.
Into SS3 Sävar 1 – 17.28 km and Kalle took his first stage win from Thierry and Elfyn. This performance was enough to take him into the lead with Thierry moving into second overall. Oliver incredibly remained in third overall after setting the fourth fastest time. Elfyn was also on the move gaining one place into fourth overall, passing Ott. Sadly, Esapekka had dropped from the lead to sixth overall and it was not all down to the stall on the line
After the service break, SS4 Kroksjö 2 – 14.98 km was next up and we had yet another different leader and stage winner, with Elfyn setting the fastest time from Esapekka and Oliver. The Welshman jumped three places into the lead and Kalle fell down to fourth place. It was still very close at the top though, with just 5.2 seconds covering the top five!
Into SS5 Kamsjön 2 – 27.81 km and fastest was Ott from Esapekka and Elfyn. The Welshman continued to lead from Ott who was now in second overall. Oliver was passed and was now down to fourth place. Thierry was also on the move, passing Kalle for fifth place.
SS6 Sävar 2 – 17.28 km was won by Thierry from Kalle and Esapekka and now the Belgian jumped into second place, just six tenths behind Elfyn. Kalle's pace also lifted him up the leaderboard into fourth. There was disaster for Ott though who lost time in the stage with a problem with his hybrid unit and fell down to 28th overall.
The final stage then, SS7 Umeå Sprint – 5.53 km, and Kalle was fastest from Thierry and Takamoto. Elfyn was passed by the Belgian for the lead and fell to third overall behind Kalle as well.
Classification after Day One
| | | | | |
| --- | --- | --- | --- | --- |
| 1 | T. Neuville | M. Wydaeghe | Hyundai i20 N Rally1 | 1:02:31.2 |
| 2 | K. Rovanperä | J. Halttunen | Toyota GR Yaris Rally1 | +4.3 |
| 3 | E. Evans | S. Martin | Toyota GR Yaris Rally1 | +7.4 |
| 4 | E. Lappi | J. Ferm | Toyota GR Yaris Rally1 | +8.8 |
| 5 | O. Solberg | E. Edmondson | Hyundai i20 N Rally1 | +28.1 |
| 6 | T. Katsuta | A. Johnston | Toyota GR Yaris Rally1 | +1:18.9 |
| 7 | A. Fourmaux | A. Coria | Ford Puma Rally1 | +1:32.9 |
| 8 | G. Greensmith | J. Andersson | Ford Puma Rally1 | +1:48.1 |
Let's hear from the drivers
Hyundai Motorsport
Thierry Neuville (1st)
"This has been an important day for the whole team, and a great start to this rally for us. Leading after the first day has certainly put smiles back on our faces after Monte-Carlo. We started well this morning. We had a red flag in the second stage, but we got a new notional time which kept us in our representative position. We made some small set-up changes at lunchtime service but only a few adjustments. I felt comfortable and I was able to drive fast. The car was working perfectly. We managed our tyres well in the afternoon to catch back important seconds and we made it into the lead. The rally is still long, and I am going to keep pushing hard."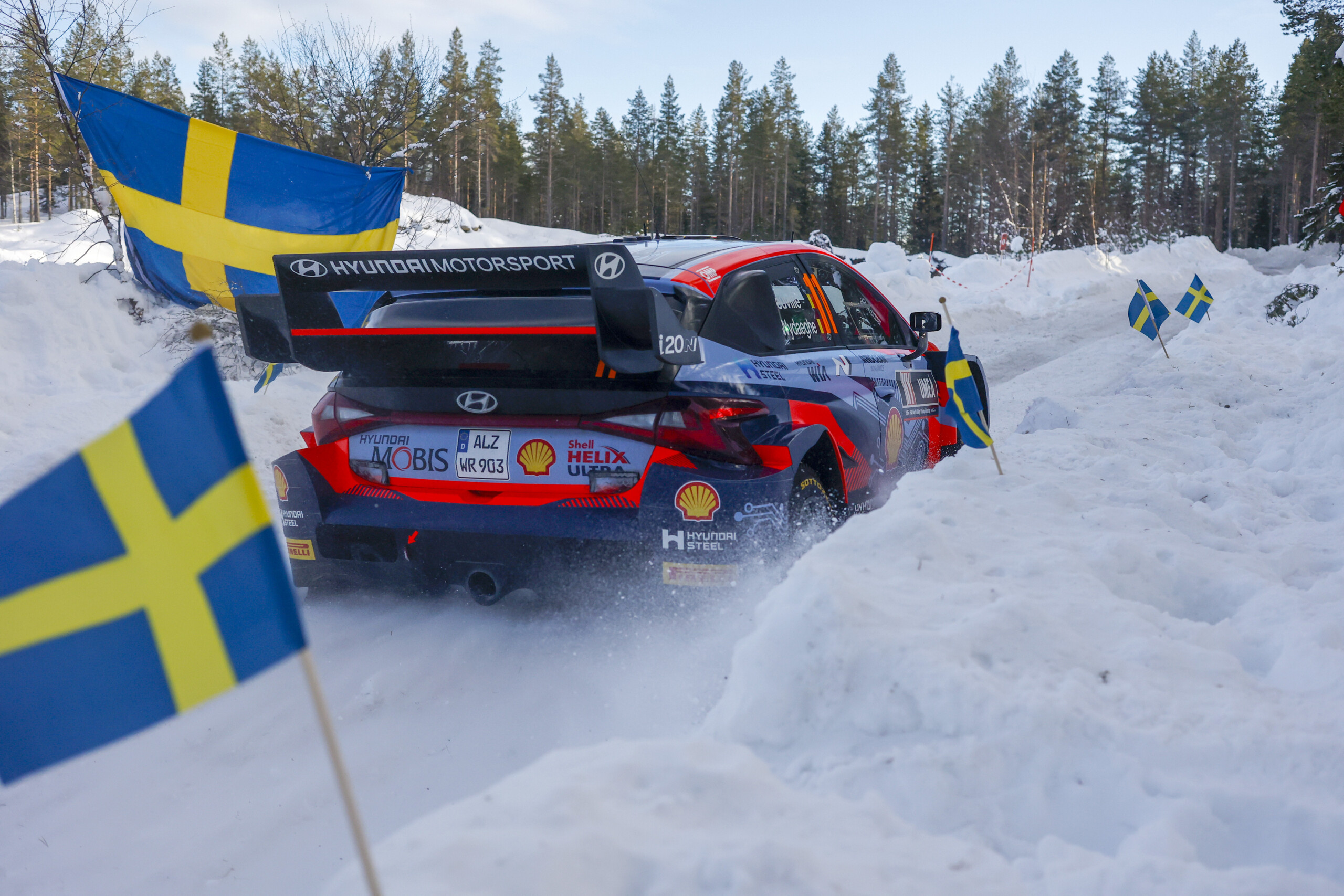 Oliver Solberg (5th)
"At the end of this first day, I am happy. Fifth place is not really what we hoped for, but the pace this morning was good. I know that with consistent and clean speed, I am up there, and that's very encouraging. We just need a bit more experience. I made a mistake with the tyres this afternoon, which was a gamble that didn't pay off. That was a bit annoying, but we have a long weekend still ahead of us. We have to keep pushing. The others today have had times when they are on the limit, so tomorrow will come down to whoever makes the fewest mistakes. The aim for me is the same as today: drive clean, fast and stay smart."
Toyota Gazoo Racing WRT
Kalle Rovanperä (2nd)
"I'm really happy to be in this position tonight. It was a better day than I had been expecting with our road position. The morning loop especially was good: We were right in the fight and the car was working well in those conditions. We expected the second pass to be more difficult and it was. In some places it was really difficult, like in the first stage of the loop with huge ruts. But we managed it quite well with no mistakes and got some time back at the end of the day with some good tyre usage. Tomorrow we'll have the same starting place as our rivals and hopefully we can fight against them and push on."
Elfyn Evans (3rd)
"I'm not completely happy with my day. This morning I didn't quite feel at one with everything and I felt I could have gone a bit better. The afternoon started off pretty well in difficult conditions but we probably took a bit more out of the tyres than I would have liked. We paid a price for that in the final stage, which was slippery with fresh ice and a lot of junctions and the acceleration was difficult. The tyre management on snow is something I've been trying to work on since last year and there's clearly still a bit of work to do. But we're still in a good position for tomorrow."
Esapekka Lappi (4th)
"It's been a good comeback day for me. Not a perfect day, but close to it. It's so nice to be in the battle for the podium, which was the target beforehand, and maybe still fighting for the victory. The gap is less than ten seconds, so anything can happen. It was really nice to get that stage win already this morning; this was giving us some extra boost for the day. I've still been getting comfortable in the car today and trying a few things with the setup: The extra power from the hybrid feels crazy, especially on the smaller roads. But I will be more ready for tomorrow than I was for this morning."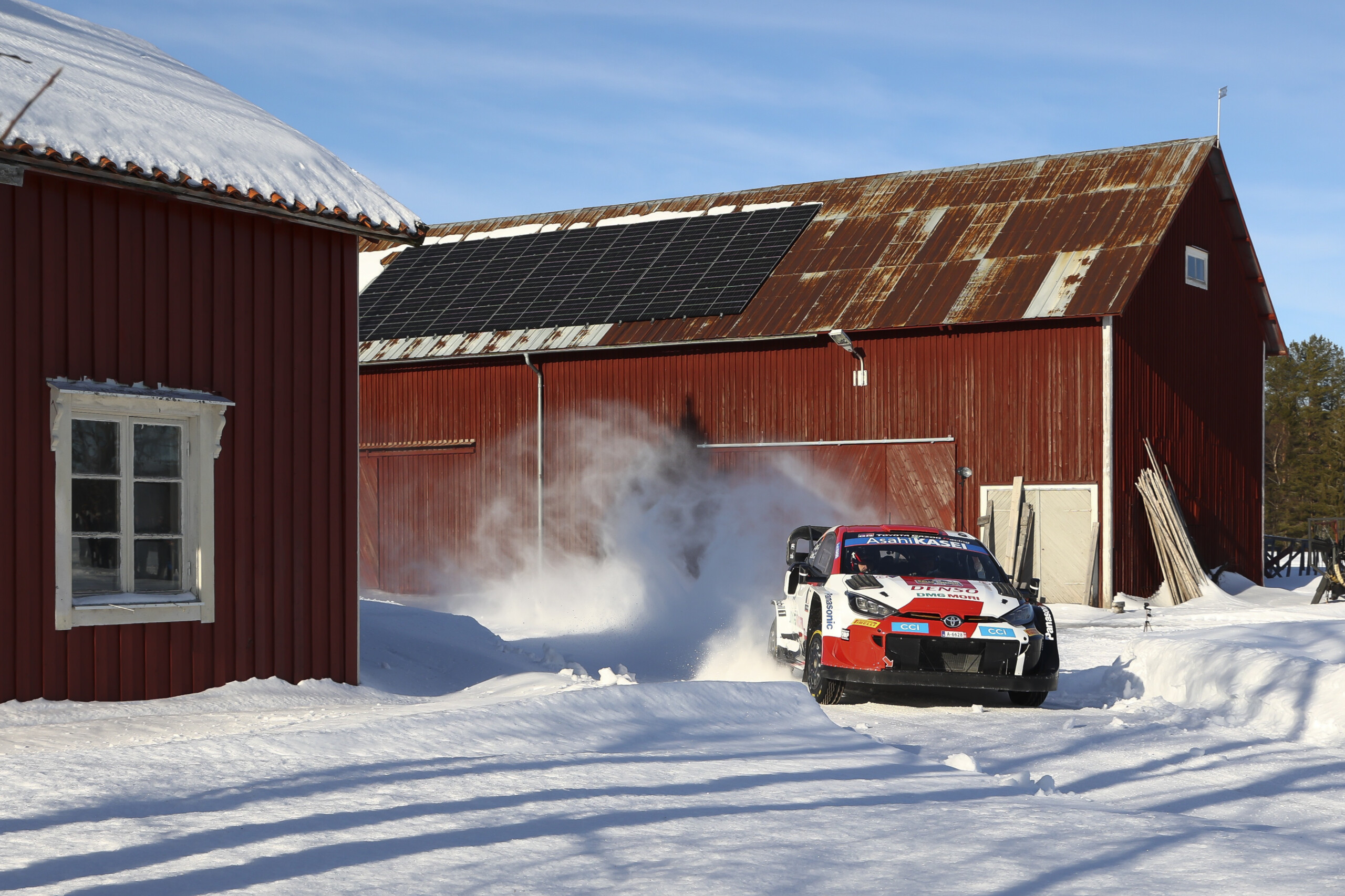 Saturday
With 82km's over six stages on this day, who would be leading at the end of the day? The startlist looked like this – Breen, Tänak, Greensmith, Fourmaux, Katsuta, Solberg, Lappi, Evans, Rovanperä, Neuville.
Welshman, Elfyn was fastest in SS8 Brattby 1 – 10.49 km from Esapekka who had set the early benchmark in this first stage of the, with fellow GR Yaris Rally1 driver Kalle third. Kalle's pace took him past Thierry and into the lead, but just seven tenths of a second ahead of the Belgian. Craig returned to the fight and was the fastest Puma driver as well, really encouraging for the M-Sport Ford team.
The top three of the following stage, SS10 Långed 1 – 19.49 km was Kalle, Ott and Elfyn. Thierry fell behind Elfyn as the Welshman moved up into second place and just four seconds from his teammate who still held the lead.
Craig took a stage win is SS11 Umeå 1 – 11.17 km from Kalle and Ott. Ott and Elfyn set the same time. There was another change in positions with former rally leader Thierry only going tenth fastest and dropping behind Esapekka in the overall standings to fourth. The Belgian duo were now 15 seconds behind Kalle, but remained within a few seconds of the podium positions.
Elfyn took SS12 Brattby 2 – 10.49 km from Thierry and Kalle, thereby reducing the lead that Kalle had to just 1.2 seconds. Thierry moved a little closer to the podium, the Belgian was now just three tenths from Esapekka.
Kalle was fastest in SS14 Långed 2 – 19.49 km from Elfyn and Thierry and extended his lead over his Welsh teammate to 5.7 seconds, whilst Thierry re-passed Esapekka. Adrien was having a good run, holding seventh overall, but his teammate Craig had a mechanical problem and fell down the leaderboard again.
The final stage of the day then, SS15 Umeå 2 – 11.17 km and Kalle was quickest from Elfyn who went off at the final corner and going over the snowbank at the side of the stage, hitting the red board. The car was stuck on the snowbank and Elfyn attempted to reverse back onto the stage, but this did not work. He went forwards instead and knocked a light that was lighting the side of the stage. The Welshman was eventually given a penalty for not following the correct line after the finish line.
Classification after Day Two
| | | | | |
| --- | --- | --- | --- | --- |
| 1 | K. Rovanperä | J. Halttunen | Toyota GR Yaris Rally1 | 1:45:26.7 |
| 2 | E. Evans | S. Martin | Toyota GR Yaris Rally1 | +8.3 |
| 3 | T. Neuville | M. Wydaeghe | Hyundai i20 N Rally1 | +21.7 |
| 4 | E. Lappi | J. Ferm | Toyota GR Yaris Rally1 | +25.9 |
| 5 | T. Katsuta | A. Johnston | Toyota GR Yaris Rally1 | +1:44.8 |
| 6 | G. Greensmith | J. Andersson | Ford Puma Rally1 | +2:48.1 |
| 7 | O. Solberg | E. Edmondson | Hyundai i20 N Rally1 | +5:19.9 |
Let's hear from the drivers.
Toyota Gazoo Racing WRT
Kalle Rovanperä (1st)
"Overall, it was a nice day and we have to be happy tonight to be where we are. The first stage of the loop seemed to be a little bit difficult for us compared to our rivals. But we were able to fight back well in the second stage on both loops. It's good to be leading but the gap is still really small, so we need to keep pushing hard from the start tomorrow morning."
Elfyn Evans (2nd)
"It's been good fun today the car has generally been working well and I have really enjoyed it. It's not been bad from my side, just a few errors here and there. Kalle's done very well, he's had a little edge on some stages and grown his advantage this afternoon. But it's still pretty tight going into tomorrow. We're going to keep trying to do our best and it's not over until it's over."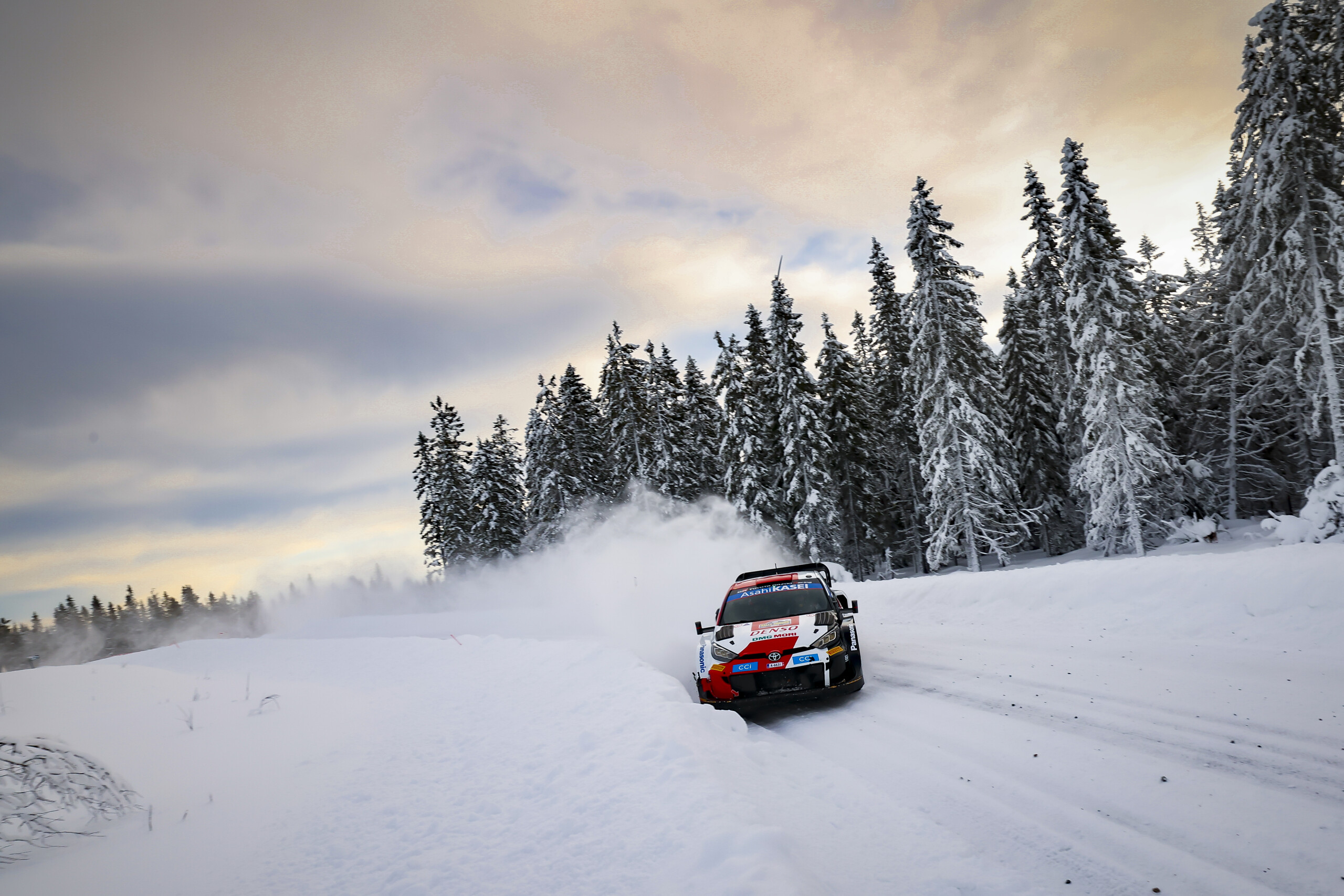 Esapekka Lappi (4th)
"The car has been working well today, the feeling was really good and better than yesterday. We've been consistent, but just losing a little bit of time on each stage to our team-mates. We just seem to be missing a little bit at the moment, but it's just very small details with the car, and maybe I just need more kilometres. We will keep pushing until the end tomorrow."
Hyundai Motorsport
Thierry Neuville (3rd)
"Not an easy day for us today, but we are in third place which I think would be a great achievement for us if we can hang onto that position tomorrow. We had a complicated morning; we were trying our best but the other three were going really quick. It was hard to resist them. We also went wide under braking in the final morning stage, and I had to spin the car round which lost us a couple of seconds. I thought we might have a chance in the dark stages to catch back some time, and we were able to gain back a position. Our main issue this weekend has been under braking, and we still have some work to do on the chassis to gain more confidence in this area. Let's see what's possible tomorrow – if we can finish on the podium, I'll be satisfied."
Oliver Solberg (5th)
"It is difficult to say exactly what happened. It seems we had a throttle issue after the long stage this afternoon; certainly, the car was not moving forward! Elliott and I, with quick communications from the team, tried to repair it. We were at least able to make it to the end of the day, which was the most important thing. This morning, things were not clicking, neither with the car nor with myself. We changed some stuff, and the car was behaving more consistently. I could push again, which was nice, back a little to the rhythm from yesterday. I couldn't take huge risks, but the times were good. We go again tomorrow."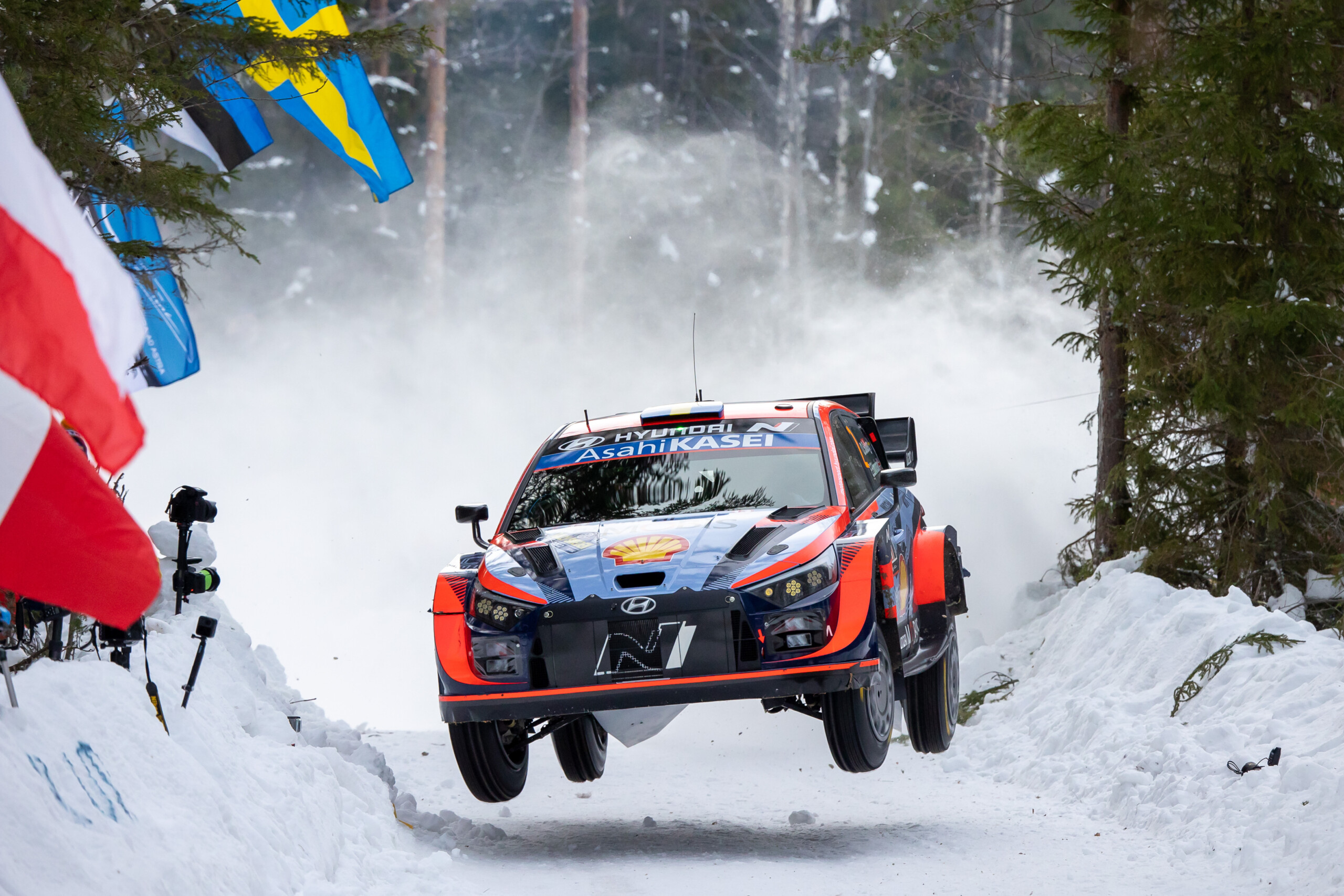 Ott Tänak (28th)
"We had nice conditions in the morning, the first stage was more snowy and the second one more icy and technical. We had to come back under re-start regulations, so we just had to do our job and have some fun. The pace didn't really matter much, as we are not competing for anything meaningful. The second loop was tricky – harder work than in the gym. Tomorrow's stages are generally fast, with straights and high-speed corners. It will be special."
Sunday
The final day then and as usual the shortest day with 5km over 4 stages. The startlist looked like this – Breen, Tänak, Solberg, Greensmith, Katsuta, Lappi, Neuville, Evans, Rovanperä.
SS16 Vindeln 1 – 14.19 km was first up and it led to disaster for Elfyn who had a spin in the stage, clipping a snow bank and his bonnet opened onto the windscreen. In the M-Sport Ford camp Adrien pulled out before even starting the stage with a mechanical problem. Kalle was fastest in the stage from Thierry and Oliver and with the exit of Elfyn, Thierry and Esapekka both moved up into second and third places respectively.
The first run through SS17 Sarsjöliden 1 – 14.23 km which would be the rally ending powerstage saw Ott go fastest from Oliver and Esapekka, whilst Craig remained quick with the fourth best time. Takamoto had a moment with a stall in the stage, but remained in fourth overall.
Into the penultimate stage then, SS18 Vindeln 2 – 14.19 km and Thierry was fastest from Esapekka and Kalle. The younger Finns were still firmly in the lead, a full 21.6 seconds ahead of the Belgians in their i20 Rally1.
The final stage then, SS19 Sarsjöliden 2 [Power Stage] – 14.23 km and the top five was Ott, Kalle, Thierry, Takamoto and Craig. Kalle had taken his third career victory at the top level and had moved into the championship lead as well. What a simply amazing drive from him and Jonne.
Final Overall Classification –Rally Sweden
| | | | | |
| --- | --- | --- | --- | --- |
| 1 | K. Rovanperä | J. Halttunen | Toyota GR Yaris Rally1 | 2:10:44.9 |
| 2 | T. Neuville | M. Wydaeghe | Hyundai i20 N Rally1 | +22.0 |
| 3 | E. Lappi | J. Ferm | Toyota GR Yaris Rally1 | +30.6 |
| 4 | T. Katsuta | A. Johnston | Toyota GR Yaris Rally1 | +2:19.4 |
| 5 | G. Greensmith | J. Andersson | Ford Puma Rally1 | +3:20.4 |
| 6 | O. Solberg | E. Edmondson | Hyundai i20 N Rally1 | +5:39.4 |
| 7 | A. Mikkelsen | T. Eriksen | Škoda Fabia Evo | +7:11.1 |
| 8 | O. C. Veiby | S. Skærmoen | Volkswagen Polo GTI | +7:34.3 |
| 9 | J. Huttunen | M. Lukka | Ford Fiesta MkII | +8:14.2 |
| 10 | E. Kaur | K. Aleksandrov | Volkswagen Polo GTI | +8:24.8 |
Toyota Gazoo Racing WRT
Kalle Rovanperä (1st)
"It feels very good to win here in Sweden. It was a really nice fight the whole weekend. After being the first car on the road on Friday, this is a really good result. It was a bit of a pity that Elfyn went out this morning because it was a great fight, but otherwise it's a very good result for the team. I struggled a bit in the first rally with this car in Monte Carlo, but now I felt much more confident over the whole weekend with the car. Big thanks to the team because it has been a big job for them to make the car better all the time and make me comfortable."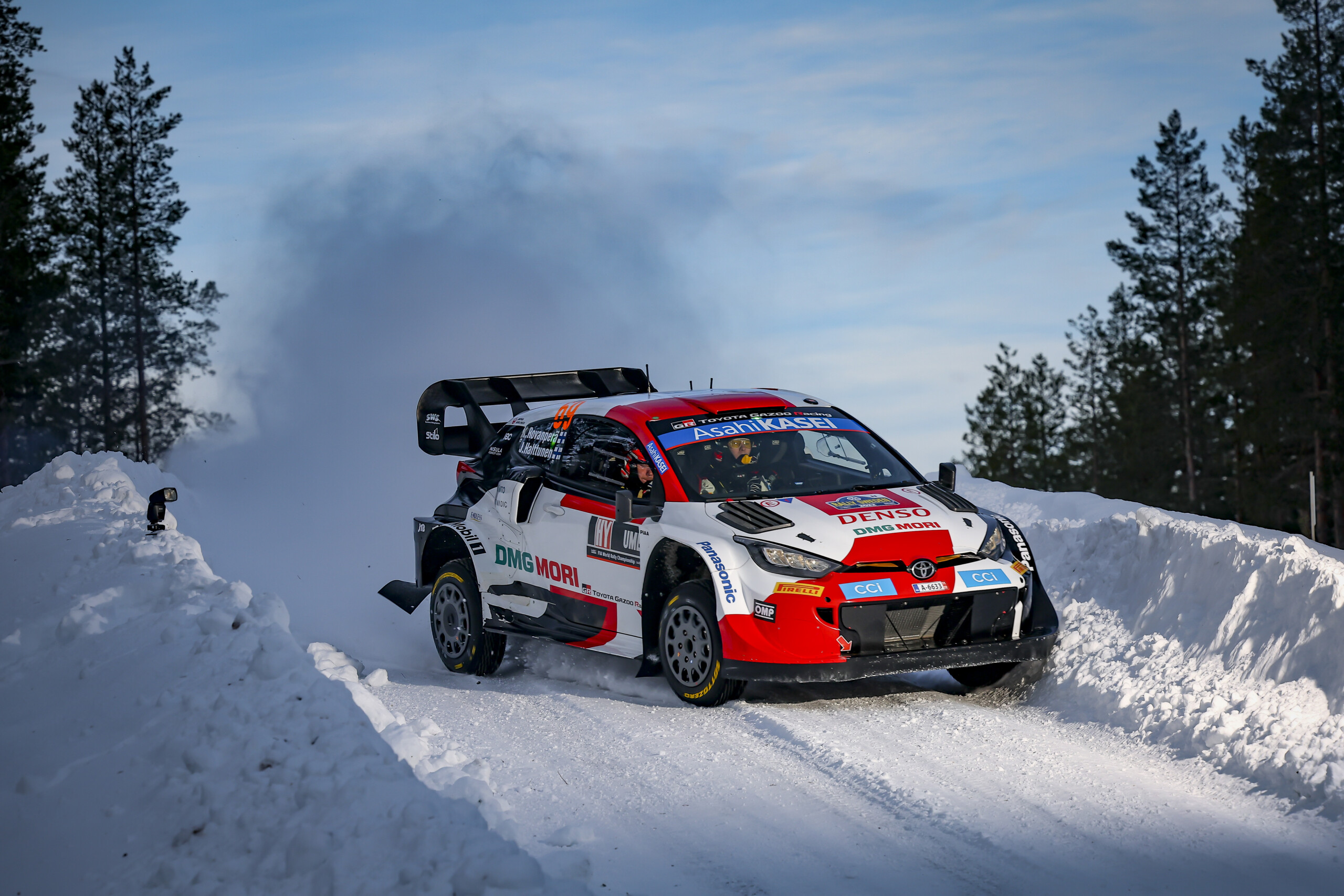 Esapekka Lappi (3rd)
"It's great to be back and to be back on the podium. That was my target before the weekend but I knew it would be tough. But we managed it and I'm so happy. I'm so proud of myself, of Janne and of the whole team. We didn't have any issues on my car the whole weekend. I couldn't get second place without taking more risks. It cannot have started better than this. To expect more would have been ridiculous. We had a long break; our last rally was in October last year so this is a top result."
Takamoto Katsuta (4th)
"To finish the rally in fourth place is very good. In the beginning of the weekend, I was struggling a lot, but by the end I was very comfortable in the car and I was enjoying it a lot on the stages. Thank you so much to the team, because they changed a lot of things during each service and the feeling in the car was perfect at the end of the weekend. From Saturday onwards especially, I felt so comfortable in the car. In the Power Stage I tried a big push to get some extra points for the team and took two points, which was good even though there was room to improve. But the most important thing is that we finished the rally. Thanks to Aaron as well: He did a really good job during the weekend."
Elfyn Evans (DNF)
"It was a huge disappointment for me to end the rally this way. Everything was going OK in the first stage but on a long left-hander I lost the rear-end of the car and unfortunately, I wasn't able to catch it, so we had quite a high-speed spin. After making some repairs we managed to get going again but unfortunately, we had to stop for hybrid-related reasons. I'm sorry for the team because they've obviously built a very fast car but so far, I haven't been able to bring back the results they deserve. It's not nice to go into this break on a bad note but we'll focus on the next round and on being the best we can there."
Hyundai Motorsport
Thierry Neuville (2nd)
"It's a great feeling to take a podium here in Sweden, our first in the new hybrid era. It's a bit unexpected after what we saw in Rallye Monte-Carlo, but the team has done a good job. My thanks go to everyone at the factory in Germany for pushing hard. We could already see in shakedown that the speed was not too bad, and it was a surprise to be leading the rally on Friday evening. After that, it was a bit more difficult to find the right set-up, but we had enough pace to keep our focus on the podium – and eventually secure second place. We now have one-and-a-half-months to prepare ourselves and the car for Croatia. These weeks will be very important, and there's a lot of work to be done, but after this result we can look ahead to the upcoming events with more positivity."
Oliver Solberg (6th)
"The Power Stage was not the perfect end to the rally that we were hoping for. I made a few mistakes, and was a bit careful in other places, so it was not a clean run. Still, I have enjoyed this weekend very much. It has been great to be competing at home in a WRC car for the first time, you really can't get better than that. The car has been working well all weekend and the team has done an amazing job, so thanks to them. It's not the result we wanted after some bad luck with the car but that's how it is. We need to work hard with a big smile on our faces because the speed is there. We just need to improve our performance more to get to the top, but I have no doubt we will get there."
Ott Tänak (20th)
"There are not really many positives for us to take away from this rally. Overall, it has been a frustrating and disappointing weekend. On the plus side, we showed that we had the pace to be competitive. The downside is that we weren't able to score many points. We were lucky to take some points away from the Power Stage, but they are few compared to what we should be scoring. I can't really stress too much about the situation because there's little I could have done differently from my side. The team has been working hard and the podium for Thierry offers a bit of pay back. I've said before that the potential of the car is there, it just needs work to get where we want to be."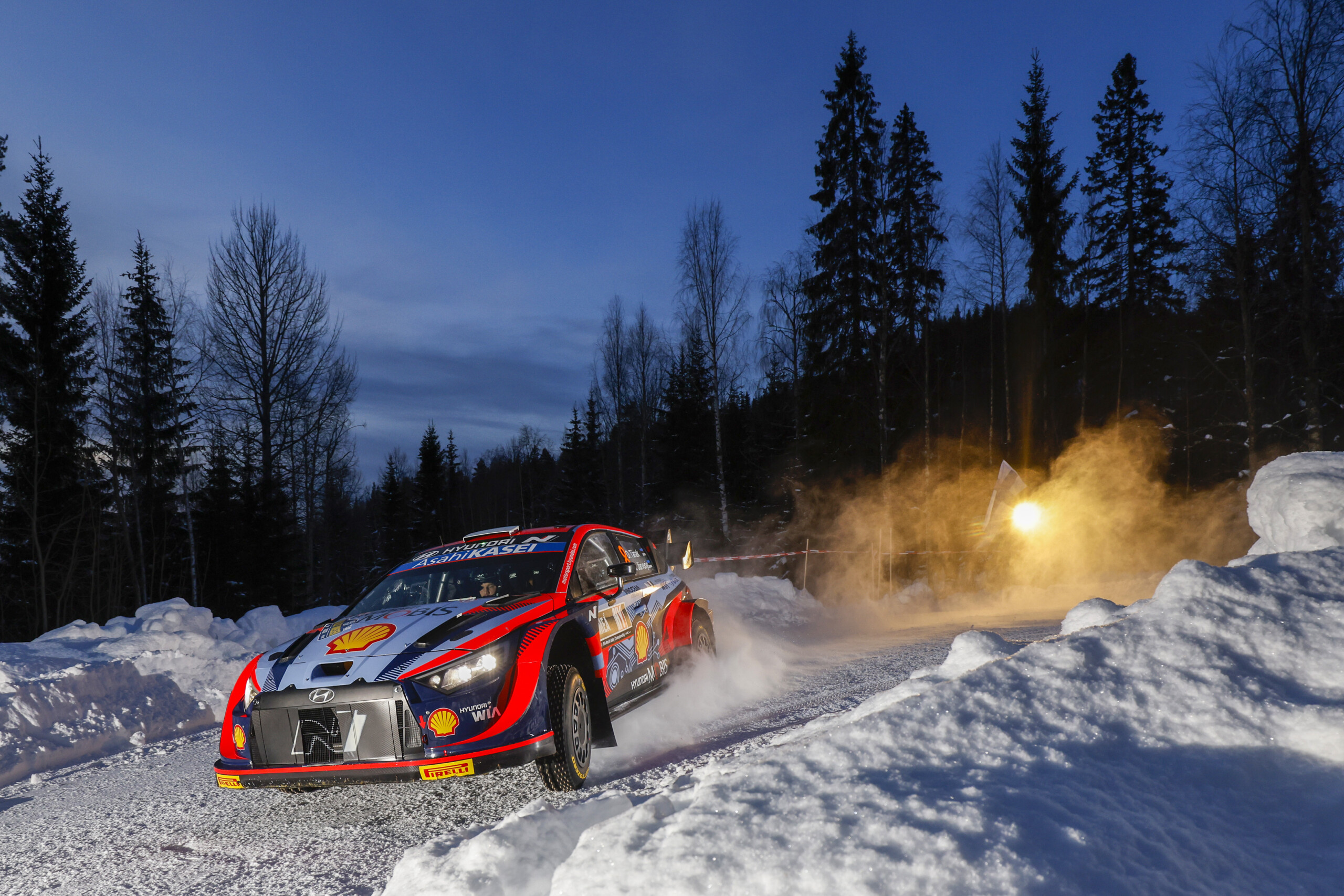 M-Sport Ford WRT
Gus Greensmith (5th)
"I didn't have a great start to the weekend, I wasn't very happy with how Friday went because we lost a lot of time, either through my mistakes or problems with the car, which kind of took us out of the fight a little. At that point then, it was just a bit of a reset and taking it step-by-step, and through some other people's mistakes and misfortune we picked up some good positions. Two fifths in a row puts us fourth in the championship and a de-facto third, if you take Mr Loeb out of the equation, so I'd say that's pretty good."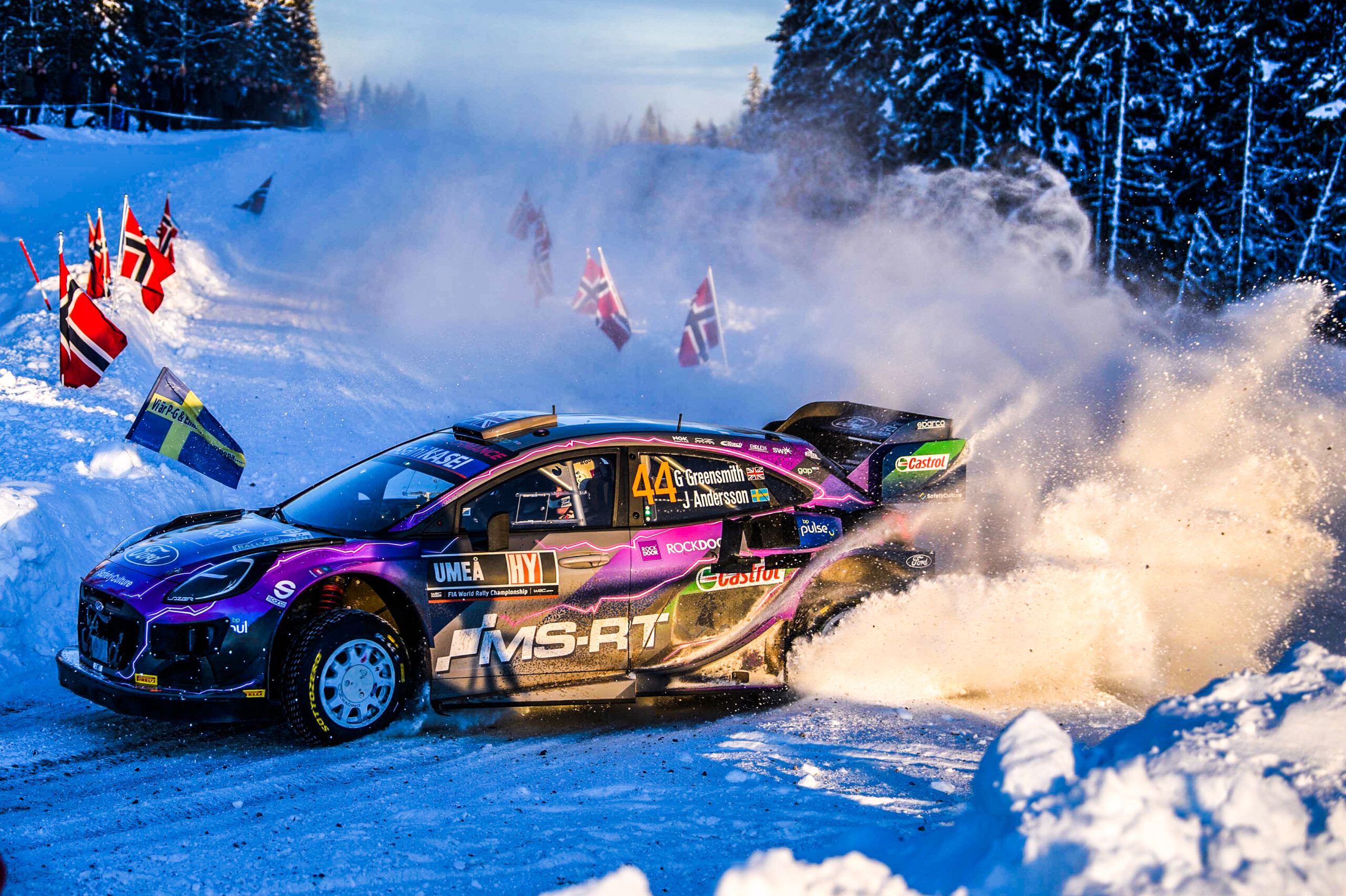 Craig Breen (36th)
"A relatively disappointing weekend for us in Sweden, after the great result in Monte we were looking to build on it again and get some more good points for the championship. Unfortunately, the error we made on Friday put out any hopes of getting a good result, but nonetheless we improved as the weekend went on; we had a stage win on Saturday which is great, our first stage win in the team.
"We definitely have a lot of things where we can improve for the upcoming events. We're looking forward to getting our heads down and getting focused on Croatia, which is coming up very soon."
Adrien Fourmaux (DNF)
"It has been a nice weekend for me to get my confidence back after Monte, and I've enjoyed my time on the snow. This was my first snow event in a WRC car, and I can be happy with my pace and gathering that experience. At the end of the first day, we were in 7th position, so I was really happy with that, and unfortunately on Saturday we had to retire before the last stage due to an engine issue."
Jari Huttunen, WRC2 Driver (9th)
"The first part of the weekend was tricky but today it went well, and I felt I didn't make as many mistakes. I am happy with the result, getting a podium was our target so it's good. I think I have some work to do on my driving, and maybe a few things with the car, as we look to get even better results. We still have a lot of work to do, so let's see."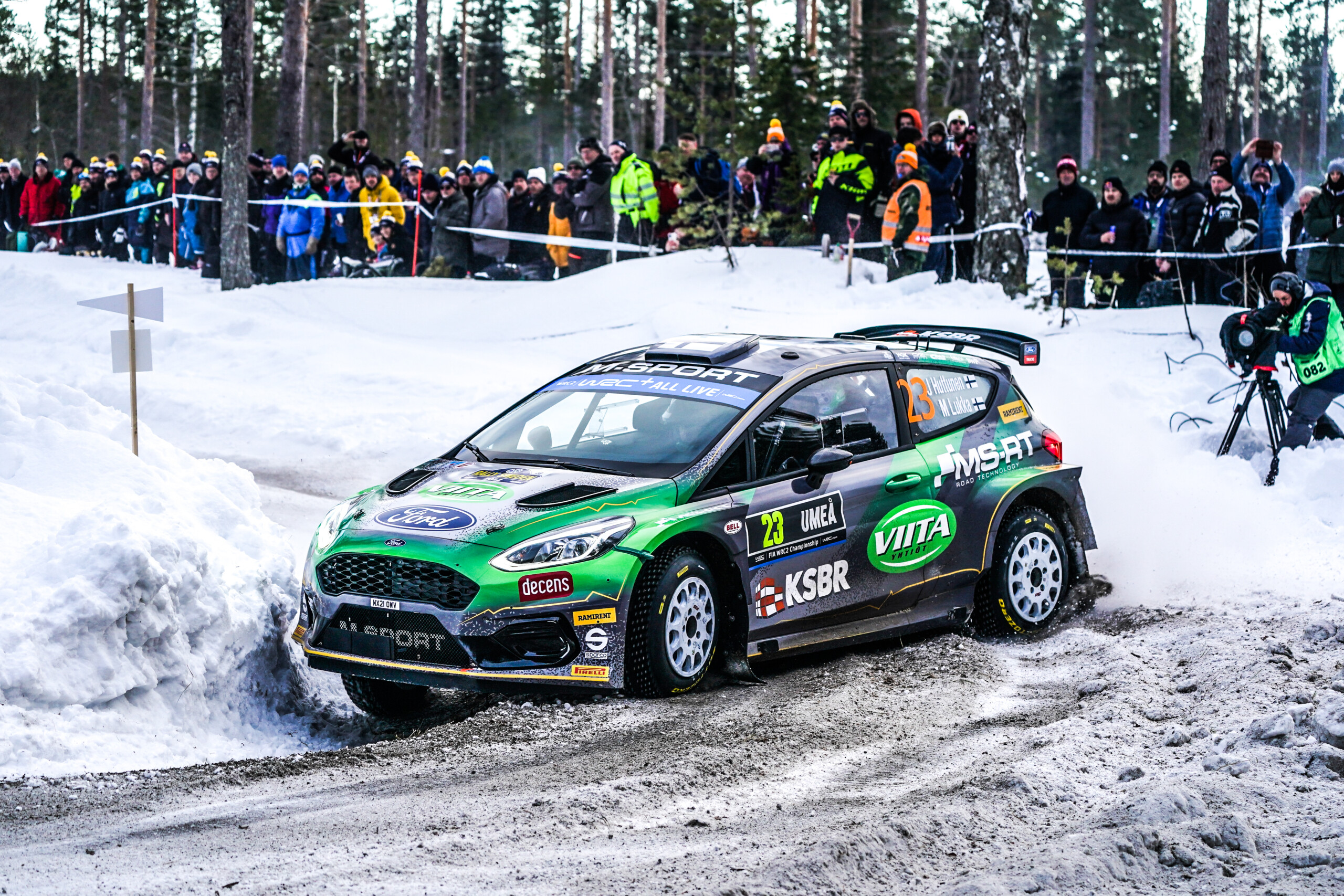 2022 FIA World Rally Championship for Drivers' Standings
After Round Two
| | | |
| --- | --- | --- |
| 1 | K. Rovanperä | 46 |
| 2 | T. Neuville | 32 |
| 3 | S. Loeb | 27 |
| 4 | G. Greensmith | 20 |
| 5 | S. Ogier | 19 |
| 6 | T. Katsuta | 18 |
| 7 | C. Breen | 16 |
| 8 | E. Lappi | 15 |
| 9 | A. Mikkelsen | 12 |
| 10 | O. Solberg | 8 |
| 11 | O. Tänak | 5 |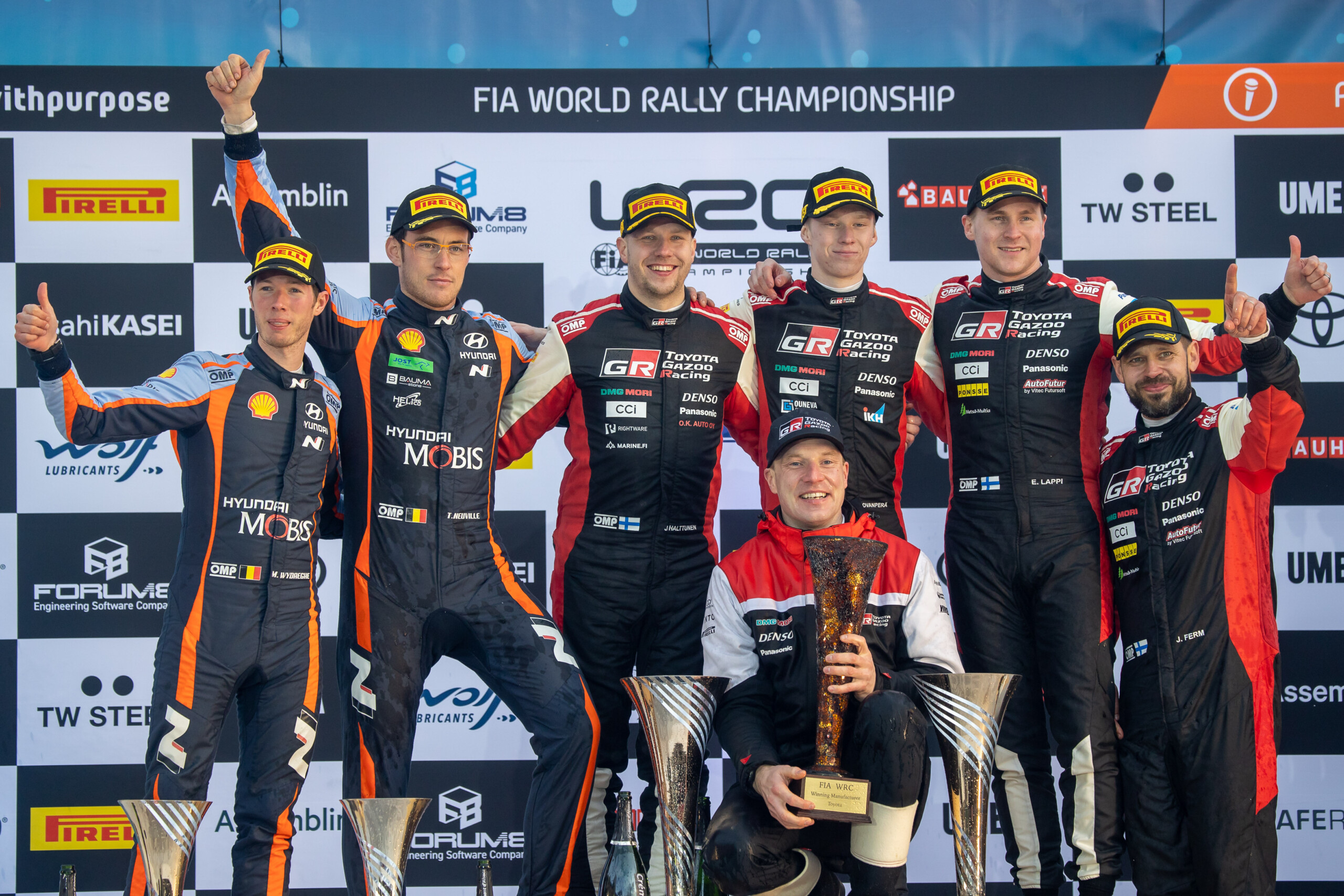 2022 FIA World Rally Championship for Manufacturers' Standings
After Round Two
| | | |
| --- | --- | --- |
| 1 | Toyota Gazoo Racing World Rally Team | 83 |
| 2 | M-Sport Ford World Rally Team | 59 |
| 3 | Hyundai Shell Mobis World Rally Team | 47 |
| 4 | Toyota Gazoo Racing World Rally Team NG | 22 |
Next up is Rally Croatia at the end of April!