Celestino Vietti led every lap on his way to winning the Qatar GP. He was joined on the podium by Aron Canet in second and Sam Lowes, who was able to snatch third place after drama on the last lap.
The first race of the season gave Celestino Vietti his first Moto2 win – and it was a very comfortable and enjoyable win for him too! After starting on pole, Vietti flew off the line, quickly put clean air between him and the rest of the field, and then went on to lead every lap.
Vietti took the chequered flag more than 6 seconds ahead of his nearest rival, Aron Canet. The Flexbox HP40 rider also enjoyed a strong start to the race – he climbed from ninth to second in only three laps. Once finding himself in second place, he faced no real challenge from the rest of the grid and took a comfortable podium finish.
Ai Ogura and Augusto Fernandez also enjoyed a positive start to their races. They each gained a place and got themselves up to fourth and fifth respectively.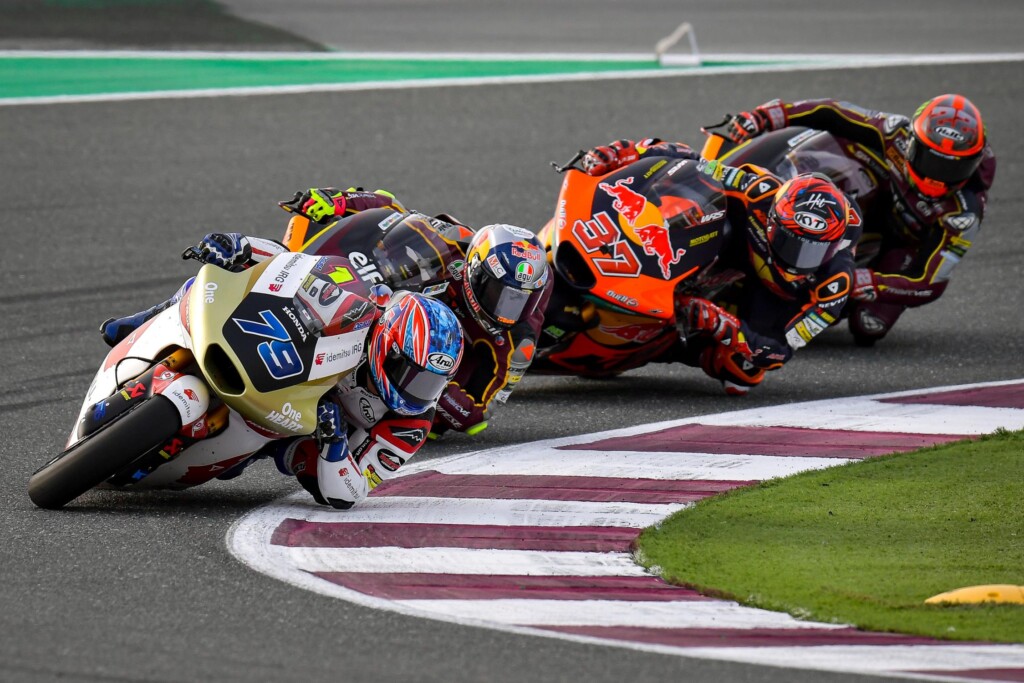 On the first lap, Jake Dixon and Pedro Acosta both went too hot into the first corner, forcing them to sit up on the bike and go wide. This caused Dixon to fall back from seventh to 16th and Acosta to fall back from tenth to 21st. Having already crash the previous day in qualifying, this added to Acosta's weekend woes.
Sam Lowes also faced a challenging start, dropping back from second to eighth. He quickly overtook Joe Roberts for seventh and was then gifted sixth place when Filip Salac crashed on lap three.
Having enjoyed a hugely impressive qualifying performance and starting the race as the top rookie in fourth, Salac was clearly disappointed to end have his race prematurely. He had a big highside at turn five which left him in the gravel looking a little shaken. Thankfully, he walked away unscathed but that corner has taken a number of victims this weekend, including Somkiat Chantra who broke a bone during a qualifying crash there.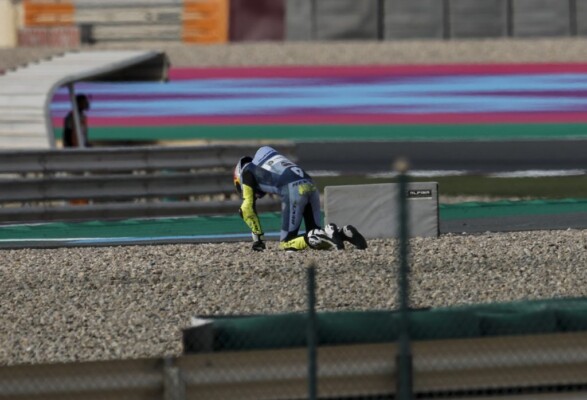 After this, Lowes now found himself behind his Elf Marc VDS teammate Tony Arbolino as well as Fernandez and Ogura – this quartet spent most of the remaining 18 laps jostling for the final podium position. This fighting helped Vietti and Canet to break away from the pack with such ease.
Two mistakes in the middle of the race saw Arbolino drop outside of the third place battle. Lowes quickly took Fernandez and Ogura within one lap of each other, with Ogura swiftly taking back third place honours. These battles allowed Arbolino to reduce the gap and rejoin the fight.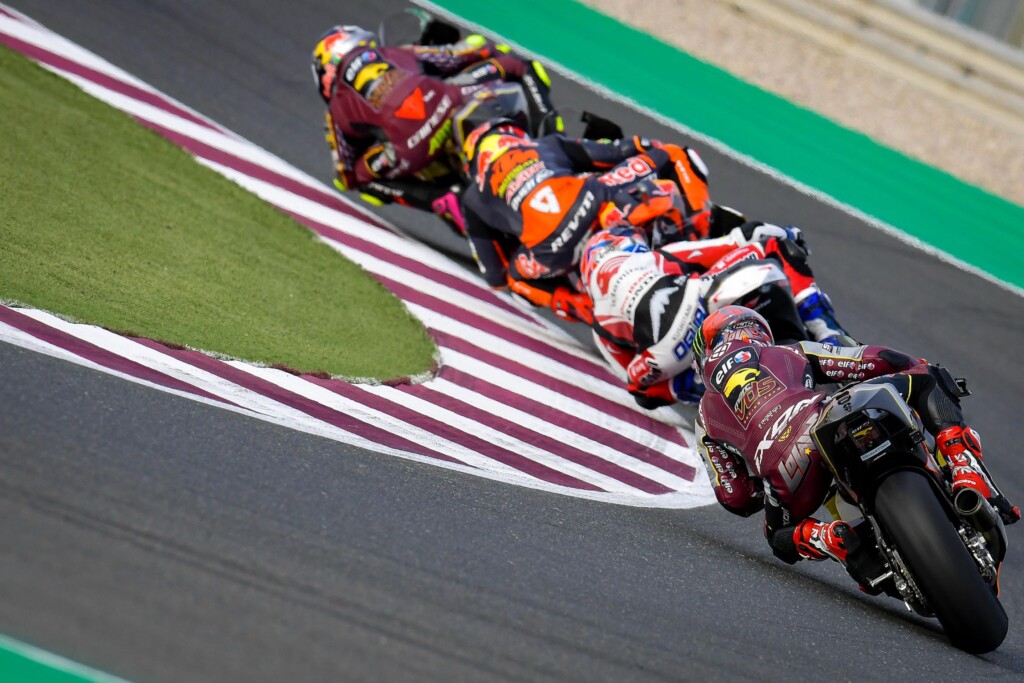 With only two laps to go, Fernandez made a very late move for fourth, throwing his bike up the inside of Lowes. He was then chasing down Ogura and made yet another late lunge. However, as Ogura fought back, he hit Fernandez, sliding in to him and sending himself wide.
Lowes capitalised on this drama to easily snatch third place from the pair of them. Fernandez managed to keep hold of fourth, narrowly missing out on his first podium with the KTM team. Arbolino crossed the line in fifth as Ogura dropped back to sixth.
Eighth and ninth were taken by the American pairing of Roberts and Cameron Beaubier. Marcel Schrotter, who is still recovering from a broken hand that was inflicted during the pre-season test, rounded out the top ten. He took that position on the line, narrowly beating Dixon who managed to recover from his terrible start to finish in 11th.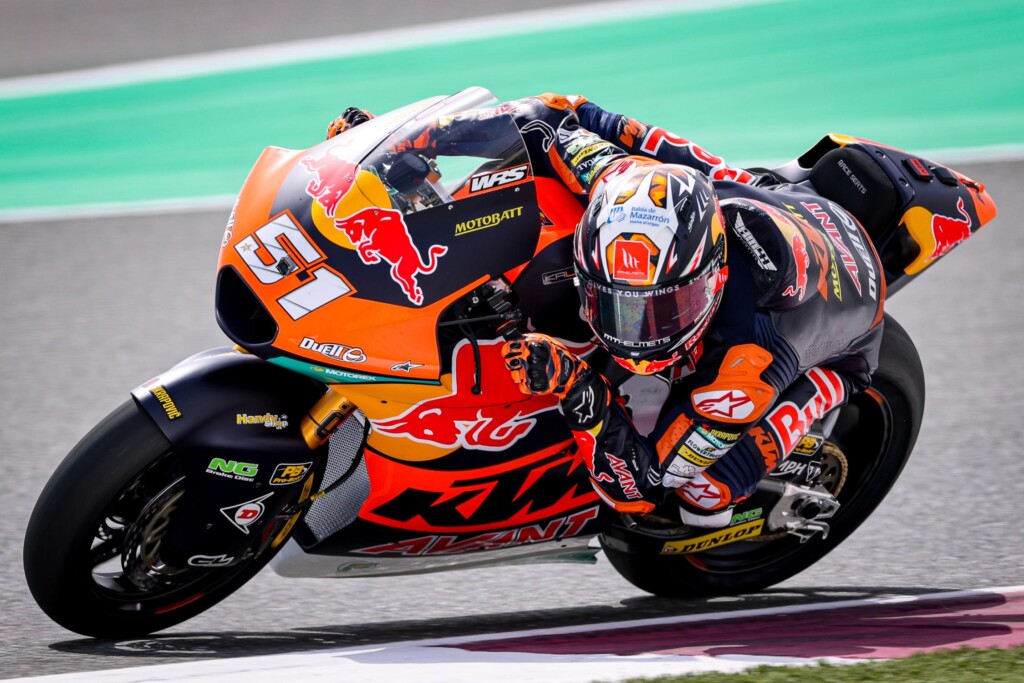 Acosta, who was also recovering from his terrible start, fought back to finish in 12th. The final points scoring positions were filled by Albert Arena in 13th, Jeremy Alcoba in 14th and Romano Fenati in 15th.
Joining Salac in the group of non-finishers were Lorenzo Dalla Porta and Barry Baltus who, before retiring, enjoyed a phenomenal save – he managed to stay on the bike as it slid from under him by pushing himself back up with his hand.
After such a dominant performance, all eyes are firmly on Vietti and the wider VR46 Racing Team, who also enjoyed success in Moto3 just hours earlier. After struggling with injury throughout the official test, Lowes will be pleased to be back on the podium. However, after showing such sensational pace in testing, it's fair to say that many were expecting more from Acosta this weekend. He will surely be keen to fight back as the grid return to action on the 18th to the 20th of March in Indonesia.
Feature Image Credit: MotoGP