The first race of the 2022 season was entirely dominated by Celestino Vietti on the VR46 Racing machine, there have been plenty of talking points. Below are a few key thoughts from the riders.
The start of a new season is always rife with speculation, anticipation and excitement. Thankfully, the first race lived up to that with some dominant performances from those on the podium and mixed fortunes for others further back in down the grid.
You can read our full race report here. Below are some key thoughts from the riders as they reflect on the weekend's actions. The grid will be back in action on the 18th to the 20th of March in Indonesia.
P1 = Celestino Vietti, Mooney VR46 Racing Team
Vietti cruised to a maiden Moto2 win, having secured pole the previous day. He led every lap and came home more than six seconds ahead of his competitors.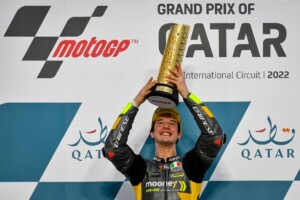 "It was very unexpected because [during qualifying] we were fast, but we didn't have this race pace. We didn't plan on doing a race like this, but during [Sunday] morning we made some adjustments to better manage the tire and assure a better consistency. The bike worked well and the team did a good job, so this result is for them.

We have to remain calm and continue to work in this way. It is a good way to start the year, but we know that we have very good rivals and it will certainly be a difficult year. We're going to have to fight hard, so we have to stay focused and work well."
---
P3 = Sam Lowes, Elf Marc VDS Racing Team
Lowes was plagued with tendonitis during pre-season testing, which saw him missing out on a lot of track time. However, he enjoyed a race-long battle with Ogura, Fernandez and teammate Arbolino on his way to a podium finish. After winning both races in Qatar in 2021, he will have been keen to start 2022 in an equally positive way.
Image Credit: MotoGP

"It's been a difficult couple of weeks. But we had a good qualifying [on Saturday] and a podium [on Sunday]! The race was difficult. There were a couple of guys that were stronger than me, but it was a nice battle even though I couldn't ride how I wanted to ride. So, to get some points on the board is good and to get the podium at the end is fantastic."

---
P4 = Augusto Fernandez, Red Bull KTM Ajo
Fernandez spent much of his race, like Lowes, battling for the final podium place, which he was on track to secure before Ogura knocked in him a few laps from the end. He will have, undoubtedly, been disappointed to miss out on his first podium with the KTM team.
Image Credit: MotoGP

"We end the weekend with a bittersweet taste in our mouths. However, we must be happy to have finished, since, after the setback on the last lap, it could have been worse. Besides this, I'm satisfied with how I felt on the bike. During the weekend we showed that we had the pace to be up at the front and we gave our all to win the battle in the chasing group. Finally, the podium got away from us due to that incident, but we were lucky enough to be able to cross the finish line."

---
P11 = Jake Dixon, GASGAS Aspar Team
Dixon had a fairly solid day on Saturday, qualifying in seventh, but an issue on the first corner of the first lap sent him tumbling down the order. This forced him to spend much of the race recovering and trying to salvage as many points as possible.
Image Credit: MotoGP

"Turn 1 and 2 was a disaster! Being that far back – outside the top twenty – on the first lap meant it was so hard to try and come back. I had to pass 10 or 11 riders and it took a long time. I think I lost ten seconds and if you take that away from the final race time then we would have been battling for the podium. So, we had the pace but the first lap held me back. It's a long season and this is just the start."

---
P12 = Pedro Acosta, Red Bull KTM Ajo
After laying down the gauntlet in pre-season testing, Acosta crashed out of his first Moto2 qualifying and started the race in tenth. He then faced a similar issue to Dixon after a first corner incident sent him backwards early in the race. Many will have been expecting to see more from the young prodigy during his first Moto2 outing.
Image Credit: MotoGP

"Today we accumulated kilometres and very important experience. The important thing is that we had a very consistent race and that our pace was enough to be fighting with the riders in front. The start of the contest didn't go as expected, but this can happen in your first Grand Prix in a class."
Feature Image Credit: MotoGP