Liam Lawson, the New Zealander from Hastings – no the 1066 location – this year has been racing on two fronts. He has been racing in the F2 Championship this year which has been split with huge gaps throughout the year to accomodate a new style and the DTM Championship driving a Red Bull sponsored AF Corse Ferrari in between these gaps. In 2019, he became part of their Red Bull junior programme which has allowed him to do this.
Denny Hulme on the other hand was the F1 World Champion in 1967 – often forgotten when you see the name 71 Champions, but he himself beat many Champions in that Season from Jack Brabham, Jim Clark, Graham Hill to Jackie Stewart prior to his Championship wins. He competed until the 1974 season and remains the only New Zealander in the history of the sport to win the F1 World Championship amongst the nine that have competed from the Country, with Bruce McLaren and himself coming third in the years following closest to match it.
Lawson began like most karting before working up the lower formulas; he took the Championship over fellow countryman Marcus Armstrong who is a Ferrari Junior in the Toyota Racing Series and who sits second in the current F2 season. He moved directly through each series until F3, of which spending two seasons in 2019 and 2020 before moving to F2 this year. He currently drives for the Hitech team as he did in the second year of his F3 career with fellow Red Bull junior Juri Vips winning the Season opener in Bahrain sitting eighth in the Standings, whilst in DTM he once again won the Season opener and with a double victory at Red Bull Ring. He looks to be possibly on to winning that Series at his first attempt.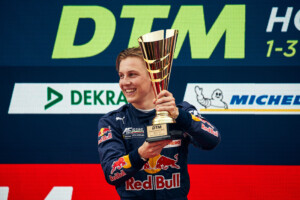 In terms of machinery needed to win as well as the skill required he has Red Bull junior sponsorship, so could get a seat at one of the most powerful seats in modern F1, but of course there is competition for it. Looking ahead a few seasons you have current Alpha Tauri driver Yuki Tsunoda, and Lawson's current team-mate Yuri Vips. Tsunoda hasn't set F1 alight yet; Pierre Gasly has outqualified him at every event this year, and the Japanese has scored little compared to his team-mate. With patience not one of Helmut Marko's strong skills, if it doesn't improve Lawson's gap to F1 could open sooner rather than later in that aspect. Yuri Vips is currently 6th compared to Lawson's 8th in F2, and he was the test driver last year for Red Bull. He has had half a season more due to his age of 21 to Lawson's 19 in that Formula. In respect to Sergio Perez, at 31 on a rolling one year contract presently at the senior team, could Lawson be the one to take the helm of the second seat and control it on a consistent level? Red Bull haven't had a 1-2 on the podium since Malaysia in 2016 and Helmut's desire for domination is insatiable. 
In my eyes it is possible Liam Lawson could indeed be the Denny Hulme of the current era beating some Champions to the title, with the right machinery. The difference in circumstance in 1967 was that there were so few races. It maybe the case we will have 23/24 races when Lawson gets the chance; he has the skill and indeed the machinery available. It looks as though with Liam he has a plan to fall back on – his first Season in the German Touring Car Masters (DTM), he is currently 18 points clear of Kelvin van der Linde going into the final round at the Norisring, so if open wheeled Formula doesn't work in the short term, he could return to DTM. He has got the control of these V8 monsters, and if even fancies a return to home, there are the V8 Supercars back in Australasia. He may even try Le Mans like Denny Hulme.