Jonathan Rea (Kawasaki Racing Team) made it 7 consecutive pole positions, in a first visit to Navarra. Track conditions were dry and hot for the start of the race, with a lot of the grid choosing different tyre options.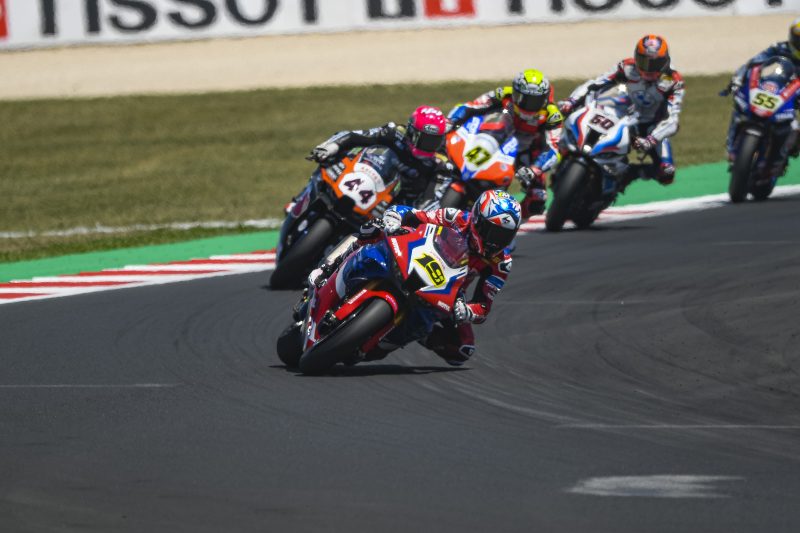 Lights out and it was Redding (Aruba.it Ducati) who got the hole shot. Rea in pursuit, followed by 3rd Locatelli (Pata Yamaha), 4th Lowes (Kawasaki Racing Team), and 5th Sykes (BMW Motorrad).
Rea cuts across Redding and takes the lead. Razgatlioglu (Pata Yamaha) was making great progress from a grid position of 8th, and now worked his way up to 4th getting past Lowes. Rea held a gap of 0.6 to Redding, and the two of them were beginning to pull a gap out to Locatelli in 3rd.
The Honda team mates of Bautista and Haslam were struggling again and found themselves in 10th and 14th places respectively. Other notable names included 7th Davies (GoEleven Ducati), 9th V d Mark (BMW Motorrad), and 15th Gerloff (GRT Yamaha WorldSBK Team).
On lap 3 and Rea was putting the hammer down, setting a fastest lap of 1:37:351, the gap to Redding now at 0.4 although the Ducati rider seemed to have it all in hand and was keeping up with the pace of Rea.
There was a coming together of two riders on lap 4 in turn 3, Ponsson (Yamaha, and Mercado (Honda), the latter retiring from the race.
Lap 5 and the gap from 2nd to 3rd was now at 1.7 and growing fast. Razgatlioglu in 4th knew he'd have to get past his team mate in 3rd soon to have any chance to try catch the two riders up front.
Lap 6 and Redding uses the top end grunt of the Ducati to get through on Rea down the straight. Rea hangs onto the rear of the Ducati, and keeps himself within striking distance. Further back the Pata Yamahas were struggling with the relentless pace being set by Redding and couldn't close the gap.
Locatelli then goes wide into a corner, Razgatlioglu doesn't need a second invitation and makes the pass up the inside of his team mate. The Turk now had work to do in order to catch Rea in 2nd.
Meanwhile further back there was a three way battle for 4th between Lowes (Kawasaki Racing Team), 5th Sykes (BMW Motorrad) and 6th Davies (GoEleven Ducati), with the other BMW of V d Mark in 8th and making progress.
Drama for Davies as he crashes his Ducati into turn 9 and subsequently Bautista loses control of his Honda a few corners further on in turn 12. This bumpy track was catching out a number of riders.
Razgatlioglu was pushing his Yamaha to the limit, and found himself going wide into one of the corners. The gap to Rea in 2nd was now 2.3, while Redding still had a gap of 1.1 to Rea, and looked comfortable leading.
Meanwhile Lowes, and Sykes were having there own battle for 5th and 6th with V d Mark a fair distance behind in 7th.
With 12 laps to go Razgatlioglu was losing time to Rea, the gap now stood at 3.3. Further back there was a three way battle for 9th involving GRT Yamaha team mates, Nozane, Gerloff, and Rinaldi (Aruba.it Ducati) in 11th. Gerloff made a poor start ending up in 14th on lap 1, but was now past his team mate down the straight to take 9th.
Another rider crashes, this time its the American rider Uribe (Kawasaki). Massive moment for Rea, and one of many this season, as he loses the front end into turn 9, but manages to correct the slide and save himself losing time to Redding in the process.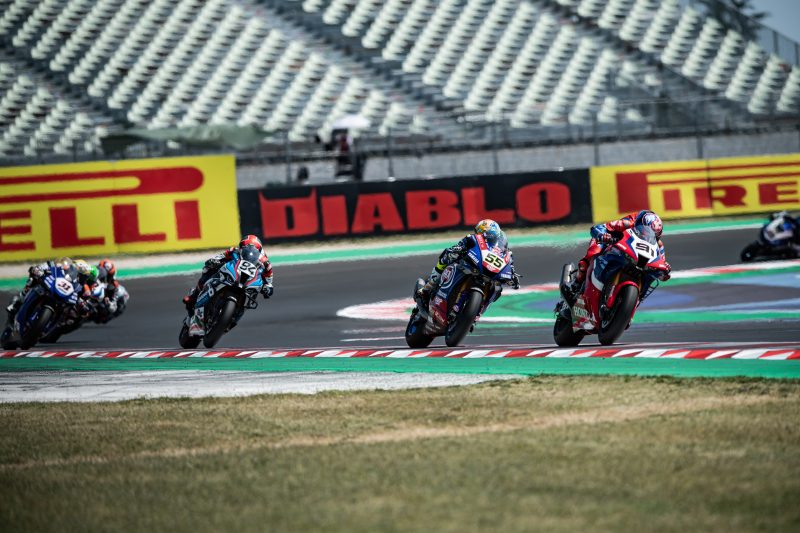 With 7 laps to go the gap to Redding was still around 1.1, while the gap behind to 3rd was 2.4.  Further back it was Locatelli 4th, Lowes 5th and the BMW team mates of Sykes and V d Mark in 6th and 7th, respectively.
Last lap now and Redding had pushed the gap out to Rea to 2.7 and was looking comfortable for the win. Both Rea and Razgatlioglu looked resigned to 2nd and 3rd places respectively.
Redding crosses the line to claim the win, he never looked troubled throughout the race. Rea takes 2nd, with Razgatlioglu coming 3rd, a decent result from 8th place on the grid. Locatelli 4th, and Lowes 5th.
Top 5:
Redding (Aruba.it Ducati)
Rea (Kawasaki Racing Team)
Razgatlioglu (Pata Yamaha)
Locatelli ( Pata Yamaha)
Lowes (Kawasaki Racing Team)
Riders out: Bautista (Honda HRC), Davies (GoEleven Ducati), Mathias (Kawasaki), Mercado (Honda)
Top 3 Championship:
Rea (Kawasaki Racing Team) 286 pts
Razgatlioglu (Pata Yamaha) 279
Redding (Aruba.it Ducati) 241