Race 2 of the WorldSBK action took place on Sunday 8th August at Most Autodrom, Czech Republic – the earlier Superpole race saw Razgatlioglu (Pata Yamaha) claim the his 2nd win of the weekend, while Redding (Aruba.it Ducati), and Rea (Kawasaki Racing Team) were 2nd and 3rd.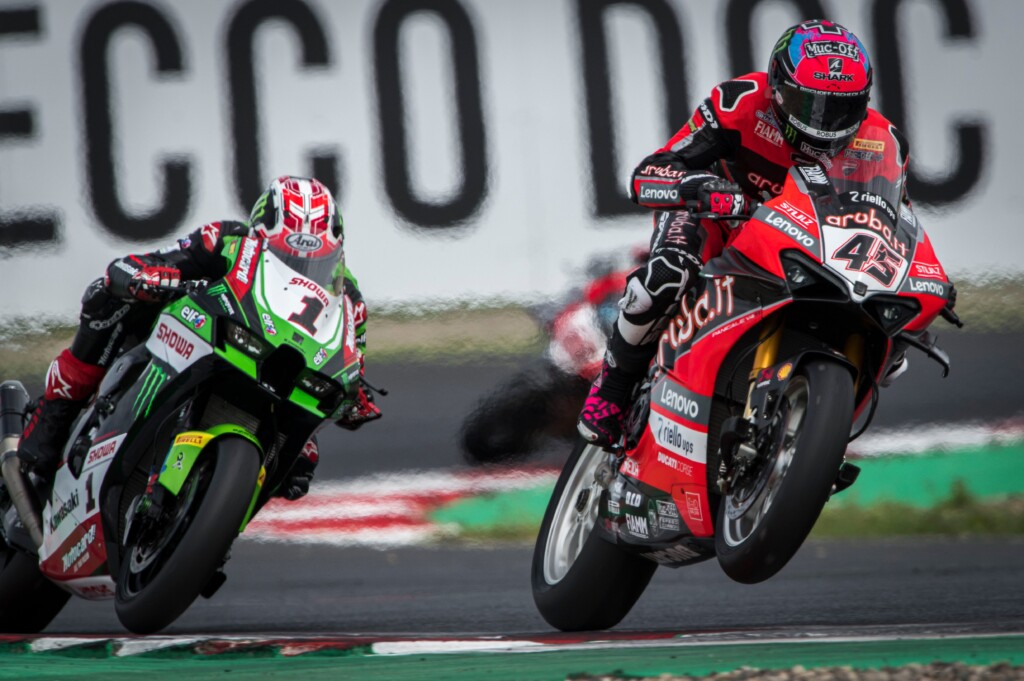 The Turk was on pole position for race 2, and was looking to make it a clean sweep of wins across the weekend, could he do it? The whole grid, except Rea, and Uribe had gone with the super soft SCX rear tyre, the former two deciding on the harder SC0 compound rear.
Lights out and both the Pata Yamaha riders made excellent starts, Razgatlioglu and Locatelli leading the pack into turn 1 in 1st and 2nd. Further behind was a massive crash involving 4 riders: Bassani (Ducati), Delbianco (Honda), Hanika (Yamaha) and Bautista (HRC Honda). Both Bassani and Delbianco retiring from the race.
A leading group of 5 riders had formed and was already beginning to pull away from the others. In 1st was Razgatlioglu, 2nd Locatelli, 3rd Redding, 4th Rea and 5th Lowes (Kawasaki Racing Team).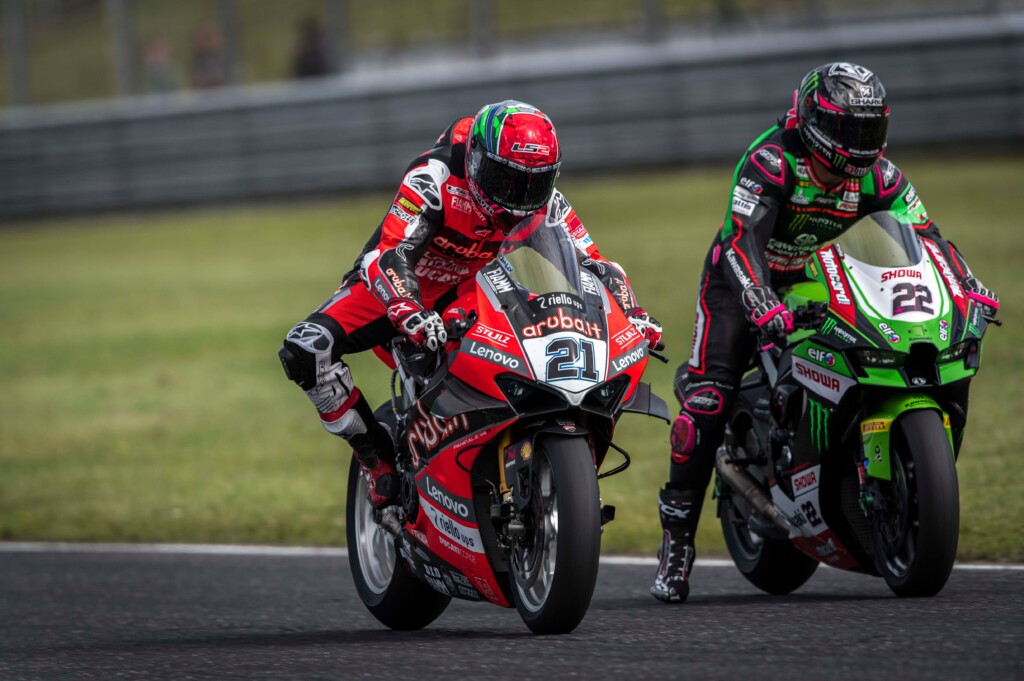 Meanwhile further down the field other notable names included the BMW teammates of 6th Sykes (BMW Motorrad) and 12th Vd Mark. Eighth place is Rinaldi (Aruba.it Ducati) and in 9th Gerloff (GRT Yamaha WorldSBK Team).
With 20 laps to go Razgatlioglu was trying to distance the group putting in a fastest lap of 1:32.827. Redding sensing the Turkish rider is pulling away, passes Locatelli into 2nd place, in the same corner Toprak passed him in race 1. The group of 5, now slowing becoming a group of 3 as the Kawasaki team mates of Rea and Lowes, were struggling with the pace being set at the front.
Next lap and now Redding puts in a new fastest lap of 1:32.674. The lead group of 3 riders now steadily pulling away from the Kawasaki team mates.
With 18 laps to go, Redding outbrakes Razgatlioglu down the straight, into turn 1 to take over the lead. Redding putting in a new fastest lap of 1:32.439. He was looking like he had a point to prove after getting pipped to the line in race 1.
Meanwhile further back, Vd Mark had moved up to 10th, 7 places better than his grid position. Gerloff was in 9th, while Rinaldi was in 8th.
Redding was increasing his gap to Raztaglioglu, it was now 0.5. The Kawasaki of Rea was again looking twitchy and unstable with changes of direction and through corners, his previous crash in race 1 still looming large in his mind no doubt.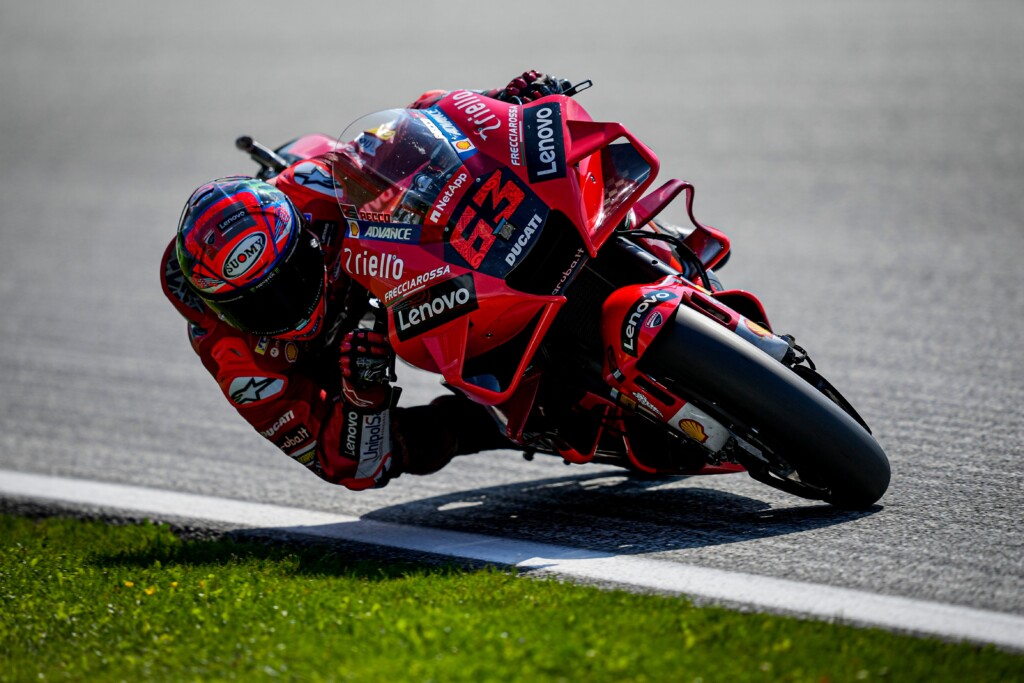 With 13 laps to go Rea gets through around the outside of Locatelli trying to close the gap to 2nd. Redding was pushing the gap to nearly 1.0 to Razgatlioglu in 2nd, the gap now at 0.8.
Meanwhile further back Sykes in 6th had now been caught by a group including: 7th Haslam ( HRC Honda ), 8th Rinaldi, 9th Vd Mark and 10th Gerloff.
With 8 laps to go Haslam loses 3 places to go back to 10th, possibly having tyre issues. The Honda Team mates now sitting in disappointing 10th, and 11th places.
Six laps remaining and Redding had increased his lead to 2nd to 1.5, while the gap from 2nd to Rea in 3rd was now 6.6. Meanwhile further down the field the battle for 6th was still ongoing, with Vd Mark in 7th doing a great job from a grid position of 17th, getting past Gerloff again.
With 4 laps remaining it was all Redding's to lose, the gap to 2nd now at 2.6, Razgatlioglu looking to have resigned himself to a 2nd place. Lowes ( Kawasaki Racing Team ) in 5th had now been caught by the group of 6th Rinaldi, 7th Vd Mark and 8th Gerloff.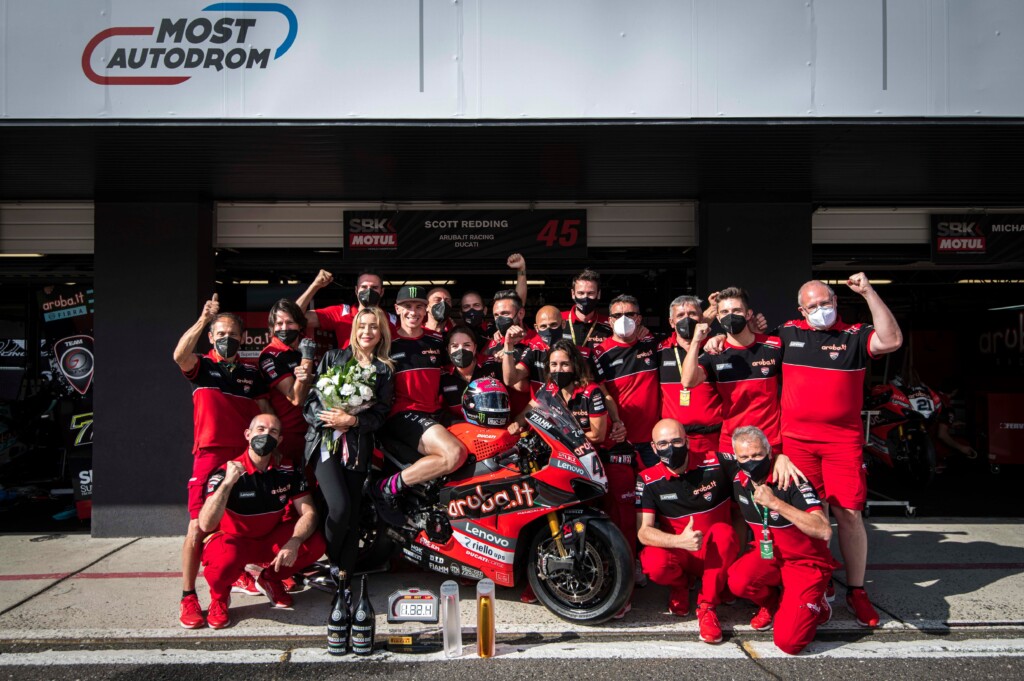 Final lap now, and Redding doesn't let up his pace, crossing the finish line to take his first win in Most. Razgatlioglu crosses in 2nd with Rea in 3rd, Locatelli in 4th, 5th Rinaldi who gets past Lowes.
Top 5:
Scott Redding ( Aruba.it Ducati )
Toprak Razgatlioglu ( Pata Yamaha )
Jonathan Rea ( Kawasaki Racing Team )
Andrea Locatelli ( Pata Yamaha )
Michael Ruben Rinaldi ( Aruba.it Ducati )
Top 3 championship:
Rea ( Kawasaki Racing Team ) 266 pts
Razgatlioglu ( Pata Yamaha ) 263
Redding ( Aruba.it Ducati ) 216