There was more drama on the Island of Sardegna. Here's the story of how Seb and Julien came through to take an impressive win.
Friday
The start list looked like this – Ogier, Evans, Neuville, Tänak, Rovanperä, Katsuta, Sordo, Greensmith, Suninen, Loubet.
Into the first stage then, SS1 Filigosu – Sa Conchedda 1 – 22.29 km and just like in Portugal Ott was fast out of the blocks, winning the stage from Kalle and Seb. Actually, the Frenchman's pace considering he was first on the road was pretty impressive to be only 9.6 seconds from the lead. The day didn't start as well however for Elfyn who was just not comfortable out there. The fight was on for the lead between Ott and Kalle. At M-Sport it didn't go well for Teemu who went off the road and was stuck and out for the day.
Ott also took SS2 Terranova 1 – 14.36 km from Seb and Kalle. Further down the leaderboard, Elfyn was making some progress, moving ahead of Thierry and into sixth, but the Welshman definitely wanted more.
The Estonian continued his top pace at the front winning SS3 Filigosu – Sa Conchedda 2 – 22.29 km, winning the stage from Dani and Kalle. In fact, the double winner for the last two years found that his pace brought him into third overall as well, with Seb dropping to fourth, but certainly not out for the fight for a podium. Thierry was also on the move up the leaderboard, passing Elfyn for sixth.
The final stage of the morning and yes, you guessed it. Ott was fastest again in SS4 Terranova 2 – 14.36 km from Dani and Seb. Sadly, Kalle's time at the top of the standings came to an end as he suffered a technical problem with his Yaris. Now everyone except for Thierry moved up one place but the Belgian managed to gain two positions, moving from sixth to fourth in one go.
After the service break, Ott continued his winning form setting the fastest time in SS5 Tempio Pausania 1 – 12.08 km from Seb and Thierry. Fourth fastest was Elfyn, who was finding some rhythm out there, and this moved him ahead of Takamoto who suffered a stall in the stage and the Welshman moved into fifth overall. With the departure of Teemu earlier, Gus was holding his own out there and sat in seventh overall.
The next stage, SS6 Erula – Tula 1 – 14.97 km saw Dani go fastest from Ott and Seb and this meant the Spaniard moved ahead of the world champion and into second overall. Meanwhile, Thierry and Elfyn continued their fight for fourth overall, with the Belgian holding a resurgent Elfyn at bay for now.
Dani also took SS7 Tempio Pausania 2 – 12.08 km, but his teammate was just three tenths off and the gap between them remained a large 25 seconds. Elfyn broke into the top three for the first time and with Thierry just seventh fastest after getting a puncture, the Welshman moved into fourth overall. Gus also had a great stage, going fifth fastest.
The final stage then, SS8 Erula – Tula 2 – 14.97 km, and Dani was equal quickest with Thierry and Ott third. The Belgian would have been quicker if he's not stalled in the stage. The Hyundai drivers had won every stage of day one, putting the good road position to good use. The fact that two Toyota drivers held third and fourth though, meant that they were in a good position to benefit from problems. There was drama for Gus however, as just after the start of the stage for him, he suffered transmission failure and he couldn't complete. A big shame as he had driven really well all day.
Classification after Day One
| | | | | |
| --- | --- | --- | --- | --- |
| 1 | O. Tänak | M. Järveoja | Hyundai i20 Coupe WRC | 1:26:58.0 |
| 2 | D. Sordo | B. Rozada | Hyundai i20 Coupe WRC | +19.4 |
| 3 | S. Ogier | J. Ingrassia | Toyota Yaris WRC | +36.2 |
| 4 | E. Evans | S. Martin | Toyota Yaris WRC | +1:02.0 |
| 5 | T. Neuville | M. Wydaeghe | Hyundai i20 Coupe WRC | +1:03.2 |
| 6 | T. Katsuta | D. Barritt | Toyota Yaris WRC | +1:26.1 |
Let's hear from the drivers
Hyundai Motorsport
Ott Tänak (1st)
"Generally, it has not been a bad day for us. Things ran quite smoothly, and I had a nice feeling with the car since the beginning. I was able to maintain a good rhythm and to enjoy myself, pushing at the same time. Knowing the road order of our rivals, we knew it was definitely our opportunity to build up a gap. Apart from the final stage, when we had a bit of a tyre scare, I would say it's been good, and we could achieve what we wanted. It also showed us that we always need to keep going, to grow the gap as much as possible, and so we will keep pushing tomorrow."
Dani Sordo (2nd)
"I am pleased to end this opening day in second place. On the whole, we have had a positive Friday, with some small issues in the morning turning into a competitive afternoon. On the opening stages, I was not too happy with my pace notes. There were some places where I missed confidence and lost time as a result. There were some new profile stages, which made things more difficult and identified areas where we needed to improve. We had to manage our tyres well and couldn't push like crazy. The car was moving around a lot on the softs, so with the hard compounds in the afternoon I felt more confident in myself, with improved grip and better pace notes; everything was a step forward. I also knew the stages from previous years, which really gave me the extra confidence I needed. A long way to go, but I'm satisfied with how we've started the rally."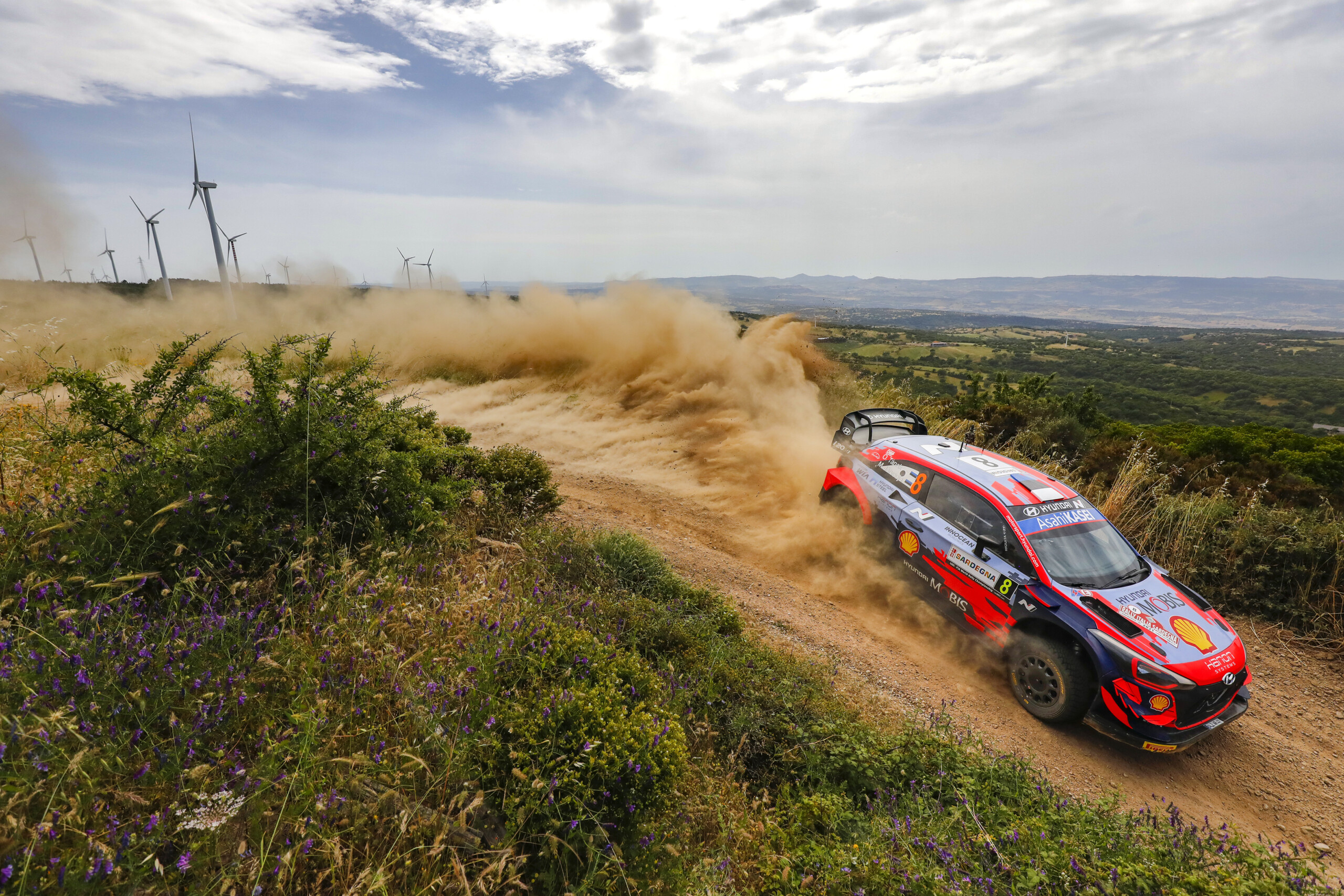 Thierry Neuville (5th)
"It was a difficult day for us. I struggled with confidence in the first stages. I didn't get a good feeling, so we decided to go progressively throughout the day to get the speed. We changed a lot on the car, we went in the right direction with the settings. The car was a bit stiff this morning and we couldn't get the traction, but things worked better this afternoon. Unfortunately, two punctures cost us a huge amount of time. I think we would have been able to close the gap to Sébastien without them. As a result, we lost a position on the road order for Saturday, but this rally is not over and maybe tomorrow is a positive turn and we might be free of issues."
Toyota Gazoo Racing WRT
Sébastien Ogier (3rd)
"It's been a very good day for us, I can be very happy with what we've done. The morning was especially strong. We were driving on two new stages and I think this helped us to make the difference. With Julien, we did a good job on the recce and had good pacenotes, and I felt confident and able to push. I was also very happy with the car, as we did some good setup changes after Portugal. This afternoon was a bit tougher, as I had expected, but most importantly we're third overall and that will give us a better start position tomorrow. It's a big gap to the leader, but it was a very strong performance for us today, so let's see what we can do."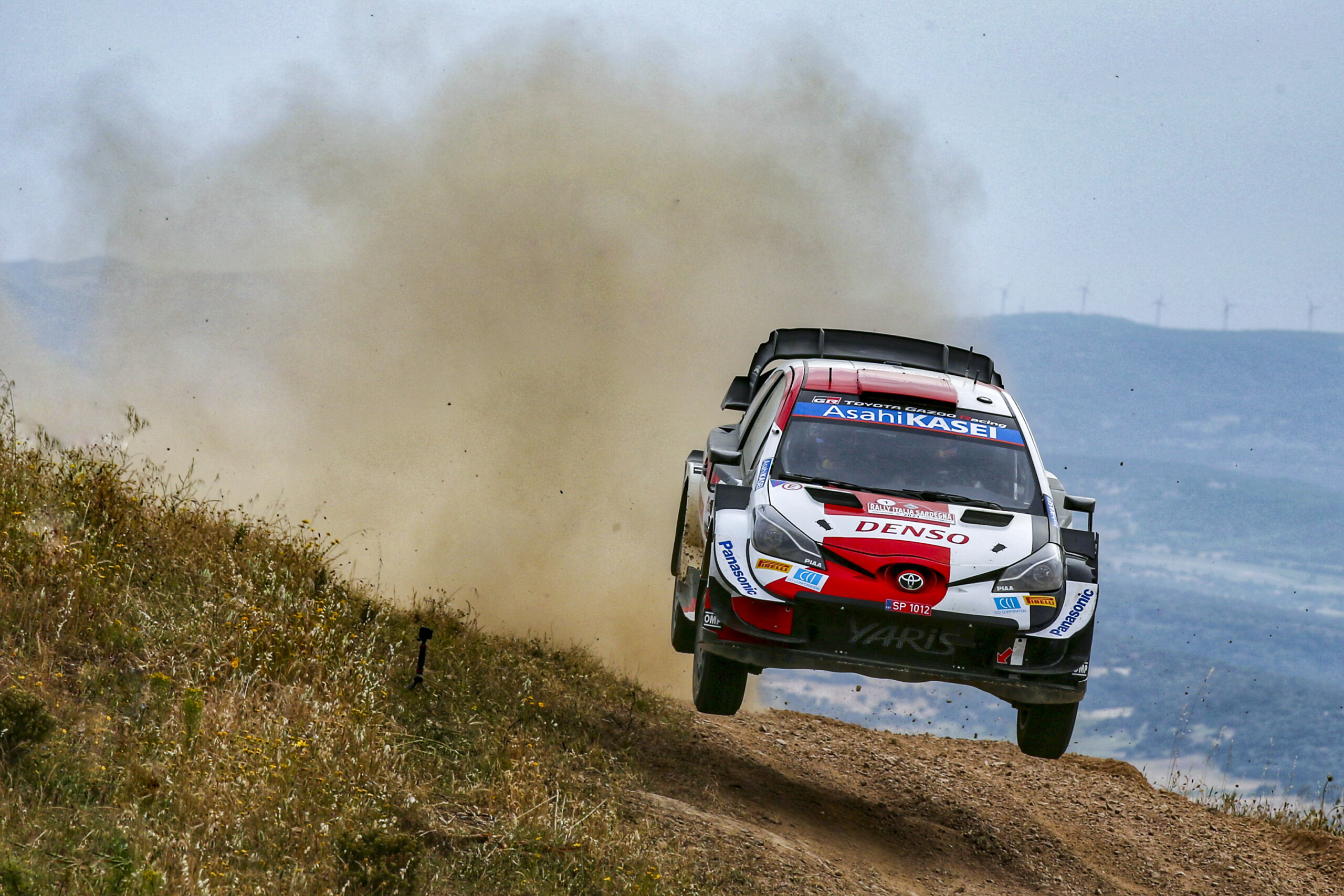 Elfyn Evans (4th)
"It was not a good start for us at all this morning. I struggled with the feeling in the car: We made a few changes after Portugal to try and improve things a bit, but it didn't give me the confidence level that I had before, so it was difficult to settle down into a good rhythm. Things were definitely working better in the afternoon and I felt happier in the car. I was not so happy with the stage times still, but at least things are moving in the right direction and we'll try to build on that tomorrow."
Kalle Rovanperä (DNF SuperRally)
"It was a really nice start this morning. I had a good feeling in the car again and we could be back on a good pace. It felt really good; I didn't even need to push so much, so it was really enjoyable. Then on SS4 we had an issue and had to stop. It's sad that the day ended in this way because it was going well before that. But the team will be able to fix the car so we can restart tomorrow and try to find a similar feeling again for the rest of the rally."
M-Sport Ford WRT
Gus Greensmith (DNF, SuperRally)
"To be honest, I've been quite happy with what I'm doing. We lacked a bit of pace in the first couple of stages because we didn't have any opportunity to test here before the event and so we went with the same setup that we used in Portugal 10 days ago.
"At the start of the day, our suspension was too soft for the road conditions, which meant that I was lacking a bit of precision in the corners and didn't want to push too hard. We were able to make a few adjustments on the road and you can see from the times that everything felt a lot better and we got a lot closer to the pace of the leaders, so overall it was a big positive.
"The stages are incredibly rough. At one point we actually had the jack break loose over some of the roughest ground, it broke the mount and the loose jack then caused an oil spillage near the exhaust but we got that cleaned up before there was a fire.
Other than that, the Fiesta was flawless until the final stage start, when the transmission unfortunately just took too much of a beating. I'm devastated as a top-five finish was absolutely within the car, and we will be going all-out when we restart tomorrow to show that same pace."
Teemu Suninen (DNF, SuperRally)
"I pulled the handbrake and stalled the engine and then I really had no power to pull through the corner so just slid wide by two metres and we got stuck. The car started to get quite hot and we lost one sensor, after which it wasn't running anymore. It should be quite an easy fix, basically from the outside of the car there's just one mirror missing, but sadly we weren't able to carry on today.
"The Ford Fiesta WRC felt so good, the difference between Rally1 and Rally2 is something really special, I was sure that a top five finish was possible.
"Fortunately, we will be able to restart tomorrow and although the prospect of good points has gone, I believe we can show the true potential pace that we have throughout the next two days and show how fast the car is through these stages. "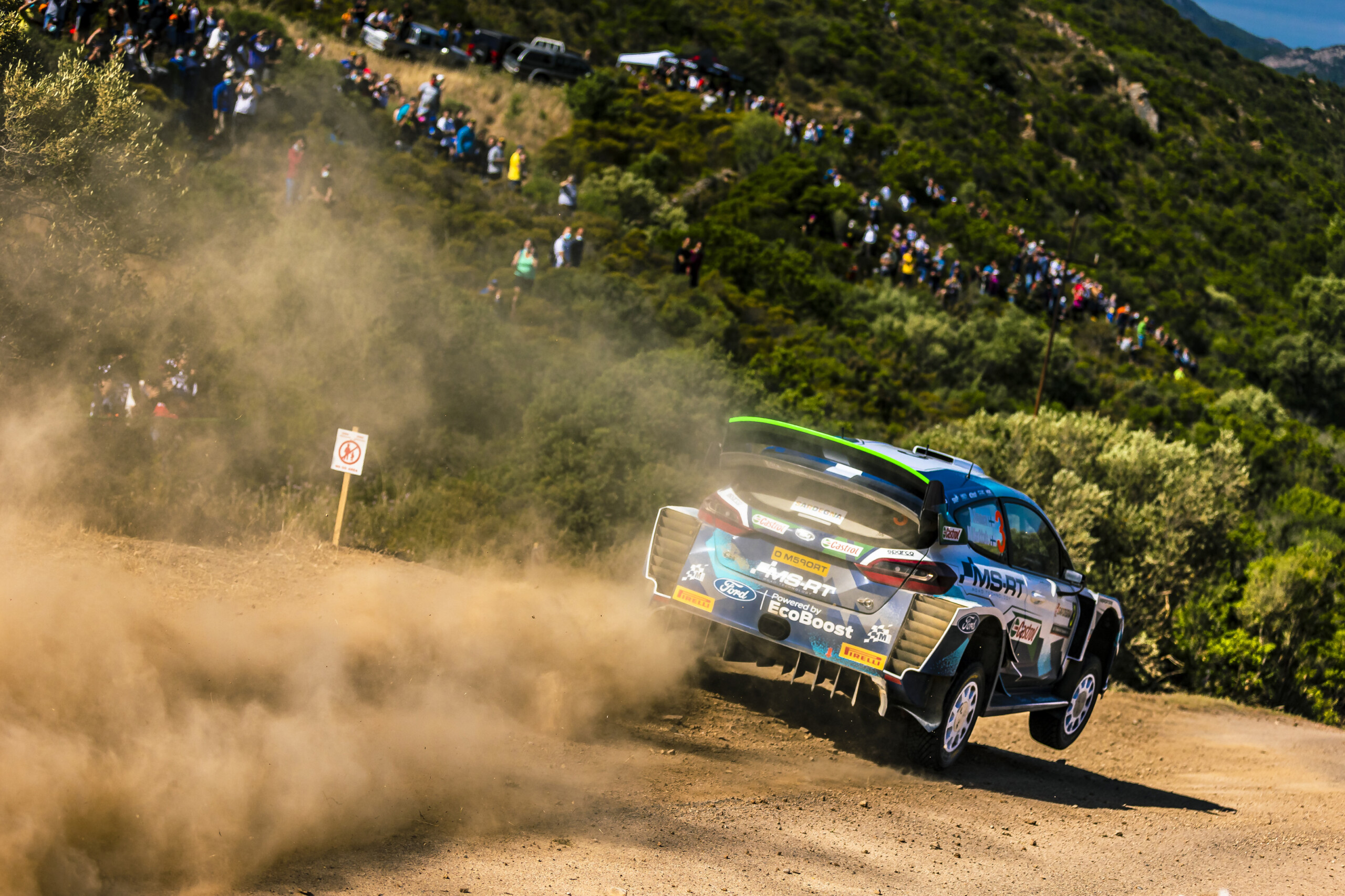 Adrien Fourmaux (DNF, SuperRally)
"It was a small mistake this morning, which was in part inexperience on gravel. Unfortunately, there was a big stone in the verge on the inside of the bend where I tried too tight a line, which meant that our battle for victory in WRC2 ended on the second stage of the rally.
"We will restart under SuperRally tomorrow and I hope to show some good stage times as we make a recovery.
I'm really sorry to the team and all our partners that we won't be in the fight for victory this weekend but I am confident that with the repairs made by the team today we will be able to show the performance of the Ford Fiesta Rally2 is on all surfaces."
Saturday
Start list looked like this – Suninen, Rovanperä, Greensmith, Loubet, Katsuta, Neuville, Evans, Ogier, Sordo, Tänak.
Ott picked up at the same pace that we saw from the Estonian in SS9 Coiluna – Loelle 1 – 15.00 km and he won the stage from Elfyn with Seb third fastest. The champions pace brought them closer to Dani who was holding second place. In fact, Elfyn, Seb and Thierry who were behind Dani, were all quicker than the Spaniard.
At last, we had a different car and driver winning a stage with Seb winning SS10 Lerno – Monti di Alà 1 – 22.08 km from Ott and Elfyn. Seb's pace brought him into second overall with Dani falling to third. Elfyn also closed the gap a little to Dani, but the gap remained large at over 20 seconds. Takamoto had a huge moment, whacking a huge rock that was in the middle on the road with the middle of the front of his Yaris! The whole front of the car lifted up, but amazingly they got away with it not causing any big damage.
Elfyn won SS11 Coiluna – Loelle 2 – 15.00 km from Seb and Ott. The Welshman was building a lead over Thierry who was holding fourth place, the gap between them now over ten seconds, whilst also closing on Dani. At M-Sport Gus was going well after his restart, setting the seventh best time, quicker than Takamoto who had a better road position.
There was drama for Ott on the next stage, SS12 Lerno – Monti di Alà 2 – 22.08 km as the Estonian hit a rock on the line! This broke the rear suspension, and that was that. All the hard work had been undone again for the former champions. Top three in the stage was Seb, Thierry and Elfyn and the Belgian closed the gap a little to the third placed Welshman. Another driver to fall from a good position was Gus who stopped in the stage with a mechanical problem.
After the service break the next stage, SS13 Bortigiadas – Aggius – Viddalba 1 – 14.70 km saw Seb take another stage win from Dani and Elfyn and the gap opened up a little between them all. Further down the standings, Jari and Mads battle for the lead in the WRC2 category saw the Finn pass the Norwegian and they held sixth and seventh overall as well.
Top three on SS14 Sedini – Castelsardo 1 – 13.03 km was Seb, Thierry and Elfyn, with Dani fourth, meaning that they both closed a little on the Spaniard who still held second overall. Mads and Jari continued their fight for the WRC2 lead and Mads closed the gap to Jari to just 12.6 seconds.
Into SS15 Bortigiadas – Aggius – Viddalba 2 – 14.70 km saw more drama for Hyundai, with Dani sliding wide and dropping his right wheel into a culvert at the edge of the road, the resulting impact wreaking the tyre and suspension. In fact, it was such a huge impact, that the car was pitched into a roll of sorts and ended up on its side. It was unusual to see the Spaniard to make such a mistake, but it's worth noting that this stage had not been used since the early 2000's. Top three in the stage was Seb, Elfyn and Thierry and they also held the top three overall positions.
Now to the final stage of the day, SS16 Sedini – Castelsardo 2 – 13.03 km and Elfyn topped the times from Seb and Thierry. Mads closed the gap even further to Jari to just 2.7 seconds as well, after the Norwegian set a time good enough to place seventh in the stage.
Classification after Day Two
1 Sébastien Ogier/Julien Ingrassia (Toyota Yaris WRC) 2h50m33.1s
2 Elfyn Evans/Scott Martin (Toyota Yaris WRC) +38.9s
3 Thierry Neuville/Martijn Wydaeghe (Hyundai i20 Coupe WRC) +1m01.6s
4 Takamoto Katsuta/Dan Barritt (Toyota Yaris WRC) +4m01.2s
5 Jari Huttunen/Mikko Lukka (Hyundai i20 R5) +8m09.6s
6 Mads Østberg/Torstein Eriksen (Citroën C3 Rally2) +8m12.3s
7 Yohan Rossel/Alexandre Coria (Citroën C3 Rally2) +8m57.5s
8 Pepe López/Diego Vallejo (Škoda Fabia Rally2 evo) +9m35.3s
9 Jan Solans/Rodrigo Sanjuan de Eusebio (Citroën C3 Rally2) +9m45.0s
10 Marco Bulacia/Marcelo Der Ohannesian (Škoda Fabia Rally2 evo) +10m13.1s
Let's hear from the drivers
Toyota Gazoo Racing WRT
Sébastien Ogier (1st)
"So far it's been a perfect weekend for us. We were really strong yesterday and then today we did everything we had to do. We had good consistent pace this morning and a bit of a different tyre choice, which I think paid off. The chance to take the lead was not solely in my hands, but we took it, and then we had a strong afternoon where we could increase the gap. Now we can try to drive even more safely tomorrow. We have some more new stages tomorrow, so we'll have to stay focused until the end and finish the job."
Elfyn Evans (2nd)
"Today has been a good step forward from where we were yesterday. We really had to work hard to overcome the difficulties that we had, and now we've managed to find a place where I'm very, very happy in the car. The stages have been difficult and our rivals have had some incidents, and our better pace has meant we've moved up to second place. Tomorrow we will still need to be on our best: It will be challenging with the new stages but I'm looking forward to it."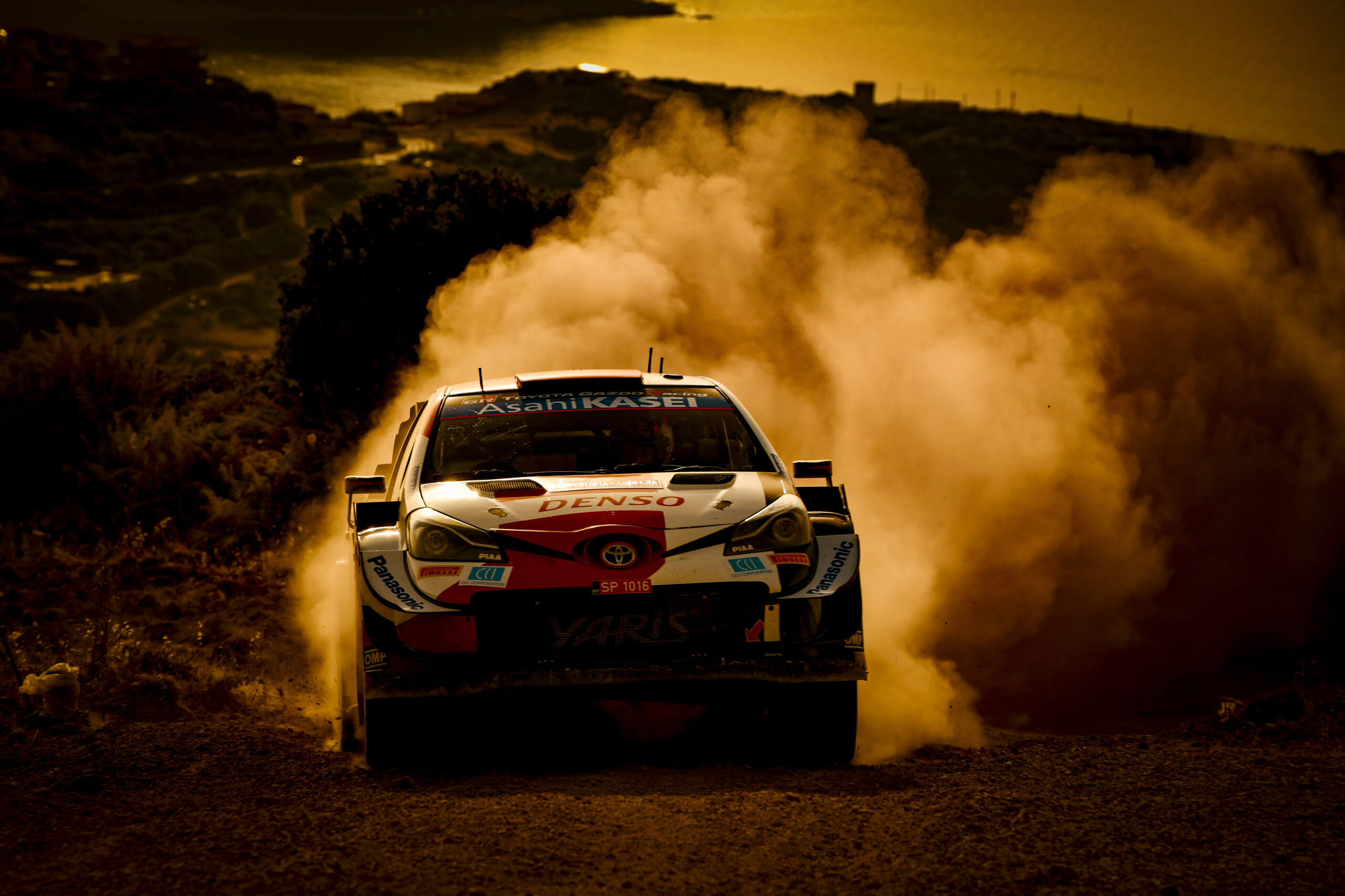 Kalle Rovanperä (30th)
"It's always good to get straight back into the car like we did this morning, and it was good learning for us to experience the conditions as the second car on the road. The morning was actually quite nice: It was a bit damp, so there was not so much road cleaning and I really enjoyed it. The afternoon was more difficult, with tricky stages and a lot of cleaning. Tomorrow we will be aiming for the Power Stage and trying to score some points there. It's a new stage and a tricky stage, but let's see what we can do."
Hyundai Motorsport
Thierry Neuville (3rd)
"The gap to Elfyn Evans in second place is quite big. I tried to get closer to him on some stages, but I just didn't have the speed I needed. We tried some settings, changing the dampers among other things, but we couldn't get everything working together as we needed. I struggled to find the performance despite having the feeling of being on the edge. I haven't been able to do much more, but tomorrow we will try our hardest and see what we can save from this weekend."
Dani Sordo (DNF, SuperRally)
"The second day of Rally Italia Sardegna did not go to plan for us. We were involved in a battle for second place but were forced to retire on the penultimate stage. We hit a stone outside the road, something we didn't see during the recce. We are really disappointed, not only for ourselves, but for the whole team, but sometimes these things happen in rally, and it's like that. We will now concentrate on what we can achieve tomorrow to try and score some points in the Power Stage."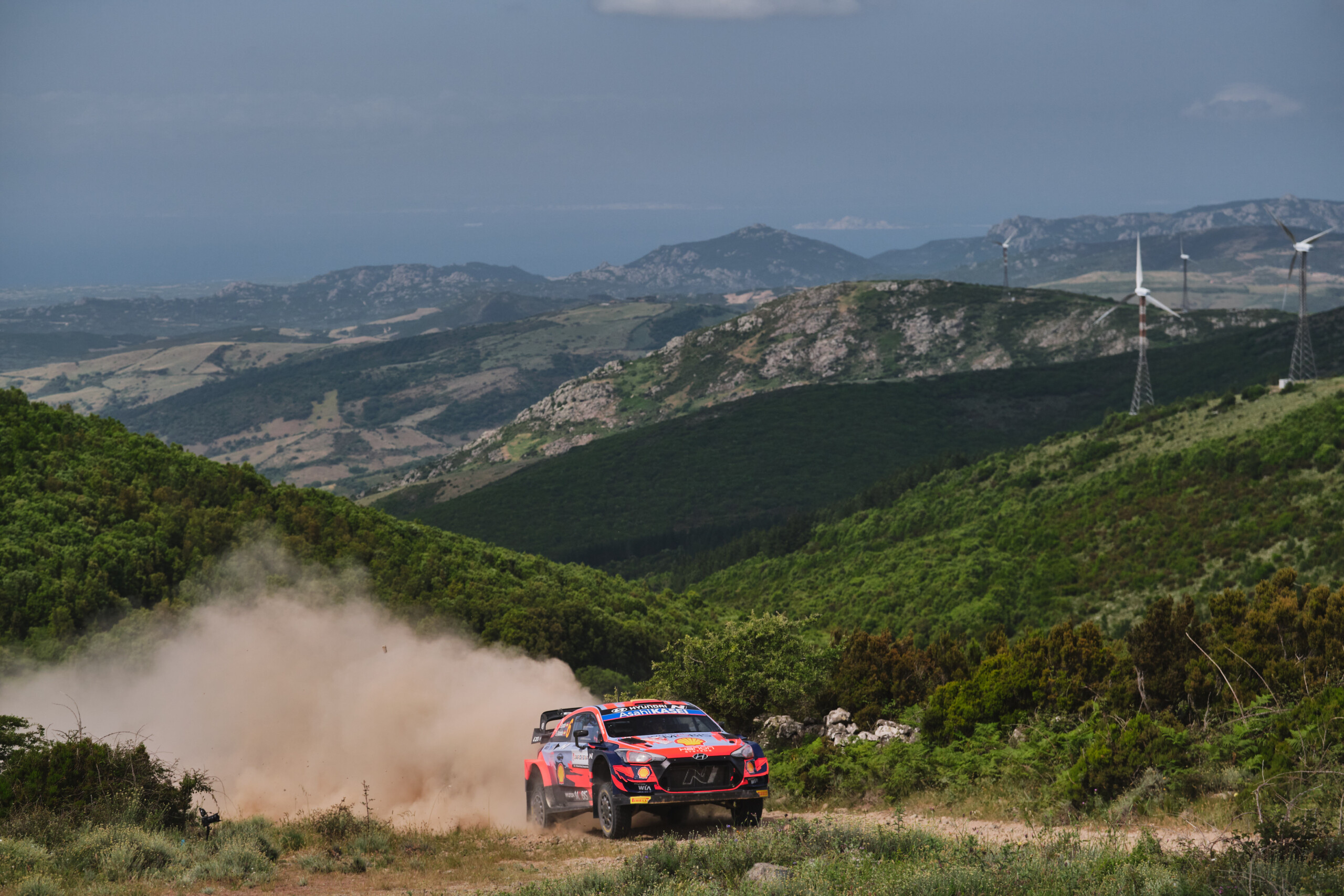 M-Sport Ford WRT
Gus Greensmith (31st)
"The morning started well. We continued to make good progress with the setup of the car and I was feeling a lot more comfortable this morning. I feel like from my side of things we've had a very good day whilst we've been out there it seems we've been a lot more competitive with our rivals so I'm happy and we can move forward tomorrow to build on that.
"Obviously it's very frustrating to have had another issue interrupt that progress but from where we started this event to where we are now in terms of pace, I am looking forward to getting out there again tomorrow and getting some more good mileage."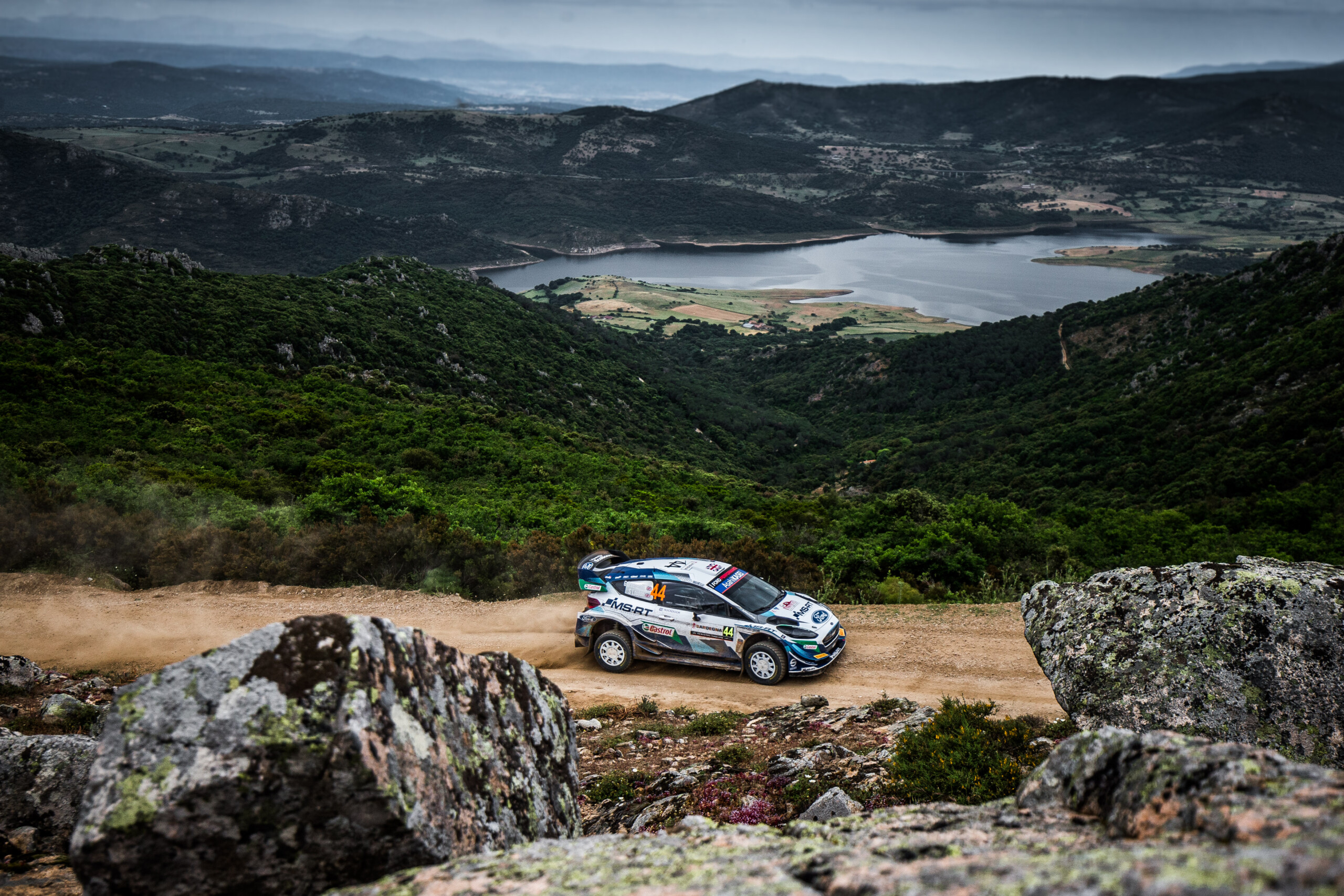 Adrien Fourmaux (34th)
"It was important that we should put the disappointment of yesterday behind us, and to be able to run at the front and win two stages in WRC2 was really fantastic for us. I'm really happy.
"Of course, it is bittersweet because our pace is strong enough to potentially challenge for the win, were it not for yesterday's incident, but we have to take pride in what we are achieving and to make sure that we learn from every kilometre to the finish.
"The Ford Fiesta Rally2 has been faultless all day, I was able to feel a really good rhythm in the car and together with the team I think that we have done all that we can to show how strong our performance collectively."
Teemu Suninen (35th)
"It's been quite tricky. Actually, some stages were not so slippery, not too much loose gravel, but then some other stages have been a bit harder. Even when we have been through stages for the second time and you hope that a lot of gravel has been swept away, the quick line is very narrow and the penalty for going off that line means that it is hard to commit and risk damaging the car.
"I've been playing about with my driving style at times, trying a few things just to get my performance back up to the level that I know I can produce. Getting the Ford Fiesta back on to the podium in the WRC this season is my target and so the mileage that we are able to get can only contribute towards our performance later in the season. "
Sunday
The start list looked like this for the final day, with just four stages to run– Suninen, Greensmith, Rovanperä, Tänak, Sordo, Katsuta, Neuville, Evans, Ogier, Huttunen (WRC2).
Into SS17 Arzachena – Braniatogghiu 1 – 15.25 km then and Elfyn picked up from where he ended Saturday, going fastest from Ott who was returning under super rally rules, whilst Seb was third. The top three remained unchanged however. There was a change in the lead for the WRC2 category though, with Mads setting the sixth fastest time and passing Jari and also moving into fifth place overall!
Thierry won SS18 Aglientu – Santa Teresa 1 – 7.79 km, whilst Elfyn remained quick with the second fastest time, just three tenths slower, and Seb third. Disaster hit for a very angry Mads though. Somehow, he picked up a puncture, and once again fell behind Jari. He and Torstein let rip after the flying finish, both verbally and physically, and Jari was now 17.4 ahead with two stages left.
Elfyn took SS19 Arzachena – Braniatogghiu 2 – 15.25 km from Seb and Thierry. The Welshman had now taken his lead over the Belgian to more than 30 seconds. Meanwhile, Mads found some big pace again, setting the fifth best time, faster even than Teemu in a full WRC Fiesta, and Mads was now just 2.1 seconds behind the WRC2 category leader.
Final stage then, SS20 Aglientu – Santa Teresa 2 [Power Stage] – 7.79 km and Thierry took the stage win from Ott, with Kalle third, Seb fourth and Dani fifth. Going through the water splash, Elfyn's engine cut out, and it took almost 20 seconds to get the engine running again. He crossed the line 18 seconds slower than the Belgian. He still secured second place behind Seb, whilst Thierry was third. The battle for the win in the WRC2 category between Jari and Mads went down to the wire, and the Finn in his i20 Rally2 was the victorious driver and with it an overall fifth position as well!
Final Overall Classification – Rally Italia Sardegna
| | | | | |
| --- | --- | --- | --- | --- |
| 1 | S. Ogier | J. Ingrassia | Toyota Yaris WRC | 3:19:26.4 |
| 2 | E. Evans | S. Martin | Toyota Yaris WRC | +46.0 |
| 3 | T. Neuville | M. Wydaeghe | Hyundai i20 Coupe WRC | +1:05.2 |
| 4 | T. Katsuta | D. Barritt | Toyota Yaris WRC | +6:11.2 |
| 5 | J. Huttunen | M. Lukka | Hyundai i20 R5 | +9:31.7 |
| 6 | M. Østberg | T. Eriksen | Citroën C3 R5 | +9:39.2 |
| 7 | Y. Rossel | A. Coria | Citroën C3 R5 | +10:37.7 |
| 8 | P. López | D. Vallejo | Škoda Fabia Evo | +11:03.7 |
| 9 | J. Solans | R. Sanjuan | Citroën C3 R5 | +11:26.3 |
| 10 | M. Bulacia | M. Ohannesian | Škoda Fabia Evo | +11.34.6 |
Let's hear from the drivers then.
Toyota Gazoo Racing
Sébastien Ogier (1st)
"This has been an incredible weekend for us: We could not have expected to come away from Sardinia a result like this. To have one-two for the team, starting first and second on the road, is a fantastic achievement. I'm also very happy that we managed to find a better feeling with the car and react after Portugal, where maybe the speed was not as great as we wanted. Unfortunately, in the Power Stage we had a misfire briefly after a watersplash which was very aggressive, but we still took two bonus points which is good for the championship. If we can keep this rhythm up, we can be confident, but of course it's never that easy."
Elfyn Evans (2nd)
"Second place is a great result that we definitely would have taken after our struggles on Friday morning. This morning we didn't have such a huge gap behind us so it was good to be able to extend that advantage further, and it's probably just as well given what happened later on in the final stage. We seemed to take in some water and I wasn't sure it was going to clear, but thankfully it did and it quickly went back to full power after that. It's a slight disappointment not to take any extra points from the Power Stage because of that, but at the same time I'm relieved to hang on to second place."
Takamoto Katsuta (4th)
"I am pretty happy with what I have done during this rally. I learned a lot and there were a lot of positives also. On Saturday especially there were so many things happening and I had a lot of moments; I almost went off when we hit a big rock that was right on the line. But we were able to finish the rally and that was the main thing. It was good experience for me and good learning that I can take onto the next event."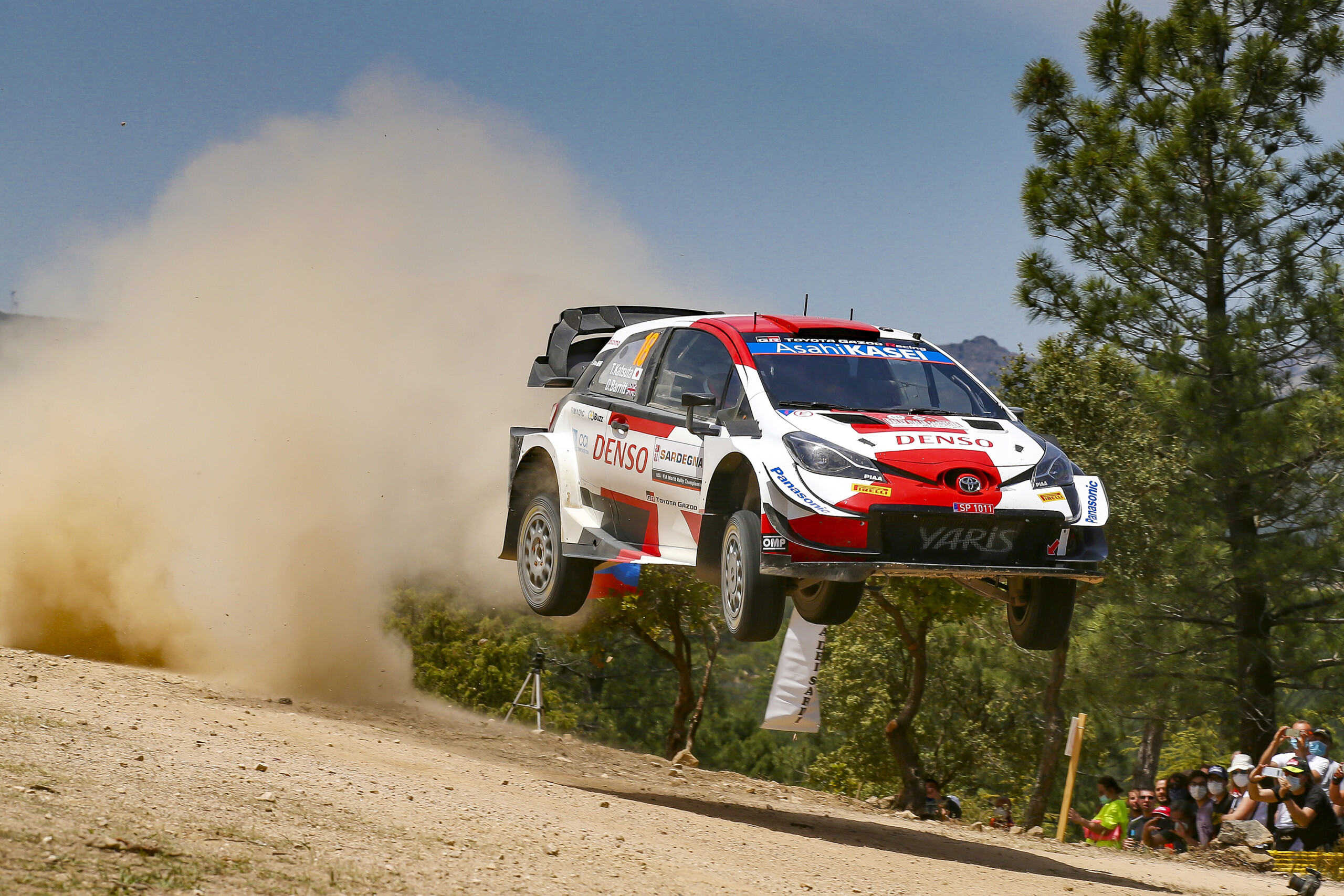 Kalle Rovanperä (25th)
"Our aim today was to get as many points as we could from the Power Stage. Our starting position still made it a bit tricky, as there was some cleaning to do with only two World Rally Cars in front of us. So, I had to make my own lines in many places and lost a bit of time with that, but I tried to push a lot and we came away with the third fastest time. Overall, it was a really disappointing weekend from our side, but we just have to move forward. The positive thing is that the feeling in the car is good again after Portugal, and hopefully we can continue like this."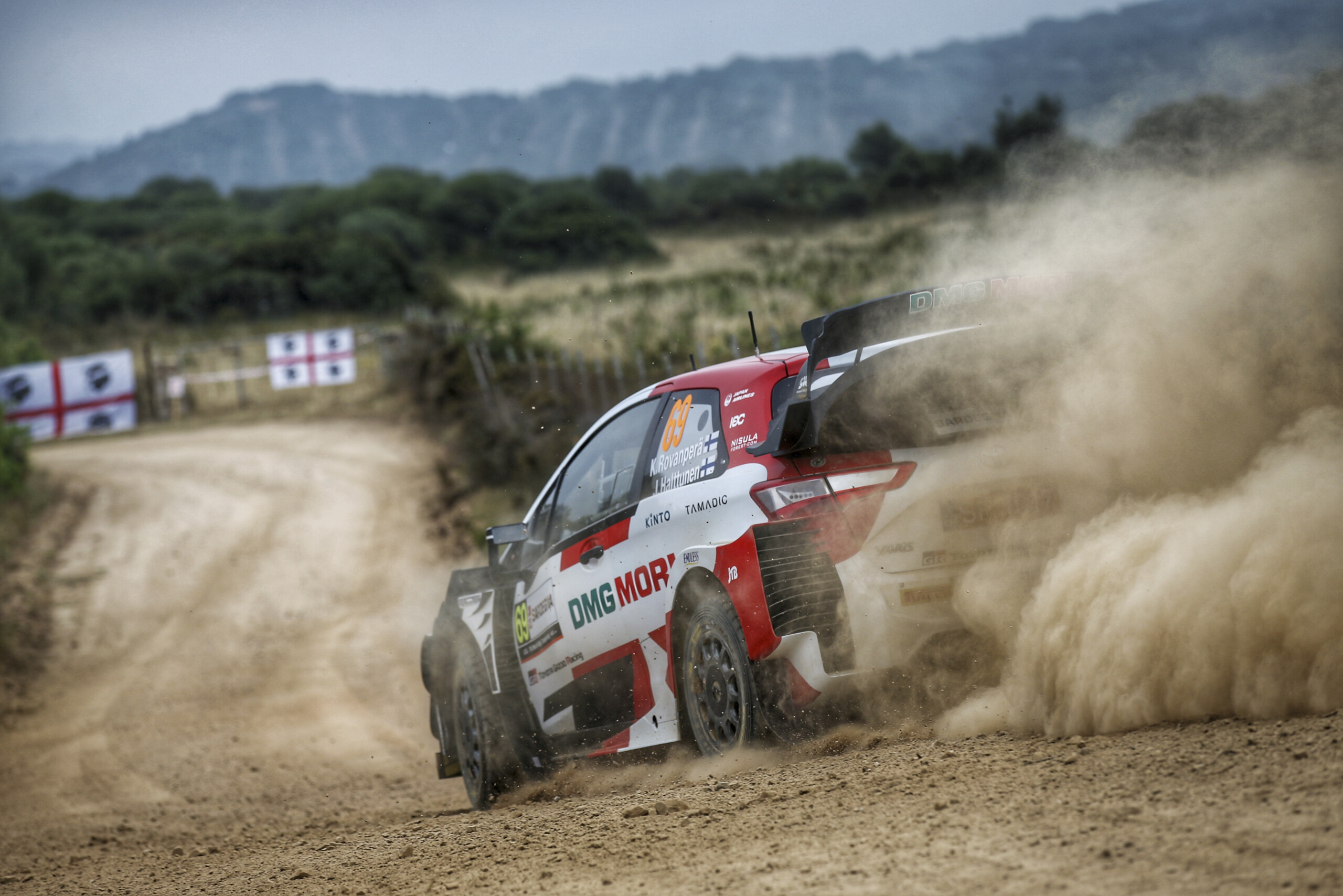 Hyundai Motorsport
Thierry Neuville (3rd)
"There were a few things that came together that didn't work properly for us this weekend. I'd like to extend my thanks to the team, including everyone in the workshop, because after Portugal they had one-and-a-half days to repair the car; they made everything like new. I am sorry to them that I wasn't able to deliver a better result, but we bring home a podium at the end of a disappointing weekend for everyone. There are better times to come."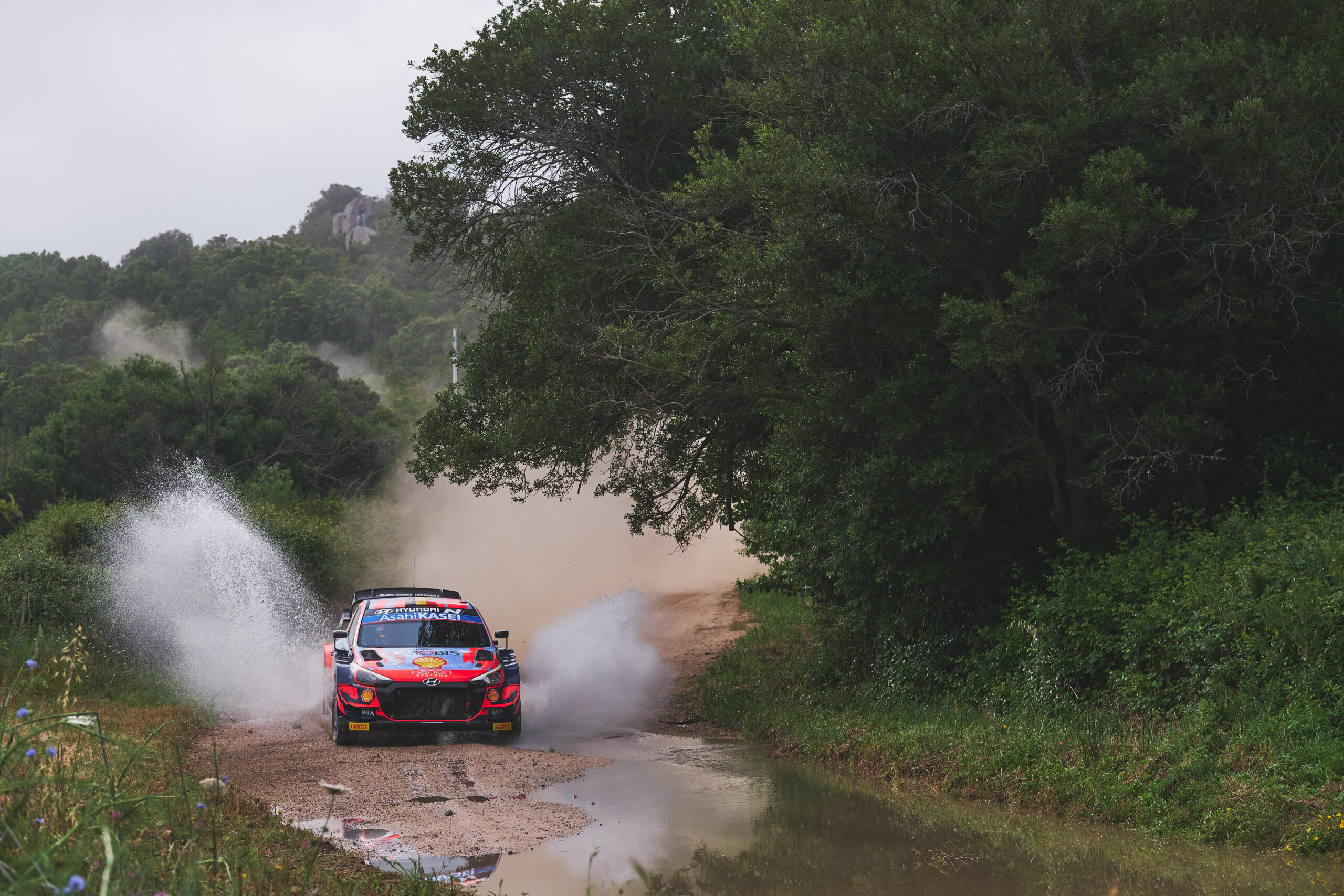 Jari Huttunen (5thOverall, 1st WRC2)
"It is an unbelievable feeling to win here in Sardinia after a long break. We have had some issues this weekend and the pace is not really what we wanted, but we've made it through and done enough to take the WRC 2 win – my first in the Hyundai i20 R5. It's been a good rally and a tough battle for the victory with Mads, who had shown to be a bit faster than us this weekend. We have focused on keeping the car on the road and not taking any risks. A great result for us and Hyundai Motorsport N."
Dani Sordo (17th)
"The only positive at the end of this tough weekend is that we have been able to take some points for the manufacturer' championship. In some stages, our speed was OK but there's not much more we can say. We go home a bit disappointed but sometimes rallying is like this."
Ott Tänak (24th)
"We know what happened on Saturday and it needs no extra explanation. It has not been a happy weekend, for sure, but the Hyundai Motorsport team has done a great job to get me up to this level. The car is really fast, it's improved a lot, so there is nothing stopping us."
M-Sport Ford WRT
Gus Greensmith (7th)
"I think I was pretty happy with my driving this weekend, one or two stages were particularly good, it's obviously a shame to then have technical issues that prevent that progress coming through in the overall results.
"I think that we can take heart from the reliability that the other two cars have shown this weekend. Clearly mine have been isolated incidents and in review and planning for the next event we will be able to move forward and keep aiming to get in amongst the top five."
Teemu Suninen (8th)
"We could be happier, obviously, the first day wasn't very good for us and that was a big shame but we have been able to build a good rhythm through Saturday and Sunday and to learn more about the performance of the Pirelli tyres on gravel.
"It was also a good learning to run first on the road as well, because you can really make up time when you know how to approach the stages with no markers and no line. You always want to take away more than what you learn from an event but on an event like this just reaching the finish can feel like an achievement. "
Adrien Fourmaux (6th, WRC2)
"Our goal is to push in all the stages and to keep the pressure on throughout the rally, and the incident on Friday was a combination of things related to readjusting back from the WRC car to the Rally2 and a little bit my experience. The difference in the aerodynamics on the cars is huge and I learned a big lesson as a result.
"We decided to push a bit more with the setup on Saturday, we tried a few different things to get to the point where I felt comfortable to really push and the result was two stage wins, which I think the team deserved for all their efforts this weekend. "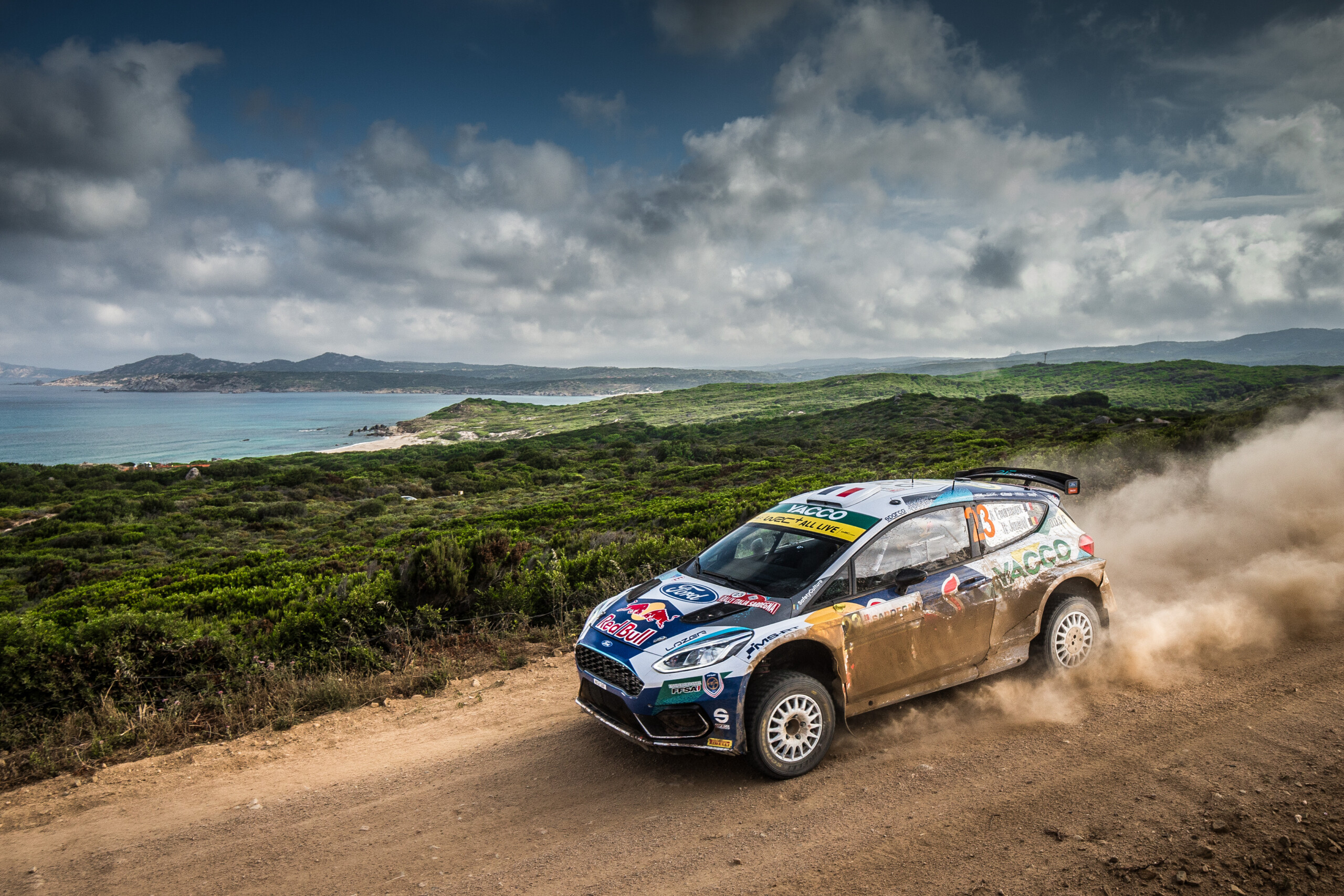 Citroen Racing
Mads Østberg (2nd WRC2)
"We have to be happy with coming away with a second place after this weekend. This rally was extremely rough. We fought really hard to even get to the end and luckily, we were able to repair the different issues we ran into. We are unlucky not to win the rally but considering the time penalty of one minute, two stages with rear issues and a puncture is not so bad. It has been a hard weekend and I am exhausted. Estonia next is not as rough so I hope we can build on the good pace and speed that we have and have a clean rally."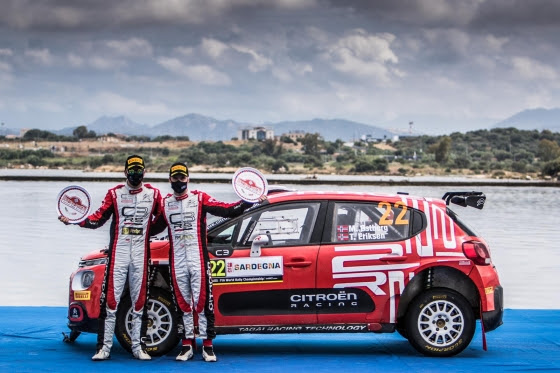 Warren's Thoughts
Well, what a rally with so many talking points! Let's start first with Toyota. Seb and Julien showed again why they are so fast. Five stage wins throughout the weekend, and the pace that they had on day one won them this event when Ott and Martin's challenge came to an end. Elsewhere in the team, Elfyn struggled on the soft tyres, but when he went onto the hard tyres, he found his form and took four stage wins. This earnt him his second place and he was able to hold off and gap Thierry as well. Kalle was also fast, and without his technical problems may well have challenged for a podium. Takamoto matched his best result to date, and survived a huge moment with a rock! The Japanese driver is definitely improving, and will continue to improve throughout his first full season.
What can I say about Hyundai? Well, it was a disaster for them. Thierry secured a podium, but was beaten by Elfyn. He could not keep up with the Welshman. For Ott though, it was tough to take a retirement for the second event in a row whilst in a place of absolute domination. Six stage wins, but only took 4 championship points ultimately. Dani came into the event as a two-time winner and held a good second place, plus three stage wins as well. It was a surprise to see him make the mistake that he did, but that is the way motorsport goes sometimes.  The Hyundai is clearly very fast, but lacks some inherent strength, particularly in the rear suspension.  Kris Meeke said that to give away so many points to their rivals, was not good for their hopes for either world titles. We shall see how things go in the next few events and see if they can close the points gap that has developed.
Finally at M-Sport, their weekend didn't start well with Teemu beaching the car on his return to the Fiesta WRC. It was a big shame for the Finn who has scored his best result on this event in 2019, and is only competing in the full WRC category occasionally this year. For Gus, it was a case of what might have been. He showed good pace out there, but was let down with mechanical and electrical problems. The young Brit will be hoping that at the next few rounds allow him to score some good results.
2021 FIA World Rally Championship for Drivers' Standings
After Round Five
| | | |
| --- | --- | --- |
| 1 | S. Ogier | 106 |
| 2 | E. Evans | 95 |
| 3 | T. Neuville | 77 |
| 4 | O. Tänak | 49 |
| 5 | T. Katsuta | 48 |
| 6 | K. Rovanperä | 44 |
| 7 | D. Sordo | 30 |
| 8 | C. Breen | 24 |
| 9 | G. Greensmith | 22 |
| 10 | A. Fourmaux | 20 |
2021 FIA World Rally Championship for Manufacturers' Standings
After Round Five
| | | |
| --- | --- | --- |
| 1 | Toyota Gazoo Racing World Rally Team | 231 |
| 2 | Hyundai Shell Mobis World Rally Team | 182 |
| 3 | M-Sport Ford World Rally Team | 82 |
| 4 | Hyundai 2C Competition | 28 |
Next round sees the championship return to Kenya for the Safari Rally! Over the final weekend of June from the 24th to 27th! Pop back the week before for the preview for this very special return!