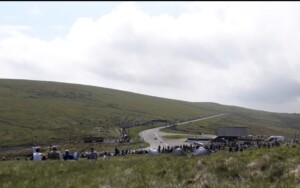 The atmosphere starts when you arrive at the ferry terminal. Perhaps you're hot and bothered, having negotiated your way through the centre of Liverpool along with the rest of the world, or maybe you've arrived at Heysham Port, all smug with how easy the last bit of the journey is along the new bypass. Perhaps you've only travelled a few miles. Or maybe it's been an expedition just to get here.
And suddenly the world is a sea of bikes, all loaded to the gunnels and beyond, and you're lined up three abreast in the car lanes alongside a few battered vans covered in stickers. You get separated from your mate, as you've managed to get everything into your rucksack, but he's got the widest panniers in the world so has been sent into a different queue.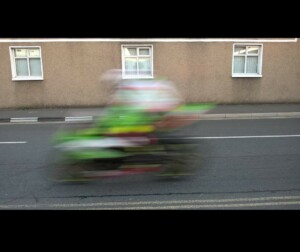 If you're one of the lucky ones to get on board first, you do a quick dash to grab a table in the bar, or if you're on the overnight, nab somewhere to stretch out on the floor without being tripped over every 5 minutes. Otherwise you hang around outside waiting to board, judging people's packing abilities, and checking that all your bits are still where they should be. This is it. Your first time to the Isle of Man for the TT. Will it be everything that everyone says it is?
A three and a bit hour sailing, and it's time to disembark. Back on the car deck you do your best impression of a Krypton Factor contestant – limboing under chest-high ropes in full bike gear, squeezing between panniers and exhausts, trying not to catch your rucksack on mirrors, and then trying to figure out where on earth the end of the rope is and how the hell to untie it.
And then your row starts to move. A bit of concentration as you negotiate the humps and bumps and slippery bits on the car deck, and then you're on the ramp. Out into the fresh air. You've made it. You have officially arrived on the Isle of Man, ready to take in the greatest road racing in the world.
But where do you start? There's so much to do and see…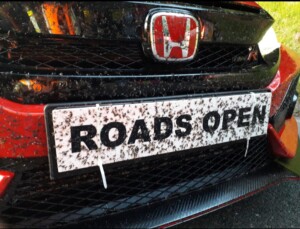 Ask anyone who's been before, and they will have their own recommendations, their own favourites and must-dos. I'm going to be one of those people – I've been going to the Isle of Man TT and Manx Grand Prix for over 15 years, I also marshal the races, and I lived on the Island for a couple of years in my 20's. So even though no one has asked, I'll give you some thoughts on how to plan your trip to get the best out of it, and give you a taste of the TT fortnight. But be warned. The Isle of Man TT is addictive. You'll be planning your next trip even before you've left.
Two pieces of advice:
Don't have an itinerary. Make a list, but keep it flexible. Remember everything is governed by the weather. Hopefully it'll be cracking the flags and you'll be stocking up on suncream. But you might well end up sulking in your tent, wondering if you can be bothered to go to the pub. So have some rainy day plans as well.
Talk to people. Particularly if you're on a campsite, you'll be surrounded be people who will have been before. Get chatting and find out where they suggest – maybe they've got a spectacular spectating spot, or have discovered a cracking chippy.
I've done quite a lot of spectating over the years, I really enjoy going off somewhere and spending the day with my earpiece radio and race guide. I like to have a couple of beers while I'm watching, so my spectating revolves around public transport. But it is still possible to get away from the crowds without too much walking. And the public transport on the Island is superb – clean, on time, not too rammed, and the buses have free wifi.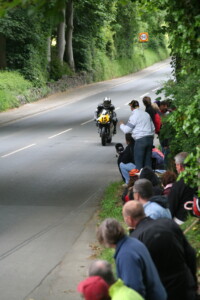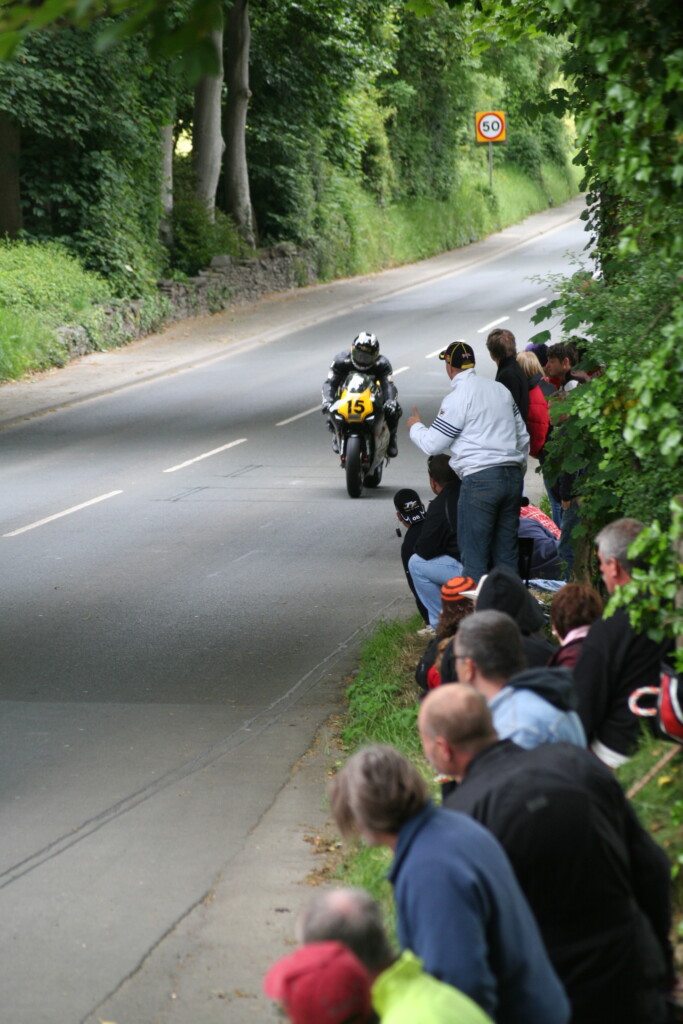 Where's good for spectating? Have a think about what kind of racing you want to see. Do you want to experience flat out speed? Do you want a slow bit where you can see the whites of their eyes? A technical bit? The mountain? Famous locations? Near a pub? In a hedge? The possibilities are endless. Bear in mind that in some places you'll be stuck there until the roads open, and on the mountain there's a further wait while the one-way system is put back in place. And not everywhere has the luxury of toilets or a burger van.
Weather forecasts are only so much use – the Island is renowned for its microclimates, and I've lost count of the times it's been glorious in Ramsey but everything is delayed as the heavens have opened at the grandstand, or the mountain is shrouded in mist.
Also, even on a stunning day, it's chilly in the shade, particularly if you're not moving around. There's nothing more miserable than going to a suntrap in your shorts and t-shirt, and as the day goes on the sun moves round and everyone else is now wearing seventeen layers and there's another couple of hours 'til the roads open.
I always try and spend one of the race days spectating up the mountain. Bus to Laxey, buy a picnic and a few beers in the corner shop, and then join the enormous queue for a tram up to Bungalow. On race days the trams stop short of the road, but you can cross over the footbridge and jump on another tram to the summit. I usually walk up towards the old museum building and Joey's statue, find a shady spot to keep my picnic cool and then I'm set for the day. And you can always wander back down to the tram and head up to the summit for cake.
I would definitely recommend spectating at least one practice session from the Grandstand – tickets are cheaper and easier to get hold of, and as practice takes place from about 6pm you can spend a couple of hours wandering round the paddock, watch scrutineering, and do a bit of souvenir shopping, all the while keeping an eye out for famous faces.
And don't forget your time away from the racing. Do you want to spend it in the pub, soaking up the atmosphere? Or do you want to do a bit of exploring? For a lazy day I can highly recommend the ice cream parlour by the Villa Marina on Douglas prom – there is loads of outside seating, and it's great for watching the world go by, particularly when a ferry has just unloaded. Most events are listed in the programme, from live music to beach racing to stunt shows to fireworks to Red Arrows displays, but it's definitely worth picking up a local paper for more gig listings.
There's plenty to do if the weather doesn't play ball. Have an adventure on a steam train or the electric tram, visit one of the several museums around the Island – the Douglas museum usually has a TT-themed exhibition, and the Villa Marina cinema in Douglas shows a selection of bike-themed films. Or there is always the pub.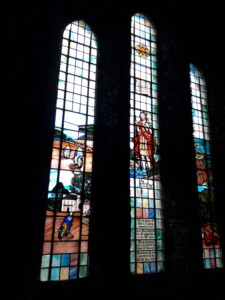 And a handy hint – many churches around the island open up as cafes during TT fortnight, quite often with photography displays. I can highly recommend St Ninian's, with it's TT-themed stained glass windows, an upstairs exhibition space, and excellent lemon drizzle cake. Maybe next year I'll work on doing a cake-based guide to TT fortnight…
The TT really is a holiday like no other, and if you've never been I hope I've given you a taste of it. Just writing this has made me long to be back there – I've got my sailings booked for next year, and I'm already counting the days 'til I pack my rucksack and head up to Heysham on my Ducati Scrambler.
Whatever you decide to do while you're over there, you'll be planning your next trip even before you set off home.