In the absence of the IOM TT racing this year (2021), instead of looking forward as I would usually by now, I spent some time looking back. Since I moved to the Island in 1999, TT has been the highlight of my year. As the years pass by, I have experienced highs and lows, joy, excitement, friendship, camaraderie, team work and so many other great things. There have been terrible lows; times of fear, of worry, of disappointment and overwhelming sadness. Road racing is a cruel mistress – she has a hold over those who have committed to her that is really quite hard to explain, she is brilliant yet cruel… and very hard to walk away from.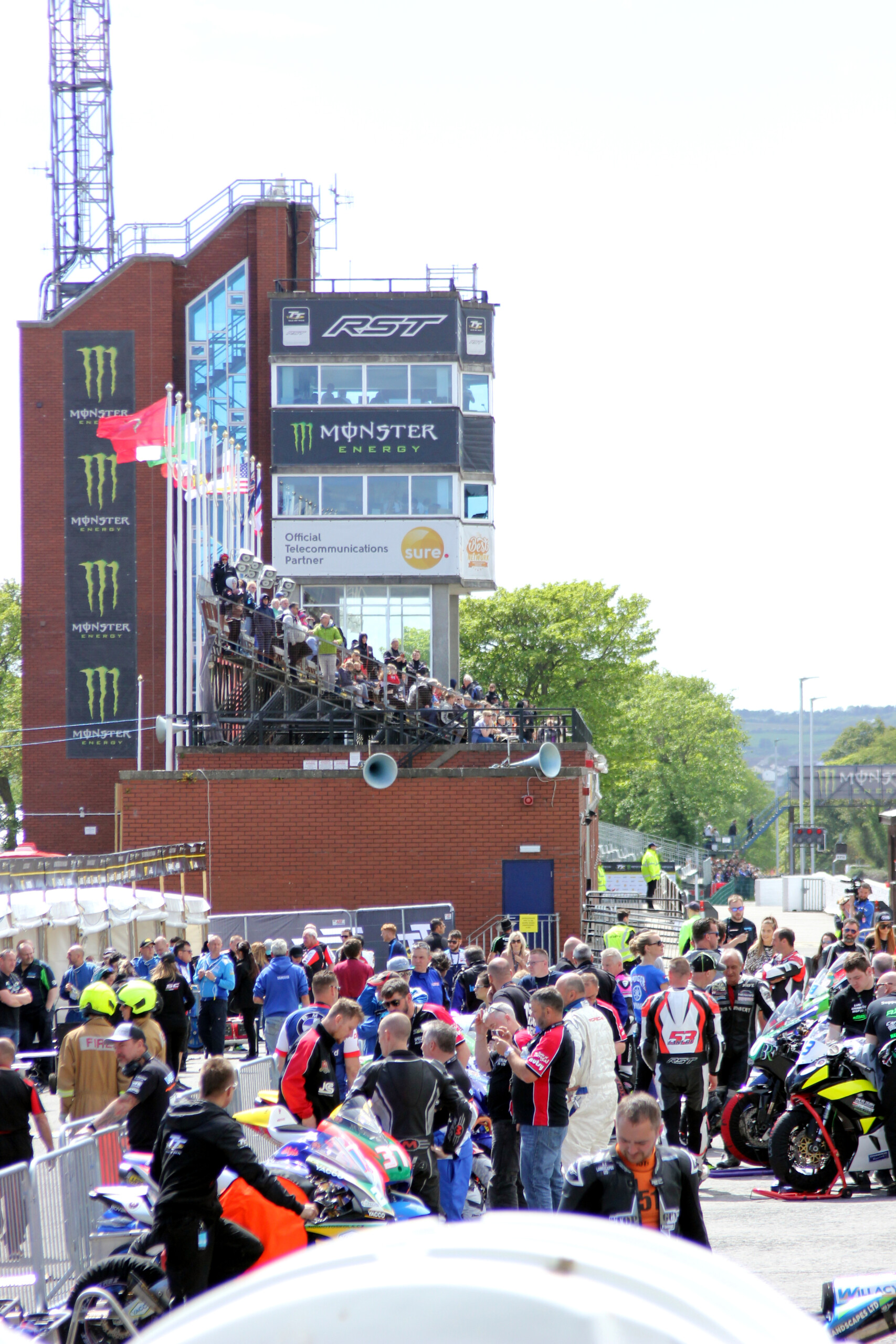 For many years, the fortnight was whirlwind of escaping work on time to watch practice, catching up with visiting friends, socialising, and of course the main event – the racing. My best mate of twenty years lived on the course, so it was usual to spend race days there. She was part of a big family, and they had pretty much adopted me as one of them. There were always visitors and the days were brilliant fun sat on her wall with the bikes just feet away, combined with access to clean toilets, cold beer and good food. Most years one of the visitors is her brother, who has a keen interest (obsession?!) in bikes and has often talked of his dream to race the TT in his sidecar. In 2013, it was finally time for his dream to become a reality…. During the fortnight, I decided to write a blog about the week and how it unfolded, and with no TT happening this year I have revisited my scribblings and I'd like to share them again to give you readers that may not have seen them before a view of the Isle of Man TT from a slightly different perspective. This first instalment is a summary of the first practice and is pretty much exactly as I wrote it 8 years ago…
I remember when we heard he'd entered his sidecar – a mixture of admiration (how amazing to get to do something you've always dreamed of) along with a twinge of fear. I'm sure I don't need to explain that. The months have passed and now here we are….
I head to meet my buddy so we can all go to the Grandstand to see him off. When we get there, we find them getting the bike ready to go and be scrutineered. The tension is palpable – her brother is usually a pretty chilled and laid-back guy, but you can see that he is more edgy than usual. His partner is quieter than usual and best buddy is doing her best to keep busy. Having got there at 4ish, those couple of hours seem to go on forever. But then suddenly it's 6pm and the last-minute preparation is in full flow. I'd expected to leave them and head up to sit in the Grandstand to watch, but there are enough team passes so I get to go into Parc Ferme and down pit lane to see them off. I'm excited as I've not been quite so close to the action ever before.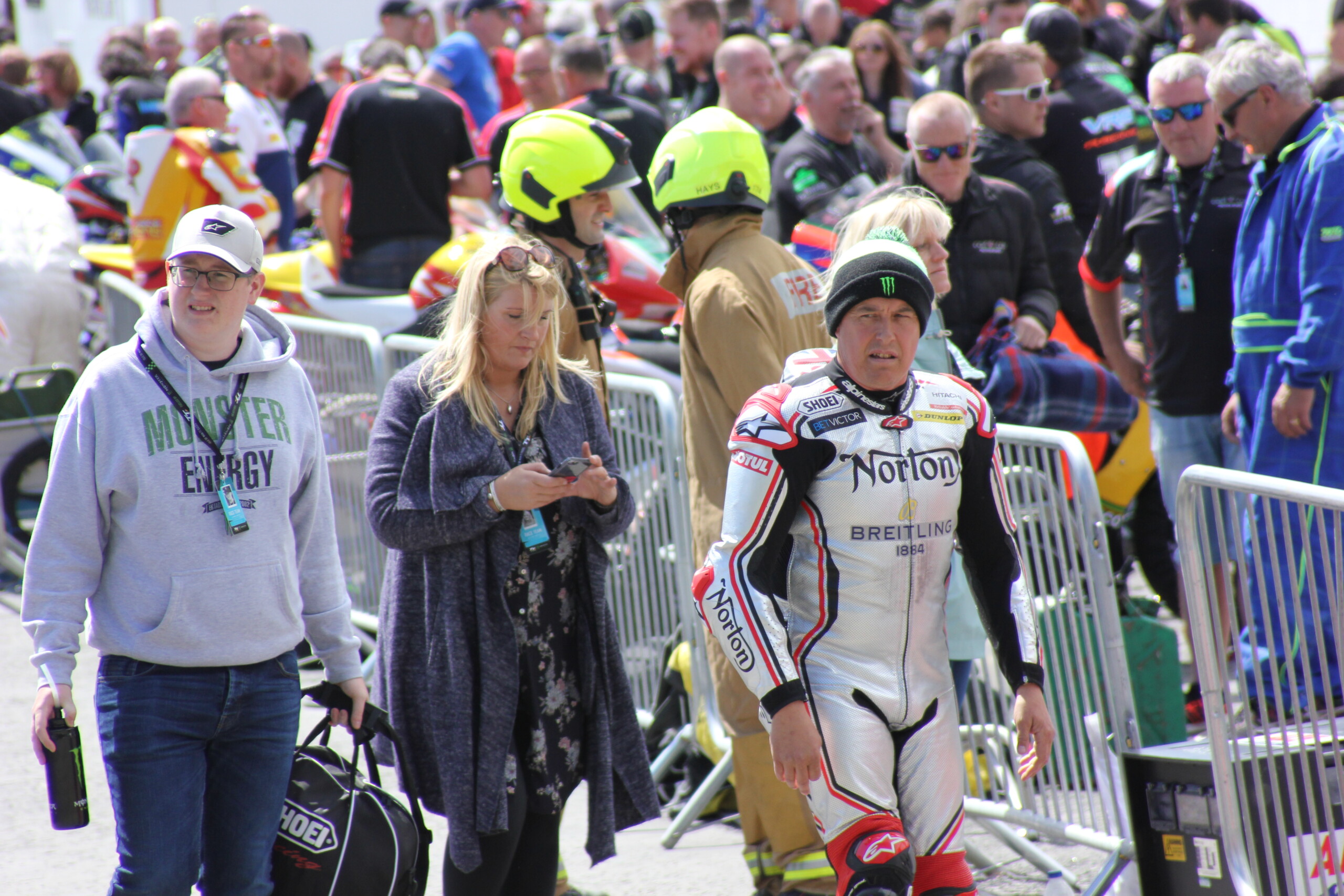 It's a bit like entering an inner sanctum, and I'm a little awestruck seeing so many faces that I recognise – McPint, Rutter, MD amongst others are milling about in readiness for the lightweights, old hands who have been here a million times before amongst the orange vests of the newcomers here for the very first time. A small gathering of journalists indicates there is somebody a lot of people are watching – Josh Brookes in his controversial leathers carrying the neon orange colouring over the top half. We make our way down pit lane and see the solo newcomers setting off on their controlled lap. The knot in my stomach is getting tighter as the boys get their lids on and get settled in the outfit. The roar of engines starting up around us, and that smell…. The knot has now sent a lump to my throat and I see the anxious faces of the partners and family, trying their best to act normal so as to keep the boys calm. And then they get the nod to move forwards….and they're off…. We watch them launch onto the road and disappear off into the distance to St Ninians and for a minute we're all silent. One of the girls surreptitiously wipes a tear from her eye and I say nothing but put my arm round her & hand her a tissue (I was a girl guide, always prepared!) We make our way back to Parc Ferme and wait.
It seems like an eternity. I am messaging everyone I can think of who may be out around the course to let us know when they see them go through. I get a message from Kirk Michael – they've passed there, and the girls look relieved. After what seems like forever the outfits start coming in and from our spot, we crane our necks as one after another pulls in. And then they are there. Huge sighs of relief all round – they've done their first lap on the most famous 37 and three quarter mile stretch of road there is. The lads park up, and everyone buzzes around them. How was it? How did it feel? How was the outfit, the visors, the flies, the light etc etc.. I am kind of on the fringe, and then something is needed from the awning. In a bid to feel useful I set off trotting back down there. A couple of hours ago it was buzzing on their paddock, but now it is like a ghost town. I wonder how the other teams have got on and think about how surreal this feels. I am suddenly part of a race team! I grab the bits I need and set off back up the way. It's worth noting I haven't run anywhere for about 20 years and vow it will be 20 years before I do it again!! As I get back to them, they're starting to move the outfit down to its slot on pit lane in readiness for the next outing.
This time they are not restricted, and the tension is building again. The pit lane is buzzing, lots of clusters of people gathered around each outfit, riders perched on walls with headphones in shutting out the hustle and bustle and getting in the zone. Engines starting up & shutting off, the outfits and leathers an explosion of colour in the evening sunshine. This time everyone in our little group seems calmer but it is still an anxious wait. I look up to the grandstand – it's packed with people, probably helped by the fact it is a beautiful evening on the rock with clear skies and glorious sunshine. Engines are being started and the guys are moving into position ready to go. They get the tap on the shoulder and they're off again. I remember the TT App and start following the feed to see their names pop up….they're through Ballaugh, Ramsey, Bungalow, Cronk ny Mona and then they whizz past us at the Grandstand and they're off again. We tell ourselves that's a good sign – if they went round again the first can't have been that bad!!
As the faster, more experienced guys start to arrive back we keep our eye on the app to get clues. It feels like an age and as people arrive back the buzz gets quieter as people leave pit lane and parc ferme and head back to their bases. The people next to us get a call to say their team has run out of fuel. A travelling marshal sets off to start the sweeps of the course. There's no sign yet but we're told the last two outfits are still circulating. The clock ticks closer to 9pm, and the app catches back up with itself and shows them at Cronk ny Mona….The spanner & the drivers son are on pit wall, I'm with the drivers partner at the end of the return lane. Son shouts back to us that they're here and there's that feeling of relief again. I suddenly realise the sun has dropped and its getting very chilly. This time it's smiles all round and we make our way back to base with a spring in our step.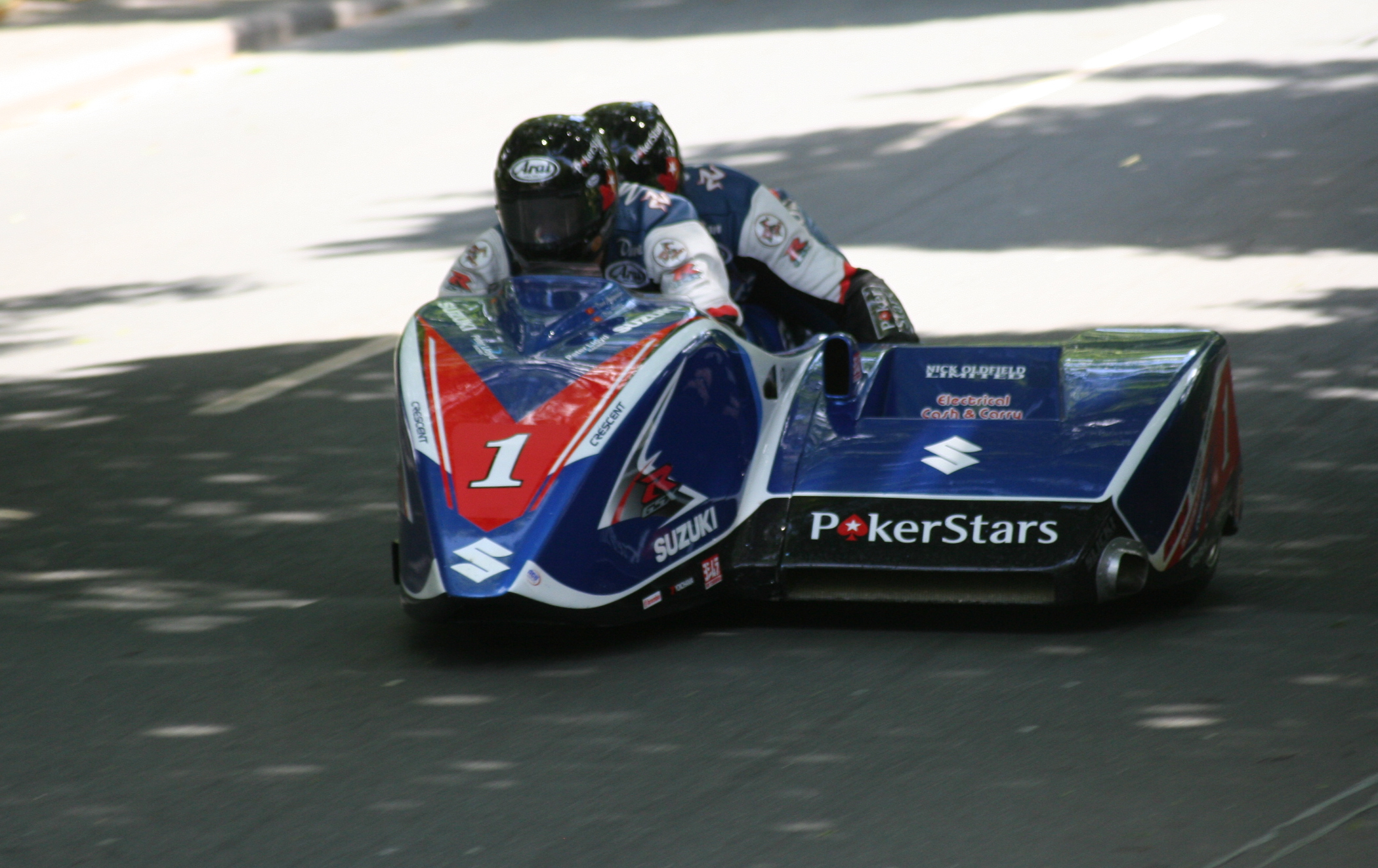 Best buddy has been down a while and done what she does best and got the brews on and as we warm our hands we hear about the experience the boys have just had. The evening draws to a close as the sun sets on first practice and we head home. This time next week, subject to weather, qualifying and a big chunk of luck they'll have done their first race.
But for tonight, we're happy they're home safe