Scott Dixon dominated the Texas Motor Speedway, leading almost every lap to take victory at the Genesys300, while fellow compatriot Scott McLaughlin achieves a career-best second on his oval debut.
Saturday saw qualifying postponed due to wet weather, as moisture in the air made track-drying efforts increasingly difficult. The session was eventually canceled and the starting grid was formed based on championship positions with Chip Ganassi's Alex Palou and Penske's Will Power lining up alongside each other on the first row ahead of Scott Dixon, Colton Herta, Simon Pagenaud, and Britain's Jack Harvey.
Alex Palou got off to a great start – leading a rather hesitant field who were wary of the darker shaded 'PJ1' tarmac which lined the higher portion of the track. This slippery surface, used for NASCAR racing, was highly treacherous and was mostly avoided by the field. This left a much narrower racing line and made overtaking around the outside increasingly difficult.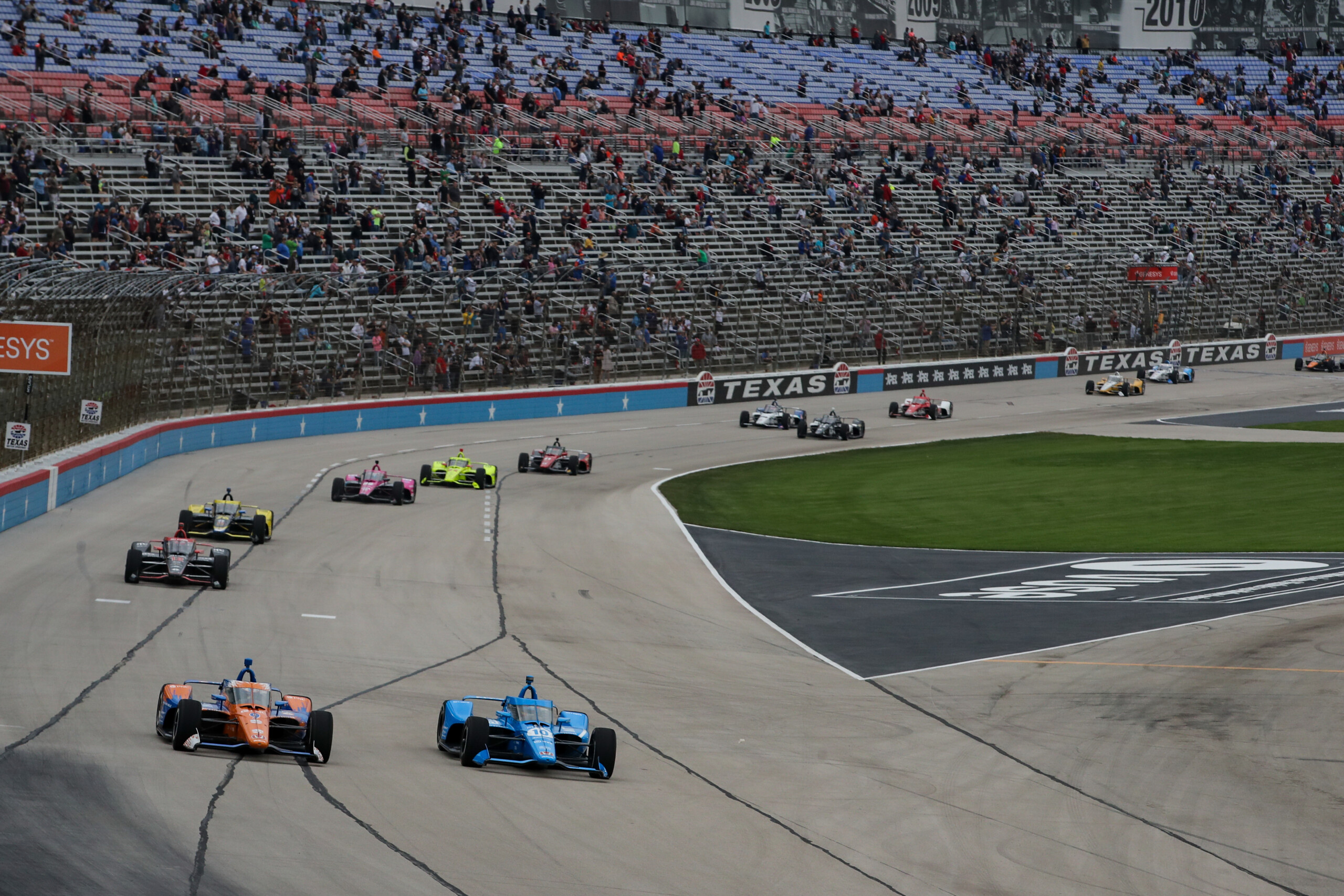 That being said, six-time champion Scott Dixon got to work early, picking off both Will Power and Alex Palou on Lap 4. The New Zealander came under pressure from various rivals but was largely untroubled throughout the race, who takes his 51st win in IndyCar, now one behind the all-time great Mario Andretti.
The common understanding was that the race could be done on a three stops strategy. With over 200 laps to complete many drivers went into tyre management mode – some choosing to come into the pits as early as Lap 25 – as they started vibrating due to wear rather than blisters.
Those that pitted early around Lap 50 included: Power, Ericsson, O'Ward, Pagenaud, Sato, Rahal, Carpenter, Hunter-Reay, and Daly.
Unfortunately, Sebastien Bourdais collided with the barrier on Lap 56, bringing out the first caution of the evening. Josef Newgarden was to blame for this incident, who was caught by surprise as Bourdais braked late in front. As a result, Newgarden was sent to the back of the grid, which left the two-time champion plenty to do for the remaining 150 laps.
Those that had not pitted, including Dixon, Palou, Harvey, Herta, Newgarden, and McLaughlin were allowed into the pits under caution on Lap 64. For those that already had, they found themselves shuffled down the grid. The most notable of which was Will Power who found himself loundering in 12th.
Dixon and Palou led the field on the restart ahead of Herta, Harvey, and Alexander Rossi. Tony Kanaan, who had started 23rd and pitted on Lap 25 was the biggest gainer, now in seventh. Australian Supercar Champion Scott McLaughlin was also benefited during this stage who found himself in the sixth,
Palou kept the pressure on Dixon but failed to make any significant moves on his Chip Ganassi teammate, who dived into the pits again on Lap 126. This left Palou in the lead ahead of Pietro Fittipaldi and Will Power as the rest of the leaders took their second pitstops. Power gave it just one more lap, Palou two more, and Fittipaldi three more.
While Dixon's emerged clearly in the lead Felix Rosenqvist, who'd pitted on lap 118, was up to second for Arrow McLaren SP. Behind him ran McLaughlin while Palou had fallen down to fourth. The undercut strategy really paid off today.
Rosenqvist closed the gap to half a second on Dixon as they ran through heavy traffic. – the top three were separated by just two seconds.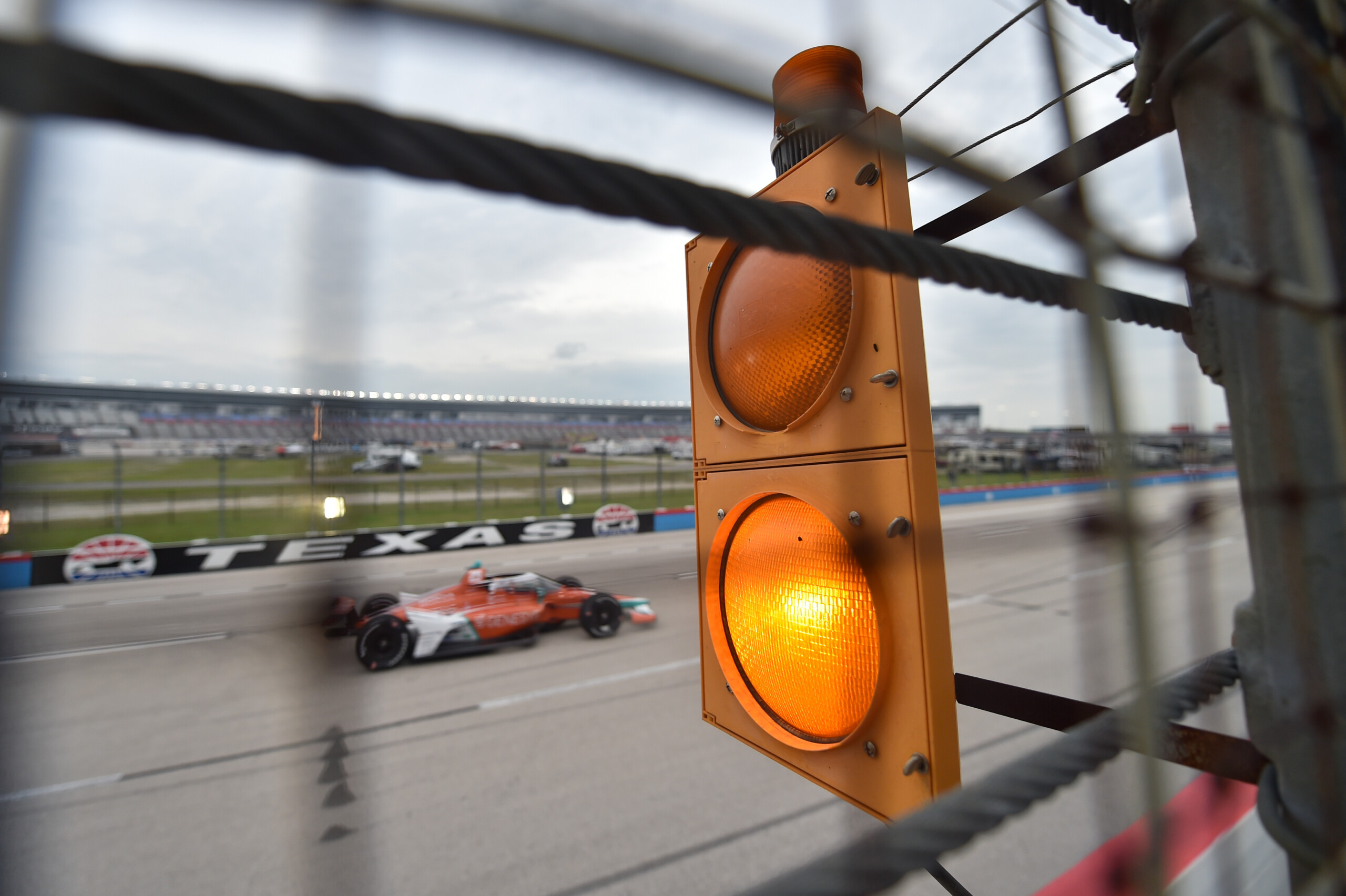 However, Lap 160 saw Andretti Autosport's James Hinchcliffe crash after getting out of shape in the 'dirty air' of Felix Rosenqvist who had just lapped him.
This triggered the final set of pit stops with Dixon, Rosenqvist, and McLaughlin pitting on Lap 172. Second place Rosenqvist lost out massively as Chip Ganassi's Marcus Ericsson left his pit box without his right rear tyre. The Swede had to take avoiding action onto the grass and lost out to McLaughlin falling down to 12th.
Scott Dixon and Scott McLaughlin led the field now ahead of Arrow McLaren SP's Patricio O'Ward who had gambled on strategy in the middle portion of the race and gained many positions on new tyres. Behind them included: Alex Palou, Colton Herta, Jack Harvey, Alexander Rossi, Josef Newgarden, Graham Rahal, and Simon Pagenaud.
On the final restart, Dixon sprinted away from McLaughlin and O'Ward, while Newgarden and Rahal made light work of Meyer Shank's Jack Harvey.
The drama wasn't over yet as on Lap 191 Herta pulled into the pits – his right rear tyre bursting with flames. The St. Petersburg winner had been running high for most of the race but was done for today and ultimately retired.
Upfront, McLaughlin got within 0.2s of Dixon on the final 5 laps, hoping lapped traffic would cause problems for the defending champion. But it was Dixon who came out on top to take his fifth win at the Texas Motor Speedway – and the lead of the championship.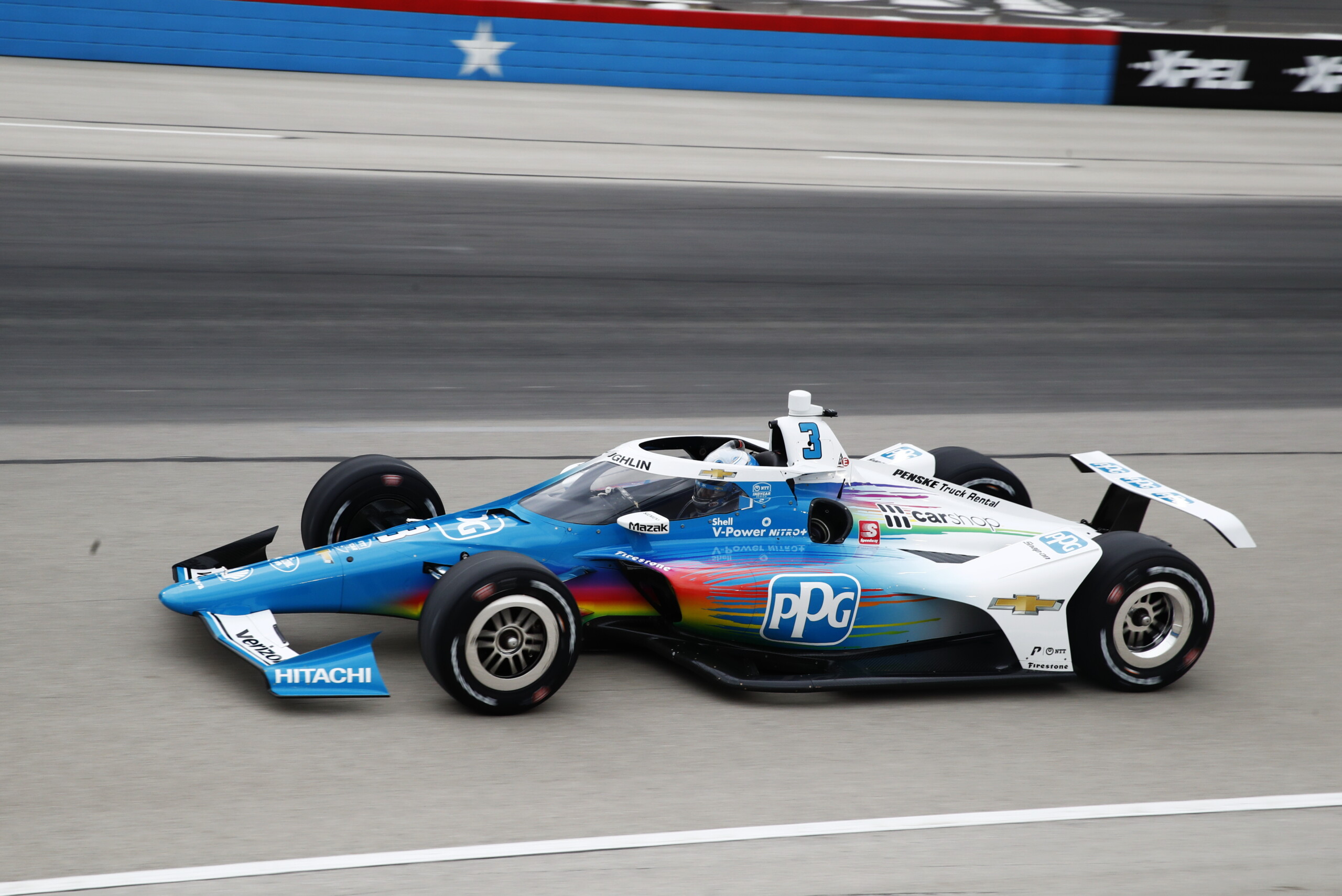 McLaughlin finishes second on his debut appearance at an oval. The Kiwi 1-2 made it an impressive weekend for New Zealand motorsport after Brendan Hartley's success over in WEC's new Hypercar entry. In only his fourth IndyCar appearance this was a seriously impressive driver and ended the day the highest placed Penske.
O'Ward finished 1.5s down to claim the first podium of the season for Arrow McLaren SP, and move up to fourth in the championship, ahead of Palou who scored his best oval finish and slipped to second in the points.
Newgarden salvaged sixth behind the charging Rahal while Britain's Jack Harvey kept seventh who moves up to fifth in the points – to put this in perspective, his highest championship finish is 15th which he achieved in 2020.
The second race of the Texas doubleheader is the Xpel 375 on Sunday May 2nd. The 248-lap race will get underway just after 10:00pm (BST).
As Saturday's canceled qualifying would have set the order for both races the grid will be based on the current championship standings following the Genesys300 (Dixon, Palou, Power, O'Ward,  Harvey, Newgarden, McLaughlin, Pagenaud, Rahal, and Herta).
RACE 1 CLASSIFICATION:
Dixon
McLaughlin
O'Ward
Palou
Rahal
Newgarden
Harvey
Rossi
Sato
Pagenaud
Kanaan
Ed Jones
Rosenqvist
Power
Fittipaldi
Hunter-Reay
Carpenter
Kellett
Ericsson
VeeKay
Daly
Herta
Hinchcliffe
Bourdais