After opening the 2021 IndyCar season with races on a permanent track and street circuit, we head to our first oval races of the year at Texas Motor Speedway. With two different race winners at both St Pete and Barber alongside the added unpredictability that comes with oval racing, it is highly likely that there may be a different winner this weekend.
Chip Ganassi Racing's Alex Palou comes into this race with a narrow two-point lead over teammate Scott Dixon and Will Power in the drivers championship, with last time out race winner Colton Herta leading the charge to challenge the top three.
In addition, drivers like Tony Kanaan and Pietro Fittipaldi will be making their season debuts this weekend, substituting for drivers on road and street course races.
The history of IndyCar racing at the Texas Motor Speedway starts in 1997 – won by Dutch extraordinaire Arie Luyendyk. Since then the circuit has played host to 32 different races and 21 different race winners. Both Helio Castroneves and Scott Dixon are the most successful drivers at Texas with four wins apiece.
If you're a fan of racing, there's going to be a lot of it! The 1..5-mile oval located in Fort Worth, Texas will host our first double-header of the season including both the Genesys 300 and the Xpel 375 – the first time Texas has hosted a double-header since 2011. It will be incredibly important to get this track right if a driver wishes to make a significant dent in the championship with 106 points available across both races. Yes, 106!
Unlike 2011, this weekend will be run over a full race distance (In 2011 two races were held on the same day and as a result, the race distance was reduced by half for both). The Genesys 300 will last 212 laps while the second race will be even longer at 248 laps.
Additionally, the qualifying format will see a small tweak. The first lap will determine the starting position for the first race while the second lap will determine the starting position for the second. Normally, when there is only one race your starting position is determined by the combined time for two consecutive timed laps. Got that?
DRIVER CHANGES
Texas Motor Speedway winner (2004) Tony Kanaan will make his return to the series this weekend for Chip Ganassi at both the Genesys 300 and the Xpel 375.
The 2004 series champion is sharing the entry this season with seven-time NASCAR Cup Series champion Jimmie Johnson, who is focusing on the road courses and street circuits. This will form two out of the four races Kanaan will compete in this year alongside the Indy 500 and the Bommarito Automotive Group 500 at World Wide Technology Raceway, Illinois.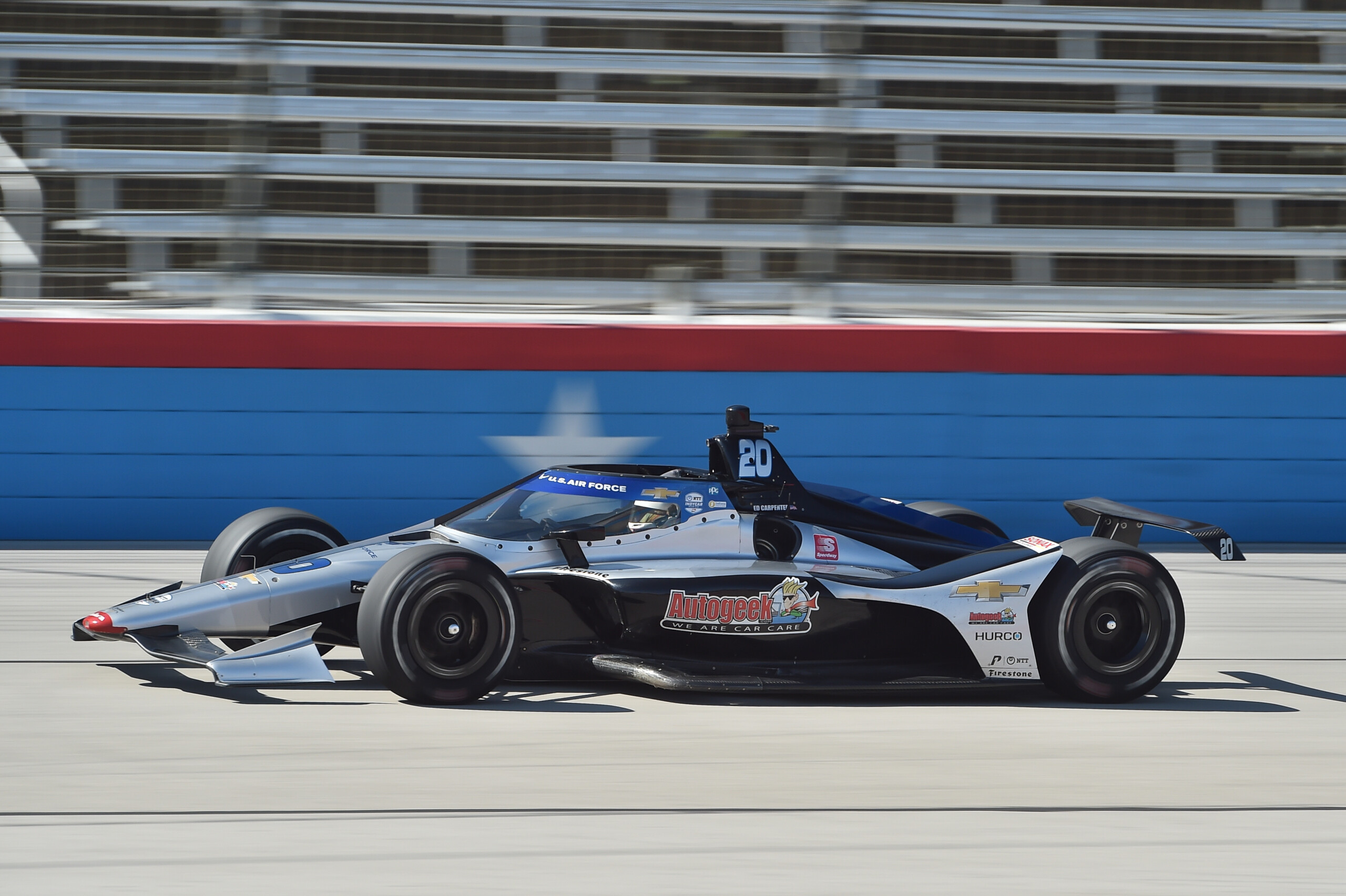 Joining alongside him is fellow Texas winner Ed Carpenter, who in recent years has opted to race only on ovals. He will take Conor Daly's place in the Ed Carpenter Racing Air Force Chevrolet entry. Like last year, Daly will drive the Carlin Chevrolet in place of Max Chilton who will sit out for this weekend.
Romain Grosjean will also not be competing this weekend with his Dayle Coyne Racing with RWR entry taken by Peitro Fittipaldi. The Brazilian making his IndyCar comeback after his 2018 season was cut short by injuries suffered in the World Endurance Championship race at Spa, Belgium.
WHO TO LOOK OUT FOR
There are some incredibly talented drivers to watch out for that I could name almost half the field. Alex Palou was our race winner at Barber but suffered a pretty uneventful outing at St Pete finishing down in 17th. The Spaniard has fresh memories of the Speedway and will be hoping to avoid a repeat of his incident with Rinus VeeKay. Both drivers crashed out of the race on Lap 37 after the Dutchman lost control into turn two.
But while Palou retains his lead at the top of the championship, VeeKay will be looking to continue his consistent run of form after finishing twice in the top ten. The Dutchman qualified in the 'Fast Six' on both his oval debuts at the Indy 500 and Gateway with a maiden pole position at the Harvest Grand Prix at the Indianapolis Motor Speedway – he may be one to watch to put in an impressive qualifying performance.
During IndyCar's pre-season test back in March, it was Arrow McLaren SP's Patricio O'Ward who was the fastest of everyone. Despite picking up a draft on his flying lap he was amongst the top five fastest on the solo runs. O'Ward has been a constant threat in both races of the season and still seeks his maiden victory.  O'Ward's closest rival in that test was Alexander Rossi who still continues to struggle with poor performances this season.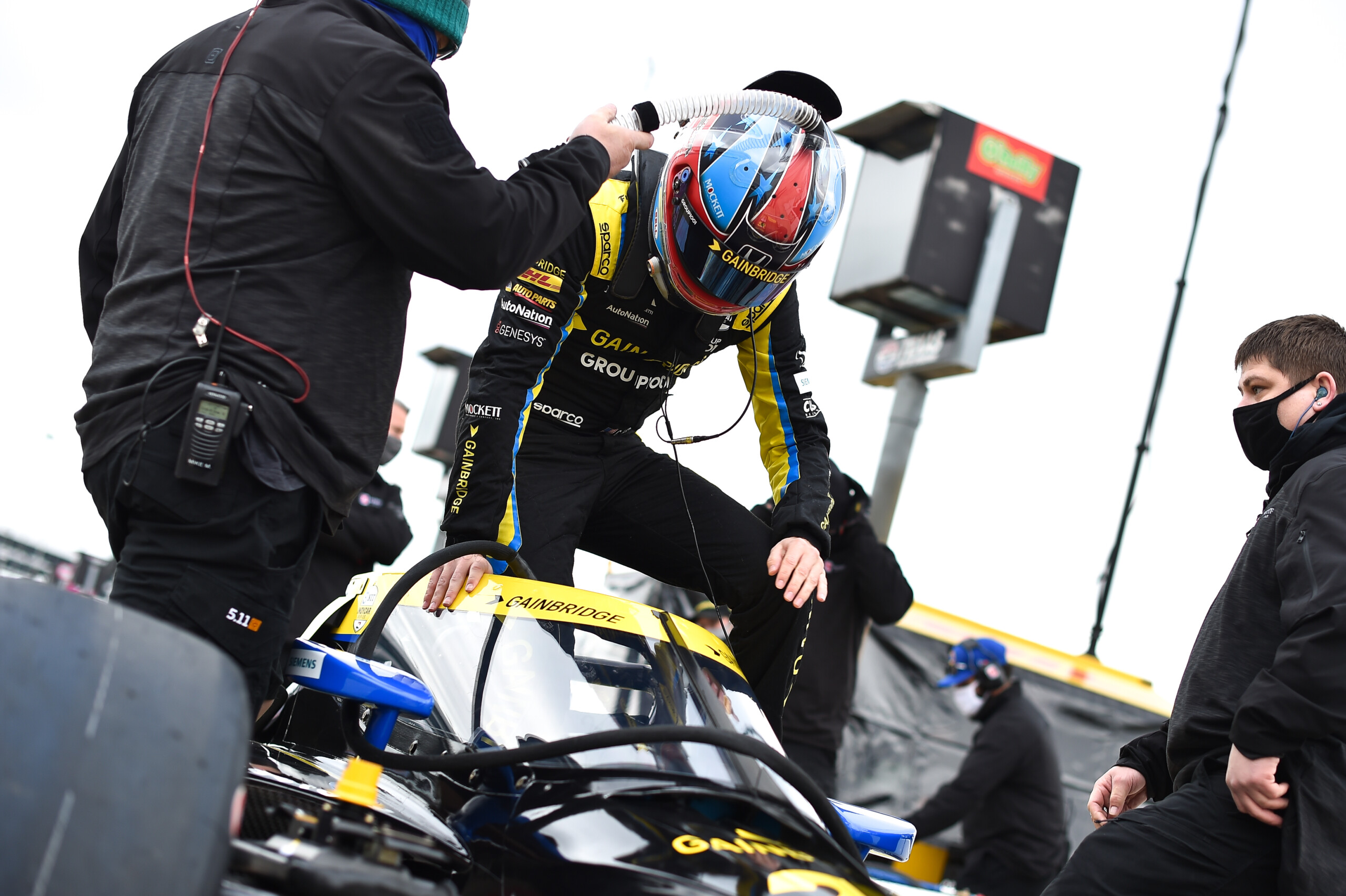 Colton Herta comes off the back of one of his strongest performances of his career with a win at St Pete. The young American is in imperious form, picking up where he left off finishing third in his sophomore IndyCar season and staking a claim as the team leader at Andretti versus the likes of Ryan Hunter-Reay and Alexander Rossi. Last year,  Herta was incredibly consistent on ovals, finishing inside the top ten on six occasions. His best result that year on ovals came at the Harvest Grand Prix at the Indianapolis Motor Speedway where he finished second alongside an equally impressive qualifying performance.
And as always you can never count out six-time champion Scott Dixon. With his win record at the track, he will be a threat to win once more and could take the points lead by the end of the weekend.  He was last year's winner at the Texas Motor Speedway and is coming off the back of two top-five finishes. Dixon is someone who is famous for knowing how best to execute a strategy on ovals and will most likely find his way to the top of the field even if he starts far down the order.
Texas will see qualifying take place on Saturday 1st May at 21:00 (BST) followed by the Genesys 300 at midnight, 00:00 (BST).
The Xpel 375 will take place on Sunday 2nd May at 22:00 (BST).
You can watch the race on SkySportF1 in the UK. Alternatively, you can read our post-race reports following each event. In solidarity, with fellow organisations ThePitCrewOnline will be taking part in a social media boycott across the weekend in protest of online hate.