It was a Qatar dream to end the double-header for British rider Sam Lowes in the jam-packed Moto2 race at the Losail International Circuit.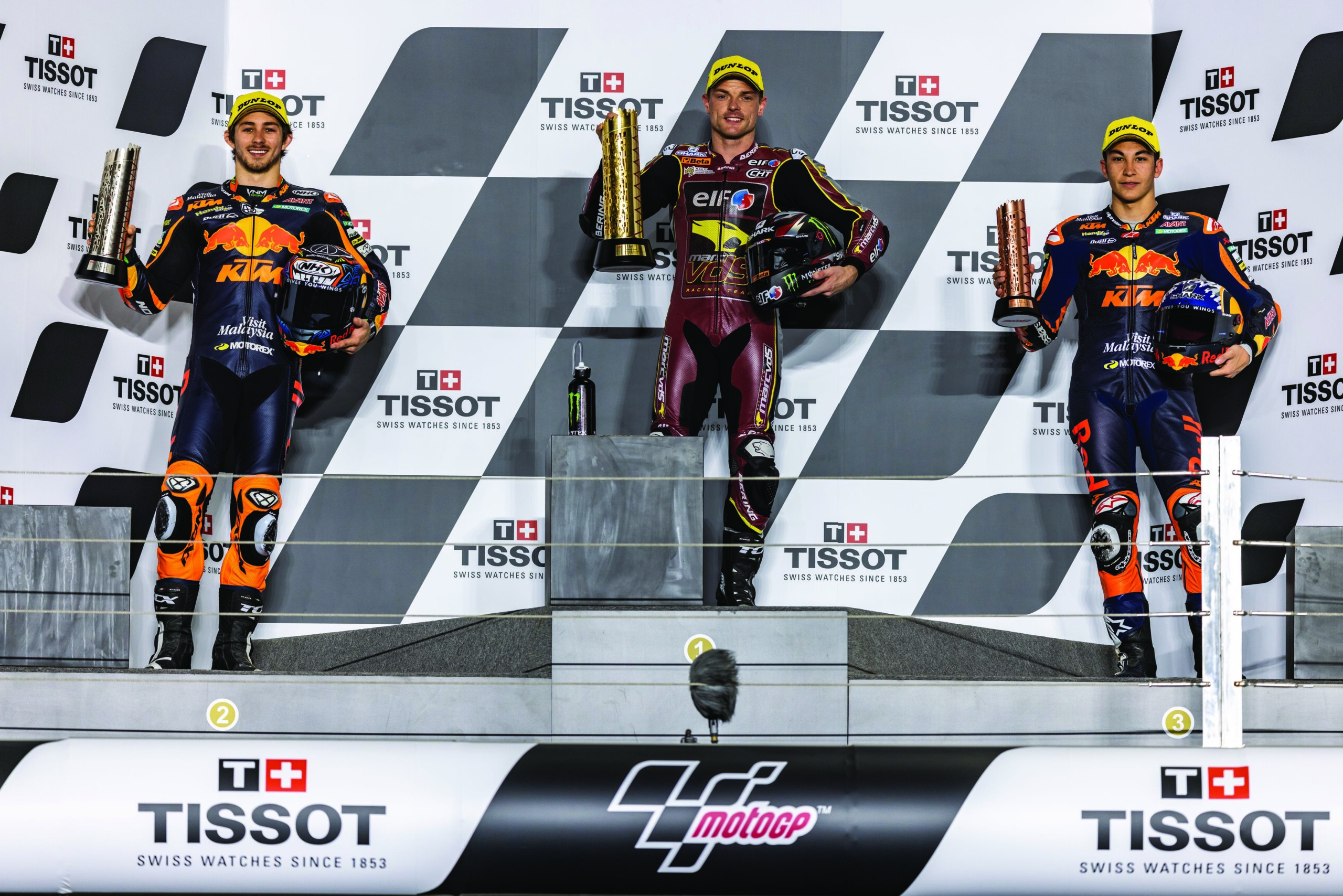 Sam became the first British rider since Mike Hailwood to win the opening 2 rounds of the season in the intermediate class since 1966.
Despite the victory, challenging weather conditions throughout the entirety of the weekend made it challenging for teams across the board – battling against the Doha winds and dust in order to find the pace and comfortable set-up for race day.
The Adriatic man Marco Bezzecchi lead the race for the opening laps after getting a fantastic start, however it wasn't enough for the Elf Marc VDS rider to sit and watch behind him – as with 17 laps to go Sam was able to overtake and held on comfortably for the entirety. It wasn't particularly peachy for all riders though, as things soon turned sour for a number of laps as the pressure was heightened. 
One of the victims of this was John Hopkins' apprentice Joe Roberts who, although finished a respectable 6th last weekend under the lights – on the 8th lap tucked into a slide. This was also bad news for Ai Ogura, who in order to avoid Robert's sliding machine had to run far wide off track. 
Joining fellow American rider was Cameron Beaubier who with 12 laps to go came off his machine. Cameron had been strong all weekend with the American Racing Team, last weekend finishing 11th. It had been a positive weekend for the team with Beaubier getting to grips with the track, bike and team despite the challenging conditions.
It wasn't all sunshine and positive endings for the Brits today. Petronas SRT rider Jake Dixon suffered a fairly mystical accident with 7 laps to go today, looking upon inspection taking Marcel Shrötter down with him. The crash was not actually shown live, but instead panned to imagery of both riders and their machines down. Liqui Moly Intact GP rider Shrötter appeared up and unharmed during the live race, however Dixon was still down. Later reports confirmed that it was a solo racing incident on behalf of the Brit that unfortunately couldn't be avoided by Shrötter. Thankfully, Jake confirmed on his Twitter account that although gutted with ending the weekend with a DNF he was feeling okay after the crash.
Following last weekends' penalty involving team mate Xavi Vierge, it's fair to say Jake is looking ahead to Portimao with a clean, fresh head with the focus to maintain the fantastic pace he's shown in the opening two rounds of the championship.
Towards the end of the race Solunion Aspar Team rider Canet ended a tough weekend for the team in the gravel – following not far behind by SAG Team rider Thomas Luthi who has been fairly under the radar this weekend. The initial incident for Luthi made for worrying viewing, however the rider was up and unharmed.
It was a stunning race for Red Bull Ajo KTM team with last weeks' runner up Remy Gardner showing no defeat this weekend. He consistently held good pace not letting Lowes get away. Smashing Luthi's all-time lap record at the circuit in the final lap, Gardner walked away with another 20 points in the bag. Orange plastered the podium as joined beside his team mate was rookie Raul Fernandez who has shown great pace all weekend, proving that not all rookie's need time to settle! 
Personal special mention to Stefano Manzi who, to say the least has had a few seasons of finding his feet again in order to find the right bike for him. He held strong and consistent pace today which was reflected highly in his lap times and ultimately his finishing result of 8th position. A fantastic result for himself and the Pons Racing team.
FIRST FIFTEEN RIDERS
1 – Sam Lowes
2 – Remy Gardner
3 – Raul Fernandez
4 – Marco Bezzecchi
5 – Ai Ogura
6 – Augusto Fernandez
7 – Celestino Vietti
8 – Stefano Manzi
9 – Xavi Vierge
10 – Fabio Di Giannantonio
11 – Tony Arbolino
12 – Bo Bensnyder
13 – Jorge Navarro
14 – Lorenzo Dalla Porta
15 – Albert Arenas  
Overall, what a way to kick start the season. This weekends' racing is an absolute credit to all those working hard to ensure us viewers have access to a safe season of racing. The upcoming Portimao race leaves Lowes ahead of the game with 50 points in the bag, Gardner only shy behind with 40.
As they say where our bikes land next, vejo você em breve!