Williams were the latest team to unveil their charger for the 2021 season – the FW43B. The car is something of a homage to the team's former glories, with a focus on the new era under new ownership.
There was a change to the original plan as their innovative augmented reality app was hacked, meaning the team had to close down the app and unveil the car via rendered images instead.
The Grove outfit released a statement, saying: 'We were very much looking forward to sharing this experience with our fans, particularly during this difficult time when being able to bring in-person experiences directly to our fans is sadly not possible. We can only apologise that this has not been possible.'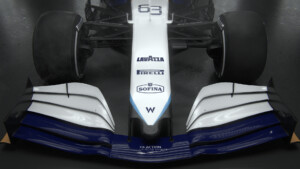 The car was revealed via images and sported some subtle throwbacks to previous Williams liveries. The car is largely blue in different shades of light and dark. There are some flashes of yellow with a white front. These are all historic colours synonymous with Williams' glory days in the late 1980's and early 1990's.
The history was a large factor according to Jost Capito, Williams Racing CEO: "We looked and discussed what the theme should be. So we wanted the car to remember the good old times and the heritage of the team. But we also wanted to show that we're doing a step forward. We don't forget our history, our heritage, but we are moving on to a bright future."
George Russell commented on the design too: "I like the new look. It's exciting, it's got a hint of heritage in there. There's a hint of yellow, which is cool. Altogether  think it's exciting, I think that's the team at the moment, new team, new look, new brand, and the start of a new beginning."
Nicholas Latifi was glad to see some traditional aspects remain: "I think just looking at the side profile of the car, the stripes which go up the bodywork and the engine cover and the way the Williams 'W' is still there in the background and I think it'll look quite nice."
The same sponsors remain on the car, with Sofina, Lavazza and Acronis all present, and while the design is eye catching, it resembles a new dawn, with a nod to the past.
While things are changing for Williams, there is some stability in their driver line-up, as George Russell and Nicholas Latifi remain for another season. While Jack Aitken and Jamie Chadwick remain as reserve and development drivers.
With most of the cars unveiled, there is a much needed splash of colour to this year's grid, and when the lights go out in Bahrain at the end of the month, Formula One will be back.